100% Off Amazon Rebate
Vont 'Blaze' Tactical Flashlight (2 Pack) now yours for free. No catches. But we have some requirements.

1) You musn't have claimed an Amazon rebate or a free product from Amazon in the last 30 days.

2) You are based in the US.

3) You give us basic feedback via email after you get the product. (Not an Amazon review)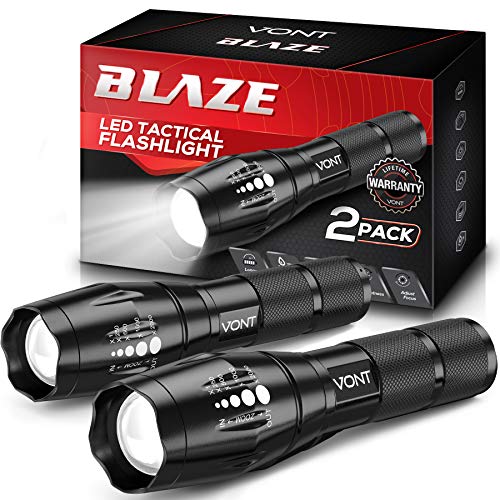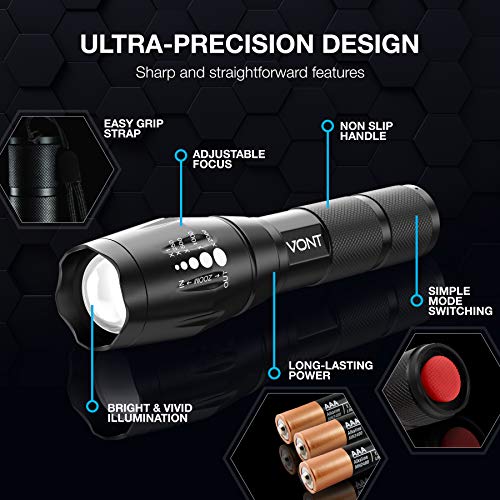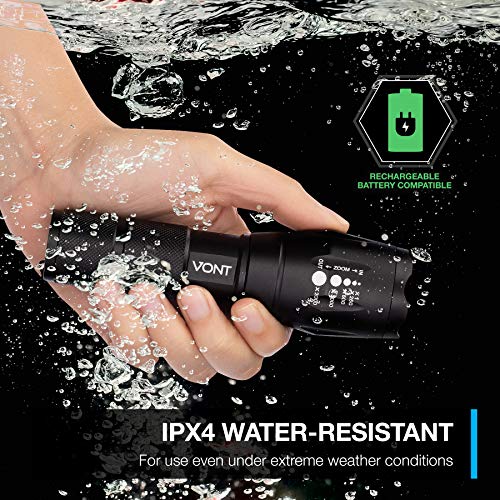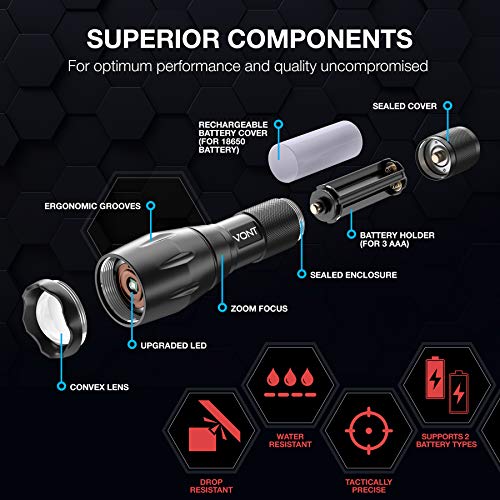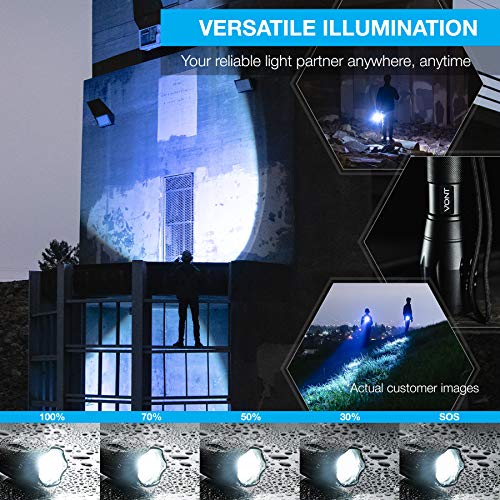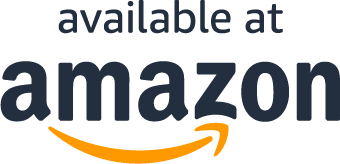 How it Works
1. Buy on Amazon
First, you'll need to buy the product on Amazon at full price. This helps us promote our brand.
2. Enter Order Number
After you purchase on Amazon, you'll need to enter your order number on this website.
3. Order Verification
Next, we'll verify your order number. This is to make sure you actually placed an order on Amazon.
4. Product Is Shipped
Once your order number is verified, we'll wait until your order ships.
5. Receive Your Rebate
After your order has been shipped, we'll contact you and send you your rebate.
Read FAQ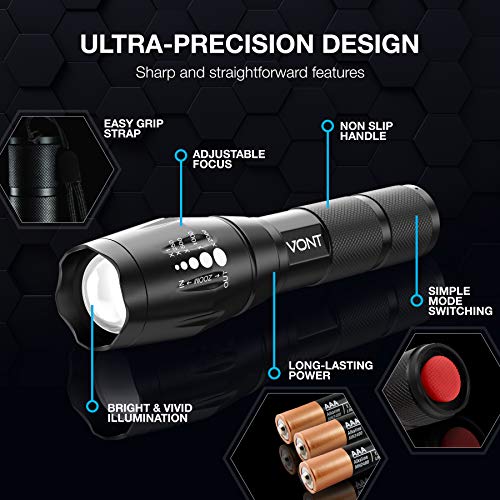 About the product
BRILLIANTLY BRIGHT & VIRTUALLY INDESCTRUCTIBLE – Proprietary LEDs can vividly light up an entire road or mountain on the darkest of nights (20,000+ hours of LED life span) Incredible battery life. Built to last survive abuse. Testing includes freezing, underwater submersion and running the Blaze over with a full-sized truck!
ULTRA LIGHT & ULTRA PORTABLE – Amazingly easy to carry around. Always there when you need it the most. The same 5 tactical light settings that the U.S. Special Forces Use! (SOS | LOW | MEDIUM | HIGH | STROBE). Fully adjustable beam width.
RAVE REVIEWS – The Blaze Tactical Flashlight is a huge hit with campers, trekkers and outdoor enthusiasts. "The Dream Flashlight", "A MUST have", "Couldn't Survive without One" – are just some of the things our emphatic customers have said.
THE ULTIMATE OUTDOOR ENTHUSIAST GIFT – Have a family member or friend who can't wait to go out on their next trek or camping adventure? Gift them the Blaze Flashlight and watch their face light up with joy. Supports rechargeable batteries.
LIFETIME WARRANTY – The Blaze Flashlights will blow you away with their brightness, build quality, durability, performance and battery life. And it's all backed by a lifetime warranty covering defects.
What Our Customers Are Saying
Hidden features would be nice to know about.
I got my new Vont Blaze flashlight two pack and took several pictures while unboxing and testing it out. They look to be very well built and thought out lights. The flashlight has a good weight and feels durable and solid. The only thing that does not feel solid is the battery holder. The case is a nice touch and I like that it can be attached to your belt.To operate the flashlight click the orange button on the back of the flashlight and it turns on at full brightness. Click it again and it turns off. Click it a third time and it comes on at less intensity (50%). Two more clicks and you are at 30%. Two more clicks and the flashlight strobes. Two more clicks to get the flashlight to emit an S.O.S. in Morse Code light pulses. To get back to full intensity click the flashlight two more times. You could also click the light off and count to 10 then click the button again and you are at full brightness. I was told (and have since tried) that if you slightly press the button, the flashlight will change to the next mode without the need for the double click. A full click is needed to turn the light off.The zoom feature is different than I am used to from my experience with Maglite flashlights. On this light you extend the front of the flashlight to go from the wide spot to the narrow focused beam. On this light, the focused beam results in a square projection of light. This is a nice way to quickly change how tight the beam of light is.Overall I am quite pleased with the flashlights, and I am excited to use them the next time I am working in the theater or on my next camping trip. Another thought, don't throw away the plastic tubes that are on the box. Those are used for a18650 rechargeable Lithion battery that you can purchase and use in the flashlight. It would be nice if there was an insert that mentions this and any other features that are not obvious.Thanks Vont for another well made flashlight.
Wide and bright, feels a lot more expensive.
We've all purchased the $5 flashlight from your local supermarket, almost always a disappointment, they're never as bright, often cheap and prone to failure. Enter a proper flashlight from Vont, this is not your supermarket budget flashlight.Things I like1) Quality feel to it, that cold heavy feel of a well made metal torch. The zoom is nice and firm, it doesn't slide on its own, stays fixed on whatever setting you choose.2) Battery compartment has a container for the batteries, which has an arrow, so you know the direction to put it back into the flashlight. Not that this is an issue since the battery holder has an obvious front and back.3) Belt pocket, when you're out and about it's nice to have the case on your belt, this one has a loop so it can't fall off, at the cost of it being slightly harder to attach. I like it though, nice strong velcro flap too, so you're not likely to lose the flashlight, no matter what you're doing.4) It's bright, easily the best flashlight I own, in fact so bright, I don't really need the zoom feature at all, using it mostly on the maximum spread to illuminate everywhere.5) There's 2 in a pack, if like me, you've got a scout in the family, you're not going to keep the flashlight for long, as all scouts have one in their 10 essentials, and they'll like this, having 2 means there's one for me and one for my boy.DownsidesNot really any I can see, if anything it would be nice for it to use 4x AAA batteries, since almost all chargers work on pairs, and typically purchased in multiples of 4, but that's a really minor quible.I don't know how long the batteries last, since my first set are still going strong, but I will report back if anything other than a good life is experienced.All in all another happy customer.
Very bright
These are the best little flashlights I have ever had!!!!
Questions?
Why do I have to buy for full price on Amazon?
How can I be sure you will send me my rebate?
When will I get my rebate?
Why do you wait until after your product is shipped to send a rebate?
Why are you running this promotion?
Does this include free shipping?
What Are You Waiting For?