An Exclusive Offer For You
2 Packs Kitchen Tongs for Cooking - Nonstick Silicone Tips & Stainless Steel Handle Silicone Tongs, Serving, Outdoor/Indoor Grill, BBQ & Salad, 9-Inch & 12-Inch
$8.00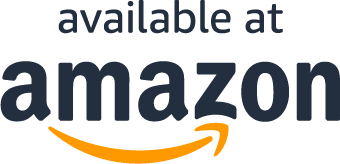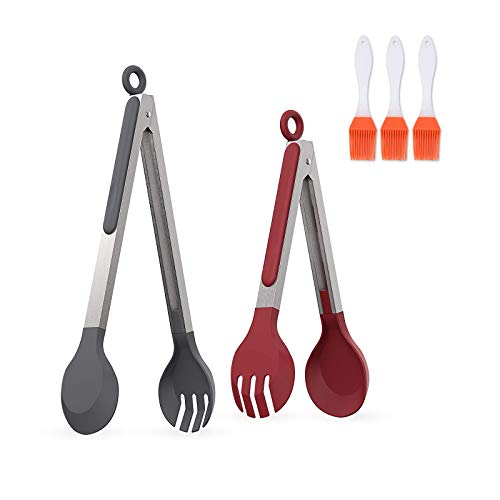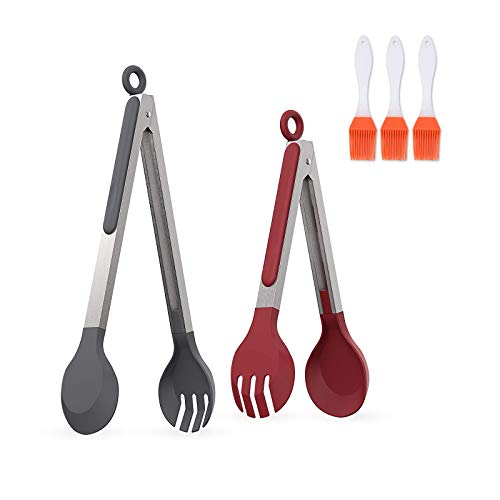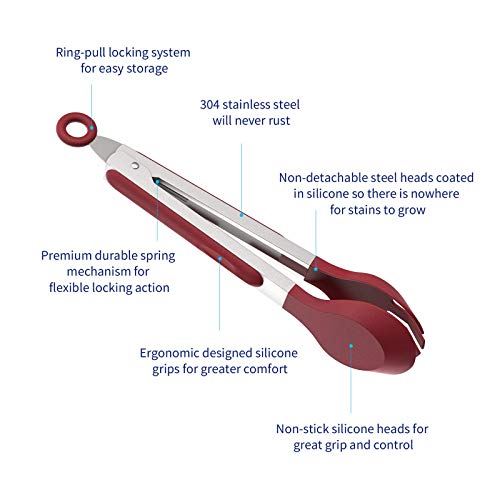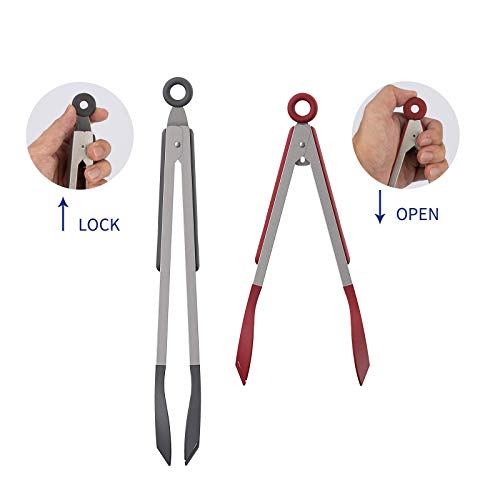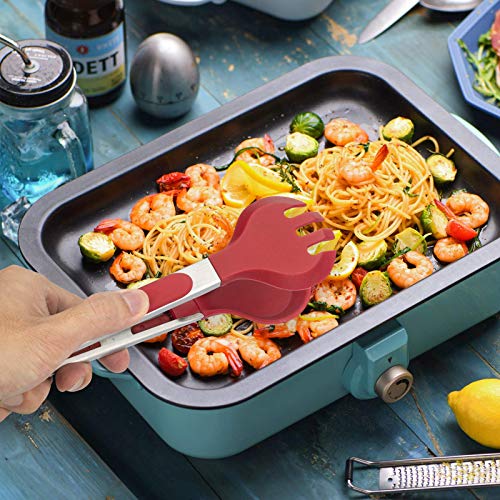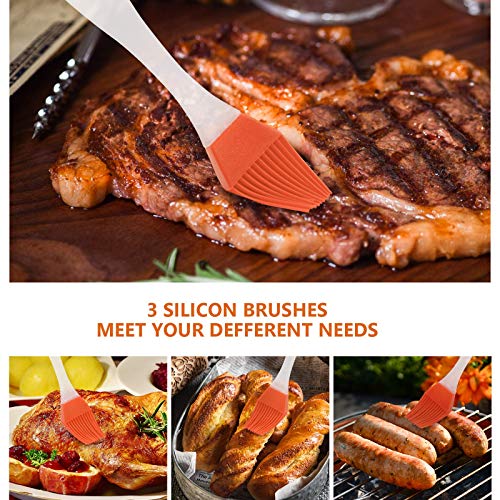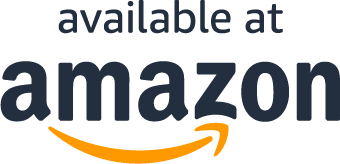 How it Works
1. Buy on Amazon
First, you'll need to buy the product on Amazon at full price. This helps us promote our brand.
2. Enter Order Number
After you purchase on Amazon, you'll need to enter your order number on this website.
3. Order Verification
Next, we'll verify your order number. This is to make sure you actually placed an order on Amazon.
4. Product Is Shipped
Once your order number is verified, we'll wait until your order ships.
5. Receive Cash Rebate
After your order has been shipped, we'll contact you and send you your cash rebate via PayPal.
Read FAQ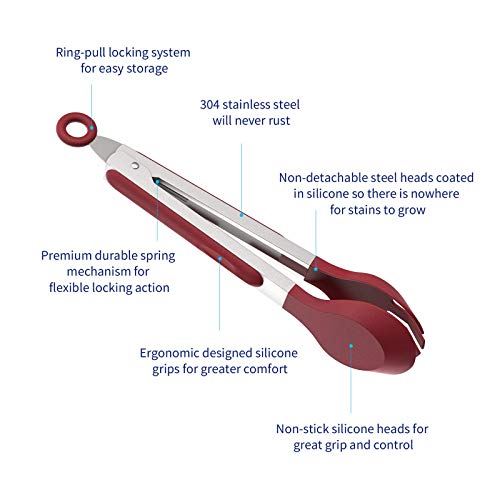 About the product
FOOD GRADE SILICONE TIPS - The heads of cooking tongs are made of high quality food-grade silicone. It's safe and durable under high temperatures, up to 480°F. The silicone handle protects your hands from hot cooking. Non-stick and soft silicon tips avoid scratching your expensive cookware or grill grates.
STRONG GRIP CONTROL - Non-slip and firm design silicone heads hold onto foods much better than metal tongs. You don't need to worry about the silicon tips bending or warping when you grasp food, easy to control and pick things, easy to handle and provide maximum grip.
RING-PULL LOCKING MECHANISM - The locked feature of salad tongs is smooth to pull out and push in, simply pull the ring to lock and push to unlock. The bolts and springs that hold the two parts together keep the silicone tongs opening and closing flexibly. Ring-Pull locking system is easy to store to save your kitchen space.
EASY TO CLEAN & LONG-LASTING USAGE - Clean the kitchen tongs easily with soapy water and let it air dry. Premium material also supports the cooking tongs to be washed in dishwasher safely. Non-detachable steel heads coated in silicone is nowhere for stains to grow. Rust-proof stainless steel makes the usage of the BBQ tongs lasts long.
MULTIPLE APPLICATIONS - The tongs for cooking with silicone tips are must-have for kitchen utensils. 2 sets (9-In & 12-In) of salad tongs meet all food types. Perfect for outdoor or indoor grill, serving salad, baking, and much more. Feel free to reach out if you have any questions.
What Are You Waiting For?
What Our Customers Are Saying
Quality tongs for cooking
This is a fantastic matched set. The colors of 2 serving tongs and the brushes match well with each other. I got these because I prefer all of my utensils in my kitchen to match each other. That's why I selected this set over others that were available. I'm quite happy with them as they're nice quality. The tips of the tongs are silicone over metal so they can be used as normal tongs and are almost like a spatula. Also, The clamp has a nice grip on it. I do not find myself dropping food with these at all. The corner is riveted so I expect these to last long. They are of a medium weight so they are not too heavy not too light. I've been using these four little while now and they are easy to clean and easy to use. I'm very happy with these and would definitely purchase this brand again if necessary.
Lock works good
The locks of these tongs work great for easily storing. I had one set that did't lock so I purchased this one. I have put them in the dishwasher and they did't melt. Worth every penny.
Love these!!
I used these last night for spegetti pasta. Wonderful. We didn't need to keep grabbing, usually with a pasta scoop, to get enough. I can't wait to use them on salad. I'm so glad I bought two of them!!
High quality silicone pieces
All silicone parts of the food tongs are of high quality. I have had one set that the silicone pieces were coming off for less than 10 times usage and the piece that locks and unlocks at the top is very cheap. So I purchase these and happy with them for they lock all the way shut. My old one would not even lock all the way shut, there would be at least an inch Gap... Recommended.
Nice Product
I use the small one frequently and I like it.It's nice and easy to get the food to grab.
Nice salad tongs!!!
The tongs have worked great in the kitchen and outdoor barbecue. These are nice and sturdy, no issues with the pickup and springs at all. They are perfect for everyday use.Highly recommended!!!
What Are You Waiting For?
Questions?
Why do I have to buy for full price on Amazon?
How can I be sure you will send me my rebate?
When will I get my rebate?
Why do you wait until after your product is shipped to send a rebate?
Why do you ask for my PayPal email address?
Why are you running this promotion?
Does this include free shipping?
What Are You Waiting For?