An Exclusive Offer For You
Zmodo Wireless Home Security Cameras System - 1080p 8CH HDMI NVR 500GB HDD- 4 HD Wide Angle Indoor Cameras and 4 HD Weatherproof Outdoor Camera System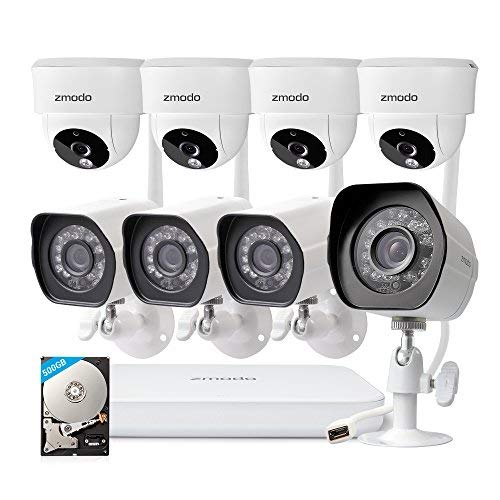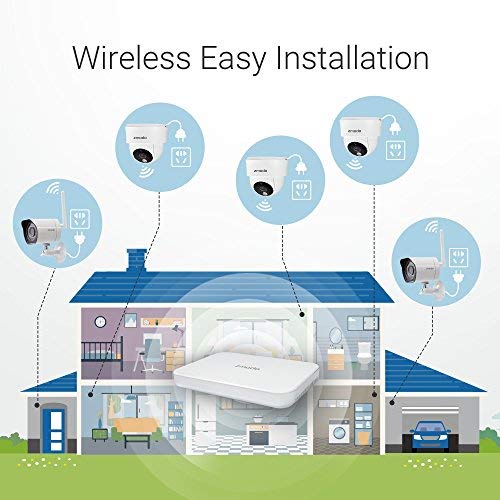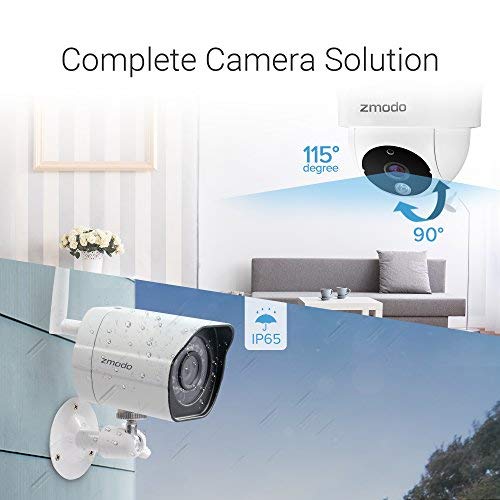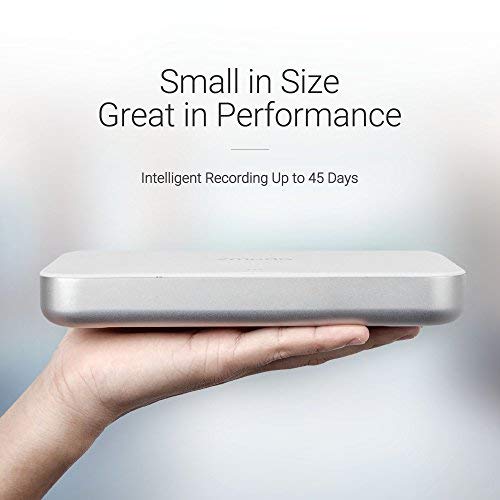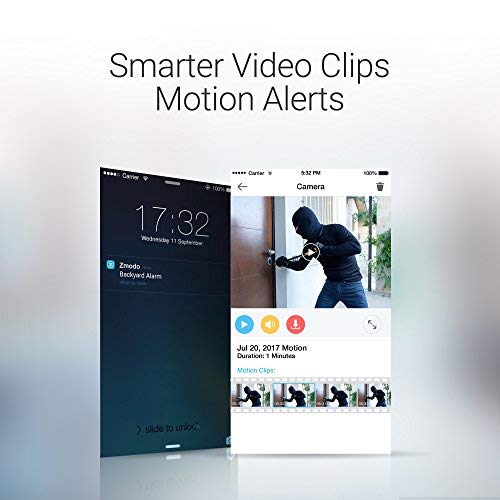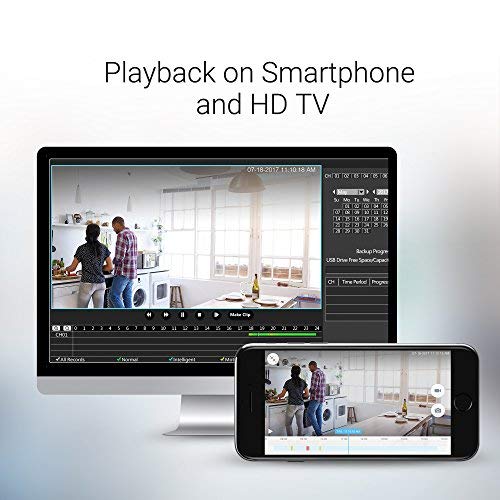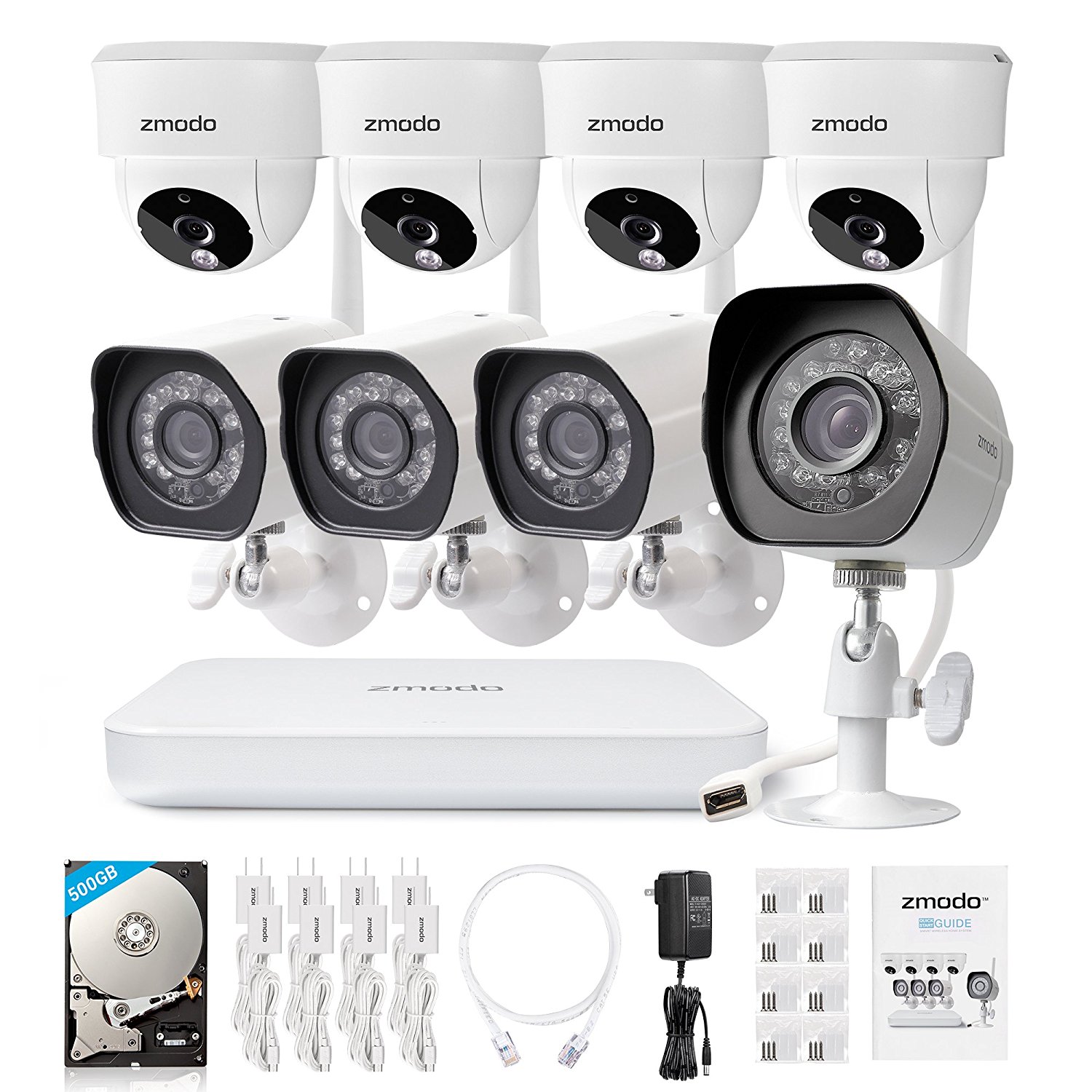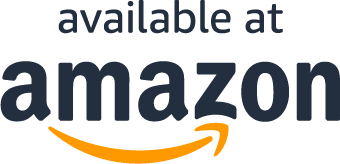 About the product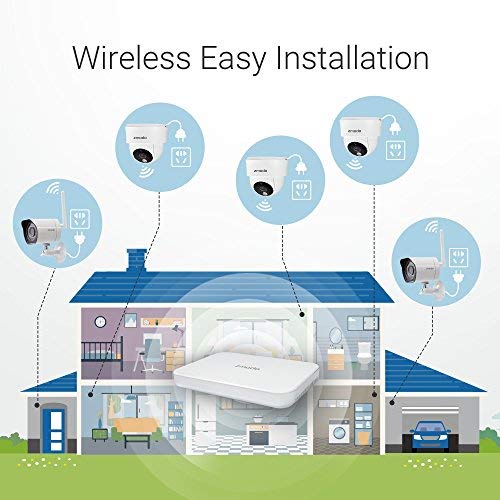 ZM-KW2007-500GB
【Easy Installation & Setup】: No need to run cables all over your house to connect the NVR and cameras. Simply mount the cameras, plug in the adapters and go. Connection between the NVR and cameras is through your internet.
【Complete Camera Solution】: Watch your home day and night in crisp 720p HD with the indoor and outdoor cameras. The indoor cameras have 115° wide viewing angle and 90° adjustable lenses, which covers all corners of your house. The outdoor cameras enable you to see your home 24/7, rain or shine.
【Clip Alerts on Phones】: Receive a clip alert on your Zmodo app whenever motion is detected, and customize which areas on the cameras' live view will trigger an motion alert, to prevent false alerts and get notified by alerts that really matters.
【Remote & Local Playback】: Cameras are built with excellent quality for 24/7 HD monitoring jobs, and video feed is saved to the included 500GB hard disk. Watch the playback either locally on your monitors, or remotely on your phones through Zmodo app.
【3-Year Warranty】: Lifetime US-Based Tech Support, 3-Year Limited Warranty, and 60-Day Money Back Guarantee.
What Our Customers Are Saying
Great Experience
When I ordered these I really didn't know what to expect. The trouble of set up, installation, the pesky quirks that always seem to pop up when dealing with wireless devices through your homes sheetrock walls...I couldn't have been more surprised. The only issue I had turned out to be "my" issue. The wireless router I have had for 7+ years picked the middle of set up to finally go out. LOL I replaced it much to my gamer grandsons joy and it was smooth sailing. The router is downstairs on the extreme far side of the house. I have a cheap wifi extender (the small one that just plugs into the 120v wall outlet) upstairs. I have the cameras spread out, two as far as 100' from the router, outside. Everything works great. Clear crisp HD live feeds. Awesome. Especially for the price. The App works great too. I read some negative reviews and was worried, but every time there was a glitch or an issue, it turned out to be something I was or wasn't doing. Speed reading instructions will do that. I installed all of these cameras at my lake house, 90 miles from home. I am an Apple freak so I loaded the APP on my Iphone 7 and IPad Pro. It works flawlessly. I even shared the App with four of my relatives who have the same experience. It's been less than a week and I'm still fooling around with settings and notices and such, but so far I am very impressed. The one drawback (you knew there had to be something, right?) is the cameras are way to sensitive. I have the motion setting down to eliminate cars passing by on the street, but the headlights, as they turn through the frame, will set it off as motion. Also, The ones around my pool and two on the exterior house, the bushes blowing slightly in the wind will also set it off. This is a pain really, because you never know if someone is there or if it's the wind blowing the bushes. All in all, I am glad I purchased this. I would do it again in a heartbeat.
Prevented our house from being robbed!!
Had this camera system for less than a month and it already prevented us from being robbed while vacation! The motion alerts are frequently due to shadows shifting or bugs, but within 4 days of installing a camera over our front door the notification was real. Tuesday, 11:20pm. 400 miles from home. Motion alert on my phone. Front door camera. Random sketchy guy scoping out our house while we are on vacation, looking in windows from front porch. He sees the cameras and (after ringing the doorbell for show) takes off with his accomplice. All of this caught on video, sent to police and neighbors within hours of the incident. I can't recommend these cameras enough. In fact, my in-laws and several neighbors have bought them since this happened. Here's how they work. Others have detailed the setup process, so I won't go over that again. But once installed, the 1TB hard drive stores video for up to a month (mine has been installed for 23 days and has not filled up). You can access this remotely through the pretty decent Zmodo app. ALSO, you can select a region for each camera's motion detection feature. If motion is detected within the area you selected, your phone gets pinged and you can view a series of 5 compressed still images recorded over a period of 5 seconds (easy on your data plan). These are stored in the cloud, so you can still get to them if some really crafty thief steals your Zmodo hard drive! The motion alerts occur a maximum of once per camera every 5 minutes. So there is a chance you will miss something here in that 5-minute period. BUT, if you go back to review the video (in the app), all motion is highlighted so you can skip to the highlights. The motion alerts are stored for 24 hours but can be saved to your "gallery" in the app, or just screenshot it. Also, video can easily be recorded to your phone. In my android, saved files show up in a "Photos" folder in my gallery. They are a nice size, small enough to email short clips, say, to the police after you are almost robbed. The alerts come in all throughout the day, some from clouds covering the sun (shadows disappear), others from actual human actions. After a few weeks I have learned to tell the difference without having to go to the app. If I get 5-6 notifications within a couple of seconds, it's a cloud. If they are staggered by 2-3 seconds it may be someone walking around the back yard. 2 at a time, may be a car pulling in the driveway. You get the idea. Video quality varies depending on setup. Cameras pointed out at my open backyard are mostly hazy at night, but for nearby objects video is great. Daytime video quality is fantastic. Resolution is 720p, which is the sweet spot in my opinion. Any lower and picture quality suffers. Any higher and your network and internet connection will likely struggle to keep up. As it is, my network is showing signs of being overloaded so I plan to purchase an additional wireless access point. I have an ASUS AC68U, a quality router. You may want to account for this in the cost of ownership. That and getting them wired. Mine are temporarily wired using extension cords but I'll probably need an electrician to wire them more permanently. A couple of features I wish they would add would be the ability to jump to the video for motion alerts instead of having to scroll to it. Scrolling the video can be tedious. In addition, it would be nice if 1) the motion detection area didn't have to be a rectangle and 2) you could tweak the sensitivity. Thanks for reading!
OUTSTANDING Support! Be Careful of GUEST Network Routers - my demise...
I had considerable concerns about this product based on a large number of negative reviews. However, after reading 2-3 in-depth reviews that were positive, I purchased the doorbell system. I experienced several problems that were NOT a fault of the product and after several hours, contacted support for assistance. A summary of MAJOR challenges are outlined below. 1. If you have a very simple home network and doorbell, there should be NO problems watching the Zmodo videos and following the instructions. 2. GUEST NETWORK - if your system allows for a guest network, TURN IT OFF! TURN IT OFF! 3. Android phone - you may have problem entering a camera NAME. Just enter a couple of characters and edit the name after the install is complete. 4. Zmodo Knowledge Base - ZINK Troubleshooting Guide - PRINT and read very carefully. The following items were important on my installation: Ensure NO spaces in SSID (your network name) and at least SIX characters, Security must be WPA or WPA2, Network must be 2.4 GHz, Prior to connecting to the Zmodo device network "ZMD_SAP", you MUST "forget your network" which will prevent your phone from accessing your home network automatically. ZMODO SUPPORT: Yep, lots of complaints here regarding connect/hold time which is understandable during heavy holiday season purchasing and other factors. However, don't give up! Put your phone on speaker, do something else and wait in line. I was connected to customer service agent JARED and he provide an EXCELLENT customer service experience. He was very empathetic, understood the product extremely well, and logically went through each step in the installation process. My stealth GUEST network was the culprit and he correctly identified the reason my camera would not connect to the correct home network. THANK YOU to Zmodo support Carrie and Jared. No, I am not a seller's employee - I am a retired computer services manager with years of dealing with difficult customer situations and these service agents exceeded my expectations.
Questions?
Why are you running this promotion?
How can I use my coupon on Amazon?
Does this include free shipping?
What Are You Waiting For?