An Offer You Can't Resist❤️
Zmodo Wireless Camera System
1080P HDMI NVR No Hard Drive, 4 x 720P HD Outdoor Cameras
No Video Cables Needed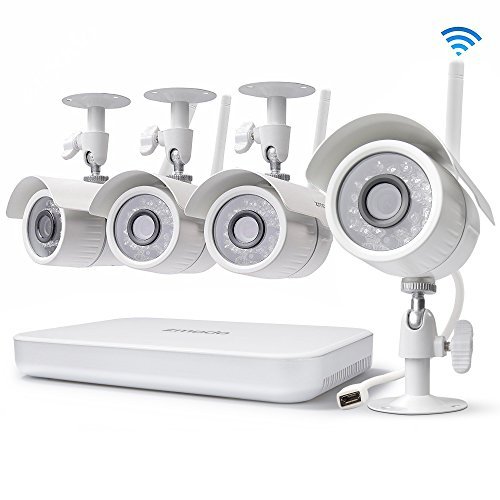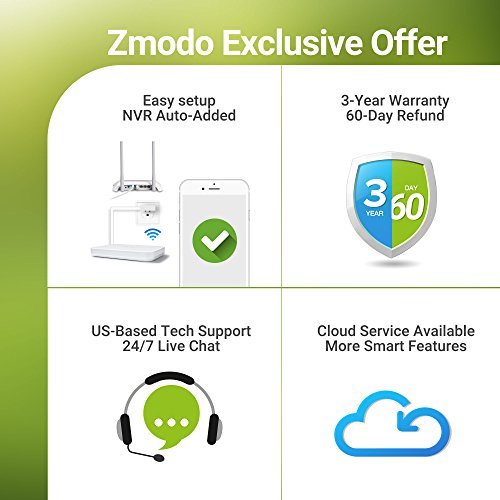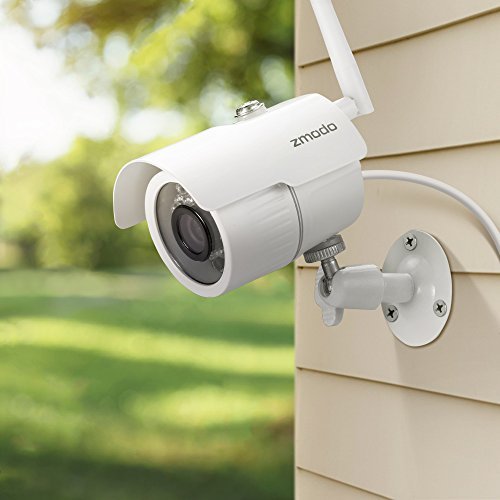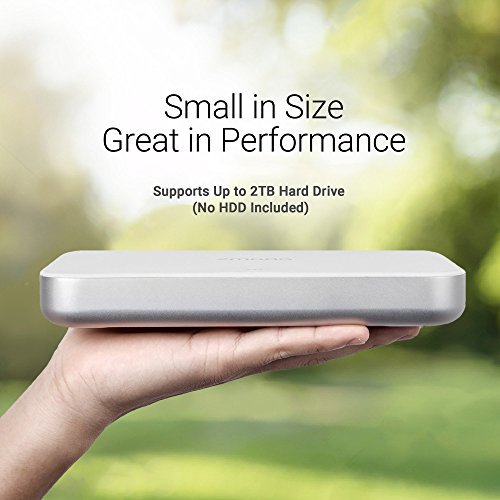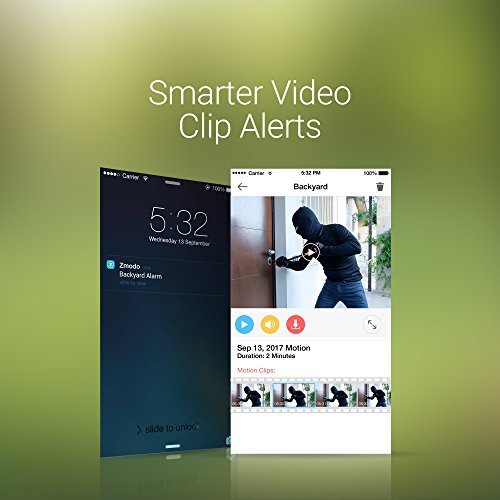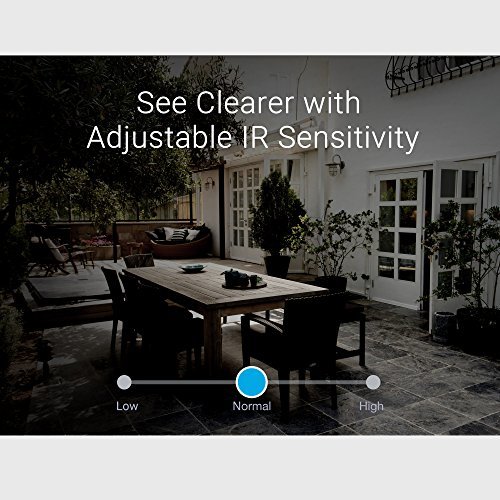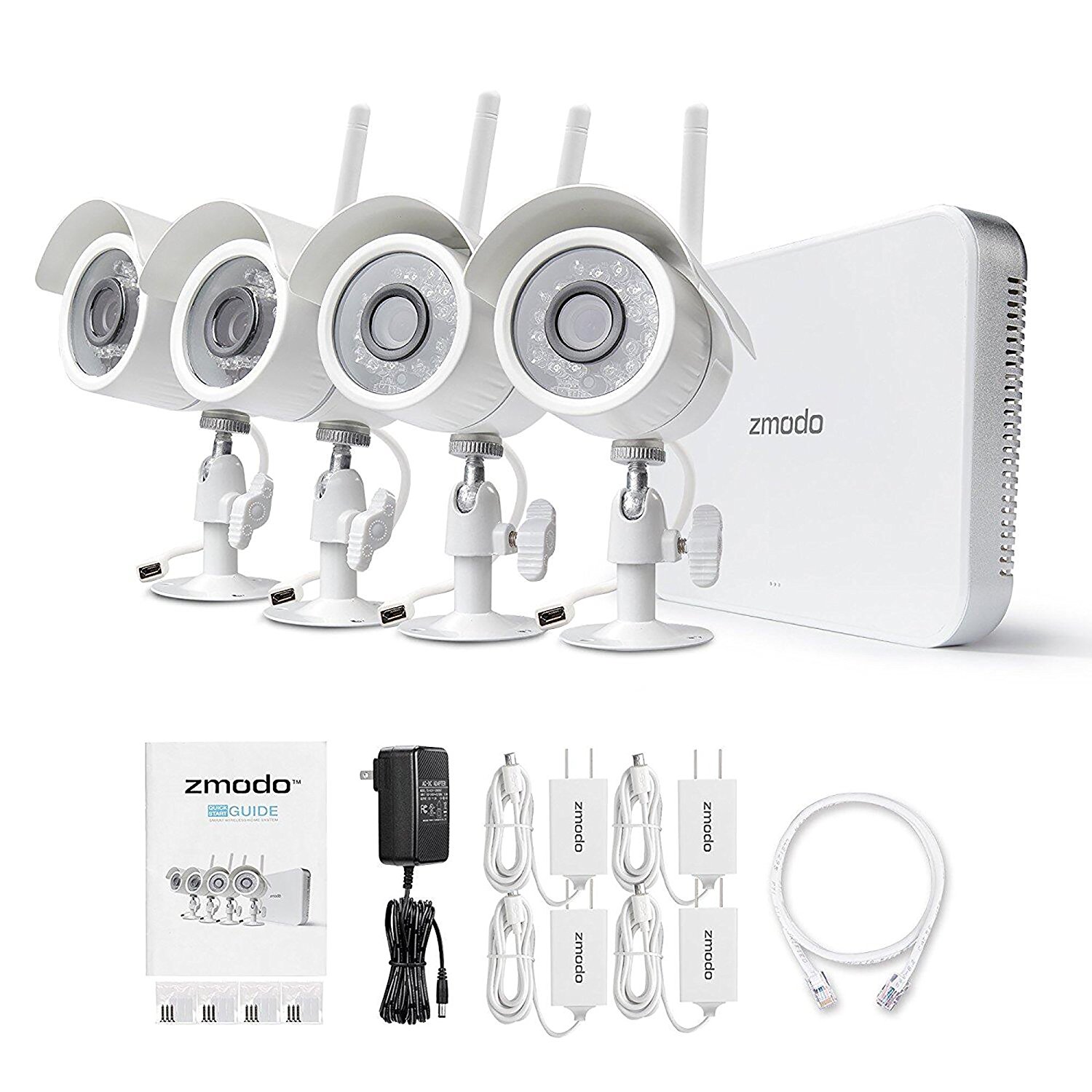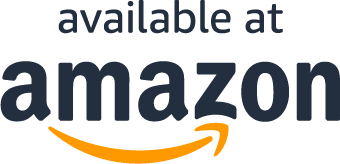 About the product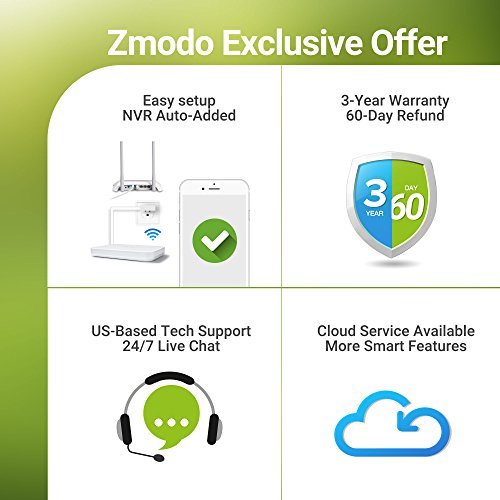 ZM-KW0003
【Easy Installation & Setup】: No need to run cables all over your house to connect the NVR and cameras. Simply mount the cameras, plug in the adapters and go. Connection between the NVR and cameras is through your internet
【Motion Clip Alerts on Phones】: Receive an alert and a short video clip on your Zmodo app whenever motion is detected, and customize which areas on the cameras' live view will trigger an motion alert, thus to prevent unwanted alerts and only get notified by alerts that really matter
【Remote & Local Playback】: Cameras are built with excellent quality for 24/7 HD monitoring jobs, and video feed will be saved to the your hard disk. Watch the playback either locally on your monitors, or remotely on your phones through Zmodo app. No hard drive is included in the package. Regarding HDD, a SATA 2.5" hard drive is compatible with this NVR
【Intelligent Recording】: Optimize the storage capacity with Zmodo's Intelligent Recording. The NVR records at fewer frames per second when no motion is detected, and at maximum during motion
【Professional Customer Support】: Lifetime US-Based Tech Support, 3-Year Limited Warranty, and 60-Day Money Back Guarantee
What Our Customers Are Saying
LOVE THESE CAMERAS!!!
These cameras were super easy to set up. I downloaded the app and had them up and running in less than 30 minutes. I set them in my windows and face outdoors. Images are crystal clear. I love that I am notified by the app when motion is detected. LOVE that I can live stream and check up on things when I am gone. Very affordable and added security for our home. I am considering adding another camera or two for added views.
Great Value...
After reading quite a bit of negative reviews on these cameras, I was really hesitant to purchase them. However, I decided to take my chances, and I am glad i did. For the price, you really cannot find many wifi 4 camera systems with NVR. After owning the system for about a month now, I am not sure why these cameras have so many negative reviews. I am just a regular full time working woman. I am a wife and mom of 2 young kids and I have no extraordinary technical skills. I found that the cameras were easy to setup, so easy that I really did not need the instructions. I downloaded the Zmodo app as recommended by other reviewers, I added the cameras and the NVR, and I was up and running in less than 30 minutes! I made sure that all the cameras were working before mounting them. All four are mounted outside the perimeters of my home. The picture quality in my opinion is great...it's clear with no distortion. Sometimes, when I am viewing the cameras remotely there is a little bit of a lag in loading the live feeds from each camera, but honestly to me, it really isn't that big of a deal. The motion sensor is very sensitive, so it detects just about everything...even wind, and if you have the app on your phone, you will receive notifications when motion is detected. One thing I do wish is that the power cords were longer, that would be really helpful for people who are installing these outside, but, its nothing that a few extension cords can't fix. I cannot speak to their longevity at this point, however...if you are like me and you would like a decent wifi camera system to help you keep an eye on your home while you are away, then do not hesitate to purchase these Zmodo cameras. Update 6/20/2017...It's been 6 months, and so far so good. I travelled internationally for a week and was able to pick up the live feed on all four cameras with no problems. I can't complain, they have been good to me. Update 9/12/2017...Well these cameras have officially earned their stripes! Hurricane Irma blew through FL with a vengeance this past week, and I did not take the cameras down. They took on the storm like a champ and i was able to view what was going on outside until I lost power. I was without power for 2 days, and once power was restored, these camera's were back online as if nothing had happened. Thumbs up! Update 1/25/2018...The cameras are still working! My only complaint is that one of the cameras no longer shows the colors of the surroundings as they actually appear, the colors appear washed out almost like a sepia filter was applied. With that being said, it still works, so I guess that's a plus? Still satisfied with them for the most part.
Questions?
Why are you running this promotion?
How can I use my coupon on Amazon?
Does this include free shipping?
What Are You Waiting For?