SECURE YOUR HOME & Save 30%
Wireless Rechargeable Battery Powered WiFi Camera, Home Security Camera, Night Vision, Indoor/Outdoor, 1080P Video with Motion Detection, 2-Way Audio, Waterproof, compatible with Cloud Storage/SD Slot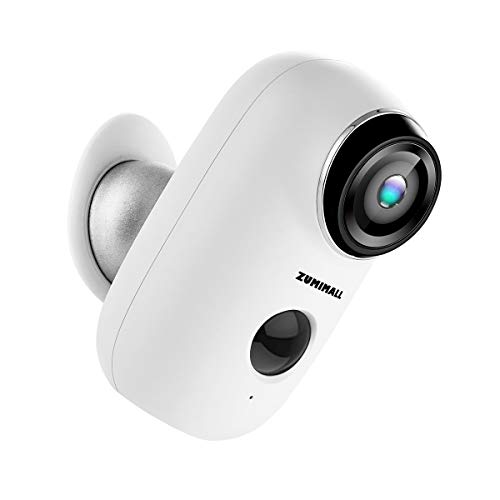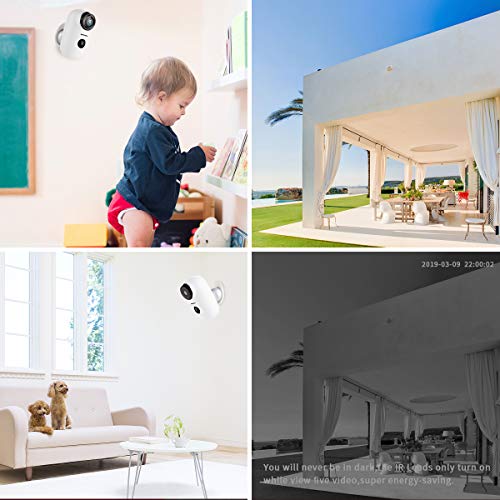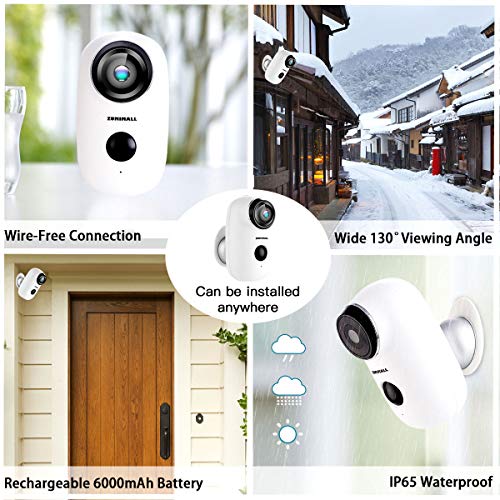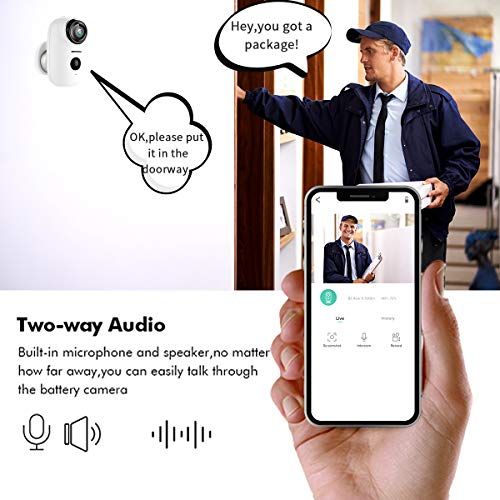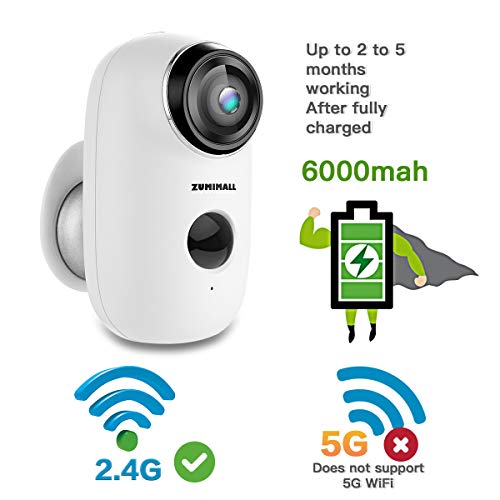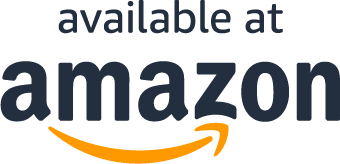 About the product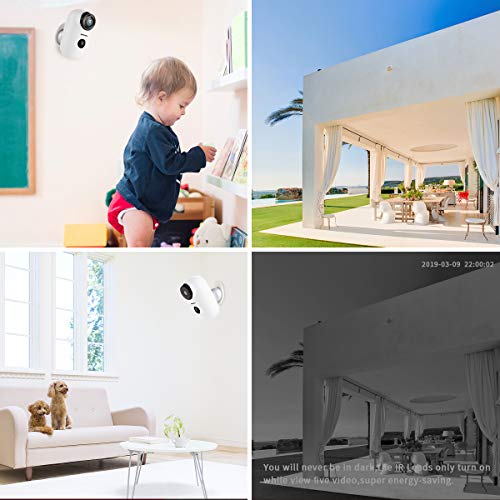 RECHARGEABLE & LONG STANDBY TIME: This rechargeable camera comes with a 6000mAh battery that lasts up to 2 – 5 months when fully charged so that you don't have to worry about continuously charging it(Tips: FULLY CHARGE when use it for first time).
EASY TO INSTALL & USE: This wire-free battery powered outdoor security camera takes less than 5 minutes to set up without having to use any complicated tools. It comes with a magnetic bracket screw and double-sided adhesive tape allowing you to install it. anywhere you want.
WIRELESS & CORDLESS: When we say our indoor/outdoor surveillance camera is totally wireless, we mean it. There are no wires involved whether it's watching the streams or installing it. Our rechargeable security camera is powered by a built-in rechargeable battery that allows you to place it indoors and outdoors without worrying about annoying wires. (ONLY COMPATIBLE with 2.4G WiFi router)
1080P HD IMAGE QUALITY & WEATHERPROOF: Our wireless security camera is built with an 1080P HD camera that provides you with clear and crisp recordings that you can watch remotely in real-time through the mobile app cloudEdge. It maintains a 130 Degree Wide View Angle and offers two-way audio talk to let you easily hold conversations. When motion is detected, it can also forward an alarm and image to your smartphone. Our outside camera security system is designed to withstand the bad weather.
TWO-WAY STORAGE: Equipped with night vision and advanced PIR motion detection, this home security camera system is exactly what you need to protect your home and family. This battery operated security camera can see in the dark and detect motion up to 10m (32ft). It's ideal for night/day use and starts recording to the micro SD card(NOT included, up to 128GB) or paid cloud storage after detecting motion.
What Our Customers Are Saying
Great quality product for the price! After 6 weeks of use the Battery bar still shows full !!!
This camera is absolutely wonderful! From when I first opened the box I was very impressed with the packaging and the high quality of materials used to make this product. I could see that much thought and consideration was put into the design. The software installation was a breeze! Once I downloaded the app and turned on the camera, the app immediately recognized the camera and just a few simple steps later my camera was ready to work. I was also very happy to see that I had a few options for mounting the camera and what really made my day was that I was able to mount the camera without having to drill any permanent holes in the walls. (there is also the option to mount it via a screw and hanging it). Once the mount is secure on the wall, attaching the camera to it with the built-in magnet is easy and ball design allows you to adjust the camera angle or remove the camera at any given time.Immediately after I completed the setup and installation, I get real-time notifications when there is any motion detection. As long as I have a stable connection on my phone, I have the option to use the intercom function to speak to whoever is at my door. What I really like about the notification function is that I can go back and view screenshots as well as video. The quality of the picture and video is very good and the night vision function works incredibly well. I attached a picture to this review of my two dogs in a completely blacked out room.The waterproof design is also nice to have although it was not a necessity for me now, it may come in handy some day.I have used the camera indoors at times to check in on my dogs and now mostly use it for the front and rear entry to my house.Now what really surprised me most with this camera is the battery life. I was very skeptic to the claims made in the listing but now after nearly 6 weeks of daily usage and the battery indicator shows full bars! Well, color me impressed!!!Overall it is great for me to be able to see who is at my door, whether I am home or not.One thing I would like to add and I hope the seller can see this comment is that the font on the instruction manual is very very small. I recommend enlarging the font so that it can be easily read by old timers like me.
Best buy, value for money, it has everything
I recently planned to go out of country for few days and wanted to have a camera to keep an eye on my house while I am away. Once the product was received, my daughter could do the set up in just few minutes using my phone. I installed this in the front porch using the included stickers. Magnetic attachment is super easy to bring in for charging. I didn't want any wiring and any hard installation in the wall. So the set up was really easy. Location of the device is about 40ft from the router. I charged it to 100% though it came pre charged. Picture quality is super clear. Night vision is perfect. Monitored the view from different country for days and the camera still was 100% charged. Very happy with the purchase. Motion activation is perfect, sends a message to my phone. I haven't used the SD card option yet.
Tough little gem of a camera.
I know the saying you get what you paid for, and I found this camera to be a great value. The price and reviews were what sold me. My experience is as follows.......First fast delivery with prime. Received and installed 5/7/2019 ...Then my device was fully charged and undamaged when received. Simple directions. Great pics and night vision, easy installation. Motion detection works well as well as the person to person intercom. The camera is also (in my opinion) of good quality, heavy duty. I would say that especially after I dropped twice with clumsy hands (not on purpose) in stalling memory card. Maybe 4'.5" above floor. As far as the app, it works fine , I do wish that you could send videos or pics to email since it is connected to my internet with out taking memory card out... but this is not a deal breaker. I will be going on trip and will test long distance receiving of notifications. One of the neighbors' kids set it off and I was notified pretty quick. I show that the camera is running at 52% internet signal because of installation distance from router, and still get impressive results. I read somewhere that the battery will or could last to upwards to 120 days in standby operation, .... after trip I plan on making another purchase... I may or may not get a router signal booster, but I am very happy with my decision and experience with this camera. I will post and update on battery performance later when I have to charge again but we all know that the amount of time on live feeds and motion detection will need to be taken into an account... P.S. I will post pics soon.
Wireless Cam WITH Battery
Finally there is a WiFi cam with its own battery. It makes it a lot easier to be able to move the camera around and not have to be limited by the distance from a power socket. This camera comes with a 6000mah battery which gives out a hefty but solid feel. It used 6% of its power in 3 days so I estimate it could last up to 50 days until it needs a recharge.The Zuminall camera comes in an attractive all white design, with USB and SD (card not included) sockets. It can be controlled by the CloudEdge App which is a modern and easy to use application that controls all aspects of the camera.The camera has an intercom and microphone so you can have 2-Way communications through the camera. It has motion and thermal detection which can trigger an alarm notification in the app and trigger recording, either to the SD card or to a paid Cloud service. I've been using the SD card for storage and it works fine, giving you the ability to pull up historical video.The camera comes with a mount that cam screws to the wall and the camera is also freestanding so you can just put it atop anything.It's a great camera with all the standard features, but then really complemented by having a battery that doesn't need recharging for over a month is awesome. I definitely rate this camera a 5 out of 5.
Great camera
Great, i can watch from my mobile with ease. I recommend this.*edit* the camera bracket is poorly made. Be careful or you will break it like I did.
Questions?
Why are you running this promotion?
How can I use my coupon on Amazon?
Does this include free shipping?
What Are You Waiting For?