Exclusive Holiday Offer For You!
Watercolor Brush Pens Set | 48 colors | Best Real Soft Brush Markers for Adult and Kids Coloring Books, Drawing, Calligraphy, Writing, Highlighters | Ultra Bright Paint, Non-Toxic,Washable | Decospark
$12.49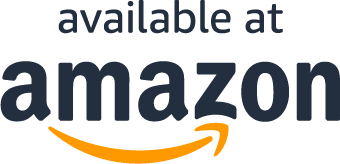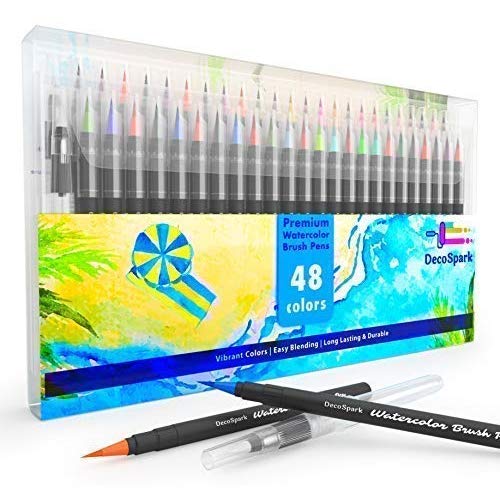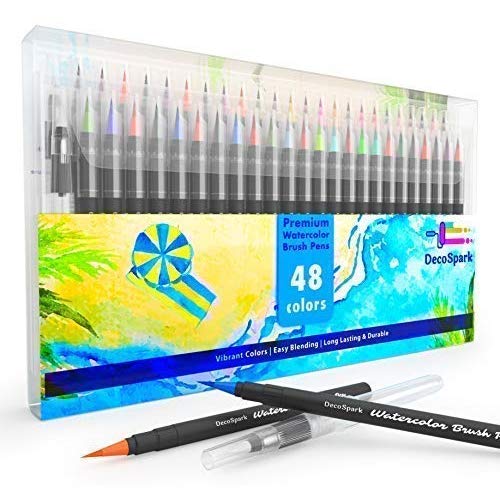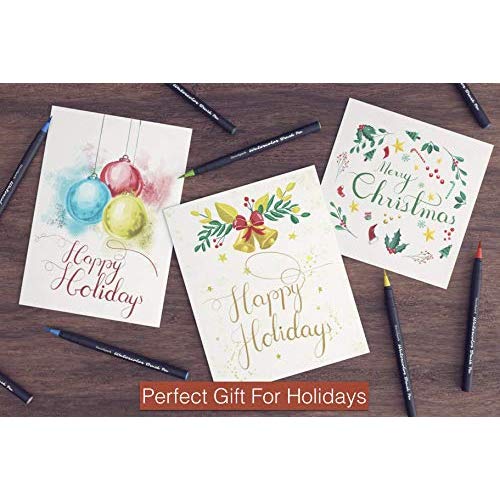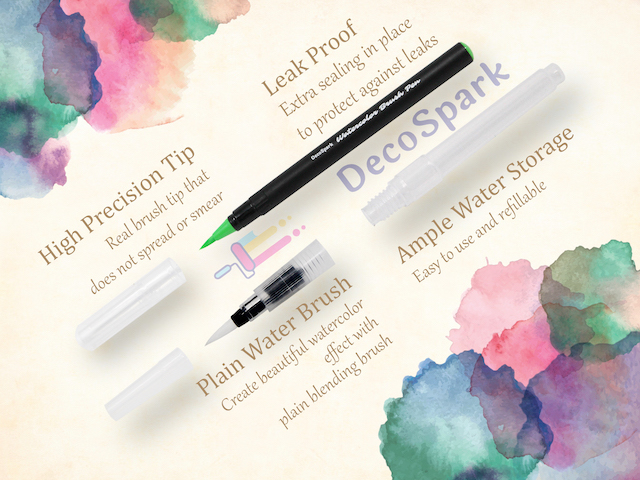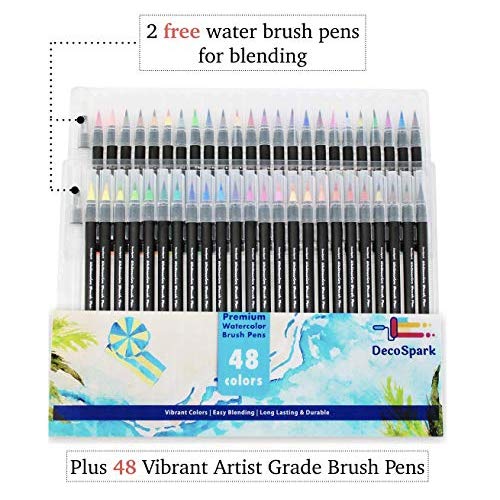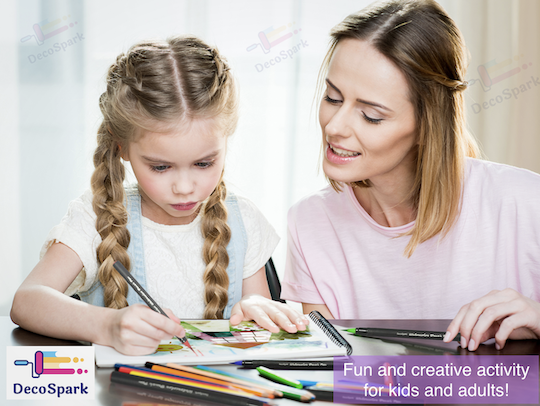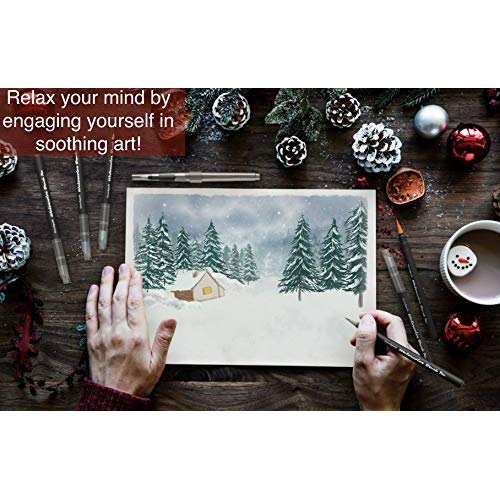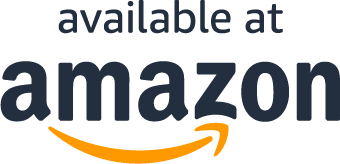 Read More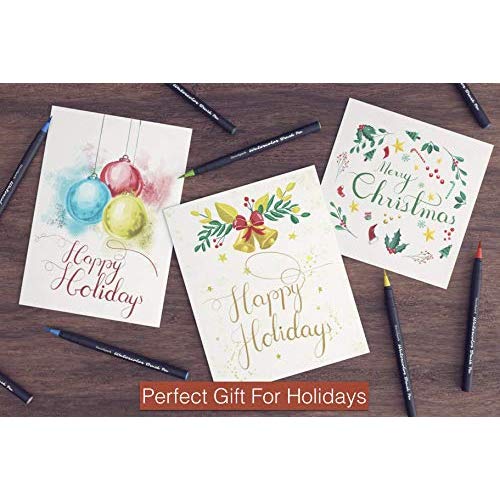 About the product
Make sure this fits by entering your model number.
HIGH-QUALITY REAL BRUSH TIP: The high-quality real brush tip of DecoSpark watercolor markers allow you to create the endless detailed shapes and fine lines. The tips are extremely flexible yet very durable and keep its shape even after lots of use.
FUN & CREATIVE: Our 48 color set of watercolor pens gives you the opportunity to unleash your inner creative artist and create real masterpieces. Give your pictures enhanced watercolor effect with included waterbrush dab pen. You can also create your own unique shade by blending various colors from the set.
TOP-QUALITY: At DecoSpark we use only the top grade materials to make the outstanding products. The ink of the markers is 100% water-based, non-toxic and completely safe even for children. The new technology of ink manufacturing allows us to create the fastest drying ink so you won't have any spills or mess during painting.
MULTIPURPOSE: The watercolor markers are the perfect choice for everyone, from beginners to professional artist and designers. Use our paint pens for coloring paper and books, drawing, calligraphy, highlighters or even for creating the complicated technical drawing. The marker set is a perfect gift for all art loving kids or adults.
100% SATISFACTION GUARANTEED: Your satisfaction is our top priority and that is what drives us to provide our customers with the best quality art supplies yet the best value for their money. If you are not completely satisfied with your purchase, feel free to contact us for a refund straight away with no questions asked.
What Are You Waiting For?
What Our Customers Are Saying
So easy to use!
I absolutely LOVE these brush pens! SO much easier to do watercolor with these than with traditional watercolor paints. Just dip in water for a gradation effect. When using straight, the color is nice and rich. Nice packaging and quick shipping with Amazon Prime! ♥
Great value
These are so great! My boss and I both enjoy coloring to relieve stress, so I bought two sets, one for me and one for her. We both love our them and I am thinking of getting some for my mom-in-law as well. These make a great gift and are great for relaxing. I love the color variety as well.
Really Nice For The Money
Nice collection of real brush marker pens. Tips are nice and flexible and the ink flows really easily from these juicy pens. A+++
Great set!
This was my first time purchasing watercolor brushes, but this set comes with an empty brush pen to fill up with water to customize the vibrancy of the colors you use. I'm so not a professional this is just a budding hobby so this is probably common? So many colors to choose from to add more realistic detail. I would recommend!
Nice gift
I bought these for my daughter who is an art prodigy. They came fast and were in perfect shape. Note that there are bristols on the tip that are separated. They are usable for calligraphy but she used them more for art. She said they do not blend perfectly but are efficient. They create beautiful gradients and i really do suggest. Very good art supplies and gorgeous colors. Also good for beginners.
Perfect gift for the little artist!
Lots of beautiful colors, brush tips are great! Way better than messy watercolor palettes.
What Are You Waiting For?
Questions?
Why are you running this promotion?
How can I use my coupon on Amazon?
Does this include free shipping?
What Are You Waiting For?