An Exclusive Offer For You
VIVO Dual LCD Monitor Desk Mount Stand Heavy Duty Fully Adjustable fits 2 /Two Screens up to 27" (STAND-V002)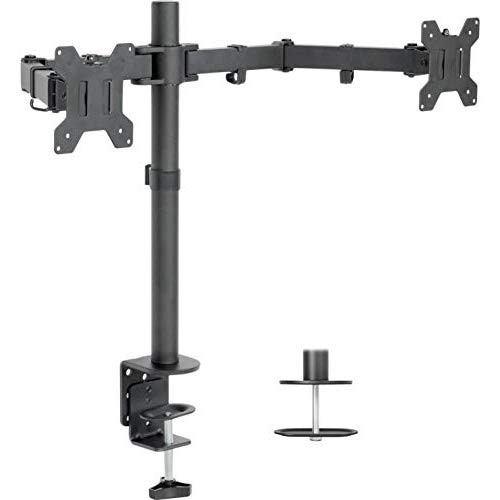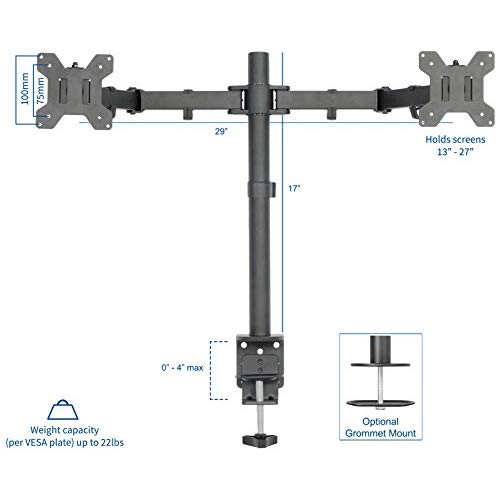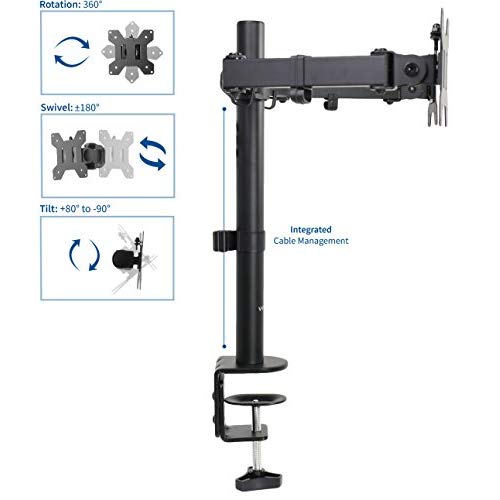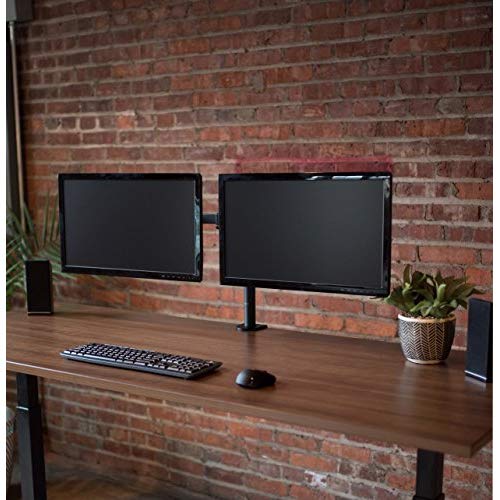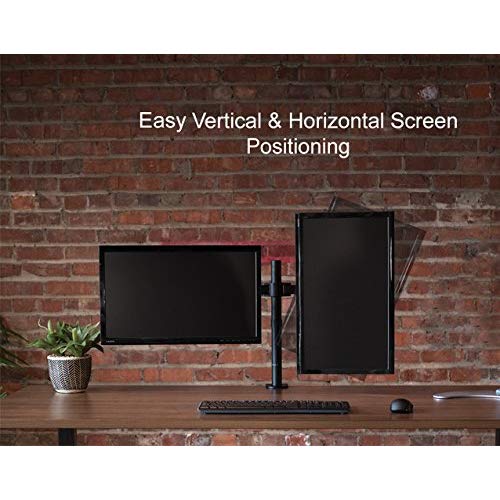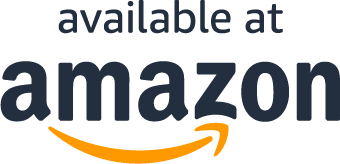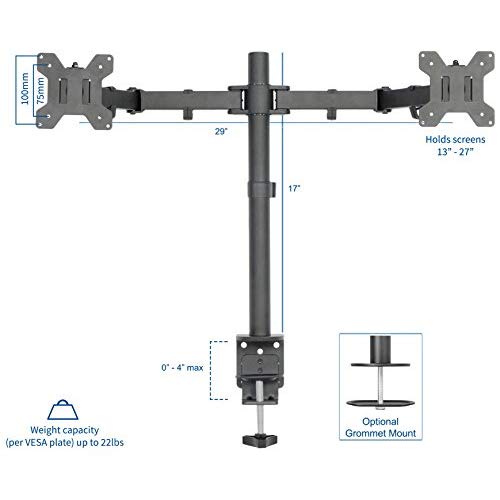 About the product
COMPATIBILITY - Dual monitor mount fitting two screens 13" to 27" in size and 22 lbs in weight each with 75x75mm or 100x100mm backside mounting holes
FULL ARTICULATION - Adjustable arm offers +80° to -90° tilt, 180° swivel, 360° rotation, and height adjustment along the center pole. Monitor can be placed in portrait or landscape shapes
DESK CLAMP - Mounts to the back of your desk (up to 4" thick) via a heavy-duty C-clamp or optional grommet mount
INTEGRATED CABLE MANAGEMENT - Keep your power and AV cables clean and organized with detachable cable clips on the arms and center pole
EASY INSTALLATION - Mounting your monitors is a simple process with detachable VESA bracket plates. We provide a step-by-step manual and the necessary tools & hardware for assembly
What Our Customers Are Saying
More stable than setting a monitor on a stand
I have added the monitor stand to my stand up desk. At first, I used the 4" clamp and I liked that I was able to come up with a way to test this out. With the 4" clamp, the Height-Adjustable Standing Desk - VARIDESK Pro Plus 36 - Black could not go down all of the way, but I was ok with that. This weekend I drilled a hole in the top portion of the desk and attached the mount using the 4" grommet. Now the stand up desk is fully adjustable.When I ordered the mount, I didn't realize that the 4" grommet would work for passing it through a desk with a hole in it. I think that is helpful feature for those of you that have a desk where you cannot clamp and don't want to drill a hole.The monitor mount is more stable than setting a monitor on top of a stand. One of my old monitors did not have the VESA mount, so I left it on the stand. The old monitor would wobble and the new monitor would barely move.I really like that it is fully adjustable! I have two 24" monitors on it. I have offset the monitor mount to fit my desk configuration. It has allowed me to have the left monitor arm fully extended and then the right one it adjusted to be next to it. The included wrenches allow me to adjust the tension of the arms.I will try to add pictures with the new monitors on it. [Update - Added final photos]*** Please rate my review as "Helpful" if it helped you because it helps me too! My opinions are solely mine and are NOT influenced by anything other than the QUALITY and PERFORMANCE of this particular product. Thanks! ***
Excellent Monitor Stand - This is the one you are looking for.
This thing is solid. I did not have the experience that some of other reviewers did as far as stability is concerned. This monitor stand Rocks!! It exceeded my expectorations especially for the price point. I got two HP Z22n monitors mounted and had no problems putting it together. The instructions are very clear and the mount comes like 50% assembled. The shipping was excellent, double packing, no damaged or missing parts. The box comes with almost all of the tools need except for a 1/4 nut driver. Currently I have the stand clamped to the desk, I am going to try this out for a while before I start drilling into the desk. As a personal choice I used zip ties and Velcro straps for my cable management, not that there was anything wrong with what was provided I know I have a lot of cables coming out these monitors. I am using all 3 input types plus power 8 cables total coming out the back. but if you look at the desk you could not tell. What you can see from my picture is that I have one cable that is hanging out, this is a 3 ft. cable that I had ordered, I'll need to replace that with a regular 6ft. If you have short cables coming from the monitors you might want to consider replacing them when you start tying the cables the extra slack gets taken up.The stand has a lot of tension points, so once you get everything the way you like it take some time to tighten everything up to about 90 to 95% tension, tight enough so it doesn't move on it's own but still flexible. Once you sit at your desk for a while you'll find your self adjusting to the perfect fit and this thing can do that. What is amazing is how much desk space I got back, it's as if I had a floating shelf for the monitors. If this starts to fail I'll be sure to update this post, but so far this is an awesome buy.
Questions?
Why are you running this promotion?
How can I use my coupon on Amazon?
Does this include free shipping?
What Are You Waiting For?