Tired of
MISSING
Chargers?
USBthere Cell Phone Charger Lock (1 Kit), Compatible with iPhone and Android, Keeps Cellular-Charging Cable and Cube Locked in Place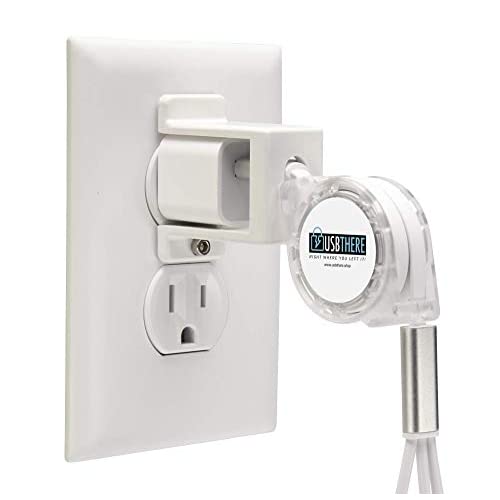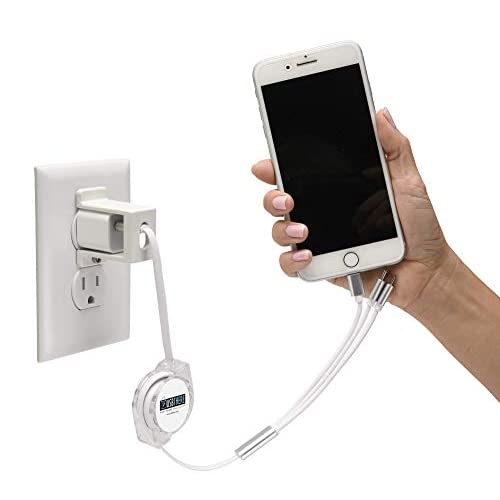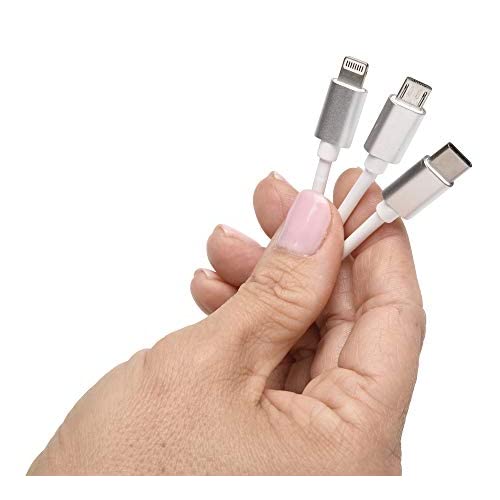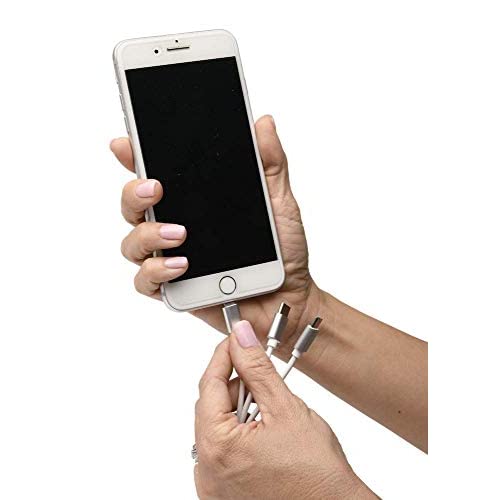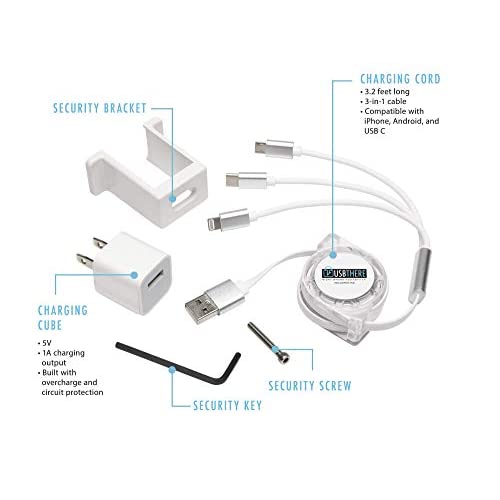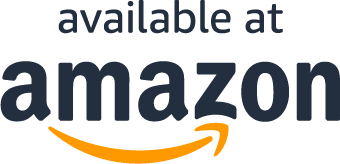 About USBthere
USBTHERE KIT - Never lose your charger again! The USBthere kit actually locks your charging cord and cube in place with a special security screw. Lock it. Leave it. Love it!
SIMPLE SOLUTION FOR MISSING CHARGERS - Keep your charger safe. With this safe charging cord kit you get assurance that your charger and cord are secure.
NO MORE BATTLING OVER CHARGERS - Constantly fighting with others over cell phone chargers? USBthere prevents others from taking your charging cord. USBthere keeps your charging cube and cord safe and secure. Made from strong and durable ABS plastic, the USBthere system is virtually unbreakable.
COMPATIBLE WITH MOST DEVICES - The charging cable that comes with this cell phone accessories kit is compatible with iPhone, Android, and Type C devices. With USBthere, your charging cord will always be where you left it.
EASY TO INSTALL - The phone charger lock kit installs on any standard outlet cover and secures your charger in just seconds. This cell phone charger and lock kit includes (1) USBthere bracket with security screw and key, (1) 3.2 ft retractable 3-in-1 USB charging cord (Apple, Android, and Type C), and (1) 5v 1A charging cube.
Made and Manufactured in the USA with Domestic and International parts.
What Our Customers Are Saying
If you have kids who ferociously consume charging cables... do this for yourself
SO SICK OF MY KIDS STEALING AND LOSING/EATING MY CHARGING CABLES. MY TEENAGER THREW A FIT WHEN SHE FOUND OUT THE CHARGER WAS NO LONGER MOVING. Making them buy their own junk from now on sorry guys... MINE!
Great solution for deployment!
I work for a property management company and we use these kits in the lobbies of some of our buildings that have mobile (smartphone) keys for access. Should residents come home late at night with a depleted phone battery, they can rest assured that the charging station will be present and able to charge their device so that they can get into the building and their apartment. Easy to install, well designed, and fairly priced. These, in my opinion, are currently the best solution and easiest solution to make sure that a mobile charger is reliably present where needed!
My chargers are always right where they should be
Finally there is a way to reliably keep my chargers right where I want them to be. USBthere incorporates a 3 in 1 charger (Apple, micro USB and USB-C) with a retractable cord and most importantly a charger base LOCK. This simple device is super easy to install and has solved the problem of having kids constantly takenor "borrow" my charger. We use our USBthere to charge a Samsung Note 8, a Samsung S10+, an iPhone8 Plus, a Samsung tablet and Xbox gaming headphones. I highly recommended getti g a couple of these for your house.
Helps in hospitals!
We have purchased 35 for a local hospital for pediatric families. This helps the hospital by not taking a parents phone into a nurses station or break room to charge, but allowing family to charge in the room, and keeps the Chargers for others to use. We are so thankful these are around- saves distraught families in a time of need.
Great Product
It works great because the three cords are retractable. It is also nice that It charges both Apple and Android phones/IPads at once.
Very useful! Very satisfied!
We love our USBthere! We have ours plugged in next to our couch in the family room. It's super convenient and nice to know there's always a charger right here. No more getting up to find a charger after you've already tucked yourself in to watch a show or movie. We actually just bought a second one and are planning on putting it in the kitchen! That'll be perfect for when we're cooking dinner off of recipe on our phone. Very happy with this!
Questions?
Why are you running this promotion?
How can I use my coupon on Amazon?
Does this include free shipping?
Never lose your charger again!