An Exclusive Offer For You
USA Gear SLR Camera Case Bag (Black) with Top Loading Accessibility, Adjustable Shoulder Sling, Padded Handle, Removable Rain Cover and Weather Resistant Bottom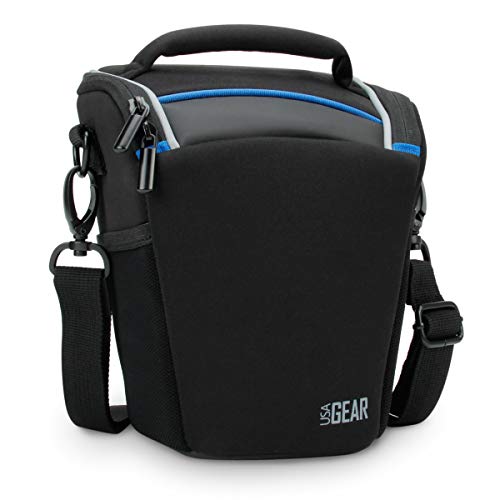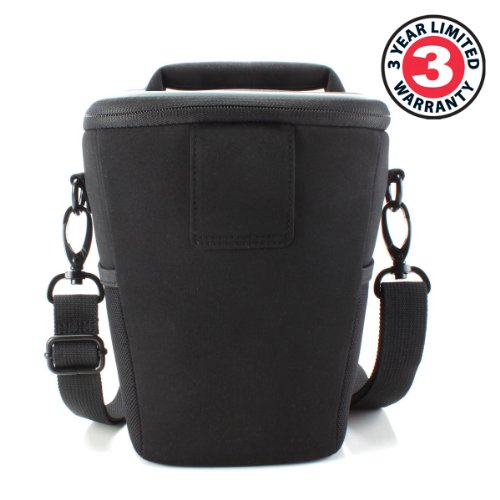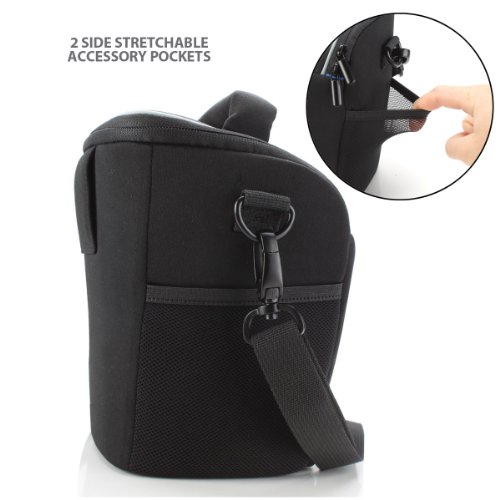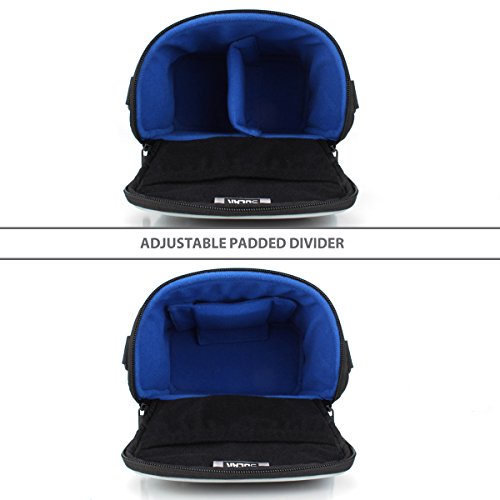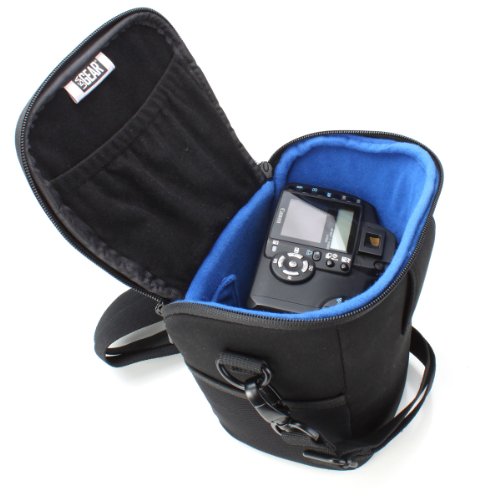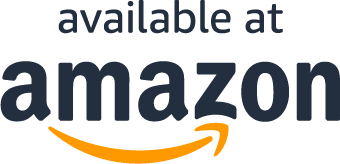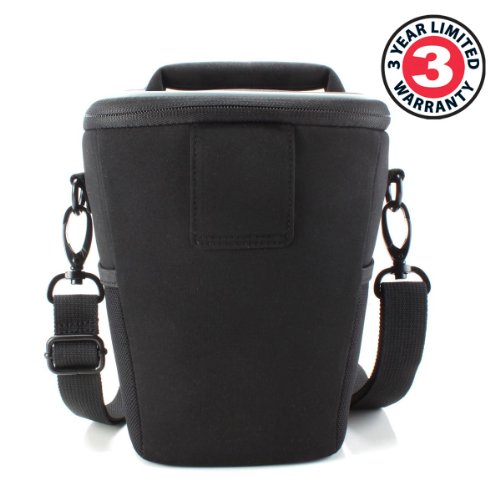 About the product
EASILY REMOVE YOUR CAMERA FROM THE CASE with a top-loading shape to quickly get the shot you want. Compatible with Canon EOS Rebel T6/T6i/SL2, Nikon D3400/D3500 and many more!

KEEP YOUR GEAR PROTECTED with a soft, padded interior & adjustable padded divider. An internal accessory pouch & exterior netted pockets provide plenty of room for carrying all your photo accessories
ADJUSTABLE SHOULDER STRAP AND ERGONOMIC DESIGN featuring a padded hand strap and belt loop for a variety of carrying options
PROTECT YOUR GEAR with the included rain cover to keep the case and your camera protected from unexpected weather
BUY WITH CONFIDENCE with the included 3 year manufacturer's warranty! Dimensions: 7.5" x 6.25" x 5.5"
What Our Customers Are Saying
Camera case destined to travel
I looked at various camera cases / holsters here on Amazon and elsewhere in order to come up with a suitable choice.Some were either too small, too large, or too conspicuous. I settled on USA Gear for several reasons: price, interior size, appearance, and durability. I wanted to carry a conventional 35mm slr with 35-70mm zoom lens as a minimum kit. This case will accommodate it. I wanted to see if I could fit a 50mm lens too. I think the case will handle it using the divider to protect the lens. The rain cover will come in handy too. What I am concerned about is the interior lining. It looks thin. The Neoprene exterior looks ok but I will need to watch for cuts. I liked the idea that the shoulder strap had metal fitting and not plastic. Pricewise, it is fine. I may update this review after our next trip.
This is a very solid camera case
Some of the things that worry me about camera cases - the buckles, the strap, the zipper, how compressible the case is - are all great on this case. The walls of the case seem to be reinforced with plastic so you can't easily crush them, the zipper doesn't catch anywhere along its run, and the buckles are thick and don't have large ridges which you get with cheap die cast buckles (those tend to break easily as well). The case also has a good center of gravity, it isn't very easy to topple over when it's upright. It feels like the bottom has weight added to it.The material feels just like wetsuit fabric, part rubber and part fabric. The handle is sewn on quite well, you would be hard pressed to rip a stitch on it.
Nice bag for everyday use
This bag is exactly what I needed. It is well-made and I haven't had any issues with the quality of it. It fits my Canon DSLR with an attached 18-55mm lens perfectly, when included divider is flat against the back or pulled out. Really not room for much else, but I knew that when I purchased it. I like to use it for city traveling or inside events when I know one lens is really all I will need. There is a sleeve in the top that fits an extra battery or SD card easily but does not close securely so I tend to leave the included divider up against the back and slip those down into the small space instead of risking to loose them. If I could change anything I'd add a zipper or velcro to that sleeve so things couldn't fall out. I really like the mesh pockets on both sides, they hold things nicely and stretch without stretching out permanently. Securely stores my lens cap or large phone (I have iPhone 7+) when I don't want to carry this plus a purse as there's enough room inside to store a bit of cash or credit card. I do like the shoulder strap and handle as it works great as a cross-body bag when traveling - keeps my camera secure and protected but easy to keep my hand on and does not make my shoulder hurt when wearing it as a cross body. It's also small enough to place inside a backpack or tote which I have done while traveling. I haven't used the rain cover - it seems a bit bulky to put on as you have to remove the shoulder straps and I don't think you can easily access the camera when it is on. Overall, I would buy again and the black with white polka dot design is cute without being obnoxious.
Great camera bag!! Fits in a backpack, under the seat in a plane!
I recently went to Hong Kong and Japan and needed a camera bag that was soft sided to put in my backpack, but also use to hold it while wandering the cities. This fit the bill perfectly. It hold my DSLR in place, has a small removable pocket inside, which was great for storing memory cards, and two side pockets. The side pockets expand A LOT. I got a pair of sunglasses in there and used it all day to hold them between pics and navigating the subway. You can easily hold a few batteries in a pock. The zipper is smooth and the bag is nice looking. The woodsy camo is cute, also ordered the wrist strap to try on my up coming Europe trip. Tip: Spray it with some water repellant and increase the safety of your gear.
Very durable bag for DSLR Cameras.
I really love this camera case for my Canon EOS rebel t5. It comes with a rain pouch that has two small holes on the sides so you can wear it with the strip in the rain. I also didn't even know it came with a mini tripod- pretty neat! When carrying this on the shoulder, the bag feels so much lighter than it actually is- probably because the weight evenly distributes itself. Very durable bag for my camera. It is also relatively small in size- so don't expect to fit your camera charger or other accessories in here, but it can fit a basic DSLR camera along with the rain pouch and maybe some smaller accessories on the side :). The handle has a great cushion and doesn't feel heavy or painful to carry around.
Right price, made right
This is a very solid choice for a bridge camera case. It fits my Sigma DP3 Merrill camera, as well as a battery charger and spare batteries. My cables went in the outside mesh pockets. A quick 30 second look showed no cosmetic defects. It looks correct all over as to stitches, graphics, and hardware. I'm not sure if it really needs a belt loop; this would be awkward on my belt. Is there another way to use that feature? My only comment to the manufacturer is don't make the interior black. It's too hard to see the contents down deep.
Questions?
Why are you running this promotion?
How can I use my coupon on Amazon?
Does this include free shipping?
What Are You Waiting For?