An Exclusive Offer For You
USA GEAR Portable Camera Backpack for DSLR (Gray) with Customizable Accessory Dividers, Weather Resistant Bottom and Comfortable Back Support - Compatible with Canon, Nikon and More
$11.40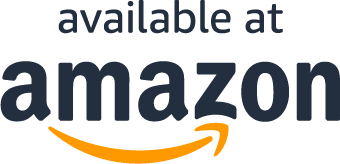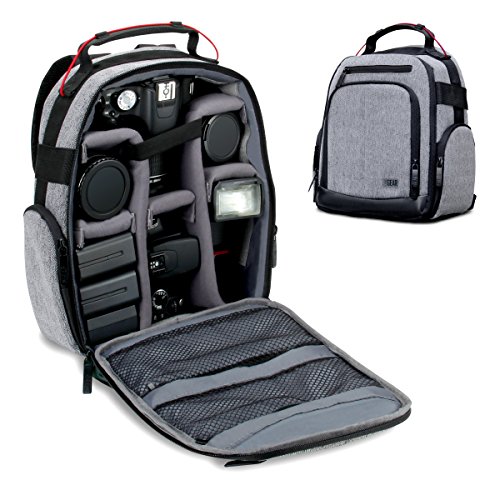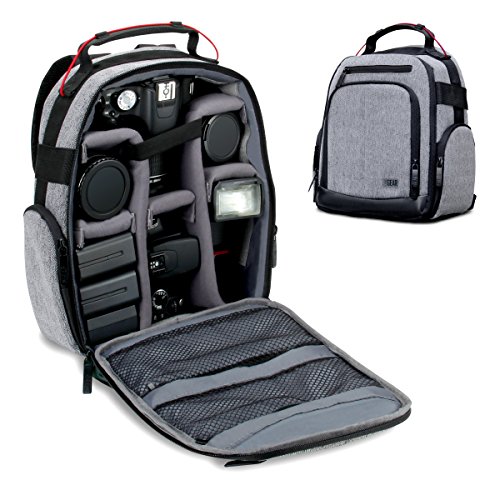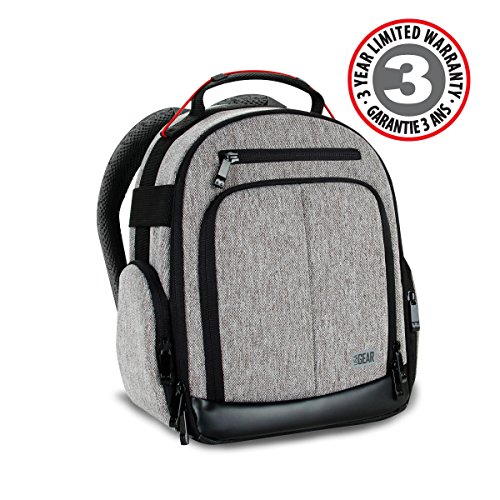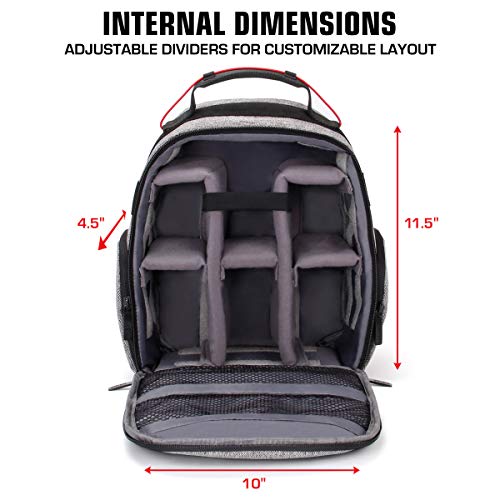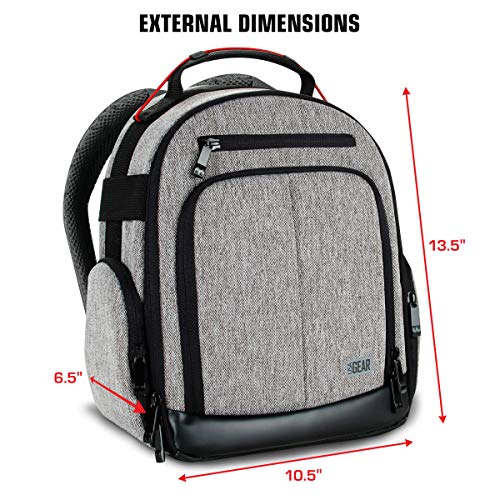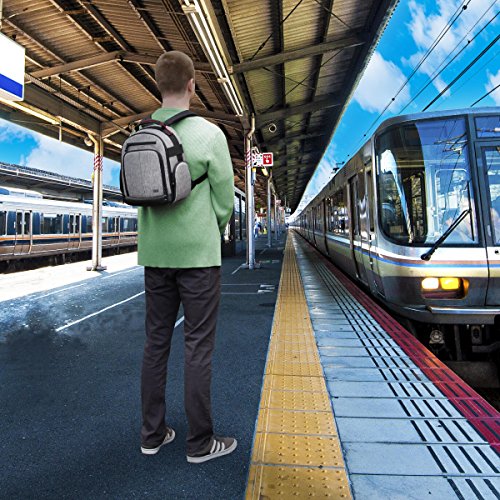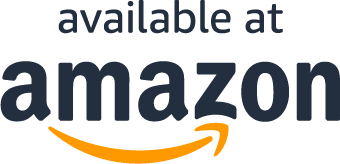 Read More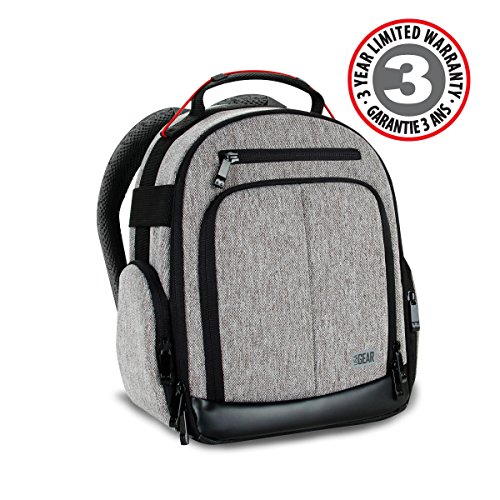 About the product
EASY TO CARRY Camera backpack is the perfect size with plenty of room to hold all your gear. Room for a full-size DSLR with lenses & other accessories. Exterior Dimensions: 13.5 x 10.5 x 6.5 inches

COMPLETELY CUSTOMIZABLE INTERIOR means you can modify the interior to fit your needs! The padded dividers can be added/removed specifically for your gear. Interior Dimensions: 11.5 x 10 x 4.5 inches
PREMIUM CONSTRUCTION, FORTIFIED STRAPS & HANDLE so you can have confidence that your gear is safe. Whether you carry by the straps or handle, they've been reinforced to support the weight of your gear
THE PERFECTLY SIZED compact case remains light weight and comfortable. It even fits under an airline seat so your gear is always with you!
RUGGED METAL ZIPPERS AND SOFT RUBBER PULLERS so you can quickly access your gear without fearing zipper breakage
What Are You Waiting For?
What Our Customers Are Saying
Incredible capacity. Great for mirrorless, well constructed. I love this bag!
As a retired, old guy and part time pro photographer, I gave up my large and heavy DSLR. But ever since I downsized to a Fuji mirrorless system last year I've had trouble finding an appropriate bag for travel. I wanted a backpack style that was small enough to qualify as my under seat "personal bag" for air travel, was light and easy to carry, yet still would hold enough equipment for handling various photo opportunities. I finally found it!This bag looks small on the outside, yet holds an amazing amount. On a recent trip to Eastern Europe It carried two Fuji bodies (an X-T2 and an X-T20) and six lenses—27mm, 35mm f2, 50mm f2, 16-50mm, 50-230mm, and 10-24mm! I couldn't believe it myself so I included a picture. I still had room for batteries and other small accessories.This bag is very well constructed with heavy duty materials, robust padding and good stiching. It carries comfortably on your back despite its small size. It looks cool, too. It's a great buy and I highly recommend it.
Compact workhorse
Holds a lot of gear without being huge and cumbersome. Took it on the airplane as my carry-on and it easily fit under the seat so I didn't have to risk damage in overhead bins or checked baggage. Could put my ID/debit and small essentials in zipper pockets and leave my purse behind when we went sightseeing. Comfortable and the backpack design meant the weight was nicely distributed over my body and not just a single shoulder. Didn't have to wrestle it as we walked at all. Handle top gives extra carrying flexibility. For example, I could carry it by hand for short hops on the subway instead of having to take it on/off to sit down/disembark at every transfer.
GET TWO! - ALSO THE PERFECT PADDED BEAUTY ESSENTIAL TRAVEL BAG!
I bought this bag in Grey for my camera equipment and I LOVE LOVE LOVE IT!!! About a month later I was looking for the perfect travel accessory bag ( going on an 8 day cruise) and it dawned on me that this could be the perfect bag for bath and Beauty essentials. I ordered it in red and I now have the perfect customizable travel accessory bag for all the girly stuff my daughters and I will need. See my photo above - There is a Conair mini pro blow dryer and a full size Chi Ari flat iron in there - 3 shampoos ( purple lids) 3 conditioners (pink lids) Travel size hairspray, conditioning spray, styling potion, silk drops, protective heat spray for hair styling, face wash, face toner, moisturizer, bath puff, deodorant, shaving gel, razor, mouthwash, eye drops, toothbrush, toothpaste, body wash, mascara, and a full size deep conditioning treatment for hair. I haven't event touched the outside pockets yet. I also tossed in 2 or 3 sample product packets. I wanted a travel bag that would offer good padding around my blow dryer and heat styling tools and this is it! We all know how our luggage gets tossed around and beaten up when traveling by air. I will of course tape all lids and caps with a sturdy tape to prevent accidental opening and leakage en-route. I was just so pleased with myself for realizing how wonderful this bag is for all our girly needs in addition to being a fabulous camera bag.
Small but oh so big !
My husband got me this bag for Christmas, and all I can say is I love it. I didn't want something too big but then again I wanted something that I was going to be able to fit all of my stuff in. This bag looks small, but it is oh so big on the inside. I have a Nikon D3330, flash, batteries, filters for lens, 5 different lens (including the one on the camera), SD cards, flash drives, and some other small stuff. All of it was able to fit into this bag. Highly recommend ! Expcally if you like to carry your stuff in one bag and are an active photographer.
Great bag for the photographer that shoots as a hobbie.
Great price. Fast delivery. Wonderful product. I can't believe how much room this little bag has. It easily houses my camera, 3 of my lenses, charger and I still have plenty of room for extra odds and ends that I might need to store while taking a hike with my camera. I've had a so so bag all this time that barely stored my camera and 1 extra lens. Not sure why I didn't order this sooner. Taking a vacation to Ireland soon, and now I don't have to worry about not having enough of my lenses with me. great buy.
What Are You Waiting For?
Questions?
Why are you running this promotion?
How can I use my coupon on Amazon?
Does this include free shipping?
What Are You Waiting For?