GET 50% OFF TODAY ONLY.
Get the popular natural supplement everyone is raving about to support thyroid health & hormone levels and stimulate metabolic activity for 50% OFF AMAZON.COM TODAY ONLY. (Limit 2 Bottles Per customer)

Powerful formula with natural ingredients works fast to help promote thyroid function & metabolism.

Includes FREE 2-day shipping with Amazon Prime and a 60-DAY MONEY-BACK GUARANTEE!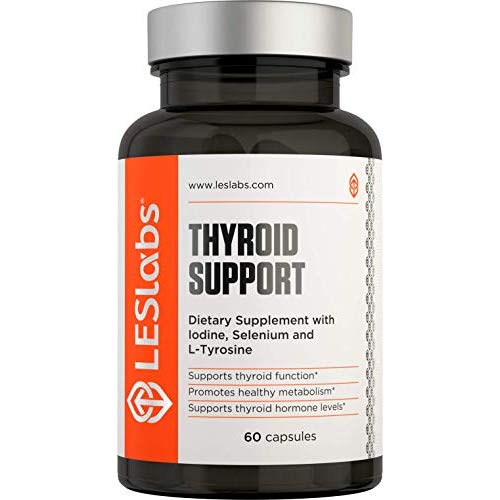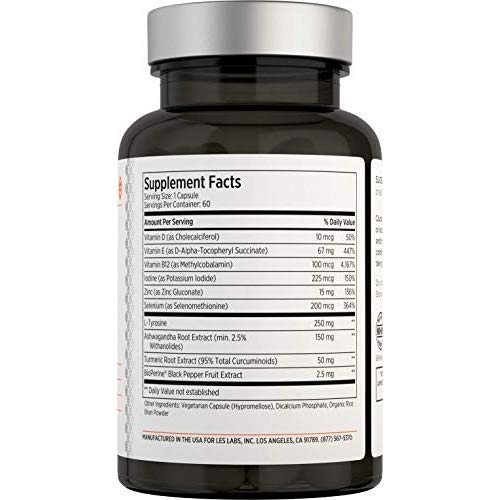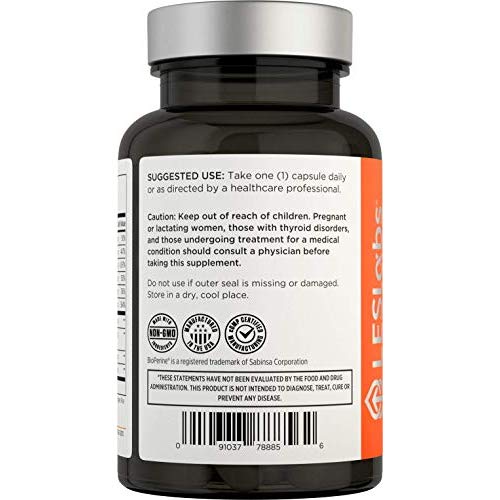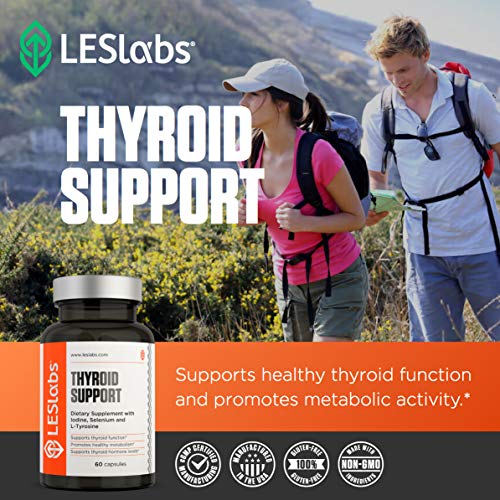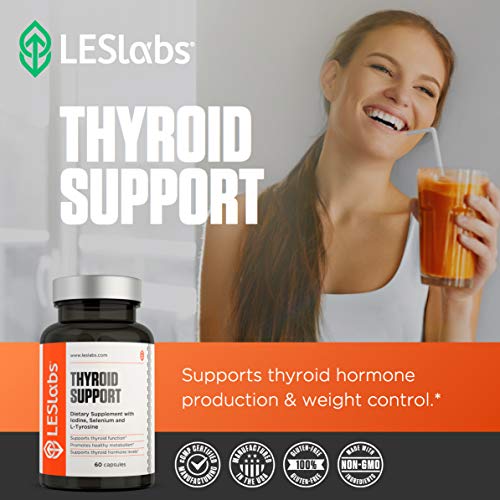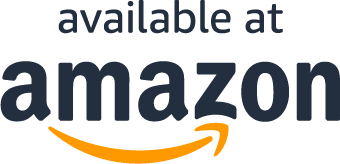 10
Coupons left
376
Coupons used
About the product
SUPPORTS HEALTHY THYROID FUNCTION. Drug-free thyroid supplement supports thyroid function and natural thyroid hormone synthesis.
PROMOTES HEALTHY METABOLISM AND WEIGHT MANAGEMENT. A healthy thyroid supports the body's metabolic processes and can assist in weight loss.
SUPPORTS THYROID HORMONE PRODUCTION. Essential nutrients like iodine and L-Tyrosine help to support healthy thyroid hormone production levels.
NATURAL INGREDIENTS. Natural thyroid supplement includes iodine, selenium, tyrosine, and ashwagandha extract.
100% MONEY-BACK GUARANTEE. Try Thyroid Support and see how it works for you. All LES Labs supplements include a 60-day money-back guarantee - just contact LES Labs if you're not completely happy & healthy for a refund. Our supplements are manufactured in the USA with the highest-quality ingredients from around the world.
What Our Customers Are Saying
Wonderful!!
So I have thyroid levels at the very bottom end of normal and all the symptoms of thyroid issues but because I am still in normal range, the specialist won't help me other than to take a supplement with Iodine. I found this product and have been taking it close to three weeks. I have tried a couple other products with no results. But this one- wow! I have eyebrows growing in again! And I am no longer feeling cold all the time, I am actually sweating when I am exercising- something I hadn't realized was missing! I feel different all over and plan to stay on this supplement. I even passed my APFT yesterday with better scores than I have in a few years!
Great as part of an overall approach to healing
Just received it and I'm writing a review to receive a bonus bottle. The product arrived quickly and without incident. I am hopeful that it works for me and plan on updating this review as I get a better sense of its effect.Update 1 Month Later:I've had some ongoing issues with sleep (insomnia, waking mid-night, exhaustion yet unable to sleep), stubborn weight (despite healthy eating and exercise) and high-stress levels. I have started to notice more and more signs of a weakening thyroid and wanted to address that before it became a major problem. After doing some research I bought a few separate herbs for this issues (zinc, copper, selenium, iodine, and B12) but when I needed to reorder I found this mix that included those and then some and decided to try them as a combination rather than separate. I figured and it has proven to be a more cost-effective option.To be fair, I also ordered two other supplements from the same company (cortisol health and insulin health) and began taking them at the same time. I take the Cortisol health (along with extra iodine and probiotics) at night and the insulin and thyroid support in the morning (along with some extra Vit. D and magnesium.)Because I started several new products at one time I have a difficult time attributing anything miraculous to just one, however, after about a month of taking this I can say a few things:-After one night of adding the Cortisol health to my nightly routine, I had the best sleep I've gotten in years. Between the three mixes, I find that I sleep longer, deeper, wake more rested and feel more energy through the day.-Since adding the three LES Labs mixes (Cortisol, Insulin, and Thyroid) I lost 7 lbs, a triumph after 4 months of intentional healthy eating and exercise with no results.-One important note: this mix contains copper, which is essential to supplement when taking zinc as zinc can cause your body to dump copper. However, taking copper can be a little tricky. I always take this with either a big breakfast or lunch. Failing to take it with food can lead vomiting. On one occasion I took it too long before eating breakfast on a basically empty stomach and got sick for the first time in many years. My sister also experienced the same issue once when the only food she had eaten was a smoothie. Apparently, this is a very common side effect of copper and I'm glad I had read about it prior to this incident. As long as I take it with food I've had no other issues.In summary, I do highly recommend this supplement as a piece of the puzzle of health. Most people with thyroid problems also have issues elsewhere (cortisol and insulin resistance among others). It helps to understand how these issues are connected and address them as a whole. There is no magic pill and the best thing you can do for your body is eat healthily and exercise, this won't replace that. However, I did find that my body needed a little extra support and with that, the healthy lifestyle I was living worked a lot better. These aren't the types of issues that go away overnight or even with one bottle. It took years for my body to get off balance and I expect it will be a journey back to full health, but this product is part of that for me.
Skeptic turned believer.
I admit, I am skeptical of reviews I sometimes see on sites but I am a believer in this product. Having been diagnosed with hypothyroidism about 5 years ago and the symptoms I had leading up to finally seeking a doctor's assistance. I once heard hypothyroidism best described as feeling like "you were continually walking through mud". Accurate. Even with medication (150 mcg) I still have little energy, foggy brain is the worst, easy weight gain (5 pounds in a week), hair loss, dry skin, sensitivity to extreme temperatures. The classical hypothroidiac even with full medication. I read the reviews of this produce and was hopeful. I figured it was at least worth the money to try it. Anything would be worth trying at this point. Simply said, I love it. I am 3 weeks in and I can tell a definite difference! More energy! I can actually perform a task for an ongoing period of time without resting. I feel like I am getting my brain back! Seriously started feeling like I was losing my mind at the things I would forget. I feel like I am returning to normal again. Now it it can help with hair loss, MIRACLE!!
I feel great! Can it work this fast
Okay, I've only been taking this supplement for less than a week...I feel great! Can it work this fast? It's stopped my craving for sugar, I'm eating less, and I have more energy. I do take a synthetic thyroid for over 10 years and I think it has helped alot but I just thought I could feel better.I love this product. Thank you
Best discovery I have made!
I feel like this is my best discovery ever! I have thyroid nodules and had to go on Synthroid 3 years ago, I told my doctor I felt lousy and kept gaining weight. I have been taking this for almost a month and have dropped 6 pounds and feel like a new person. I don't exactly know how this works, but I am a believer!
This does work for me.
Has everything a thyroid needs to function better. Selenium, zinc and iodine especially. I have been taking this product for about 6 weeks and I have more energy and I am much less tired. I feel it does what it is supposed to do. I will continue taking it.
Questions?
Why are you running this promotion?
How can I use my coupon on Amazon?
Does this include free shipping?
What Are You Waiting For?