An Exclusive Offer For You
TheFitLife Stainless Steel Metal Garden Hose 304 Stainless Steel Water Hose with Solid Metal Fittings and Newest Spray Nozzle, Lightweight, Kink Free, Durable and Easy to Store (100 Feet)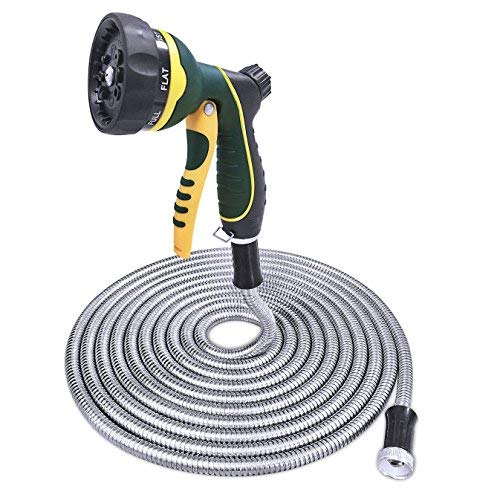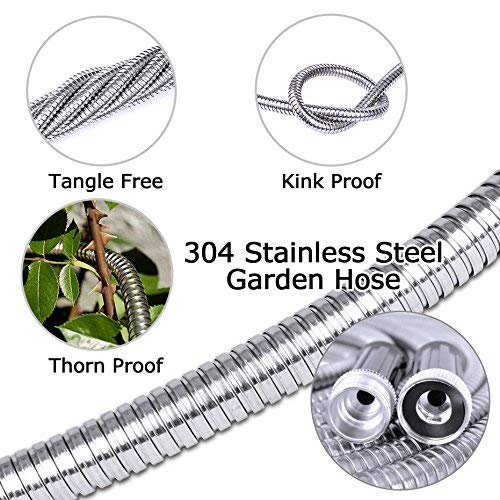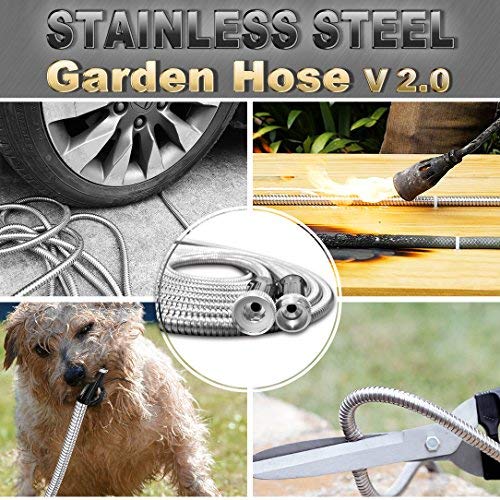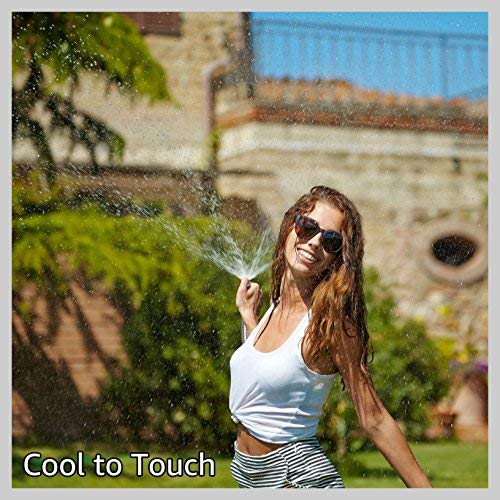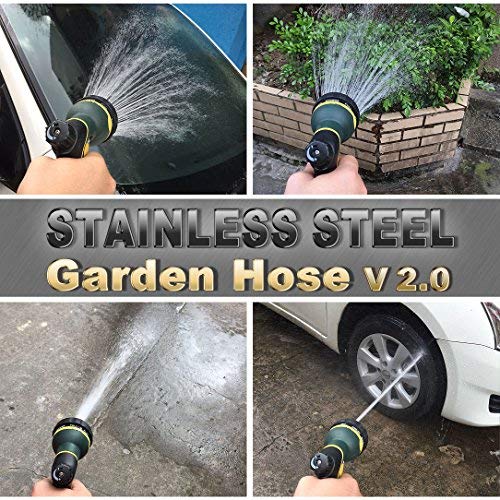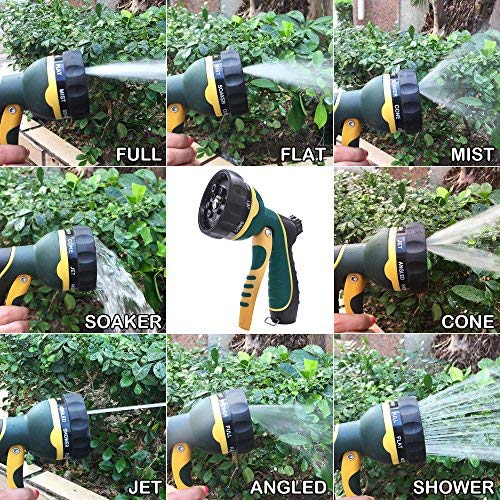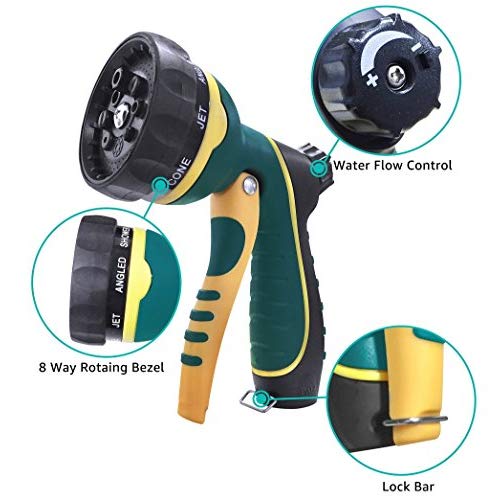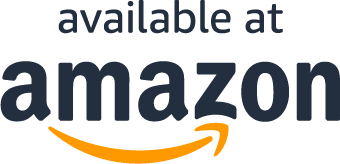 About the product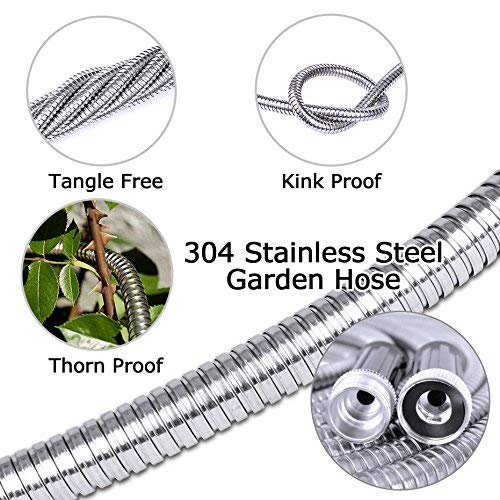 Make sure this fits by entering your model number.
SUPREME DURABILITY, NEVER WEAR AND TEAR: The most obvious benefit provided by a metal garden hose is supreme durability. Microfiber and vinyl hoses may have metal hoses beat in some areas, but when it comes to withstanding the wear and tear, the metal garden hose is the king. Made from lightweight, industrial grade 304 stainless steel, this ultimately increases the longevity and lifespan of the hose.
FLEXIBLE, TYPICALLY KINK-FREE AND TANGLE-FREE: They're only capable of bending so much, they're virtually incapable of tangling and kinking, which is a great advantage over other types of hoses if you have to transport your hose quite often. This makes them easy to use, easy to attach to your faucet, and easy to wind back in and store after you're done with them.
LIGHTWEIGHT AND COMPACT: While expandable garden hose are typically lighter, metal hoses do not weigh much more and have the added benefit of extreme durability. Weighs around 5.5 pounds in total, making them very easy to transport from place to place.
UNREELS AND COILS PERFECTLY: The metal garden hose with spiroshield technology practically unreels itself and coils perfectly every time. Guaranteed puncture proof! Super strong spiroshield technology provides an outer shell that is built to last!
RISK-FREE SATISFACTION GUARANTEE : We offer you 180 days 100% risk-free satisfaction guarantee to let you buy with confidence. We are quite sure that you will be delighted with the durability, portability and high quality of our metal garden hose.
What Our Customers Are Saying
BEST GARDEN HOSE EVER!
I was hesitant to order a stainless steel hose because a lot of people say that stainless steel hoses have bad water pressure. NOT THIS HOSE! It has as much water pressure as my old rubber hose. The thing I really like about this hose is how easy it is to wind up into the hose caddy. My rubber hose was a nightmare to roll up, but this stainless steel hose rolls up like a breeze and takes up less space than my old rubber hose. I really like the spray nozzle it comes with too. It has a throttle so you can adjust it and you don't have to hold the trigger down all the time. I would highly recommend this garden hose to anyone looking for the best hose they will ever have. It is well worth the price.
Taking Garden Hoses to the Next Level
These stainless steel hoses are excellent. The no-kink, light-weight, and easy to maneuver features are great. I had bought three of the 25-foot hoses from another vendor a year or so ago. When I needed a 50-foot for my mother-in-law, I discovered the Fit Life that comes with the very type of adjustable nozzle included. My mother-in-law loves the hose and nozzle. It almost floats along the ground compared with the very heavy rubber hose she had been using. Then my wife said we needed a 50-footer for our own backyard. So I bought another from FItLife. All five hoses work perfectly. I recommend them highly.
Reduced Water Pressure
The hose has a smaller diameter so the water pressure is reduced. It works great in the Tucson desert though, because strong water pressure tends to bounce off the parched soil, whereas reduced pressure penetrates the soil better and takes less time water. The hose is also very light and easily passes over rocks and twigs in the yard. It just skims over everything. It's made the chore of watering bearable. I put in my AirPods for music & off I go. I was going to order another hose and was really disappointed to learn that the item is no longer available.
Loving The Toughness of this Hose
So far, so good. I love these collapsible hoses as they are so convenient but the standard model without the metal casing don't last. If I got one season out of them it was a miracle. This hose, with its metal casing, has been a charm to use. It's still light weight, doesn't kink at all and has worked like a charm so far. When I'm using it, I don't worry about catch it on sharp things around the yard and when I'm done with it, I easily coil it up on my hose spool.
Questions?
Why are you running this promotion?
How can I use my coupon on Amazon?
Does this include free shipping?
What Are You Waiting For?