An Exclusive Offer For You
TheFitLife Exercise Resistance Bands with Handles - 5 Fitness Workout Bands Stackable up to 110 lbs, Training Tubes with Large Handles, Ankle Straps, Door Anchor Attachment, Carry Bag and Bonus eBook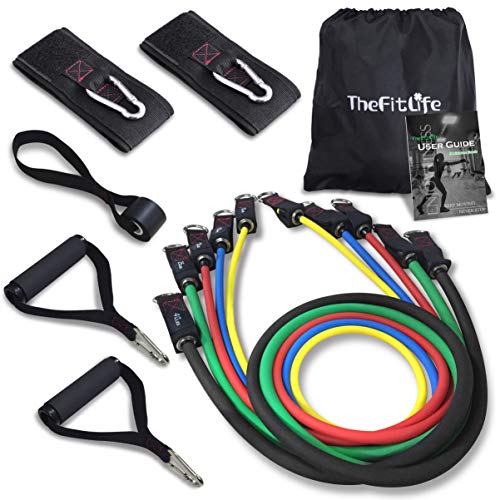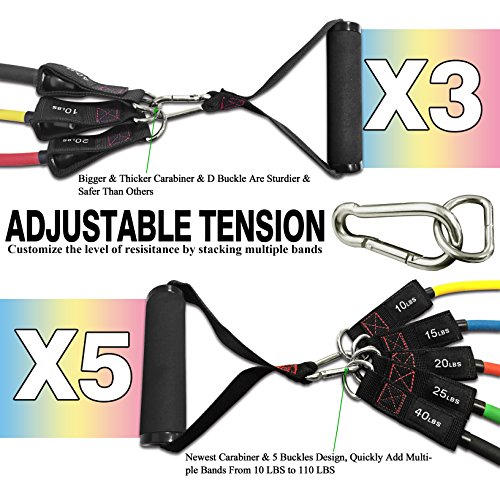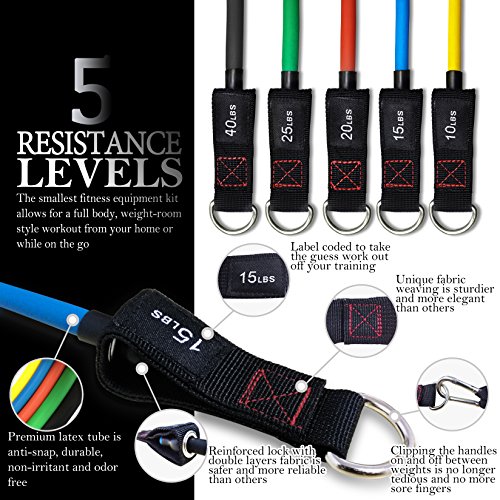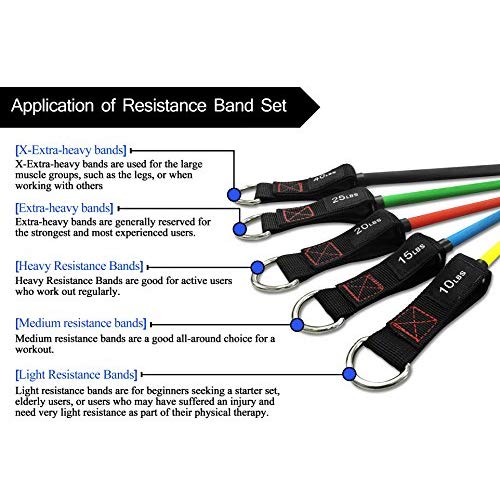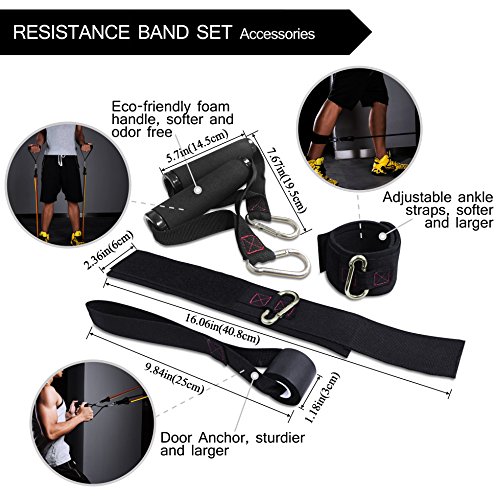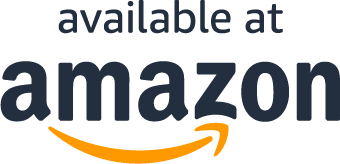 About the product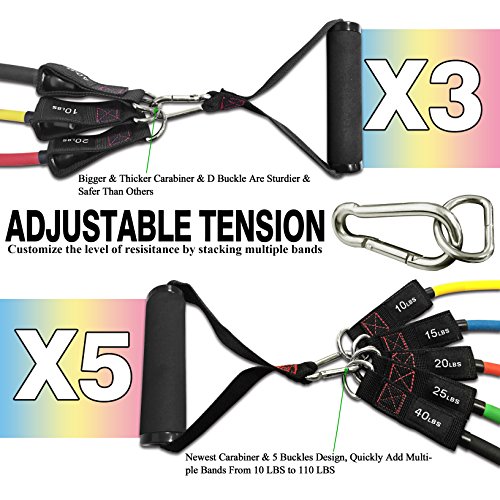 Make sure this fits by entering your model number.
BURN FAT AND BUILD MUSCLE: Resistance band training are extremely effective at burning fat and increase muscle strength, and also help you increase coordination, boost stamina, flexibility, range of motion, exercise different muscle groups, such as shoulder, arm, leg, butt, booty, and etc. Perfect for all whether beginners or expert, boys or girls, men, women or children.
VERSATILITY, MAKE FITNESS SIMPLE: While barbells provide you with a heavy lift, and weight machines are stable and easy to use, neither has the versatility of the resistance bands. 5 bands can be used alone or stacked in any combination of intensity from 10 lbs to 110 lbs. Each band is 48 inches in length and marked with its equivalent weight. With attachable soft handles, ankle straps, door anchor, you can choose different training method for building strength.
LIGHTWEIGHT AND PORTABLE, USE ANYTIME AND ANYWHERE: The resistance bands are ultra lightweight and easy to carry. You can easily pack them in your suitcase or in you car, so you can exercise in the workplace or in your hotel room. In fact, they will become your usual equipment. Privacy exercise in your home, hotel, workplace.
PREMIUM MATERIALS TO ENSURE MAXIMUM LIFE, HEALTH AND SAFETY DURING USE: The anti-snap bands are made of natural latex that is stackable, non-irritant and odor free, it's an excellent choice for your health and exercise. With sweatproof and skidproof handles, strong fabric and steel D buckles to ensure maximum life and safety during use. We think that you find these are the best resistance bands on the market.
THEFITLIFE 1 YEAR WARRANTY: We offer you one year 100% risk-free satisfaction guarantee to let you buy with confidence. We are quite sure that you will be super-impressed with the durability, portability, versatility and high quality of our resistance bands. Otherwise 100% money back.
What Our Customers Are Saying
Meet the advertised resistance
These bands are sturdy and well made, and they definitely do provide the advertised resistance, which was the main reason I rated 5 stars. I used other 150 lb or 200 lb resistance bands, finally I found the weight number on those bands were a joke. They said 10, 20, 30, 40, 50, but all of them were not accurate. Even the resistance on the 50 lbs was no where near 50 lbs and felt more like 10-15 lbs. As soon as I received these bands, I checked the resistance level of each band by a luggage scale. All of them met the resistance they advertised. The handles are cool and large and the bands are strong. The carabineers are larger, sturdier and easier to link than the sets I bought before. In summary, These are great value and exceeded my expectations.
Quality, strength training, full body workout resistance bands!
I had to find a cost effective way to exercise when I didn't renew my gym membership, and I'm extremely happy with this set of exercise resistance bands that I've been able to use for great low impact strength and toning exercises! They've been wonderful for stretching and range of motion, and provide me a way to change up the exercise routines regularly without becoming boring! What I like the most about these is I can exercise my whole body, and choose and easily adjust the levels of tension depending on what part of my body I want to work out! The five different bands are clearly marked to show lightest to greatest resistance, from10 lbs to 40lbs resistance, and can also be combined together to create an even greater challenge to work with. The grips are cushiony and comfortable to use and slip proof! And the tubes are made with a very flexible, durable latex, instead of rubber, which is another plus. I found the ankle straps and door anchor very easy to use, and really like the large clip that comes with the set! The entire collection is very lightweight and packs up easily and nicely into the storage bag that's provided! I've noticed wonderful results using these: increased strength, noticeable toning, and have even shed some unwanted pounds! Really fantastic exercise tools!
Good quality resistance bands.
These resistance bands come in 10, 15, 20, 25, and 40 pound weight increments which is really nice to have an assortment of resistances. Also it comes with all the attachments I need to use it easley anywhere around the house. The bands them self seem to be made of quality parts so they should hold up. Also I like that they come with a carrying bag so if I travel with them or bring them to the gym they're easy to bring.
What's cooler than having a weightlifting gym inside your house?
Nothing. But if you're short on cash or don't have enough space to set up weight lifting equipment, this is a good alternative. You can do a lot of stuff that a proper weight set can give you, but it's definitely lacking in quality. Fortunately this thing packs an extremely good eye turning bang for buck alternative money can buy. It's great for muscle tone, but you can also build bulk on this too. Feels good to have something like this where I can bring to the living room while watching something or just working out while I'm cooking. In fact, this is good to keep around to compliment the stuff you have at home.
Great purchase
So awesome. Love that they came with a bag to store. Look super professional. Awesome for home work outs.
Questions?
Why are you running this promotion?
How can I use my coupon on Amazon?
Does this include free shipping?
What Are You Waiting For?