An Exclusive Offer For You
TheFitLife Exercise and Resistance Bands Set - Stackable up to 110 lbs Workout Tubes for Indoor and Outdoor Sports, Fitness, Suspension, Speed Strength, Baseball Softball Training, Home Gym, Yoga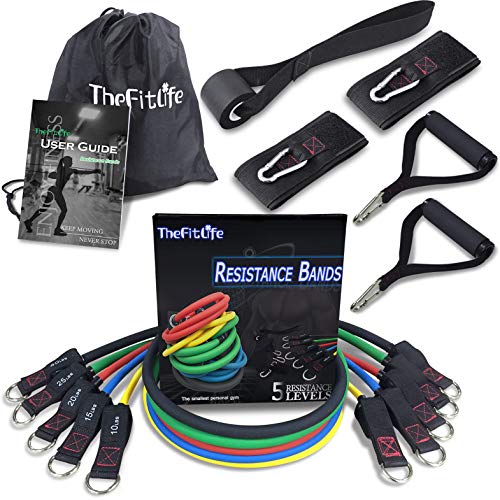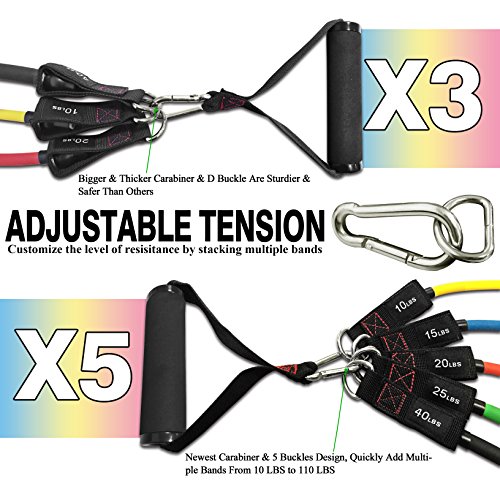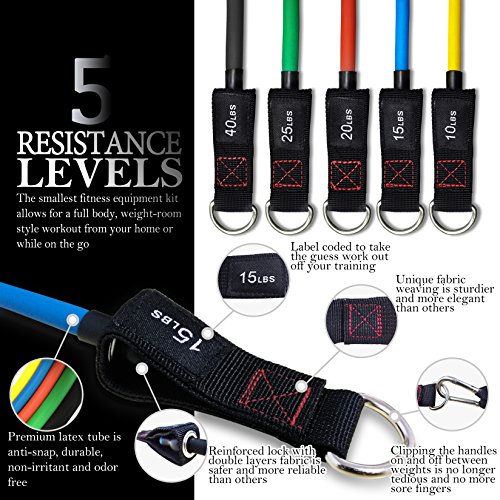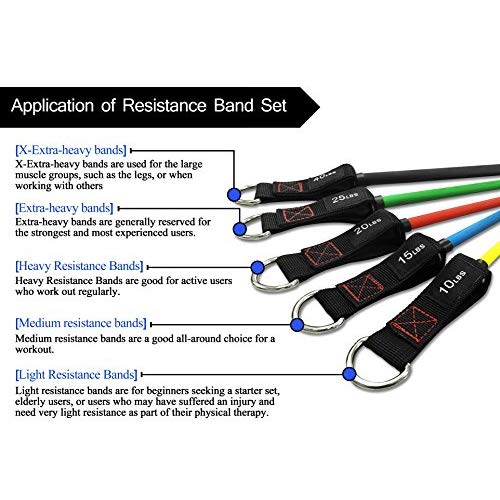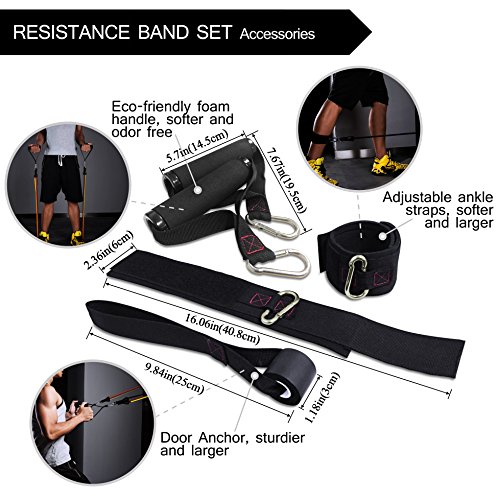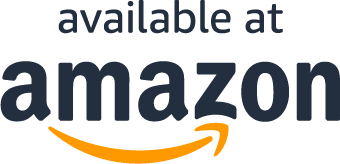 About the product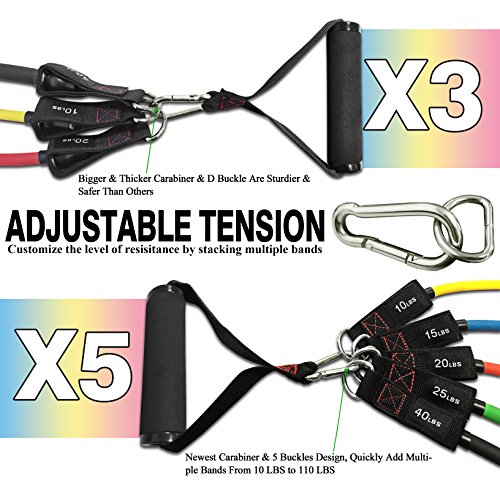 BURN FAT AND BUILD MUSCLE: Resistance band training are extremely effective at burning fat and increase muscle strength, and also help you increase coordination, boost stamina, flexibility, range of motion, exercise different muscle groups, such as shoulder, arm, leg, butt, booty, and etc. Perfect for all whether beginners or expert, boys or girls, men, women or children.
VERSATILITY, MAKE FITNESS SIMPLE: While barbells provide you with a heavy lift, and weight machines are stable and easy to use, neither has the versatility of the resistance bands. 5 bands can be used alone or stacked in any combination of intensity from 10 lbs to 110 lbs. Each band is 48 inches in length and marked with its equivalent weight. With attachable soft handles, ankle straps, door anchor, you can choose different training method for building strength.
LIGHTWEIGHT AND PORTABLE, USE ANYTIME AND ANYWHERE: The resistance bands are ultra lightweight and easy to carry. You can easily pack them in your suitcase or in you car, so you can exercise in the workplace or in your hotel room. In fact, they will become your usual equipment. Privacy exercise in your home, hotel, workplace.
PREMIUM MATERIALS TO ENSURE MAXIMUM LIFE, HEALTH AND SAFETY DURING USE: The anti-snap bands are made of natural latex that are stackable, non-irritant and odor free. It's an excellent choice for your health and exercise. With sweatproof handles, strong fabric and steel D-ring buckles to ensure maximum life and safety during use. We think that you find these are the best resistance bands on the market.
THEFITLIFE ONE YEAR WARRANTY: We offer you one year 100% risk-free satisfaction guarantee to let you buy with confidence. We are quite sure that you will be super-impressed with the durability, portability, versatility and high quality of our resistance bands. Otherwise 100% money back.
What Our Customers Are Saying
Good piece of kit
Resistance bands are definitely a fantastic aid to fitness. They can give a total upper body and torso workout, which can then be supplemented with lower body activity like running & cycling. For this product, here are my pros and cons:Pros:- well made overall- really like the big soft-grip handles- chunky carabinier fittings- good choice of band weights- very portableCons:- some of the bands do have a fairly strong rubbery smell, initially at least; I use mine in the bathroom with the extractor fan on- handle/strap contacts were a bit squeaky until I applied some dry lubricant, e.g. graphite/PTFE- dualling bands pretty pointless, and makes slapping noise- being tall, I found the bands a bit short for going under both feetMy regime uses the door mounting, placed successively at the top, middle, and bottom of the door, each with forward and backward use, i.e. six different orientations. Six-pack in a month of that I'd say!
VERY IMPRESSED
I have a great home gym and use on-line classes every day. I have recently started one where they want me to change weights all the time and I just don't have that facility so decided a needed to use different levels of resistance bands. I did lots of research and this company came up as the top pick. The price was a little low and I was worried about the quality but when it arrived all those concerns disappeared. The bands are very robust and there is no way they are going to break under the pressure of a gym session. I love that you can quickly change the handholds (picture 2) or make use of the door stop (picture 3) or anchor (also picture 3). You can easily identify the level of the band (picture 4). And there is a great bag to hold everything together once you have finished your work out. Very good bit of kit for a great price.
These are of higher resistance lb's than the normal band sets, can stack to 110lbs.
These are a great addition to resistance training, they are also good for carrying on trips or Xruns. They train muscles differently to weights alone, has towards the "top" of the movement is when there is most resistance. They take a little time to find max resistance and get the form correct but it is possiable to achieve progressive overload, also brilliant for bodyweight routines. Ive used these for about a month outdoors and they have lasted well, no signs of weakness anywhere.
Perfect way to train at home
These bands are ideal for working out just about anywhere but in particular for us as we devise workout programs for those that are housebound for one reason or another or for those looking to develop confidence before stepping foot inside a gym.Like most resistance bands they come with various attachments and door anchor so that their use can replicate cable machines and such exercises carried out on them. However, what drew my attention these were that they come with carabiners on the handles rather than directly on the bands themselves. The advantage for the carabiners on the handles is that home trainees who have mobility issues or arthritis can easily attach the handles to multiple bands at once rather one by one which in the past we found wasn't quite as successful for the trainee.The various bands when used in a variety of combinations provide more than enough resistance for all the exercises we prescribe whether for bicep curls, trips pushdowns, low rows, face pulls as well as other push and pull exercises as squats.The leg attachments are comfortable enough when worn over tracksuit trousers or long socks. Whilst the handles are suitable for the job, just like most of other sets like this, I think it would be more ideal if the handles were a little more robust as they do flex a little which with the strongest of trainess can give the impression that they may snap in time. However, this has not occurred yet but from past experience, they may.For the money and presentation we have no complaints nor do the users we use them with.
Quality over quantity
Have to say on first impression I'm very impressed, the quality seems to be to a very hi spec, for example the way in which the material anchors are attached to the rubber bands is done in a way that will help them last. They are not simply rubber welded but have a small ball inserted in the band that is then held in place by a metal eyelet. or though I have nothing to compare this too and only time will tell how long the rubber on the bands last. My only criticism is the handles are a little on the narrow side for my hands. Having been weight lifting for 20 years and now struggerling to get to the gym when I want these fill the gym days I miss perfectly. Didn't realise it came with a door anchor....very simple yet impressive extra. Dont get me wrong they are not a replacement for the gym or weights but a very good supplement for weights.
Excellent fitness bands
I bought this set as, after cancelling my gym membership, I decided to work out at home. The item arrived really quickly (same day delivery wow!), it is perfect to take everywhere as it comes in a very nice and practical bag. Easy to set up and was good to find a guide/ exercise suggestion booklet included. I haven't had these bands for long but I have already fallen in love with them as they are so adaptable in their configuration! Each band have a different colour and a different strength, it's a nice way of exercising.Overall it is a really great product at a very good price. Would definitely recommend it!
Questions?
Why are you running this promotion?
How can I use my coupon on Amazon?
Does this include free shipping?
What Are You Waiting For?