MAKE DINNER GREAT AGAIN!
Trump Steam Diverter
$12.34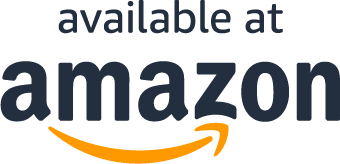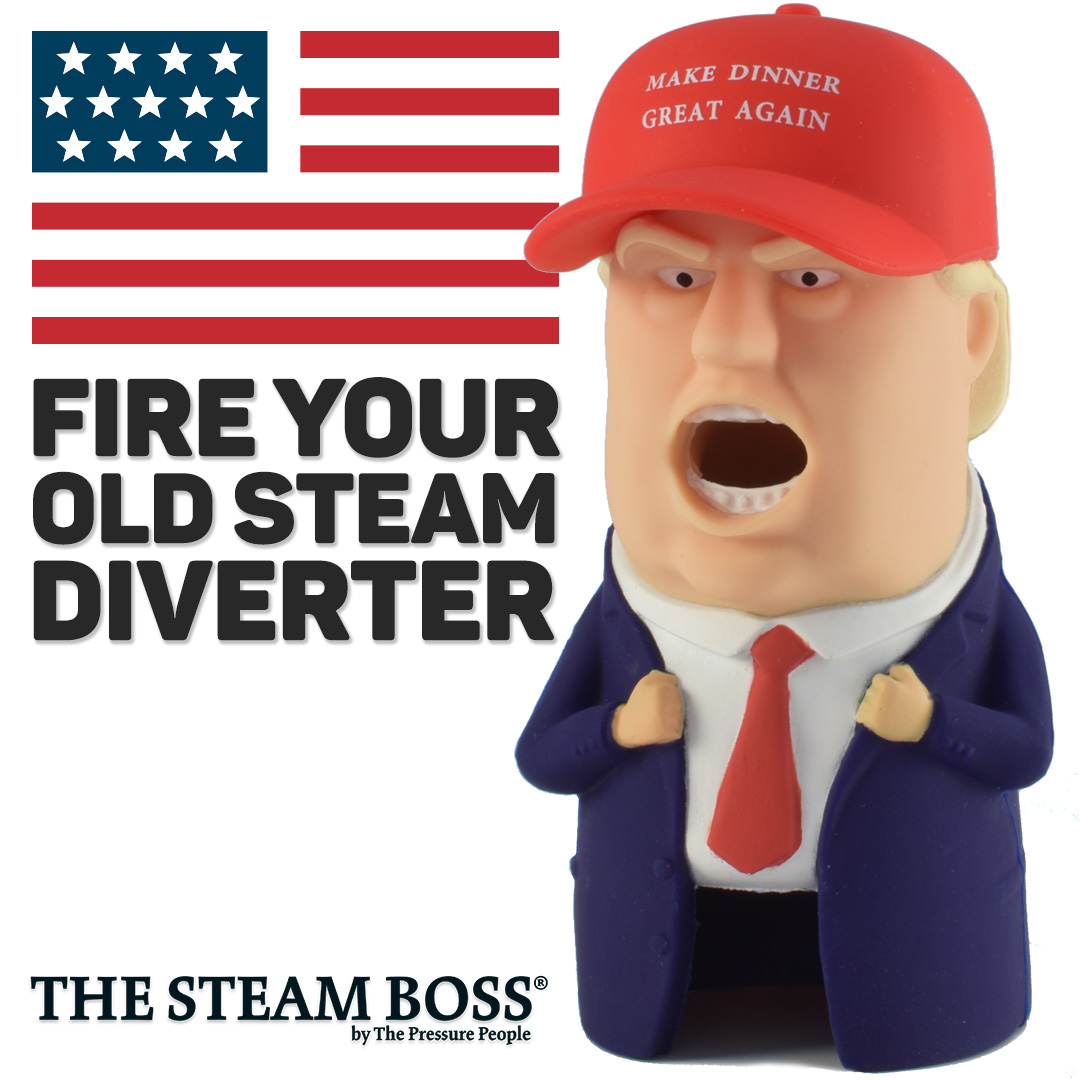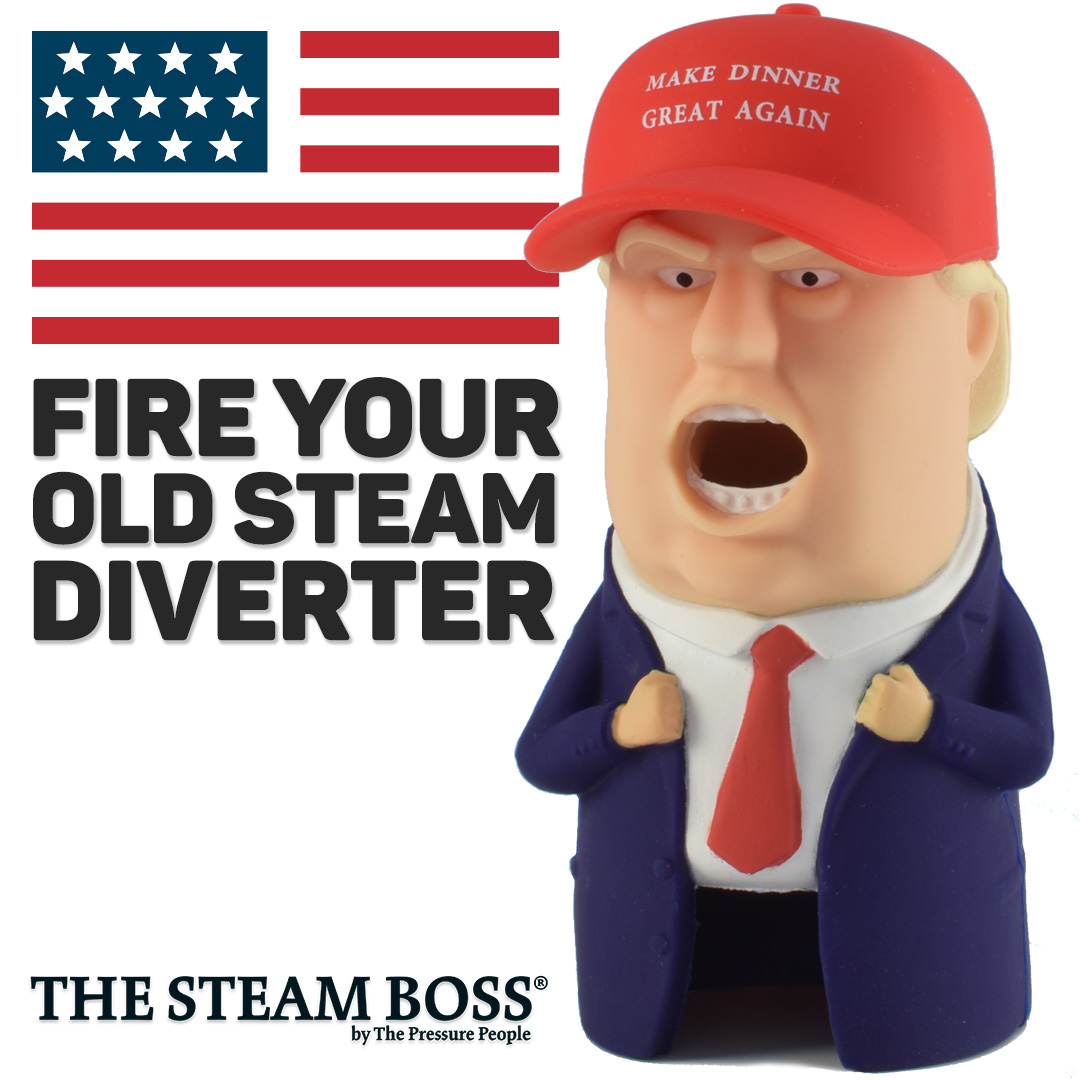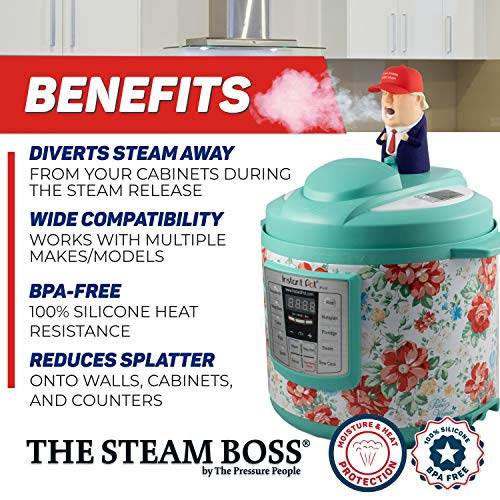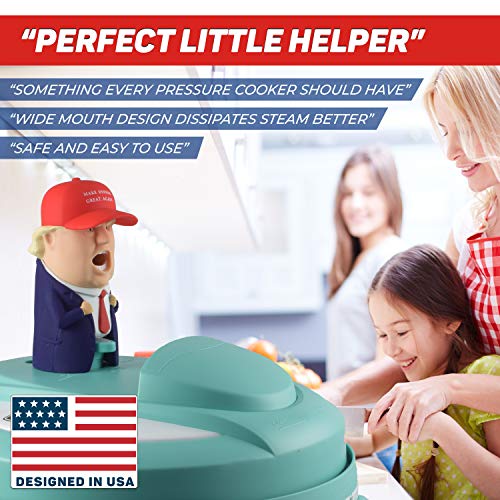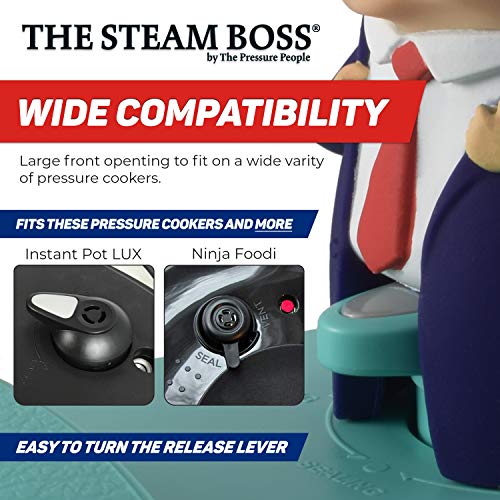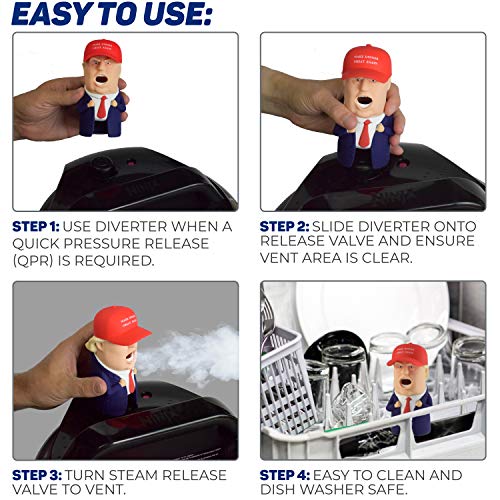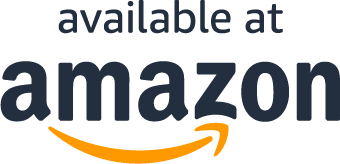 Read More
About the product
PROTECTS AND SAVES: Direct steam away from your kitchen cabinets, protecting them from moisture and heat released during a quick pressure release (QPR). You could save hundreds of dollars spent on replacing damaged, molded, or even rotted cabinets by spending just a few dollars.
Rated Best Steam Diverter for Instant Pot in 2019 by iMore.com
Voted the #4 BEST accessory for Instant Pot lovers by CNN Underscored.

SAVES TIME: Stop wasting time scrubbing starchy splatter and hot steam off your upper cabinets, walls, and window coverings every time you do a quick pressure release (QPR) on your electronic pressure cooker.
SMARTER COOKING: Impress guests and friends with how you've taken your pressure cooking to the next level by adding safety and reducing clean up. A simple choice that can make you the instant expert on delicious food, smart cooking, and easy cleanup.
EASY TO USE: The Steam Boss's classic design releases steam in ONE (1) direction and lets you choose where the steam goes with our multi-open base design. This makes attachment EASY and the wide mouth makes cleanup QUICK. Made with high-quality BPA-free silicone, it's hand and dishwasher SAFE.
COMPATIBILITY: This Diverter is DESIGNED TO ATTACH LOOSELY, not permanently or snug. The "LUX/Foodi" size Steam Boss works with Instant Pot models LUX mini, LUX 6 qt, or LUX 8 qt, Instant Pot Max 6 qt, Instant Pot "Duo Evo Plus" 6 & 8 qt, Crock-Pot Express (CPE) 6 qt, Ninja Foodi 5, 6.5 & 8 qt, Power Pressure Cooker XL, and Fagor Lux multi cookers. With so many options purchasing The Steam Boss has got you covered.
What Are You Waiting For?
What Are You Waiting For?
What Our Customers Are Saying
Simplicity That Works!
I love this little gizmo...The Steam Boss! It is so handy and easy to use. Even though I have used a pressure cooker for years, it took me several months to work up the nerve to try out our new Instant Pot. It was a bit intimidating with all those buttons and choices. With my old pressure cooker I ran cold water over the lid to release the pressure so I didn't have to touch the valve and risk being burnt by steam. When I first tried the Instant Pot I realized that quick releasing pressure with the valve could give you a burn if you were not careful. So I did a little more research and found The Steam Boss on line. What a great idea! There are different models to accommodate the various models of Instant Pot ( I have the Duo Plus ). The correct model of The Steam Boss boss for my machine came in black or pink. I chose pink, not just because it was a fun, less serious color but because I thought it would be a lot easier to find in a drawer with all my other black gadgets. An additional plus is it is easy to see what you are doing when attaching it to the valve on the Instant Pot. It only takes a couple of times to figure out how to aim the diverter because it changes position when you turn the valve. Note that you do NOT COOK with the diverter in place but put it on the pot only when cooking is finished and you are ready to divert the steam. To clean you just rinse in hot soapy water. No mess, no fuss and it keeps your fingers away from the hot steam and the steam from getting on your cabinets.
Useful little device!
 This little periscope did exactly what I wanted it to do - divert the steam release of my Instant Pot away from my wooden upper kitchen cabinets. I have zero counter space that isn't directly below cabinets and I hated releasing the steam under them and this did the trick! It's made of a sturdy, soft silicone that's easy to wash.It says to place it on the steam release valve after the food is finished cooking, but please do so carefully. The steam release valve is sensitive and trying to put the Steam Boss on naturally released some steam. Please excuse my tentativeness in the video - the Instant Pot is new to me and I was worried about the steam release, hence the wooden spoon method.Overall though, I'm pleased with this and it will definitely get a lot of use in the future.
A must have for instant pot enthusiasts
We have the standard particle board/ veneer kitchen cabinets in our kitchen, and while we LOVE our instant pot, we didn't love how the steam would vent directly into the underside of said cabinets. (All counterspace in our kitchen is below cabinets)With the steam boss, it's not a concern or a worry. Steam is vented away from the cabinets in any direction we choose. It cleans up easily and is easy to use. 10/10 would (and do) recommend this.
This works GREAT! It's a soft plastic that is so easy ...
I just bought an Instant Pot and realized after my first use that I needed a steam diverter so my kitchen cabinets wouldn't get a steam bath every time I used it. This works GREAT! It's a soft plastic that is so easy to attach over the steam release valve, and I chose pink for breast cancer!
Fits 6 qt. Crock Pot Express 8 in 1 Multicooker!
Can't tell you how thrilled I was to finally find a steam diverter that fits my 6 qt. Crock Pot Express 8 in 1 Multicooker! This one works like a champ! No drips or water puddles--just a wide swath of steam that dissipates in the air. The Pressure People are very responsive and delightful to deal with, too. All around, this product is a winner! NOTE: If you have a 6 qt. CPE, be sure to order the LUX version!
Thank You, Steam Boss!
I am so happy that I found Steam Boss for my Lux 6 qt. Instant Pot! It is saving the precious fronts and undersides of my cherry wood cabinets...and it is saving me from steam burns, too. It is so easy to use - and made from tough silicon, it is a breeze to clean and keep smelling fresh. It stores easily inside my I Pot, so it never gets lost. Now, I do not have to worry about steam and its excessive moisture ruining my precious cabinetry. Very happy with this product! However, I must say that one of the support pages on Face Book for the I Pot will not allow me to post a picture of it, or even talk about it. They say since it is not their product, they can't endorse it. Well, why didn't they come up with something such as this? They haven't so far, so Steam Boss, you get my vote!
What Are You Waiting For?
Questions?
Why are you running this promotion?
How can I use my coupon on Amazon?
Does this include free shipping?
What Are You Waiting For?