An Exclusive Offer For You
THE GYM PEOPLE Thick High Waist Yoga Pants with Pockets, Tummy Control Workout Running Yoga Leggings for Women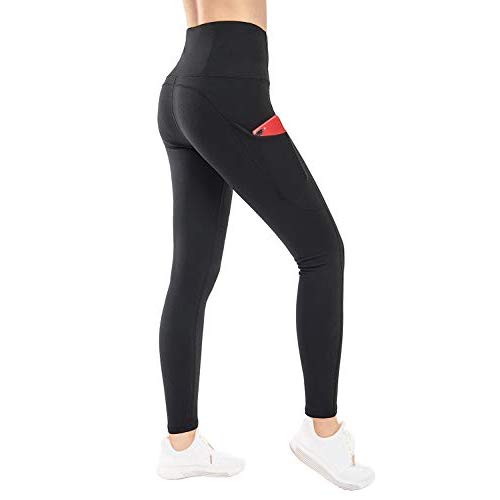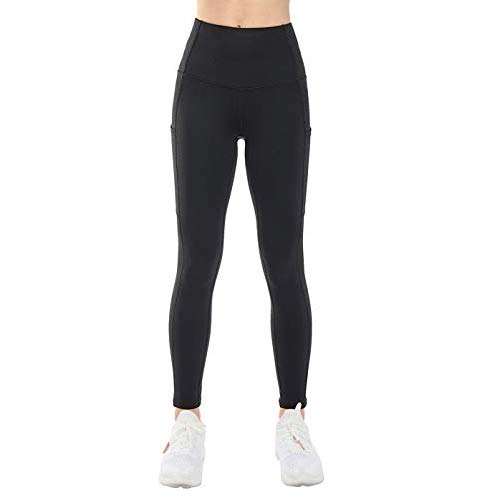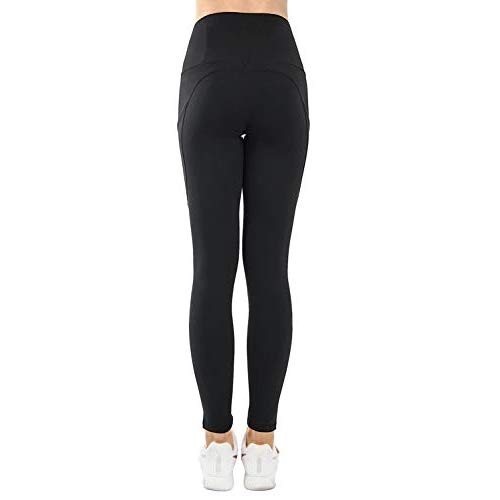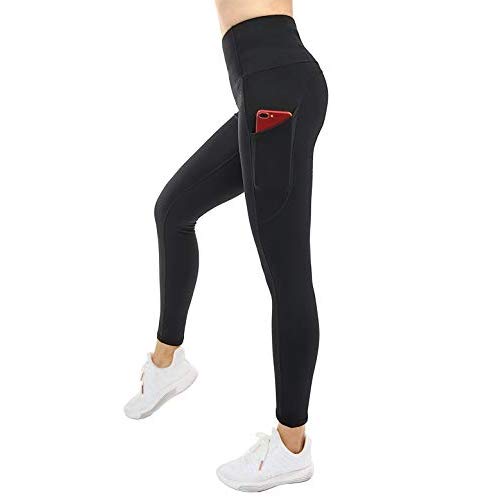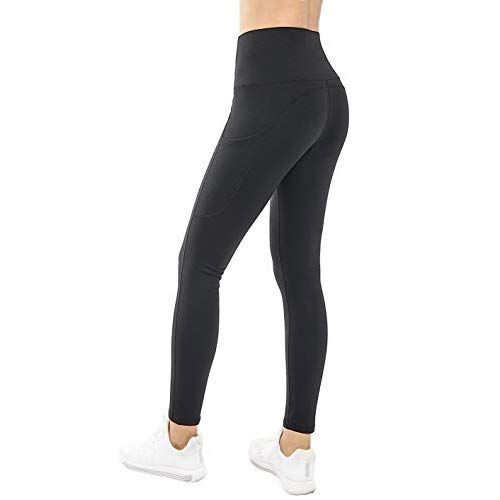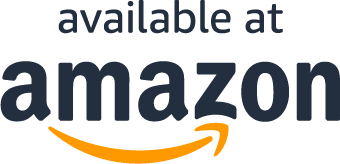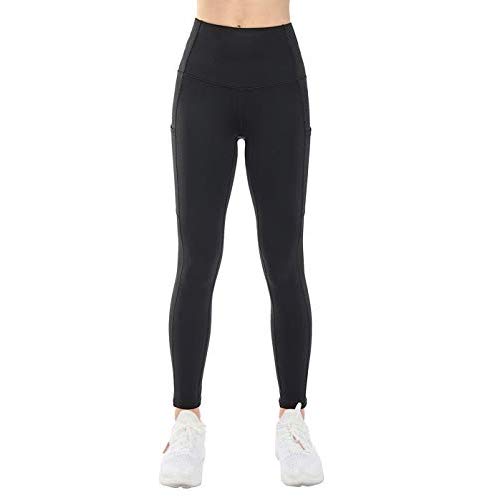 About the product
Please Check the Size Chart (*Last Image*) Before Ordering | Please Note: Color May Vary Slightly From Image.and dont worry about size promble , you can through Online Returns Center exchange it if the yoga pant size dont fit
COMFORTABLE HIGH WAIST: Wide-Waist Elastic Waistband to Cover Navel Which provide Tummy Control and Would not Fall.Suitable for Capri ,Workout ,Fitness.
Ultra-Stretch Fit (Enough thickness with breathability: No See through) Featuring the super soft and skin friendly material, the Workout Leggings are moisture wicking with four-way stretch material that promotes both compression and support. In addition, a gusset crotch to maximize free movement and interlock seams to minimize rubbing and chafing make these leggings for women the perfect Yoga Pant for working out
FOR DAILY WEAR:Cotton feeling material,Nylon fabrics have a more natural feeling than polyester ones which makes it perfect for everyday wear.This Yoga Leggings can also act as comfortable shapewear that keeps you hugged in and looking slim
SIDE POCKETS & INNER POCKET: No more worry about your essentials such as phone, wallet, sweat towel when doing every workout thanks to two big pockets on both sides. A hidden inner pocket in the back waistband is designed to conveniently stash your keys, credit cards or other small items.
What Our Customers Are Saying
Best. Yoga. Pants. Ever!!!
HOLY CRAP!! I bought these after seeing my friend wearing a similar pair that had pockets and watch her phone not fall out. But little did I know the heaven that would grace my butt when I put these on. Thick, COMFY, supportive material. Stretch for days! Hides all that post baby belly chub like a dream! And the best part! The pockets! The fact that they exist is awesome but I decided, for science, to see just how mom friendly these suckers are. They hold everything and securely! As you can see in the picture that's a full size bottle of rose in my pocket and trust me when I tell you I could run from the police in these things and trust that my precious pink (I'm referring to the rose...) is just as safe and secure as my kids once were in their baby carriers. Probably more so since I was never going to win any awards for tying those baby wrap things on... and the pocket was not stretched or bagged out after I removed the bottle, the material snapped right back in place like it was never there. If you do one good thing for yourself today it'll be to buy a pair of these. Also, don't worry when the package arrives and you bought your usual size. I went by the TTS fit and when I opened them up I thought they looked 2 sizes too small. But my self loathing insisted I try them on anyway and I was pleasantly surprised they fit just right. For reference I bought an XL and I'm about 5'-4" with long thick legs, wide hips, enough butt to get me in a Sir Mix A Lot video.
Pocketsssss
I'm not going to lie: I added to cart to add to the reviews of pics with wine bottles in the pockets. But I whipped these on, felt all snug and happy, grabbed my bottle and ran up the stairs. I took the picture and realized my mirror was dirty. I went and got a towel and some cleaner and bent down and wiped the full-length mirror top to bottom before realizing how secure the bottle had been this entire time (for whatever reason I just left it in my pants!) the material is nice and thick and cotton-y (instead of the nylon that goes "zip! zip! zip!" as my thunder thighs greet each other each step of the way). They have the perfect amount of compression where I feel secure and comfortable. I haven't been tugging at them or pulling them up so they're a winner in my book. Ordering more now!
Comfy, versatile, affordable
LOVE these leggings! Bought 2 in a week. The first pair were size medium (black). Fits well, maybe even a bit large. They were super comfortable didn't quite stay up as much as I wanted. Also, I'm an advocate for dri-wicking material because i sweat a lot and sometimes if i wear cotton, it just looks like I peed myself (probably TMI).... all that to say, these are amazing and dont show sweat hardly at all. They actually cooled a little. They are not see thru when squatting either! Bought a second pair in small (maroon).... LOVE! Perfect to lounge, workout, dress up with a tunic and boots or down with a hoodie and sneakers. I think I prefer the smalls over the medium's. I am 5' 6", 160lbs, jeans and dress pants size 7/8. I lift heavy weights and hardly do any cardio (not crossfit).
Fit well, stay up, wash beautifully!
Love these! I am 5'7" and approximately 150 pounds with a longer torso and have a hard time finding leggings that don't fall down. I ordered a size Medium. These fit well, stay up when running, and have washed well (cold water, regular heat drying). They are a little snug on the top when sitting all hunched over, but I'd rather have that then have them sliding down. They are relatively squat-proof in terms of transparency. Nice and warm on a cold winter run! Will order more pairs!
What a pleasant surprise!
I absolutely love this pair of leggings. Fits true to size. I'm 5'4 130 lbs athletic build and a small fits like a glove. The length hits right at my ankle. The material feels sturdy and thick. The pockets are a plus because I like to just carry my essentials with me. Highly recommend.
The hunt is OVER!
I absolutely love these leggings. I have been on the hunt for the perfect pair for ages and I probably have at least 10 other brands in my closet. These fit all requirements: squat-proof, soft and stretchy, and don't constantly pull down throughout the day. I'm a little concerned about how well they will hold up in the wash, given the "hand wash" instructions (yeah that's never gonna happen,) but the price is so phenomenal I'm still going to buy two more. I wish they were a bit longer but I don't mind showing a little ankle. I'm 5'9, 135lbs, bought a medium.
Questions?
Why are you running this promotion?
How can I use my coupon on Amazon?
Does this include free shipping?
What Are You Waiting For?