An Exclusive Offer For You
RDX MMA Gloves Grappling Martial Arts Leather Genuine Cowhide Punching Bag Mitts Sparring Cage Fighting UFC Combat Training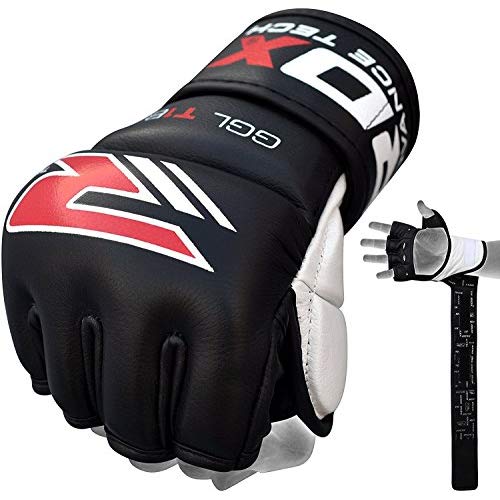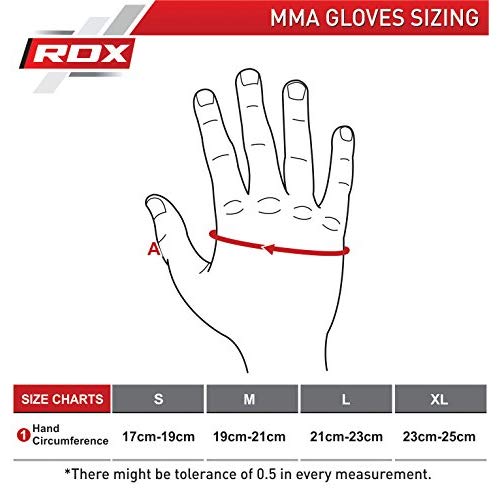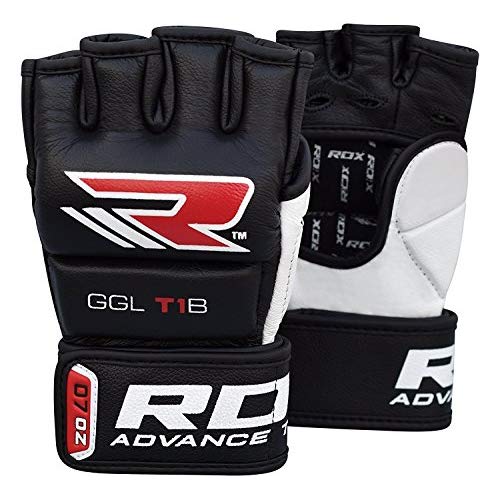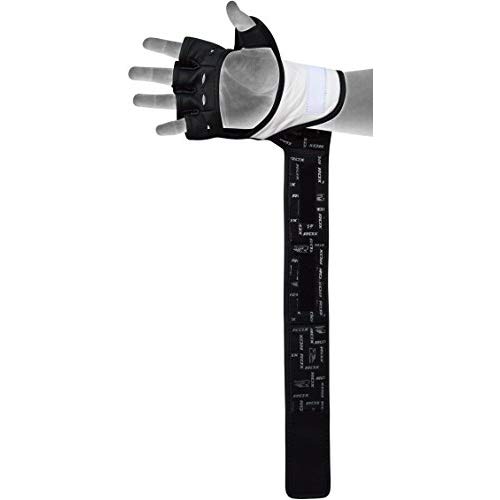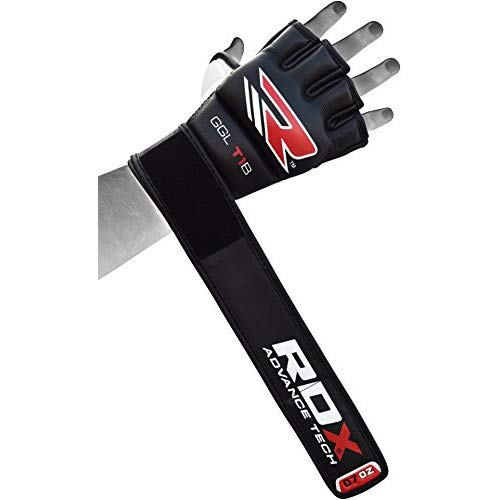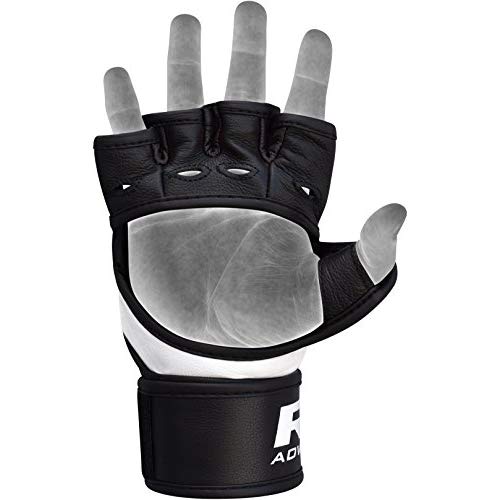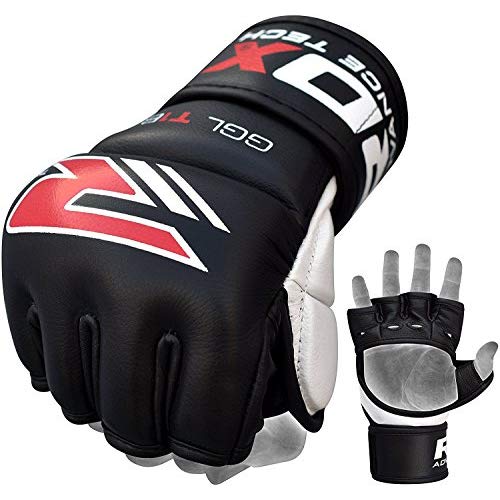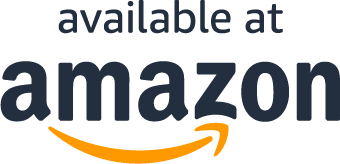 About the product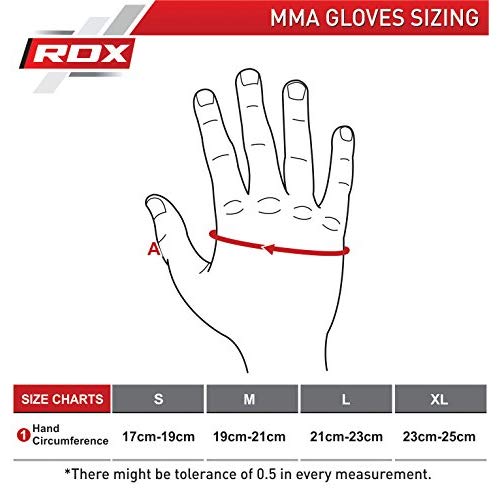 100% authentic full grain cowhide leather built MMA gloves are strengthened with reinforced stitching for quality
Extra-thick foam based padding on knuckles with separate padded block over wrist-joint along with shock dissipating gel
Quick-EZ hook and loop closure provides enhanced wrist-support and a snug fit
Moisture wicking synthetic microfabric draws moisture away from skin enabling hand-comfort and breathability
Nabla-Palm architecture for ultimate grappling with special perforations on inner fingers and thumb sheath enhances moisture management
What Our Customers Are Saying
Great gloves!
I ordered these gloves to do some work on my Bob XL bag. They arrived rather quickly, and I have to admit that they were even better than I had expected. They are made out of real leather, which was evident from the new leather smell when I opened the package. They come in their own storage/carrying case, which was a plus as well. The main thing that I noticed was that the gloves, while made from real leather, requires little to no break in. I was able to work out comfortably as soon as I put them on. Of course, once they are used for a while, I'm sure they will be even better. The gel adds good protection for the knuckles, but you can still close your hands completely and grasp things without constraint. I will definitely be recommending these gloves to others.
like other customers posted in their reviews
Yes, like other customers posted in their reviews, I also got my fingers damaged the same way. But the quality of the product is good. I enjoy my workouts using this product. Many years reviewing and purchasing products trough amazon without receiving any incentive so.. be sure my appreciation of the product is a very honest one. I can tell I punch harder and I feel confident on my wrist is being safe and well protected. I purchased them like 2 months ago and I can't wait to use them everytime I go to the gym. I don't take grapping or boxing classes so, I don't know how long they would last in those circunstances. I use them on an average 3 x week for about 20 min each time to punch Bob I think I spent well my $ buying this product.
I love them! I don't compete - I just go ...
I love them! I don't compete - I just go do the heavy bag- 150lb. or banana bag 3-4 days a week with my wanna be a muy thai techniques of kicking and punching that I had learned from my personal trainer who studied Muy Thai.I am 54 y.o. and just love doing it the style and earobics exercise of kickboxing-Muy Thai! I tried it without handwrapps and felt good with them of no feeling of cuts from the leather, I normally wear handwrapps- they are good fit- and with handwrapps feel good -I got the XL, the gloves feel good against the bag and doesn't hurt my knuckles and offers good protection. The wrist wraps are long and offers good fit to wrap and protection on your wrist to prevent any injury from extra roll or upward/ downward movement of the wrist. They are light but feels like enough protection -insulation as would of a heavy size gloves like 16oz. You can punch with these with confidence and power! They look good and they are genuine leather and good stiching! It doesnt have the look of bulky-big gloves as the others regular boxing or muy thai gloves. I love them so much that I also got a second pair blue ones as well!
My son loves them!
My son is training in a variety of forms of the martial arts and he loves the gloves. They are flexible and comfortable, not like the gloves he had before. His old gloves became stiff and malformed after getting wet and then drying out. I know that leather can be chemically or naturally treated for different uses, but it was awkward that his old gloves became shrunken and stiff only after a couple of weeks use on the mat. Overall, the RDX gloves are very durable and offer better protection and comfort than other gloves I have seen my son use. I even tried them on and I was soundly impressed. The next time he needs any new gloves I will definitely have the RDX brand at the top of my list.
Excellent gloves!
Excellent quality gloves! Can't go wrong with the reviews! I really like how these have good knuckle coverage past the first joint of the finger. I have been training MMA with these for the last month, and they have been holding up excellent. The leather smell is awesome (didn't get nearly as good of a leather smell from my fairtex bgv1's, but that is another story, still great gloves) and the gloves don't have any bad smell to the inside, even after beating on them 5 days a week in class. However, I am sure to always remove them from my gym bag after every session and let them air dry, in front of a fan when possible. Highly recommended! I will be sure to update this review after 6 months / 1 year to see how they really hold up.
Great wrist support! Great for heavy or mid sized bags.
I love these gloves! I had hurt my wrist in an earlier workout so wanted something with good wrist support. These were perfect. They are very supportive around the wrists, I can still grapple, but when punching my thumbs are protected. At 7oz they are heavier than my sparring gloves but the extra weight just adds to my workout, so when I put on my lighter gloves on it feels like I'm not wearing anything. They wouldn't be as good for me for speed bag or sparring, but I got them for a purpose and they work perfectly for that.
Questions?
Why are you running this promotion?
How can I use my coupon on Amazon?
Does this include free shipping?
What Are You Waiting For?