Save 30% On A Smarter Breed of Dog Supplements
SmartyPaws Multifunctional Wellness Supplement Chews
$17.46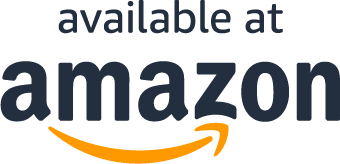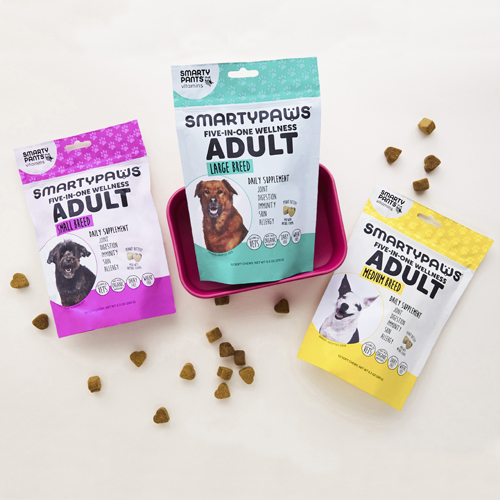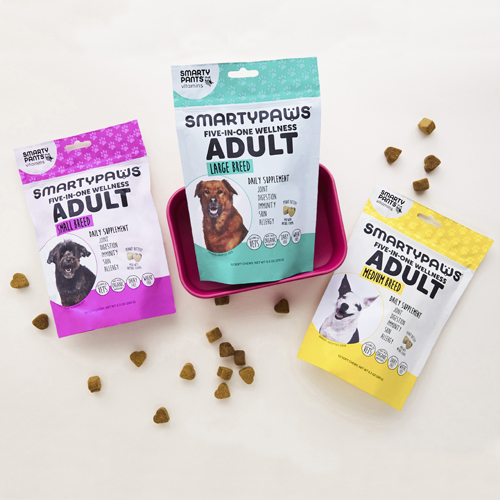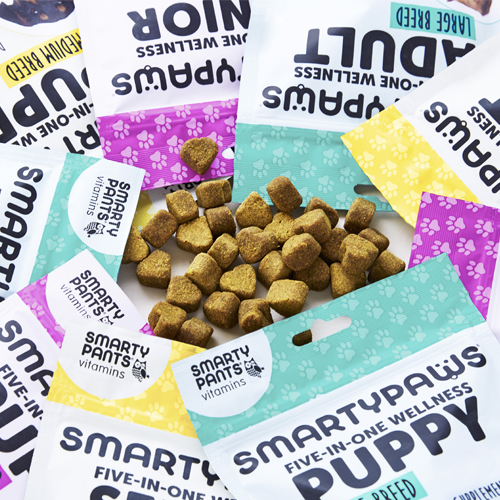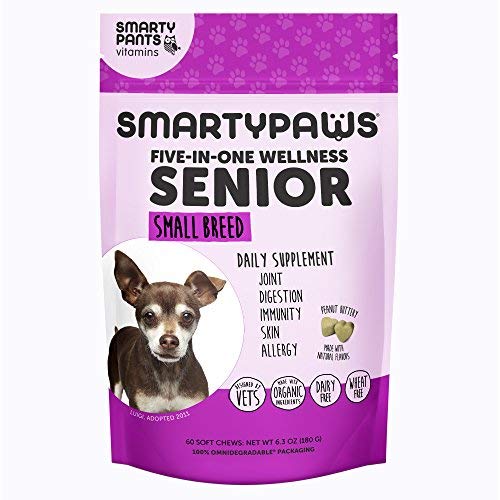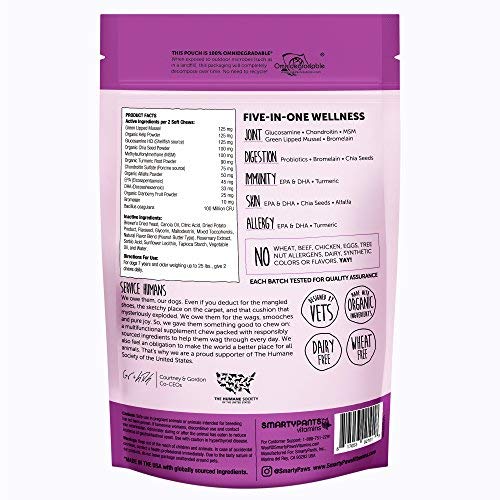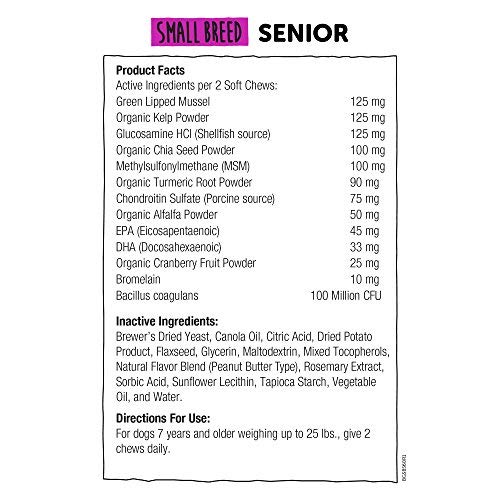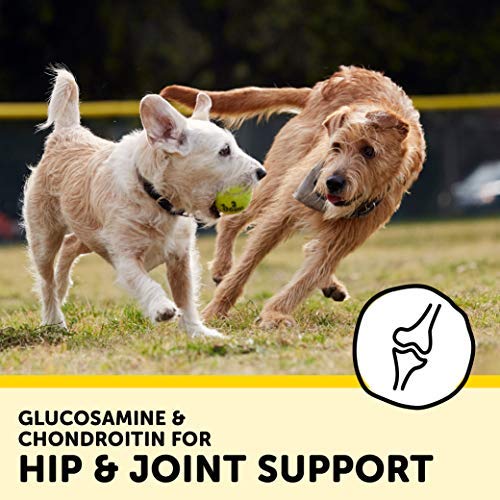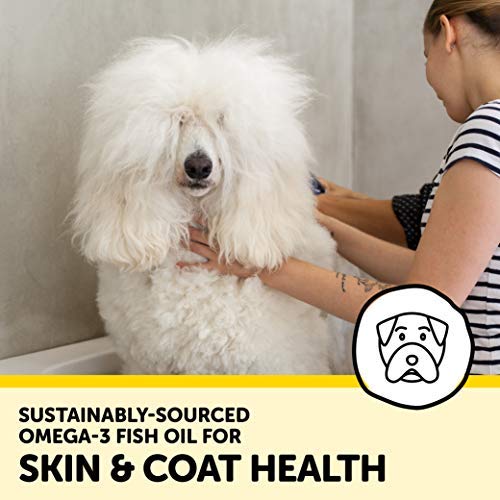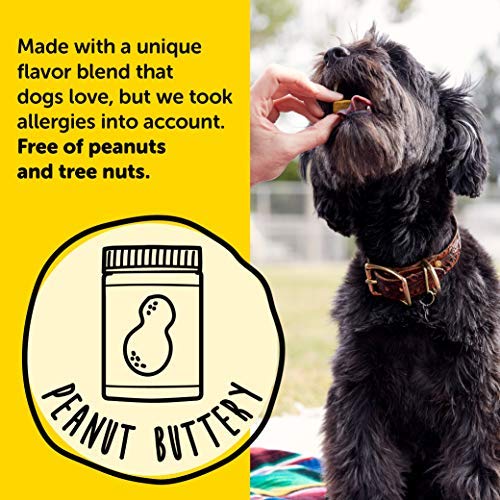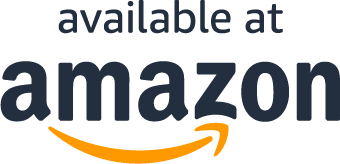 Read More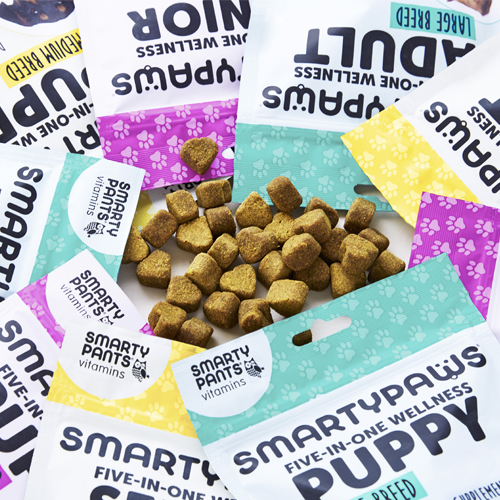 About SmartyPaws
Multifunctional support chews customized for your dog's age and breed size and to support hip & joint, digestive, immune, skin, and allergy health.
Premium health supplement designed by vets: Wheat-free, dairy-free, no synthetic colors or flavors, 3rd-party lab tested for quality assurance. No peanuts or tree nuts.
Hip & Joint Vitamins: Contains Fish Oil (Omega-3 EPA & DHA), glucosamine, chondroitin, green-lipped mussel, MSM, and bromelain for healthy bone and joint function.
Helps Digestive Health: Contains probiotics (Bacillus coagulans) to help support proper digestion and normal bowel health.
Supports Skin, Immune and Seasonal Allergy Health: Contains Fish Oil (Omega-3 EPA & DHA), and certified-organic chia seeds, certified-organic alfalfa, and certified-organic turmeric.
Shop SmartyPaws On Amazon
Shop SmartyPaws On Amazon
What Our Customers Are Saying
Works well for arthritis in senior dogs
Works well for arthritis in senior dogs. I have a 10 year old Minpin who started suffering with arthritis in her joints. Her limping was extremely distressful and she couldn't make it out of the doggie door anymore. I started her on smarty paws because it appeared to have additional ingredients that appeared to be homeopathic beyond the popular product advertised on TV. My baby is walking again in a few days and is able to get out of the doggie door. The limp is almost gone. I put her in a dog life preserver and have her swim to get some passive range of motion. She appears to be much better. At least I'm not worrying about putting her down anymore and she even plays with the puppies sometimes. For anyone with similar arthritic problems in a senior dog I highly recommend you try this. It's a bit pricey but it's about the same when compared to the TV alternative and worth the peace of mind.
Good for small picky dogs!
My vet recommended that I get supplements my dogs joints since she is apparently prone to joint issues (Maltese mix). I didn't want to buy the $80 bag that my vets office was selling so I decided I shop around online. My friend recommended me this brand and I looove the human version so I decided I'd give it a try! I haven't been using it for too long yet but so far, Pepper hasn't been limping (which she sometimes does when she plays too hard) and she LOOVES the vitamins! She's a very picky eater so it's hard to find treats that she'll actually eat. Definitely a bonus that I don't have to smother this in peanut butter or anything :)
My Puppy's New Favorite Vitamin!!
Recently just adopted a puppy and have been feeding her pumpkin for her constipation and salmon oil droplets for immunity, skin and allergy health. It's hard to mix those into her daily meals and she has a hard time eating it. I've been taking SmartyPants vitamins FOREVER and is a huge fan of their brand. I was very happy that they launched a dog supplement line. I brought this product to my vet for review and he strongly recommends it, especially because my puppy was not taking to the additional mix-ins to her meals. I use these treats as part of her training and she loves it! I love that it's allegen-free(so no surprises) and she loves the "peanut buttery" taste. All-in-one dog supplements are hard to find, especially ones that are customized by age and breed and tastes that dogs love. Great job SmartyPants Vitamins! you got me more hooked on your brand. Take my money!
Best Smelling Vitamins
My almost ten year old Australian Cattle Dog started slowing down more and more and so we decided to try out more daily vitamins for him. Since I myself take SmartyPants vitamins for women, I was excited to see a brand that I knew made vitamins for our dog! These, I have to say, are by far the best smelling of any vitamin we have ever given him. He gets two a day, and over the past month of receiving them, he has shown an increase in energy again and limps with his arthritis a lot less! We will definitely be continuing on with these!
This is a great product if you are looking for a healthy
I was really excited to buy this supplement for my puppy-- I've been buying Smarty Pants for our family for years and wanted to have a similar product that I can trust for our furriest family member! Our puppy LOVES the vitamins-- I have to remember that they are not treats as he begs for more! He can get an upset tummy from time to time and he has not had any issue since we started him on the SmartyPaws! And this product is a lot cheaper than the probiotics I was buying him separately that didn't contain all of the other nutrients that SmartyPaws does. This is a great product if you are looking for a healthy, well researched supplement for your puppy!
Shop SmartyPaws On Amazon
Questions?
Why are you running this promotion?
How can I use my coupon on Amazon?
Does this include free shipping?
Shop SmartyPaws On Amazon