An Exclusive Offer For You
SlimK 3 Pack LED Road Flares, Roadside Safety Discs -Emergency Warning Light Flashing Beacon Kit for Cars Motorcycle Bikes Trucks Boats,Instant Turn-Off Feature.Come with Storage Bag
$6.29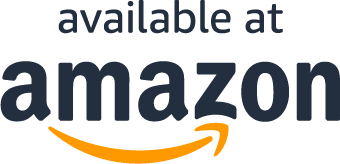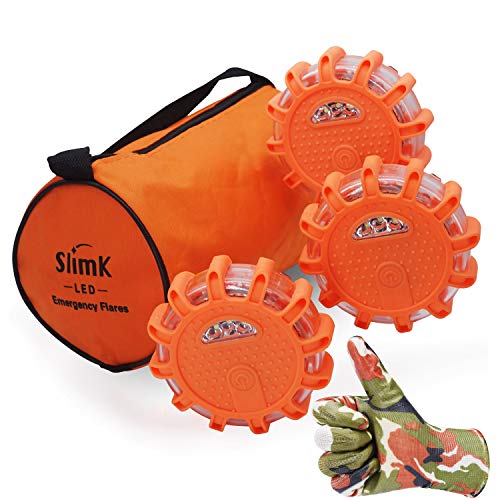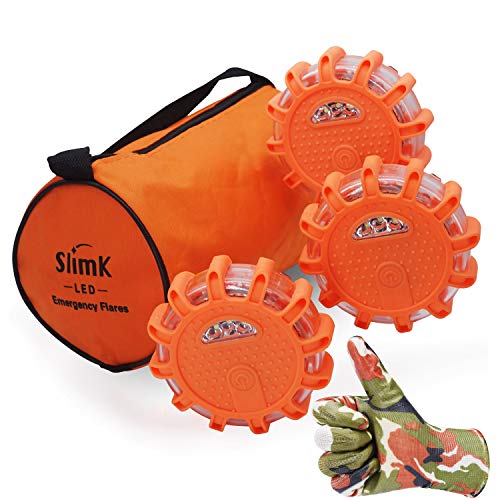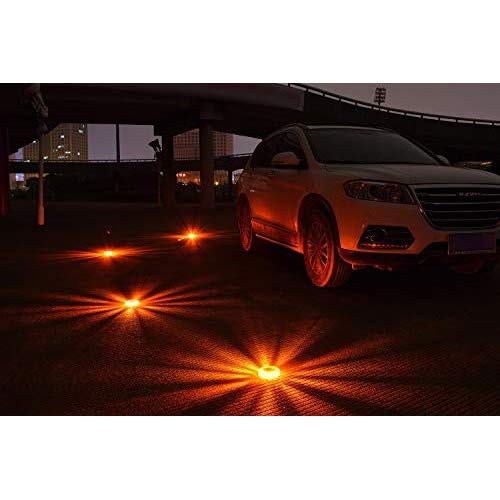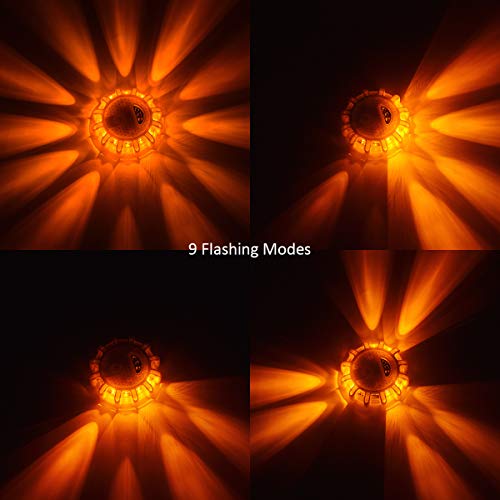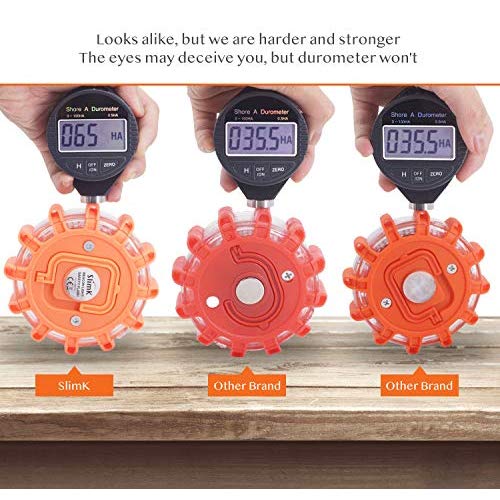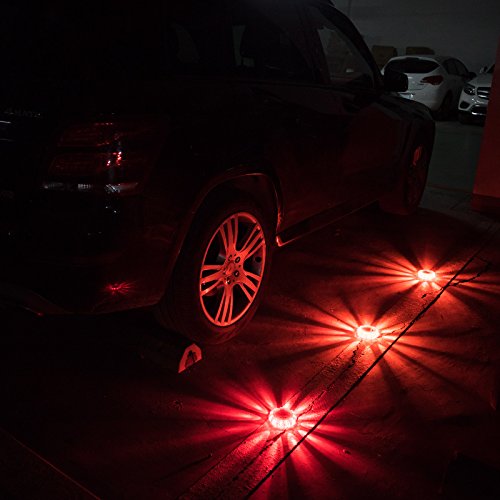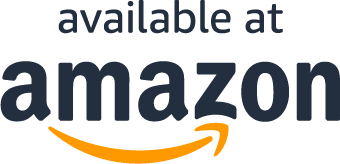 Read More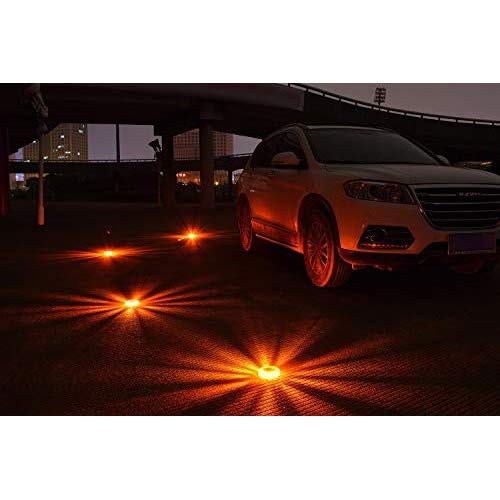 About the product
Make sure this fits by entering your model number.
The 3 Pack LED flares light are included in the package,plus a convenient storage bag.
The LED warning light is shatterproof,crushproof and rainproof, a must have for car trunk emergency or bicycle emergency.
Superior visibility: Super bright LED array can be seen up to 1 mile at night;It can be used for traffic control, as a warning light, as a rescue beacon, and for any other emergencies. They can also be used for recreational activities such as camping and hiking.
9 different flashing modes, included SOS rescue and 3 LED flashlight. Providing 9 warning light which can help in different situation.
3 AAA batteries are included for ready use, runs up to 36 hours. 100% satisfaction guarantee.
What Are You Waiting For?
What Our Customers Are Saying
Perfect for Search & Rescue vehicles and K9 handlers (attach to dog cage)
Wow. Perfect for Search & Rescue K9 handlers. I have been looking for something simple and effective to hang on my dog cage while I am gathering the K9, backpack etc. on night searches. Sick of the special batteries and holding a flashlight in my mouth during this process. Triple A batteries that are already installed, super strong magnets that stick to my metal dog cage. Spreading the word to my teammates now. Finally the search for a logic, workable lighting device is over.
Get these!
Long review, but worth the read. If you don't already have these in your car emergency kit, get them now. I live in the south where most streets aren't very well lit. I also live in the woods on top of a mountain that has lots of blind curves and isn't lit, at all. I bought a set for both of my vehicles to use in case we had a roadside repair and needed to alert drivers we were there. These are magnetic so you can stick them on your car, or place them on the road to give people some warning before they are right up on you. The light pattern can be changed as well (solid, flashing, sos). My husband is a volunteer firefighter. A couple weeks ago he was working a car accident (driver didn't survive, crash scene took a while to clear) on our mountain, in the middle of the night, on a blind curve. These lights probably saved their lives. We are in a rural area, so the mountain volunteer firefighters are usually on scene well before police and ambulance arrive. My husband stuck these lights on the road prior to the blind curve where they were working. Had drivers not had that advanced warning, things could have been a lot worse. I am going to buy a second set for each car so that we can really light up our dark roads and warn oncoming drivers.
eye-catching, sturdy and magnetic
What you really want with these sorts of things is what this product gives you; something that you can find in an emergency, sturdily built, bright and eye-catching and in case of high wind or tall snow, magnetic or able to be hung. When you get them make sure you try them out to make sure they all work. Into the little orange sack put some extra batteries that you have tested to be working "just in case" , a small flathead screwdriver to change the batteries, and put the little orange bag where it's easily gotten to at night- I wish it was dayglo-colored. They seem to fit the bill so I got some for everyone. Every setting uses up a different amount of the battery power than another setting so keep it in mind- the low and steady one one lasts 60 hours which is the longest. Add flashing and the batteries last a shorter time- but still a long time. It comes with a short manual to say how long and how to change the battery.
The magnets also work very well (the best test, at home
I have purchased many "sets" of these road flares, for my car and also for my various family members to have in their own cars, in case any roadside emergencies occur. These are very well made (e.g., weather-proof, too); I am saying this, because I have bought so many and I have tested each and every road flare with batteries and cycled through all of the potential settings for the flashing lights, so that I could confirm that each of them works well, before I share these with other people. The magnets also work very well (the best test, at home, is to use the front door of your refrigerator, before you go out to your car, to test the magnet of each one), and these will adhere magnetically to the outside of your car very well — I recommend having several road flares, per vehicle, so that you can attach individual flares lights to various locations on the outside of your car: To the top (roof) of the car, both L & R side doors, 1 on the front hood, & 1 on the rear trunk (or back tailgate if you have a station wagon or SUV or pickup truck). I also recommend buying this particular set, because the purchase includes the large, orange carrying / storage case, for keeping the road flares stowed away (together) inside your car (or your trunk), and I prefer to purchase this brand, because of the large carrying case which can accommodate more than the original 3 road flares. What I mean is this: I purchased these road flares in such quantities that I prefer to have more than the original 3 flares in this larger, orange storage case, and so this is why I bought several sets at at time, so that each, orange storage case could have 5 flares inside of each case.I wish that I had had these road flares in my car, when I experienced 2 bad crashes which were both caused by other drivers. First, my 11 year old Honda Accord had just reached 130,000 miles, the day before, and, then, on April 15, 2012, my car was rear-ended and destroyed by a negligent driver (i.e., the entire rear trunk was smashed so badly that the trunk was collapsed up to the rear window, and I sustained a bad whiplash injury to my cervical vertebrae. I began physical therapy immediately. Then, my new car (purchased on May 16, 2012) was crashed into on the Right, front bumper and headlight, by a negligent, Hit-And-Run (probably drunk) driver in an SUV on the highway at 65MPH! My car was hit on the Right front bumper and headlight and driven off of the Left side of the highway, and the entire Left side of my car was scratched up, after the impact with the metal guard railing, in the middle of the median, between the 2 highways — I will never forget it: The date was Friday, June 8, 2012, and I was driving on I-84 Eastbound in NY State in the far Left lane, and my new, 24-day old Honda was hit on the Right front bumper (SUV tire tracks up and over the Right front corner and bumper and headlight of my car) and I swerved off the Left side of the highway to avoid the initial impact and crash. The front axle was so bent up that I had to have my car towed from NY state, back home to DC. Anyway, regarding these 2 car crashes: I wish that I had had these road flares in my car(s), at those times, because the highway crash occurred right after 9:00PM, and it was pitch black outside at night, and I was on the Left shoulder of the highway with traffic zooming by my damaged car, near the "fast lane," and all that I had flashing were the Hazard lights on my car. These road flares are much brighter and visible at night, than regular Hazard flashers on the front and back of our cars, and I would recommend that you put at least 2 of the road flares on the top of your car. I highly recommend these road flares for you and your family, because (as I have described herein above), anything can happen unexpectedly in traffic or on the highway at 65MPH, and these road flares will be very useful to alert others of your damaged or immobilized car on any roadway — or the shoulder if you are changing a flat tire (at night). Good luck to everybody, and I hope that you do not have to use these, but, if you do, you will be more protected than if you did not have these road flares flashing on the sides and top of your vehicle(s).
What Are You Waiting For?
Questions?
Why are you running this promotion?
How can I use my coupon on Amazon?
Does this include free shipping?
What Are You Waiting For?