An Exclusive Offer For You
Silicone Bags Reusable, Silicone Food Storage Bag | BPA Free, Heat-Proof & Leak-Proof: 3 Medium + 2 Large Silicone Reusable Food Bag | Reusable Silicone Food Bag, Silicone Bags, Silicone Ziploc Bags
$8.97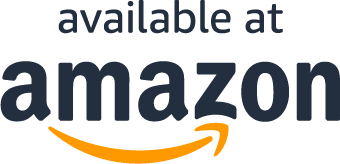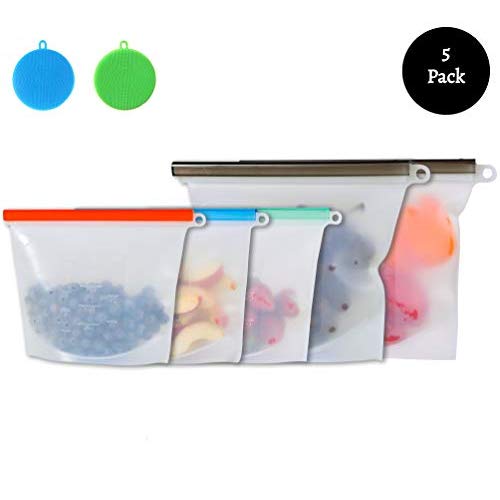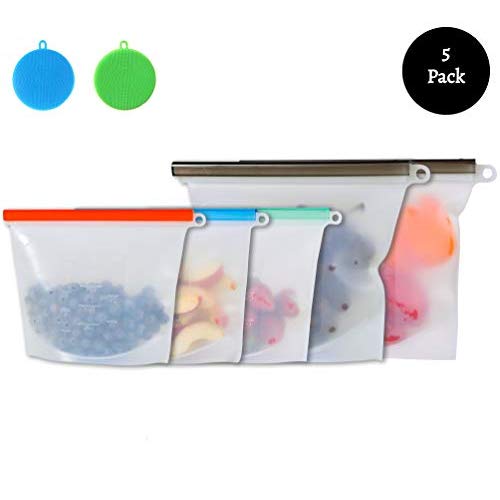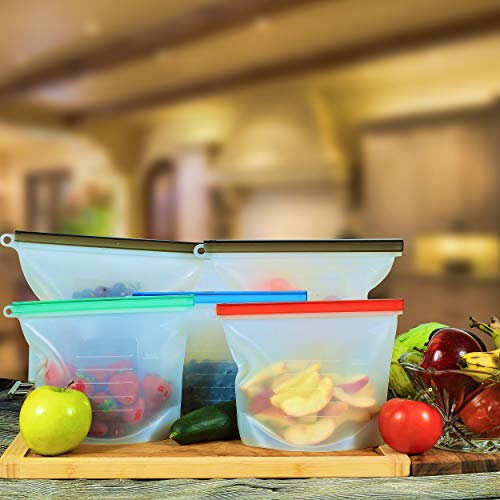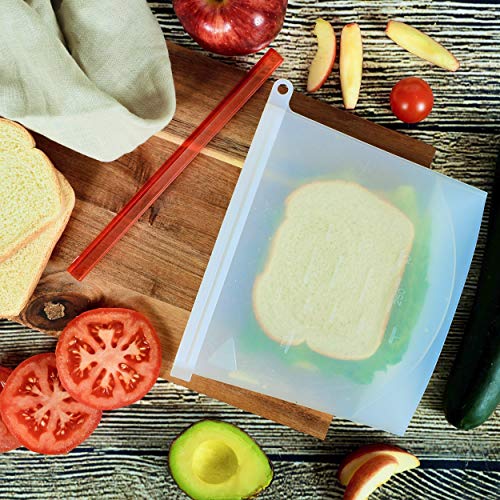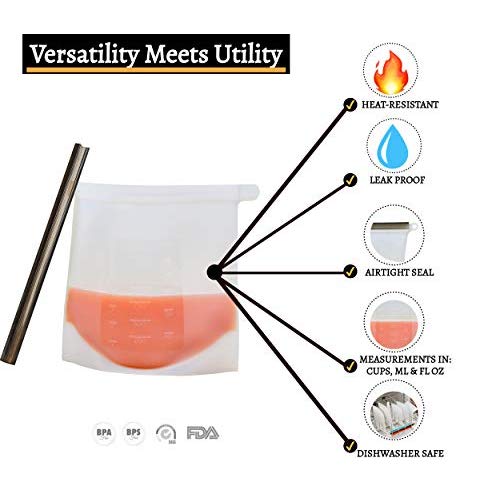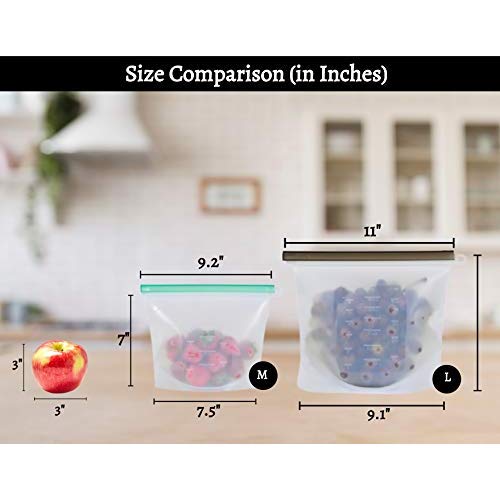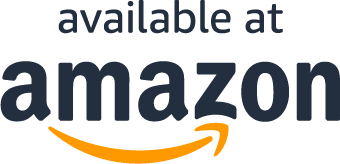 Read More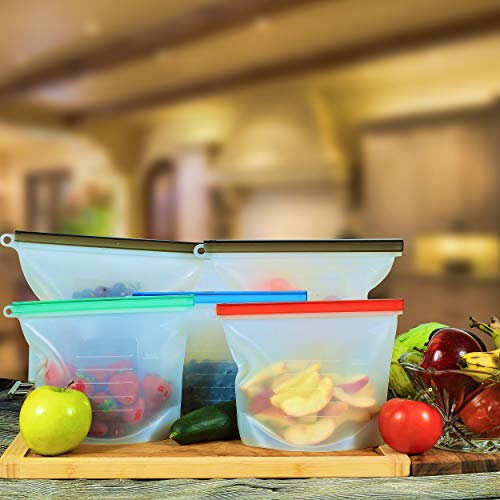 About the product
Make sure this fits by entering your model number.
✅ 5-PACK WITH BONUS DISH SCRUBBER SET: 3 medium (1L) silicone food storage bags + 2 large (1.5L) silicone food bags perfectly suitable as reusable snack bags, reusable food bags or reusable food storage bags with easy-to-use slider! Keep your food forever fresh and don't let it wither away in normal ziplock sandwhich bags or reusable food pouches!
✅ WATER-WICKING, LEAK-PROOF & HEAT RESISTANT SOUS VIDE BAG: Robust silicone freezer bags, silicone sandwhich bags or stasher bags to leave in the freezer, store liquids, heat up in the microwave and boil in hot water – just remove the slider before placing reusable storage bags near heat!
🌎 ECO FRIENDLY, BPA FREE & EPA CERTIFIED: Made from 100% FDA & EPA approved BPA-free silicone. Stop the toxic pollution and consumption of normal reusable plastic bags, reusable snack containers, or reusable lunch bags. These reusable silicone food bags are THE eco bag! One silicone storage bag replaces thousands of clear lunch bag. Save money and help us make a difference 🌎
✅ INSTRUCTIONS FOR USE & CLEANING: For optimal use, wash the inside of your silicon food storage bags with water before first use and flip the silicone bag inside out to air-dry. The reusable silicone bag slider gets smoother with water over time, but this is normal due to the robust design of our reusable food bag.
✅ ZERO-RISK, LIFETIME WARRANTY! 100% MONEY BACK GUARANTEE – our DIVINE promise: Rest assured! If for whatever reason you are not satisfied with your reusable silicone food bags you'll receive a 100% refund on us 😃 Our reusable silicone bags won't disappoint!
What Are You Waiting For?
What Our Customers Are Saying
Very heavy, quality construction
These silicone bags are very heavy, both in actual weight and thickness/feel. At first the slider across the top was hard to slide off, but after doing it a couple times, it started to get easier. They are a little "sticky" and awkward to use, but I think that just takes a little getting used to. They arent the flimsy, thin, disposable bags I am used to. Speaking of which, I dont think these are a replacement for the disposable bags. I think they are a compliment to them. The disposable bags, due to their ease of use and light weight will still be used for packing lunches. But when I am storing something at home, especially long term, these silicone bags will be perfect! I grind fresh ginger and fresh turmeric and then freeze them into 1 tsp chunks. I then store the chunks in the freezer for quick and easy use. Two of these bags are now the happy, permanent vessels of my ginger and turmeric chunks! I haven't yet figured out what is going in my other 3 bags, but I am sure I will find the perfect thing soon enough!
Reduce your plastic zip lock bags and Tupperware use with environmentally friendly air tight bags.
As I parent I used to go through a dozen zip lock bags a day, putting kids snacks, milk bottles, even kids clothing and bibs in the bags. These bags are great. I can do everything with these that I could with a ziplock and more. I'm not using as much plastic now and I'm not having to go to the constantly to buy new bags. These bags are very strong and even have a bit of stretch to them so I know they are not going to rip or tear when I put things in them. It's nice that they have measurements on them. I can store flower and know how many cups of flower I have left over in the bag it has oz ml and cups. These also have helped replace my Tupperware. When I have dinner leftovers I can place them in these bags and simply empty out into a bowl for lunch the next day. Even simple foods like hot dogs once the plastic is torn open they lose freshness. These keep foods airtight which keeps them fresher longer.
very versatile
I absolutely love these reusable silicone bags. They are nice quality and are durable. They are easy to use. they come in two different sizes which is nice because I can always find a bag to use for whatever I would need. they easily close and have an airtight seal on them. They do not leak. they even have measurements on the bag which is a very nice feature. These are well worth the money. and I save money by using these instead of plastic bags and it makes me feel good to know that I am not putting plastic in our landfills. I am able to use these for many different things which makes them very versatile.
Fantastic option for reusable bags
My daughter is really pushing us to make more sustainable decisions in our house regarding plastic bags, straws and recycling. When I saw these I knew they would be a perfect addition to our new initiative in our home. These are thick and heavy. They do not feel flimsy or like they won't stand up. They really seem like they are going to be a great addition to our home. The only thing that I am not a huge fan of is that there is a plastic piece that slides on to the top of the bag to seal it that is hard to slide on and off. Other than how difficult it can be to get that piece on and off I absolutely love these bags and will have to see about purchasing more.
Wow! These bags are legit!
I had never used reusable bags before, because buying the ziploc from the store is so easy.But my family decided that we wanted to reduce our footprint on the environment.These bags are 100% leakproof! and we use it to store our left over foods. It saves space in our fridge and freezer because when we used tupperware containers, there's always unused wasted space.with the bags, they are smaller and we can fit more in our fridge.Definitely recommended!
Amazing Reusable Bags
These bags are great, we are planning on using them in the camper, they will work great on cutting down on wasting plastic ziplock bags. I tested a few of them out and they work awesome. I included a picture of one of them filled with water and holding it upside down, they work great. with the little bit of rigidness the silicone has you can basically stand them up and leave them while you are filling them, and then zip them and they lay nice and flat.
What Are You Waiting For?
Questions?
Why are you running this promotion?
How can I use my coupon on Amazon?
Does this include free shipping?
What Are You Waiting For?