ORganize Your Shower & save 20% This Week!
Bottiful Home- Shampoo, Conditioner & Wash Shower Dispenser Pump Bottle Set
16 oz Refillable Empty Amber PET Plastic
Gold Printed, Black Pumps, Fully Waterproof, Rust-Free, Clog-Free, Drip-Free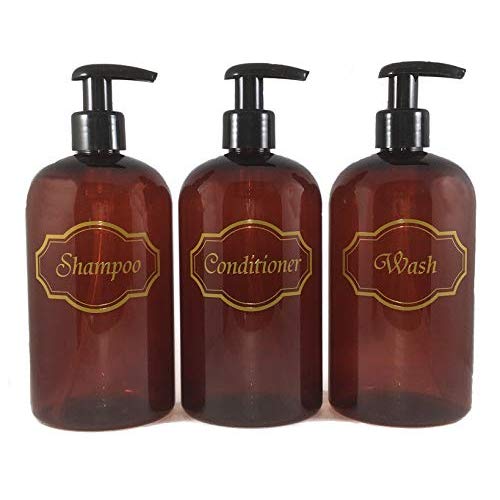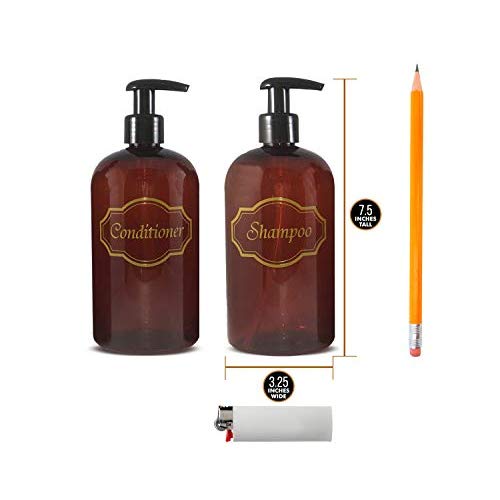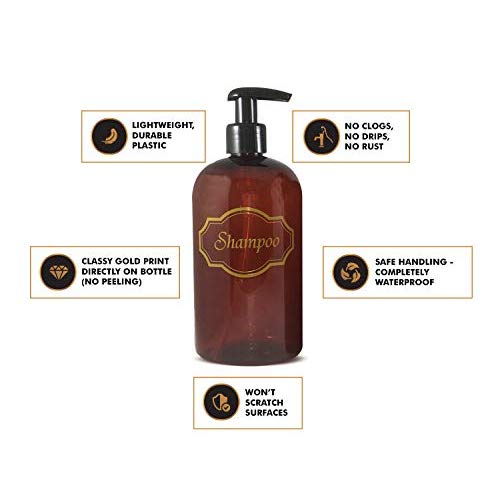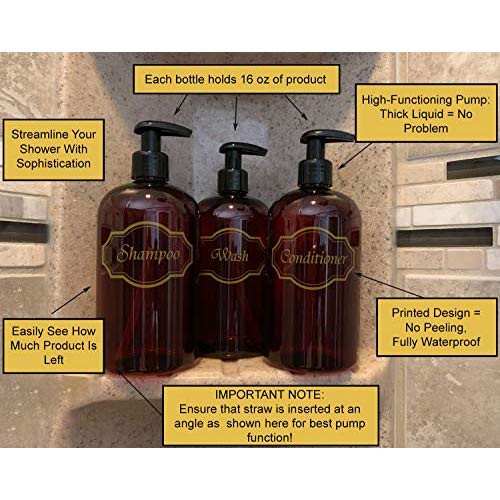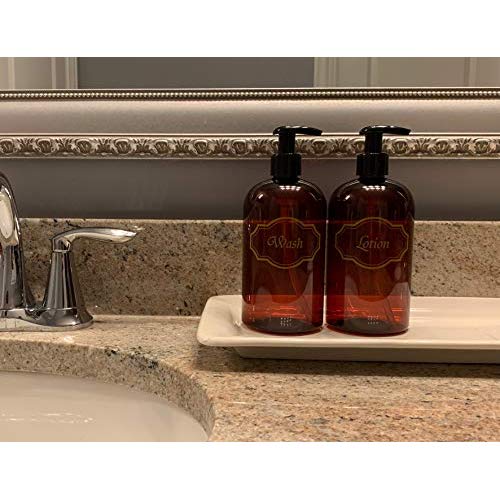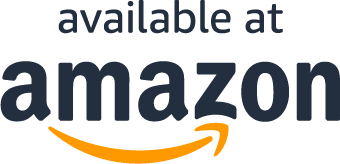 About the product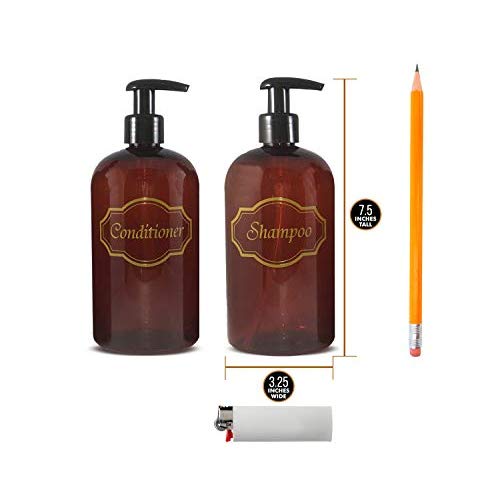 [SAFETY FIRST] - No broken tiles or toes in the shower! Feel safe using these PET plastic reusable shampoo, conditioner and shower soap dispensers with slippery wet hands. Drops won't damage you, your loved ones or your home. NEVER any RUST because there's NO METAL.
[REDUCE WASTE AND CLOGS] – Precision pump bottle shower soap dispensers. Straw reaches to bottom of bottle. Thick conditioners and soaps are no match for these shampoo, conditioner and body wash bottles.
[SPA-LIKE ORGANIZATION] – Relaxation and brain space are yours for the taking. Good-bye clutter. Hello clean lines, elegant appeal, peace of mind. NO-FUSS printed design. No labels. No peeling. No bleeding.
[ENVIRONMENT FRIENDLY] - Beautiful PET plastic amber pump shampoo bottles are 100% recyclable, BPA-free and won't allow light to degrade your shampoo, conditioner and body wash.
[DESIGNER BEAUTY] - Refillable shower bottles designed to look very STREAMLINED, ORGANIZED and UPSCALE. Shampoo and conditioner dispensers you'll love looking at every day. For easy, hands-free refills, check out our 2 TWIST-ON Funnels (B07BTPFDHB)
What Our Customers Are Saying
Looks nice in the shower
I was so tired of having mismatched bottles of product all over the place. I don't switch shampoo, body wash or conditioner often so I buy in bulk sizes to save money. I filled each of these with the items that were already labeled. I only have a slight problem with the conditioner being a little too thick so its a little harder to pump out than the others but it does work. I added just a little bit of water to the conditioner and it pumps as easy as the others now. Most of all they look nice in the shower and are made of plastic so if they fall down they will not be a danger or crush my foot. I do wish these came in a nice cobalt blue color though.
Super Organized
This looks neat and clean in the shower. No mismatched bottles! The shampoo, conditioner and body wash load easily into the containers. I feel like there is no waste of liquids with the pump dispenser. The labels are clearly written and NOT in a tacky font. A little pricey.. but worth it.
Great value
Great color. Easy to use. Great labels
Just as described!
I wanted something to hide my shampoo and conditioner that would look nice in my shower and these were perfect. My shower has a glass door so I wanted something simple and neat looking. I am pleased with my purchase.
Spa-like organization
My master bathtub/shower went from cluttered with 10+ different product bottles to spa-like with these 3 easy-to-fill and use bottles for shampoo, conditioner and body wash. Exactly as shown. High-quality, durable plastic. Beautiful! They'd be great for staging a home for sale as well.
Beautiful
Beautiful, easy to use and sturdy. Dropped one on the tile floor, no harm done.
Questions?
Why are you running this promotion?
How can I use my coupon on Amazon?
Does this include free shipping?
What Are You Waiting For?