An Exclusive Offer For You
Zmodo Sight 180 Home Security Camera, Full HD 1080p Wireless Indoor IP Camera System with 180 Degree Viewing Angle, Two Way Audio, Night Vision, Motion Detection, Compatible with Alexa - 2 Pack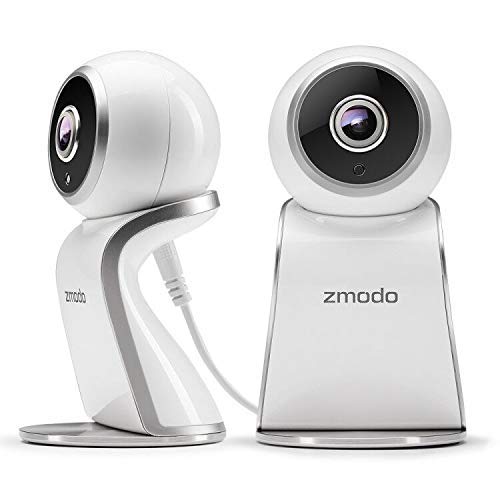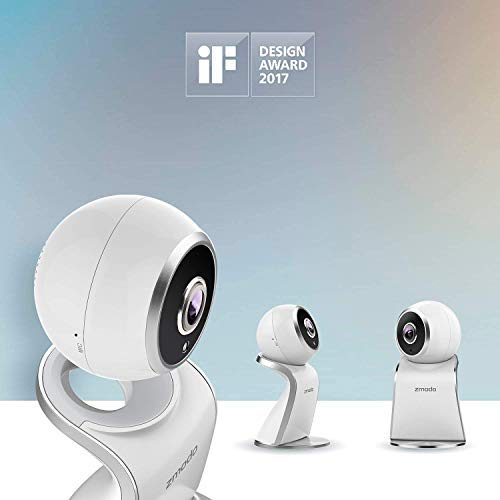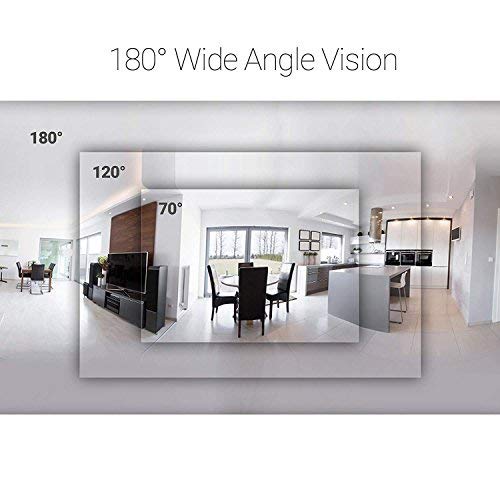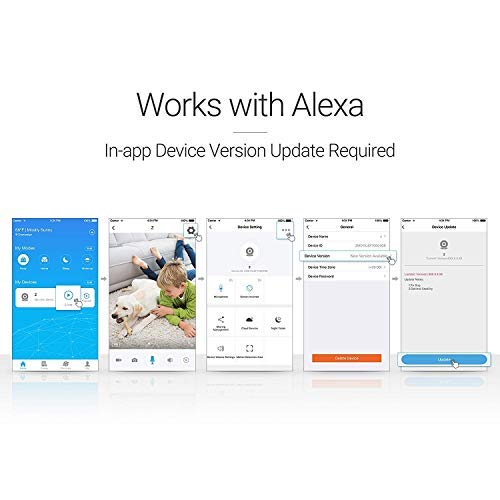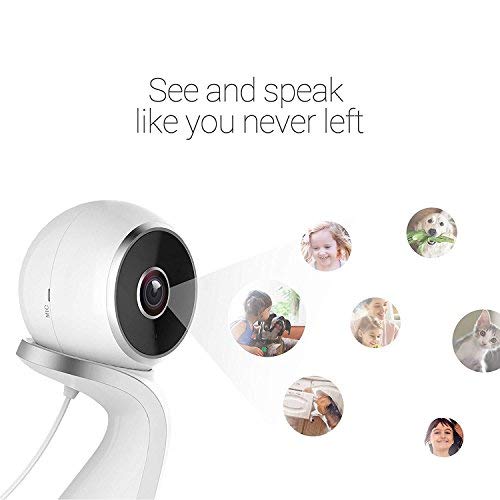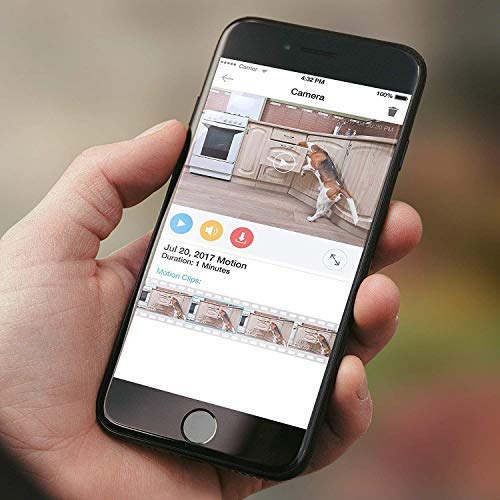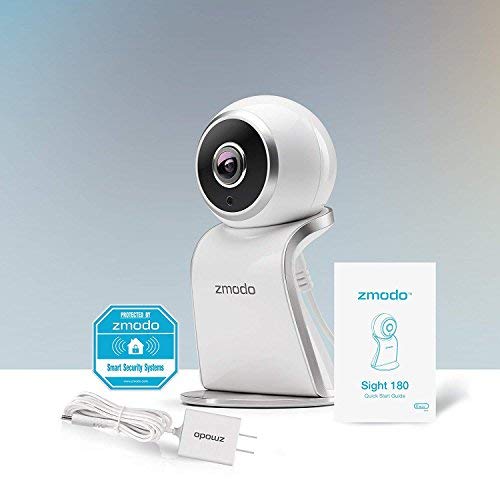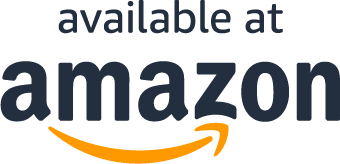 About the product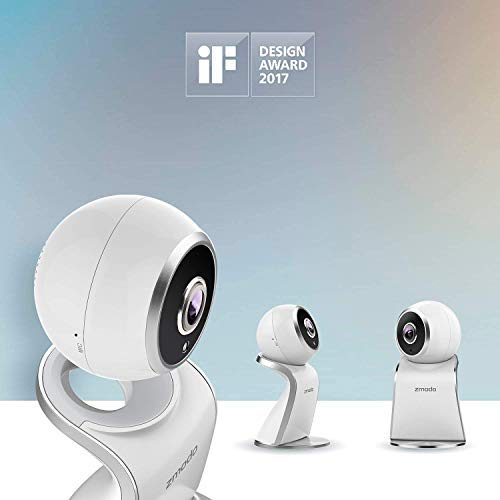 Make sure this fits by entering your model number.
【Works with Alexa】: Zmodo Wireless Indoor Camera is compatible with Echo Show for voice control. (Alexa device sold separately). Please check and update your product to the latest device version in order for it to interact with Amazon Alexa.
【iF Design Award Winner】: The 2017 iF Design Award winner, Zmodo Sight 180 indoor camera, is technically designed with a discrete structure: The smooth spherical home camera with 180°viewing angle is magnetically connected to the bracket, which makes the rotation easy but stable.
【180° Viewing Angle】: The 180° viewing angle and 1080p HD resolution give you a larger view of your home with crisp and clear details. Night-vision settings allow you to turn on, off, or adjust the sensitivity of the IR lights so that you can obtain the perfect picture of your home, day or night.
【Two-Way Audio】: Use the two-way audio to speak through your wireless camera, loud and clear. Remind your kids to finish up their homework, tell Sparky to get off the couch, or give the babysitter last minute instructions.The anti-noise microphone and loud speaker are optimized to ensure for easy listening and conversation.
【Smart Home】:Track power usage for connected devices and figure out which devices use the most energy. You can effectively cut your usage so that you can save money on your next electric bill. With this smart IP camera, you can control different devices and manage your home on your smartphone or tablet from anywhere.
What Our Customers Are Saying
... I got this up and running it is a great system. People who say the app and video ...
Once I got this up and running it is a great system. People who say the app and video are laggy might be having issues because their router is out of date. I had problems with the cameras dropping signal and going offline. The app also took forever to connect to the cameras. I replaced my router with an ASUS RT-AC66U and everything works great. My old router wasn't up to date enough to handle all of the additional traffic. I wonder how many people are having issues and are blaming it on the system when it is actually their router.
Easy setup. Great app. Quality video. Very reliable so far.
These are really nice. Setup was very simple, and the app actually works well. I love that the motion detectors record a "gif" type image, 4-5 pictures taken milliseconds apart. You can quickly scroll through all your motion alerts each morning/night and, in minutes, see everything that has happened. This came with 4 indoor and 4 outdoor cameras. The indoor cameras I used in the garage and inside the main door when you first enter. Two more are in our living room, hooked up to a separate electrical line on a switch. This allows us to turn the power off to the indoor cameras when we are home as a security measure. No matter how strong your firewall is, or passwords are, you never know. Its nice to power them on when we leave to watch our dogs, but know they are completely disconnected when we are home and want privacy. I'm sure the cameras are safe as they come, but an additional step gives us peace of mind. For the 4 outside, they cover the front door and sides of house and back yard. The front door outside camera is great for packages being dropped off during the day, or when we are outback and someone arrives at the front door. The alert the the phone is instant. The app is awesome, we have it on all our devices. When out back, we set up an iPad with the front door camera streaming and can see as guests arrive. Overall awesome package. My recommendations to take it a next step: #1 Buy a remote control power outlet for any cameras in sensitive areas. Passwords and firewalls are great, but completely powering off the cameras is 100% secure. (To answer someone's question, the cameras connect INSTANTLY when powered back on, no extra steps required. Also if you lose power or your cable goes down, everything comes back online automatically. I've had systems in the past that you had to mess with cameras, reset them or such, to get them back online after losing power or internet. These have been running for a month now without any issues. #2. Buy a wifi-extender for the hard to reach places. We live in Southwest Florida on the gulf and our home is cement block (for hurricanes). The indoor wifi does not travel very well through the concrete wall. I placed a wifi extender high in the attic, and all cameras work perfectly. If you are having trouble connecting cameras, consider purchasing a wifi-extender ($20-$30). I will post a 6-12 month review and let you know how they are holding up!
Easy to set up don't be scared ! Great cameras and pic for the price.
I was really nervous about buying a camera system I read reviews , googled asked people and finally settled on this system. I was afraid I would not be able to set it up I am still trying to get my phone and printer to communicate it's been 6 months they still won't speak. So it came and I opened it I set up the app I plugged things in and I followed directions. I held my breath and wow it worked. It took me about 30 minuets to set up the cameras and make sure they worked. So far so good now It was time to unplug them and install them outside. I took them out set them up and came back in the big test , would they work Yes they did it's been a few weeks and no problems . I have peace of mind and feel safer knowing I can monitor my house inside and out from anywhere . It also had another great surprise I can see the birds . Bunnies and the wobbly ground hog. Oh and catch the lazy teen when she says she walked the dog but didn't ( teen does not like cameraS)
Questions?
Why are you running this promotion?
How can I use my coupon on Amazon?
Does this include free shipping?
What Are You Waiting For?