DelMo Sports races were voted the Best Triathlons in the USA! DelMo athletes deserve the best -
New Wave Swim Buoy is it!
New Wave Swim Buoy
Swim Safety Float and Drybag
$31.49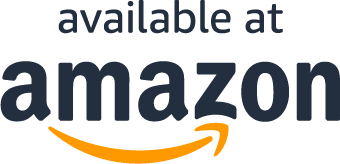 | | | | |
| --- | --- | --- | --- |
| 40 | Coupons used | 10 | Coupons left |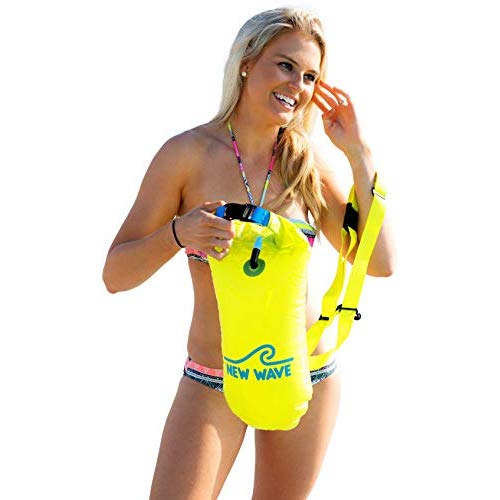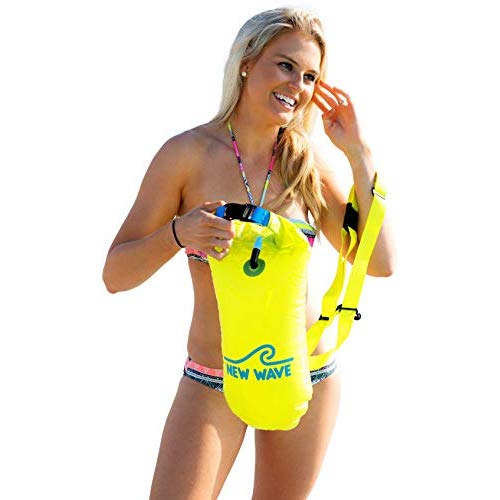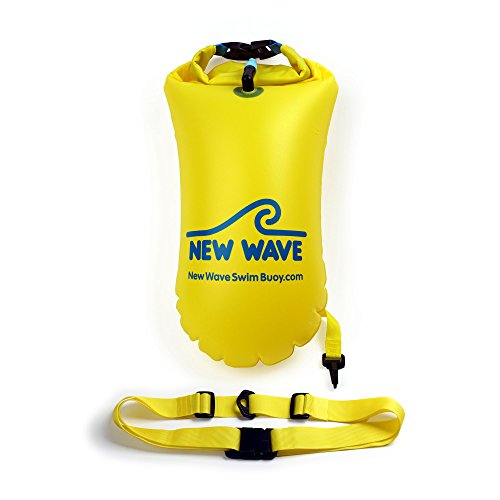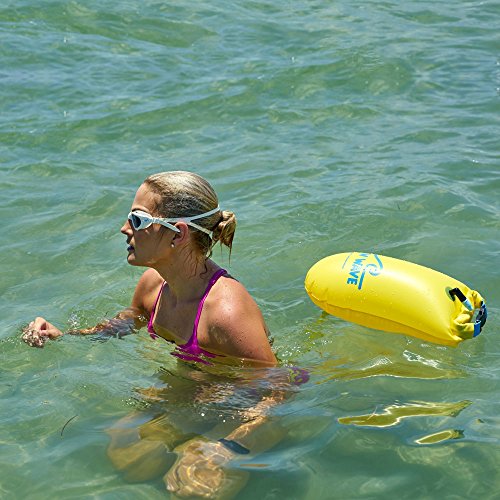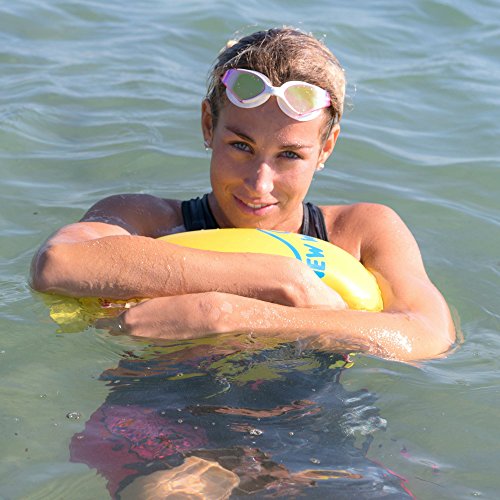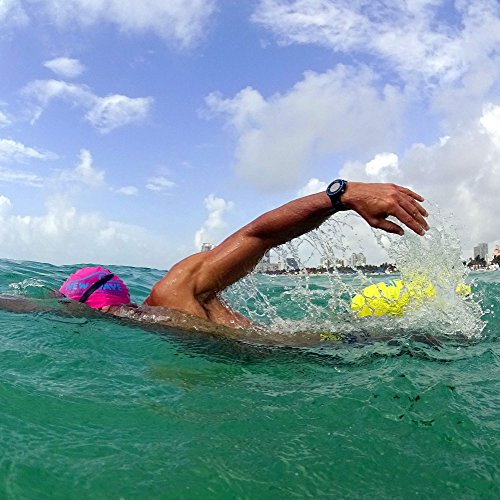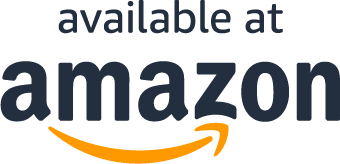 | | | | |
| --- | --- | --- | --- |
| 38 | Coupons used | 12 | Coupons left |
Read More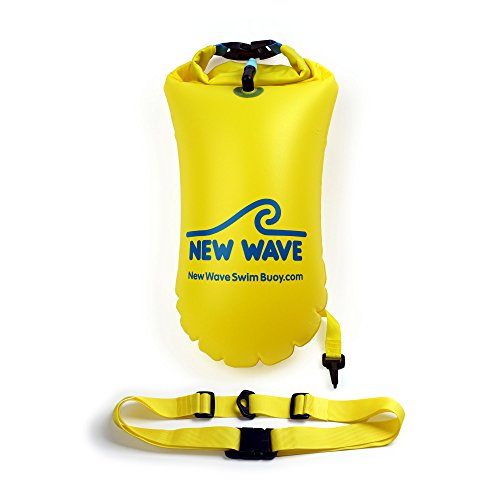 Why is the New Wave Swim Buoy essential for every triathlete!?
Visibility in Open Water. The brightly-colored New Wave Swim Buoy is exceptionally noticeable to boaters, jet skis, paddlers, surfers and some say, can be visible from space. Improve your visibility to avoid getting decapitated by a jet ski or a speed boat. Swimmers in black wetsuits are virtually invisible in the open water - New Wave Swim Buoy will display your prominently in the murky waters of the Loch Ness Lake - even the Loch Ness Monster will not confuse you for a tasty harbor seal or scrumptious sea cow or manatee.

Safe Place to Float and Rest. Because of the natural buoyancy, the New Wave Swim buoy can be used as a flotation device. You have reassurance that in case you cramp up or simply need rest, you are able to grab the float.
Very light to bring with you on a paddle-board or kayak trip. While the New Wave Swim Buoy does not replace personal flotation device (PFD) or a swim life vest, widely used by kayakers and stand-up paddle boarders (SUP's), the New Wave Swim Buoy is very lightweight (only 10 oz) to bring along for a refreshing swim workout in the open water. Add a bike blinker inside the float and your aqua-visibility quadruples or maybe even quintuples!
Storage of Personal Items. The New Wave Swim Buoy is useful in point to point swims. Fastened to your waist by a belt with a tether line, the New Wave Swim Buoy has a storage compartment that is separate from the Inflatable Air Chamber. What do our athletes put in the buoy? Sunglasses, sunscreen, body glide, extra cap and goggles, running shoes, socks and clothes, diving mask, snorkel, camera, water shoes, iPod, book, snacks, water, gels, cash, credit cards, insurance card, car keys, cell phone, heart-rate monitor, asthma inhaler or allergy medicine, survival kit or a first-aid medical kit, and this list can go on. What would you take with you on a water-journey?
Improved Monitoring of Athletes. If you want to keep an eye on your buddies or loved ones, or make sure that other swimmers are still in the race, spectators, officials, and lifeguards alike will appreciate the ability to see the swimmers from afar. If you put your cell phone in a Ziploc bag (just in case water was to get into the storage compartment), you can have your phone sharing your GPS location via MapMyRun or RunKeeper or Garmin Connect apps too to track exactly how far you swam AND to broadcast your location in the water for your friends to monitor the progress of your swim remotely.
What Are You Waiting For?
What Are You Waiting For?
What Our Customers Are Saying
Nice security for open water swims
The group I swim with actually requires a swim buoy for safety because we swim in a lake with boat traffic in the summer. This buoy has been great for me. High visibility and I never even realize it is trailing behind me since there is virtually zero drag. I weigh 175 lbs. and this buoy totally supports me if I need a break while out in open water where I cannot reach the bottom. I now swim with this even if not going with the group because of the peace of mind it gives me. Folds up very compact, super easy to inflate and holds valuables while keeping them dry. If you do OWS, this is a must have. Great product!!
Works as advertised.
The New Wave Swim Buoy works great. I use it to swim in the lake every time while training. If you don't have one than get this one. The bag is not 100% waterproof and I don't believe they advertise it as such. What I do is use ziplock bags and put them inside the storage compartment of the New Wave and that makes it waterproof. Love the product and the storage area allows me to take my keys, some nutrition and a water bottle if needed while swimming. I recommend it.
Great safety device.
Wonderful! I swim open water and this has given me a way to stop and take a short breather plus it is very visible to boaters! I feel more secure knowing if I get into a problem, I can float if necessary. Great product and made well without being heavy. Update: After using this device I like it even better than ever. I had some great open water swims this summer and twice now, I was so grateful that I had this buoy. I swam one day that was very hot and I was without water after swimming across a lake. Not good. So I ordered a small 8oz. water bladder to place inside of the buoy pocket. It was a little heavier but it saved me from dehydration and was of course lighter on the return swim. On another day, the wind picked up so strongly that I was struggling to get back to the other side of the lake. My buoy was a lifesaver! I could hold on to it and catch my breath! I do not swim open water without it! I also need to be more aware of risk! I recommend this to anyone that swims in open water! Great product.
Be Seen With New Wave Swim Buoy!
Ok, I swim alot in the local Bay here in Long Beach, most of the time outside the ropes, we have a very active Rowing group that's out early. on my first swim with New Wave Swim Buoy i had two Rowers wave and say how well the can see me in the water ( remember the are looking backwards most of the time) side benefit i can carry a few bucks in the dry bag to buy coffee after the swim GW
Permitted independent open water swimming.
It worked without fuss. I am not a great swimmer and fear sudden loss of consciousness (heart attack or petit mal) about as much as any other 76 year old male. I do love open water swimming on summer vacation and this device gave me enough confidence to swim without a lifeguard. It would not work if I really were unconscious, but neither would anything else.I could rest with it, however, or if I inhaled some water and needed to stop swimming and cough. I was more relaxed with it, so I could swim a little farther.
my new MUST bring item for any open water swim
I bought this one for my open water training for a triathlon; I wanted to have a backup in case of a cramp or anything unexpected that could happen while in the middle of a lake, sea, etc. This buoy gives me the confidence and peace of mind I need to swim away from the shore without fear. Inflating it is super easy and it does not get in the way while swimming; The strap is adjustable to different waist sizes. You'll also be seen by other people in the vecinity such as kayakers, SUP's, boats, etc. It looks like it's built to last for a long time.
What Are You Waiting For?
Questions?
Why are you running this promotion?
How can I use my coupon on Amazon?
Does this include free shipping?
What Are You Waiting For?