An Exclusive Offer For You
ROYAL FORMULA - Moroccan Argan Oil Shampoo [Sulfate Free] Infused with BIOTIN - Moisturizing & Volumizing Shampoo SAFE for Color-Treated Hair, Best for Thinning Hair Regrowth for Men & Women 16 Fl. Oz
$9.97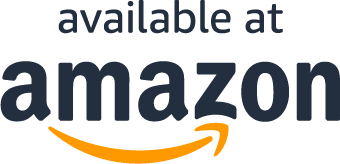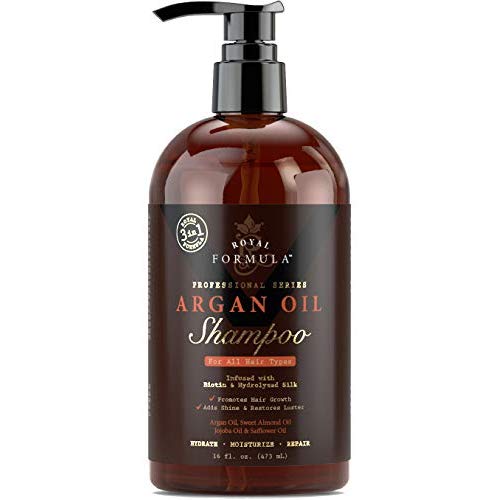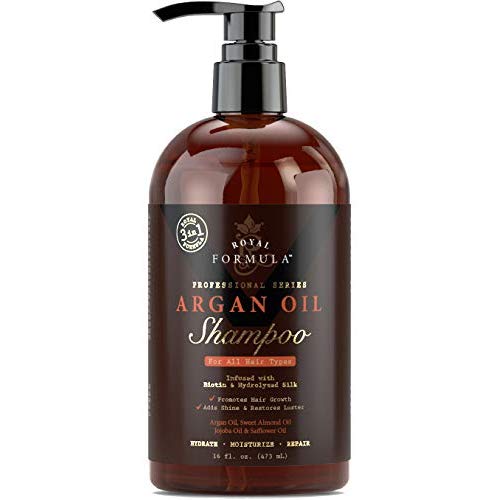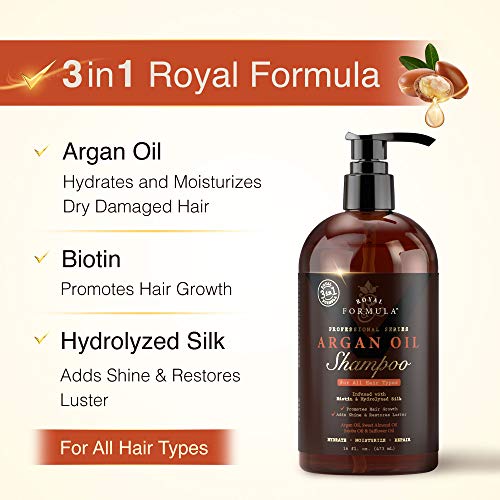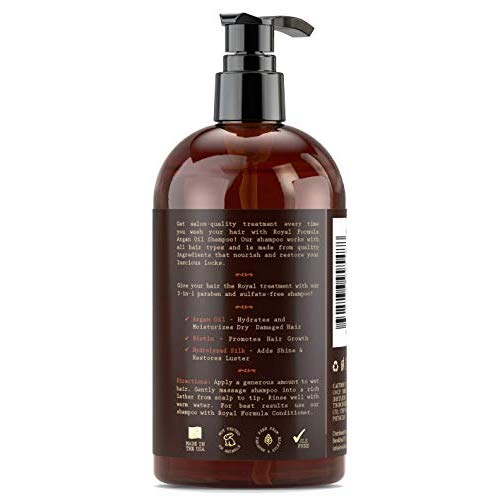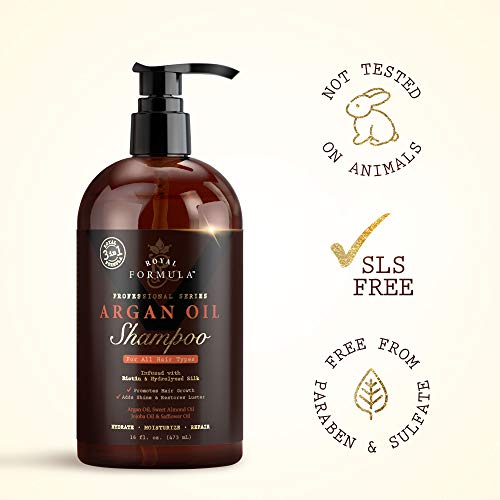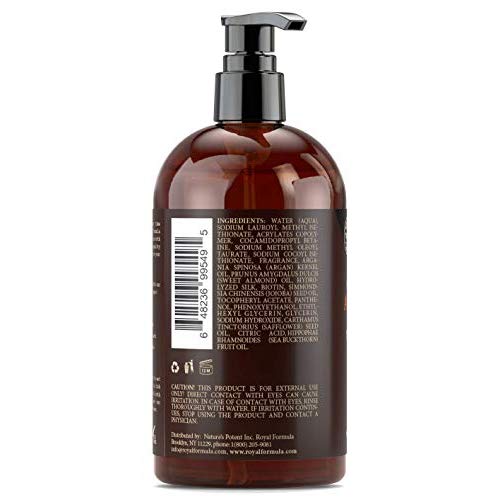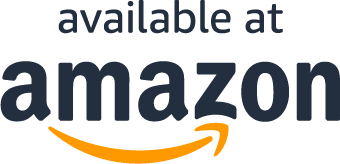 Read More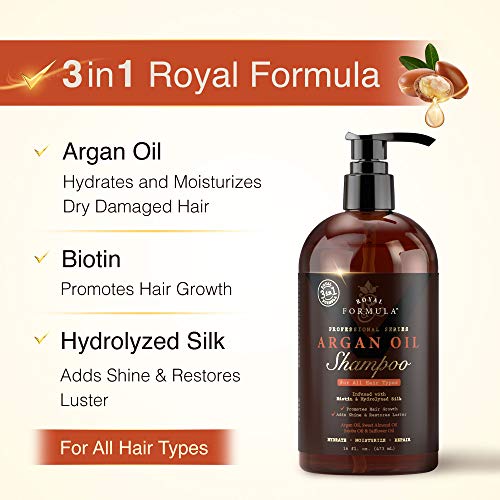 About the product
ROYAL FORMULA MOROCCAN ARGAN OIL SHAMPOO – Boosts Volume, Moisturizes, Repairs, Restores, Strengthens Weak, Damaged Over Processed Hair. Improves Manageability, Promotes Hair Growth, Shine & Luster
PROMOTES HAIR GROWTH & SLOWS HAIR LOSS – Argan Oil dramatically improves scalp health & hair softness & shine. Keratin & Biotin deeply nourishes, slows hair loss, best shampoo for Color Treated Hair
REPAIRS AND STRENGTHENS – Blend of Keratin, Biotin, Argan Oil, Sweet Almond Oil, Jojoba Oil, Safflower Oil, Sea Buckthorn & Fruit Oil smoothes frizzy hair, strengthens & repairs damaged, dry hair
SILKY, SHINY, TOUCHABLE HAIR – Hydrolyzed Silk leaves hair super-sleek, & touchable. Almond Oil & Natural Fruit Oils leaves hair smelling heavenly, a touch of the tropics every time you shampoo
QUALITY TESTED FOR PURITY – Made with 100% Organic Oils, Cruelty Free. Made in U.S.A /FDA Approved Lab, Paraben Free, SLS Sulfate Free, Sodium Free. Improves Hair Condition or Your Money Back – Lifetime Guarantee
What Are You Waiting For?
What Our Customers Are Saying
I've found my forever shampoo!!
I have a combo of oily roots with dry hair(chemically processed)which can be difficult in finding the right shampoo.If i choose a moisturizing shampoo it can weigh down my roots but if i choose a deep cleansing shampoo my roots are clean but my hair looks like the end of a broom!Im a hairdresser and i am always looking to find an excellent quality product usually going between these 2 kinds of shampoos to get the job done.I got a wonderful reccomendation from a coworker to try this line/brand next.Im so in love with this shampoo that i was eager to give my review after the first wash!Im on my 3x using this shampoo it has consistently done its job each wash!I don't know how it does it but it is able to clean and not weigh down my roots and still moisturize the rest of my hair! Im a everyday wash my hair girl and using this lasts up to 2 days! What a pleasant surprise and relief!I will be using and recommending this product for a very long time,if not forever?Ive used everything drugstore,high end and everything in between in my 15yrs as a hairdresser im so thankful my search is over!P.s and yes after i pumped out some shampoo on my hand for this picture you bet i immediately put it back in the bottle!
I finally found what I've been looking for
My hair feels so clean, silcky smooth, and the smell is magicanl. I love it! Just bought this product out of curiosity. Been browsing on IG lately and all the beauty experts just kept talking about Moroccan Argan Oil. I saw hundreds of different MoroccanArgan Oil products. I got so I lost and just picked this brand randomly because it also contains biotin, it's paraben and sulfate free, and most importantly safe for color treated hair. I used it only 4 times and all can say is… it's definitely a blessingin disguise! Loving this stuff now. It does make my hair appear shinier and smoother. I can run my fingers through it. I love the gentle yet lasting smell and love that my hair is not as oily as after all other shampoos I've been using, I mean I finally don'thave to wash my hair every day It literally stays clean for 2-3 days The volume is great I think this can last for a year even when you shampoo every day. It's super economical for its price. Fast shipping and smooth transaction.
Two words for this product – IN LOVE!
Virtually not so appealing for me but looking at the ingredients, I knew this one would be worth it. After only three days my hair is soft, smooth, and shiny. Worked great with royal formula Conditioner. This is an exact dupe for expensive brands you see in other shopping sites or even at popular department stores.Super love it. Packaging is good, didn't spill or break. Exactly brand new as I expected. Just lucky to be hitting my 40s with hair still looking thick and moisture-rich. LOL! I wish I could keep this a secret to my friends but I am making my feedback public so there you go.. feel free to comment on it. It is absolutely a lovely product.It came early as expected (not sure if it's because of my location).. perhaps the closer you are, the earlier it gets? I was very excited I came upon this product and will certainly buy it again (probably after a couple of months since the bottle is really huge). Overall, 100% highly recommended.
Highly recommend
This shampoo worked miracles on my curly frizzy hair. My hair was so much more silkier and smooth and easier to manage after using it. I was on the market for a sulfate free/natural shampoo and this one stood out to me after trying their hair mask which i absolutely love!! Their shampoo does not fall short. Everything from this line is amazing! Highly recommend!!
Try this shampoo if you have thin, fine hair
I hands down agree with some of the other reviewers that this shampoo is absolutely perfect. I have thin, baby fine hair and I find that most shampoos with oils in them (Coconut, Moroccan, etc) totally weigh my hair down leaving it oily even after cleansing it. This shampoo however cleanses and hydrates my hair without weighing it down and leaving it oily feeling. I have plenty of volume AND my hair is not excessively dry. I have used it with the same brand conditioner (Royal Formula Arian Oil) and my hair comes out perfect. Love it!
Soft hair even before conditioning
In love with this brand , started using the hair mask so i have to give it a try to the shampoo too as I saw really good results with the hair mask from the same brand , the smells was the same really like it , maybe the only thing will be it's a little runny and I'm use to using thick shampoo but I didn't mind , I really liked that after just shampoo you can feel your hair alreasy soft not even using the conditioner yet so I'm satisfied with this product.
What Are You Waiting For?
Questions?
Why are you running this promotion?
How can I use my coupon on Amazon?
Does this include free shipping?
What Are You Waiting For?