An Exclusive Offer For You
ROYAL FORMULA - Moroccan Argan Oil Hair Conditioner [Sulfate Free] Infused with KERATIN - Treatment for Dry Damaged, Color Treated, Frizzy & Curly Hair - Best for All Hair Types (16 Fl. Oz)
$9.47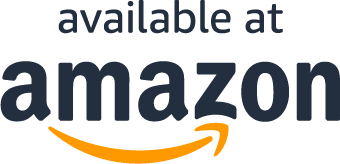 | | | | |
| --- | --- | --- | --- |
| 42 | Coupons used | 8 | Coupons left |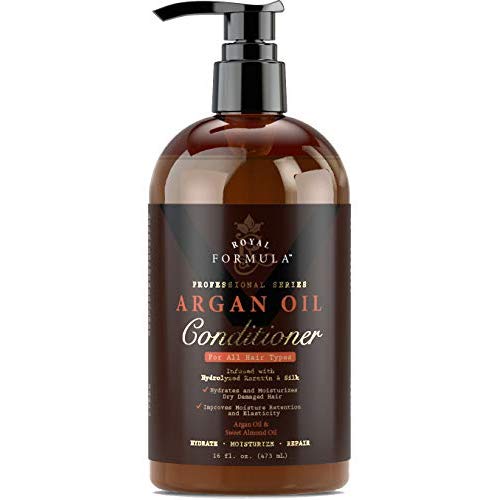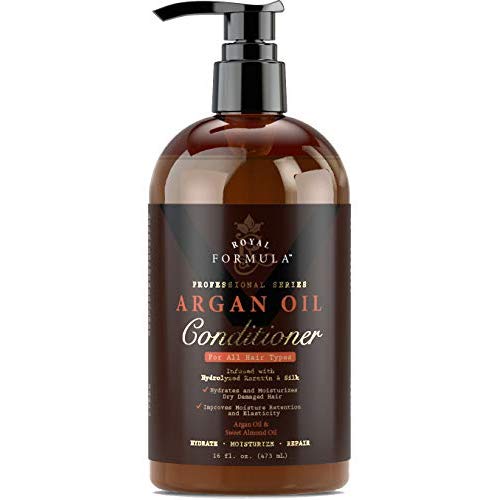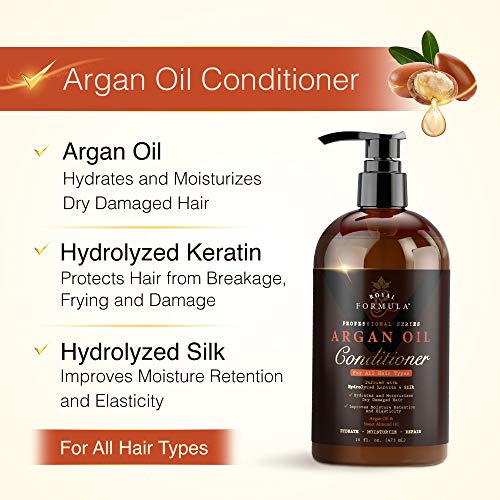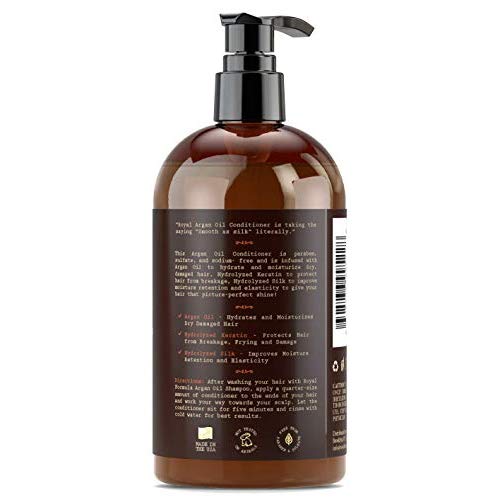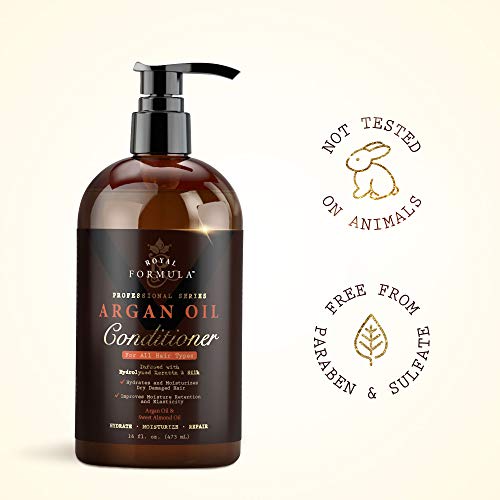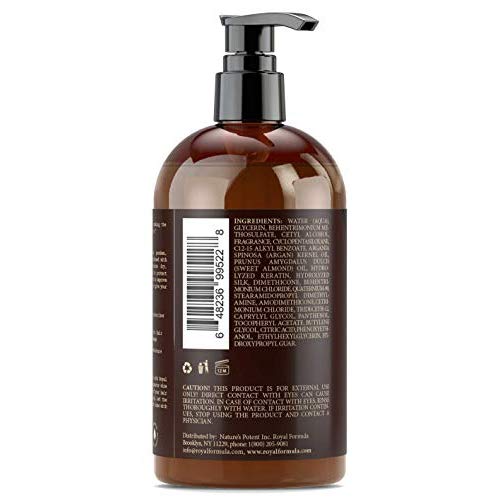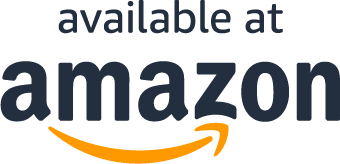 | | | | |
| --- | --- | --- | --- |
| 36 | Coupons used | 14 | Coupons left |
Read More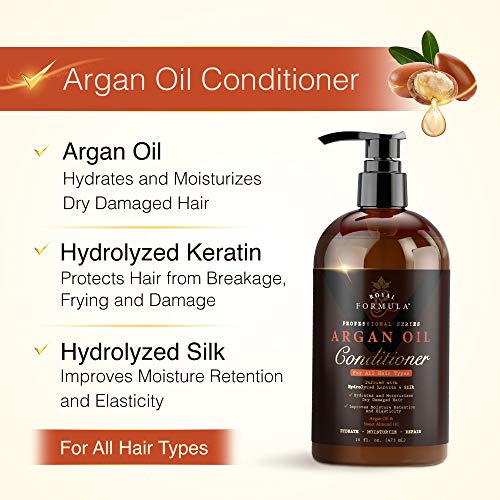 About the product
ARGAN OIL CONDITIONER: - ROYAL FORMULA "SMOOTH AS SILK" Moisturizes, Repairs, Restores, Strengthens Weak, Damaged Over Processed Hair. Improves Hair Thickness, Manageability, High Shine & Luster
REPAIRS DRY DAMAGED & COLOR TREATED HAIR – Blend of Keratin, Hydrolyzed Silk, Argan Oil, Sweet Almond Oil, Jojoba Oil, smoothes frizzy hair, reduce static, gently conditions, strengthens & repairs dry, damaged hair
PROMOTES HAIR GROWTH & SLOWS HAIR LOSS – Argan Oil boosts scalp health, hair follicles. Keratin deeply nourishes, prevents breakage best conditioner for color treated hair (SLS-Sulfate-Paraben Free)
SILKY, SHINY, TOUCHABLE HAIR – Hydrolyzed Silk leaves hair super-sleek & touchable. Almond Oil & Jojoba Oil leaves hair smelling heavenly, a touch of the tropics every time you condition your hair
QUALITY TESTED FOR PURITY –Made with 100% Organic Oils, Cruelty Free. Made in U.S.A /FDA Approved Lab, Paraben Free, Sulfate Free & Sodium Free. Improves Hair Condition or Your Money Back – Lifetime Guarantee!
What Are You Waiting For?
What Our Customers Are Saying
I finally found what I've been looking for
Highly suggested to all women looking for the most effective Moroccan argan oil shampoo and conditioner. with emphasis on "Moroccan." The mask is excellent too.There are so many conditioners online that claim to be Moroccan argan oil… but only a few can deliver a true result. Well, it's hard to tell which one is original when you buy online because you only depend on the product description and customer reviews.. but tried my luck on this one and felt like I've won a lottery.This Moroccan argan oil conditioner from Royal Formula is super soft on my hair. It smells great it makes my hair smooth and silky without making them overly thin and not nearly as much hair falling out like after other conditioners. I love that it also has other ingredients in it that are truly nourishing to the hair like the jojoba oil and sweet almonds. The bottle is pretty big so I thinkit will last for almost a year considering I finally don't have to wash hair daily thanks to the shampoo by the same brand. Overall great product highly recommend to anyone!
Just buy it
This is pretty much a miracle in a bottle. I straighten my hair a lot and I try to use some kind of deep conditioner at least once a week. This conditioner is better than any deep conditioner, leave in conditioner or any repair treatments I've ever used. When I was washing my hair it feel like it almost melted into my hair. My boyfriend even told me that my hair looked "more shiny" and sometimes I wonder if he would notice if I completely shaved my head - so that's saying something! It's has a nice smell too!
Very pleased with the Argan Conditioner and customer service was excellent.
I have highlighted, fine hair and the Argan Conditioner takes away the frizz and keeps it manageable. I had an issue with the bottle and the company sent me out a new bottle immediately. Very pleased with the product and the service.
Light and moisturizing!
This is such a light moisturizing conditioner!I have a hard time getting enough moisture to my processed hair with out weighing down my roots.I dont know how this product does it but it does just that! I use this in combination with the same line of Argan shampoo.I used to have to wash daily but now i go up to 2 or 3 days! Its Wonderful! Im one happy Customer! I look forward to ordering again!
Really works and is professional!
You don't need much and wow it works really well! I don't let it touch my scalp bc I'm concerned about some of the ingredients but i have long hair thats hard to put a big comb through but this stuff works and smells good too! A bit expensive however but is professional which I like.
Never felt better with my hair!
I commute every day for 2 hours just to get to work. Normally I would feel greasy upon reaching the office, and my hair would smell awful.. so I just keep it tied all the time.But thanks to this argan oil conditioner. It's absolutely wonderful! Works wonders with my hair. It's softer, smoother… also smells better. I didn't have to tie it like I used to. I feel fresh and confident coming to the office .. never felt this good!Can't give a professional review about its ingredients or whatever it claims to be. All I know is that it's good. No foul smell. Not itchy and irritating at all. I have nothing to complain about this product as I am very happy. I'm giving this product five stars.
What Are You Waiting For?
Questions?
Why are you running this promotion?
How can I use my coupon on Amazon?
Does this include free shipping?
What Are You Waiting For?