An Exclusive
Valentine's Day Offer! 💖 💝
Rove R2-4K Dash Cam Built in WiFi GPS Car Dashboard Camera Recorder with UHD 2160P, 2.4" LCD, 150° Wide Angle, WDR, Night Vision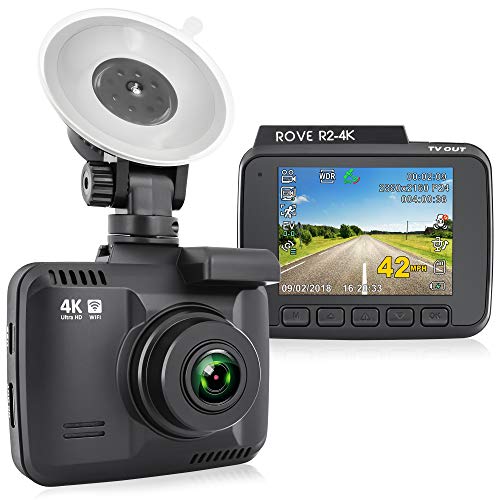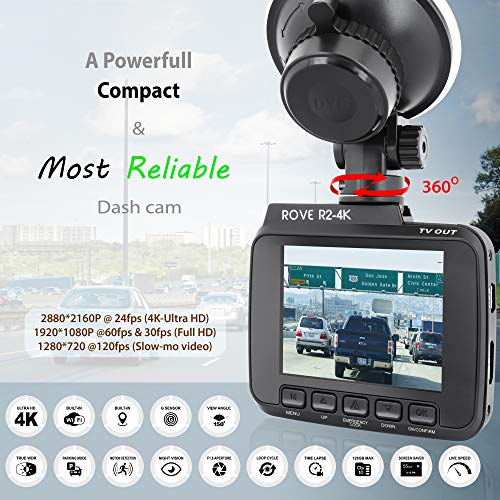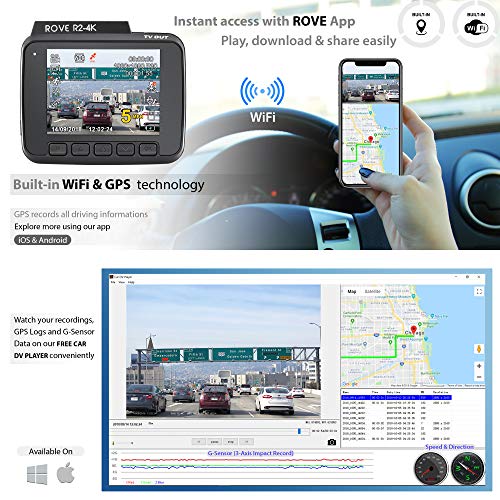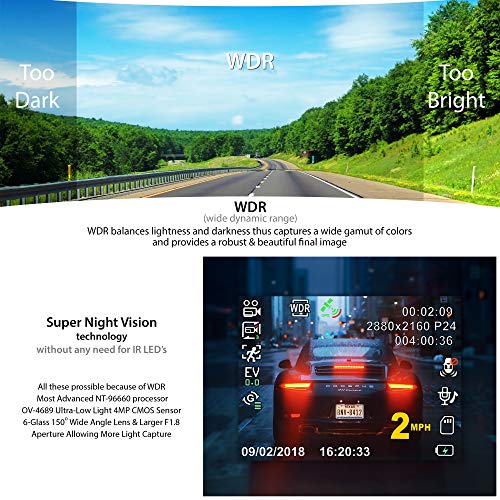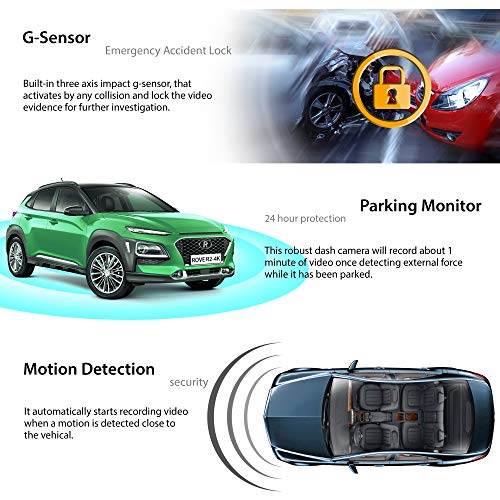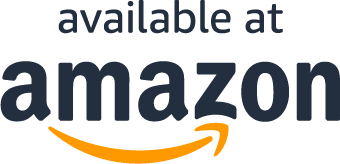 13
Coupons left
37
Coupons used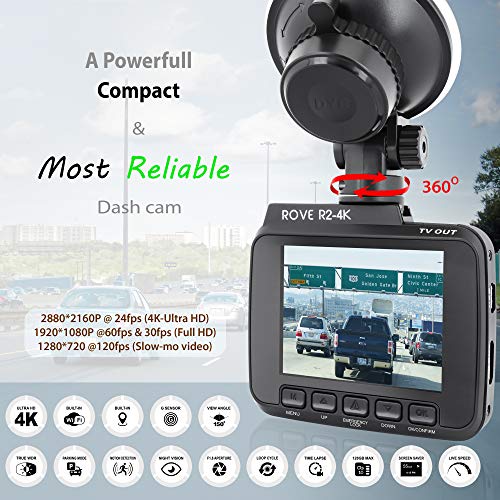 About the product
4K ULTRA HD RECORDING – The Rove R2-4k dash camera can record videos up to a resolution of 2160p. The ultra hd video recording quality is so good that you will notice much more clarity and quality difference than all other car dash cams. Revolutionary Super Night Vision Technology (Ultra-low light Sensor NT96660 + OV4689) helps to get comparatively clearer footage and images from the recording in low light condition
BUILT-IN WiFi – Use the ROVE App to view and manage dash cam recordings instantly on your iOS and android devices. By using the app you can download your recorded 4k videos directly to your smart phone and then easily share these on social media with friends and family
DASH CAM WITH GPS – Built-in GPS accurately records your driving location and speed. View your driving route and tracker on google maps via Wi-Fi using the App or with our Car DV Player. We provide FREE Firmware Upgrade for this car camera
FEATURES WITH STATE OF THE ART TECHNOLOGY INCLUDED – The car dashboard camera has f1.8 apertures (the largest in the industry), parking mode, motion detection, 150° A+ wide angle lens, G-sensor, loop cycle recording, emergency video lock, time-lapse video, slow-mo video, supports up to 128GB class 10 - U3 speed micro SD card (NOTE: MEMORY CARD NOT INCLUDED)
100% USA-CHICAGO BASED CUSTOMER-CENTRIC COMPANY & CUSTOMER CARE – This dash camera for cars is backed by full 1-YEAR WARRANTY. You can text us for (Faster Response) or Email our customer care and we will answer any of your questions and resolve arising issues fast. If you're having any doubts, it comes with a FULL REFUND within 30 DAYS
What Our Customers Are Saying
Rove R2-4K Dash Cam Great Camera
Very great camera, and easy to use it really comes in hand!! A guy turned in front of me when I had the green light and I hit him. He told the officer that it was my fault little did he know I had it all on Rove Dash Cam. Showed it to the officer on scene and the officer was able to conduct the traffic investigation off my video right there on scene, and then he thanked me for the dash cam video and thought it was a great tool to have for this reason. Thank you Rove Dash Cam!!
Vote this item
Very good in night .. vote thí item
FANTASTIC CAM!!!
This camera is clear and it is easy to use once you get to know what each button does. I sat down and read the book that came with it way before using it so that I could get a good understanding of everything. The video provided is at default settings, so I haven't even set it to 4K yet and it is this clear. I do recommend the 128 Samsung 10 class u3 SD card for it as it records without freezing. I haven't had any problems, but if I do, I will post an update. So far so good though.I can't comment on the app yet because I haven't used it, but when I do I will update. Also, I haven't used the player yet either, but I did download it for Mac, so it is Mac and PC compatible. Once I use these features, I will update again.Update (2/15/2019): I finally used the app and it seemed to work well for me. It was very easy to connect to and I was able to see my videos. I can't figure out how to use the player though. I thought if I insert the sd card to my computer, it would read from the video player and show me the data, but that wasn't the case. If anyone figures out how to do this, please let me know. Also, I have integrated the camera into my video, meaning that I bought a kit so that I could plug it into the fuse box for a direct power source. I like the fact that it was easy to do and it now turns off the minute that the vehicle is turned off. The only time it will turn back on is if you have parking mode on, but it shuts off about 3 minutes after it has recorded an impact while parked ( i tested it by shaking my vehicle, I did not get hit). When I turned my vehicle back on, it spoke to me and said, "parking mode was activated," so I knew right away that I needed to check what happened (of course, this was only a test though). Anyway, so far so good and the video is fantastic. When I learn to work with the player, I will update again. :)Update (12-18-2019) So I figured out everything and so far so good. I ended up buying another one because my son wanted one just like it. He loved how easy it was and the updates that Rove puts out for the cam. They also contacted us when we ordered it. They just said that if we needed anything they would be more than happy to speak to us over the phone with a live agent. What a live agent! They were very nice. I have not had a problem with this cam at all and I do recommend it to others. I just saw that they are having a sale on their website for it, so I might buy another one for my husband. Can you say Christmas gift :) They have a 25% off code on the website. I believe it is ROVEVIP25 to get 25% off. Anyway, this is a great dashcam and I couldn't have asked for more. I am a loyal customer!
works great
This is a great camera for your car. Small and easy to install and video quality is fantastic. The Car DV player is good but picture quality is better when played with the VLC player. I did have a codec issue with the VLC player and minor issue with sun glare (not the cameras Fault) and both issues were promptly responded to by the seller. Another nice feature with the VLC player is the ability to zoom in to read tags and things better. I also use the motion detection feature to record when there is motion around the car when it is parked. Have been using a Patriot 128 micro sd card and get about a months worth of video on it set at the HD mode. See attached photos. I would highly recommend car dash cam and the seller provides great support for any issues..
Awesome Dashcam but even though a small screen, takes great video
This is my 3rd camera from Amazon. And the ONLY one that is great! In my opinion and basing it on the ones I have. My first one was good, but low quality video, 2nd was 1020P video but crud night vision. While the night vision on this one is good, it is grainy but you can still see details, could tell if someone hit you, or you witness an accident.I put up a few photos showing the clarity of the pictures. This are grabbed from moving pictures (screen shots) but still very clear.The things I love about it;1. GPS tells how fast you're going, what direction and your coordinates at all times. If a cop pulls you over and says you're doing 65 in a 55 zone, if you were, oops, if not, you have video proof of exactly how fast you were going.2. You not only have video but you can take snapshots at any time, even use it as a camera to take pictures of places and things. Might have to carry a battery pack for power but it's a great cam too.3. I can connect to it with my Android phone (works with smart phones too) and see what it sees. Of course the range isn't going to be super long but say it's on outside a restaurant and you're close enough, you can connect and watch what's going on.4. The suction cup to mount to the windshield is the best I've seen. It also has other mounting options but I chose this and it's great.5. I can do 1, 3, 5 and 10 minute size video. You can also do 4gb per video but at the highest setting, you're not going to get much, and that setting is the only setting that once the micro sd card is full, it will not overwrite old files. The other settings will.6. You can watch the video on the cam, your phone, your TV and the computer.7. With the Rove APP you not only see your videos, but it will show you on the map where you are during the video.So... if you do have an accident, or witness one like I did a couple of months back with my old camera, quality is why I ordered this one. But anyhow, you are covered. Has 150 degree view angle (could be a bit more for my liking) but you can see for yourself in the pictures I posted.The ONLY thing I don't like is the size of the screen but I knew the size before I ordered it as it's posted in the description so I can't ding it for that. A larger screen would be nice but the camera is still great.
Great Camera
I bought this camera to use on our 3500 mile New England trip and wasn't disappointed. I used this to capture the drive as well as most of the places we stopped at. The app allows you to watch the video and view a moving marker on the route using Google Maps, which was a very cool feature. Highly recommended.
Questions?
Why are you running this promotion?
How can I use my coupon on Amazon?
Does this include free shipping?
What Are You Waiting For?