Limited Time Only
Secure 10% Off the Top Rated
Prostate Supplement
Ultimate Prostate Support Saw Palmetto for Enlarged Prostate Gland (BPH)
and Labido
Natural Herbal Formula - Relief from Frequent Urination & Pain -
Natural DHT Blocker Helps Prevent Hair Loss


$26.52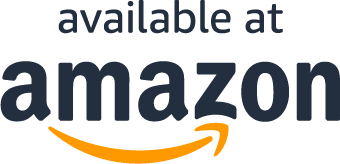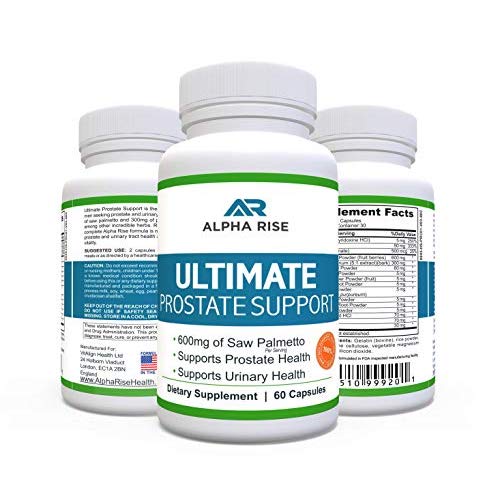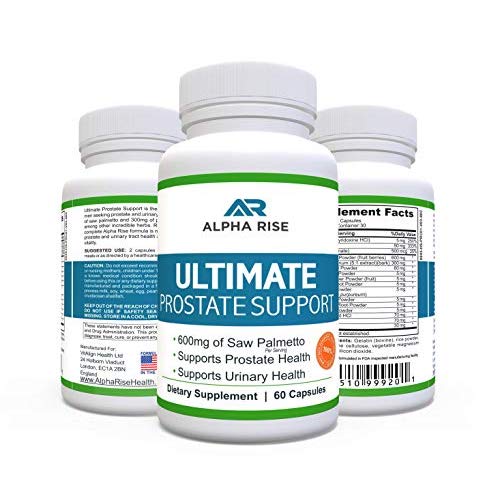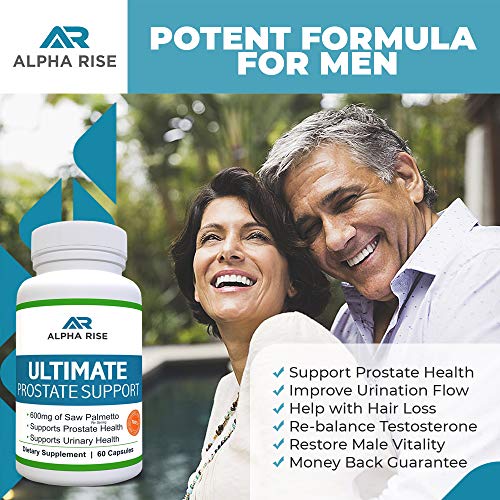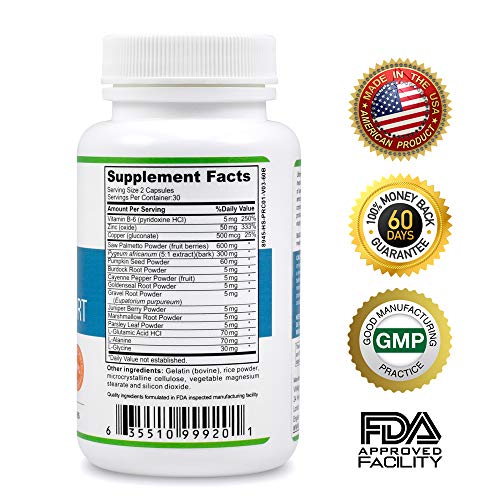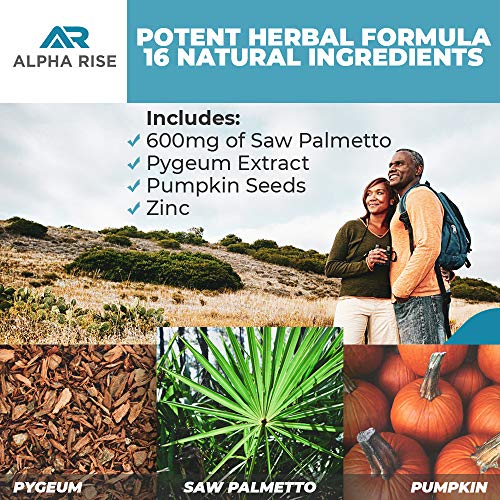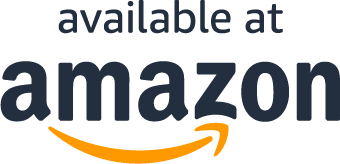 Read More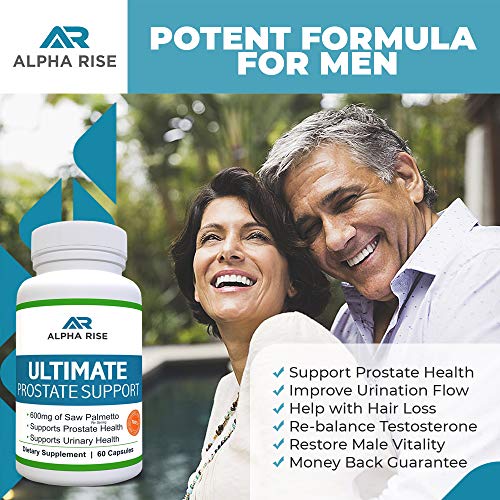 About the product
TERMINATE PROSTATE PROBLEMS and WIPE OUT FREQUENT URINATION within weeks and keep them at bay for life, following our Alpha Rise natural prostate health regimen. Prostate diet is recommended, and including Alpha Rise ultimate prostate health supplements can aid your urinary tract infection men and STOP EMBARRASSING MOMENTS. Get a good night's sleep and feel like the ALPHA MALE again.
NATURAL, SAFE, AND EFFECTIVE PROSTATE HEALTH SUPPLEMENT with SAW PALMETTO CAPSULES 600mg with PYGEUM 300mg makes this one of the top prostate support formulas. NOTHING HIDDEN. OPEN SOURCE INGREDIENTS: unlike other brands, we show you exactly how much of each ingredient is included. These prostate vitamins for men pack a natural potent punch.
PROSTATE SUPPLEMENT gives you the CONFIDENCE YOU DESERVE in the bedroom. When you don't feel that bladder pressure and you work better "down there" = game changer. Alpha Rise ultimate prostate health pills with saw palmetto, zinc and our other herbs serve as an effective enlarged prostate supplement.
MADE IN USA - GMP CERTIFIED FACILITY - FDA INSPECTED - Our manufacturing facilities have been put through rigorous testing, inspections, and certifications and are completely certified by the Food and Drug Administration with Good Manufacturing, right here, natural herbal blend with saw palmetto made with care in USA.
ALPHA RISE 100% SATISFACTION GUARANTEE - We are 100% confident that our top natural prostate supplement will give you the best enlarged prostate relief. As with any naturally formulated health supplement, allow up to two months assessment. We stand behind our enlarged prostate supplement with a 60-Day 100% MONEY BACK offer, if you're not totally satisfied. And you can keep the bottle!
What Are You Waiting For?
What Our Customers Are Saying
And if you're like me who suffers from this condition
ok.. Let me start with that I never write reviews, but I think I have to with this one and hopefully it helps others in the same boat as me. So to start with, I have been dealing with Prostatitis for the last 3 years. I've been on and off antibiotics over that time. And if you're like me who suffers from this condition, you probably are aware that it improves while taking the antibiotics, but comes back after you stop. The doctors are not much help. They have no idea what to do with this chronic form of prostatitis. My doctor even tries to tell me its in my head. Um, no doc. I know when my johnson hurts and its not in my head (the big head)! So I started looking into alternative treatments and read that people were saying that herbs like saw palmetto and others seemed to help. So I came across this product, which has most of the herbs that they say works for healing the prostate. The only one missing is the stinging nettle. But I read the reviews on here for this product and most were very positive so I thought give it a shot. And let me tell you, I've been taking the product for a week now and I am almost symptom free. I'm actually shocked that it works! Now just to let you know, I also have been taking additional supplements of cranberry extract and L-arginine. So with the combination of all the above, this is the best I have felt in 3 years!! I will definitely be putting this on subscription auto order so I get it once a month routinely. So yeah, give this a try. What do you have to lose, except your quality of life. Doctors can't help. One more thing, I should mention that my symptoms were not as bad as they could have been, as I have read the symptoms that some people get that are pretty bad. Compared to those guys, mine were more mild. So for you poor guys with those super bad symptoms, I would still give it a try, but I've read that these alternative treatments of herbs work the best for those of us with the milder symptoms. Good luck guys and you're not alone suffering from this horrible condition.
5 stars prostate health winner
It's been almost 2 weeks since I started taking this so called "best prostate supplement" and I am sorry to say that I really think this Alpha Rise may be the one I'll take forever for overall prostate support. When two different doctors told me I likely have BPH and that could lead to worse things, I got scarred. After day 4 I started noticing that I didn't feel the bladder pressure or frequent urination urges that I had before. more than 10 days into it Now I don't wake up in the night to pee anymore. Night peeing was killing my marriage, libido, and I felt my hair thinning out. Probably due to lack of sleep and no sign of any enlarged prostate relief because I wasn't taking any medicine for it.NOTE that I don't think these are the magic ed pills. All men should be on a prostate diet and follow the doctor recommended for prostate health. Thankfully mine said I can try it naturally before possibly putting me on Uroxatral or Flomax treatment.The ingredients in this I found in the capsules were great with Pumpkin Seed, Burdock Root, Goldenseal, Gravel Root, Vitamin b 66, ZInc, Copper, Cayenne Pepper, Juniper Berries, Saw Palmetto, Goldenseal, Marshmallow Root, Parsley Leaf, L-alanine, L-Glycine, and glutamic acid that are for amino acids. With beta-sisterol would work, but these already worked wonders using the current herbs.Happy to report no pain on my sensitive stomach and I was taking 2 pills per day. Did always take with meals as the instructions said and never tried only water. No Incontinence or UTI signs anymore and feeling like it flows well, especially after a long night sleeping. I'm quite young still so a big 5 stars from Florida.
Sleep all night
I went to the Dr and he recommended Flomax. I did the research and found out they cause your libido to drop and Ed issues. They fix one problem and cause another. I looked on Amazon and found Alpha Rise. It worked for me. Now I sleep all night as long as I don't drink any water past 7pm.Try it what do you have to lose besides your libido.
Amaxing quick results
I give it a five-star because I've only been taking it for a week and it's already seems to be helping me. I was getting up at night at least four or five times to go to the bathroom but now I am down to one time. I figured it would take at least a month to notice a difference but it did not take that long. I figure in a month I will notice a great difference. I am looking forward to using this product the rest of my life. I've done a lot of research on what ingredients worth the best and this product has it all
which is working fine. If you've tried other products with little success
This product simply works! In less than 2 weeks, nearly all previous issues disappeared. After the 3rd week, I decreased the dosage to only 1 per day, which is working fine. If you've tried other products with little success, give this one a test, you won't be disappointed!
Amazed by the results this actually works!
I was in extreme discomfort for several months with prostrate issues so with nothing to loose decided to try this product and must say that within 5 days I started to see noticeable results, past 3 days I have seen absolute relief I am truly amazed as this product actually works wonders and has restored quality to my life.
What Are You Waiting For?
Questions?
Why are you running this promotion?
How can I use my coupon on Amazon?
Does this include free shipping?
What Are You Waiting For?