Exclusive 25% Off Amazon Coupon
ProHealth NMN Pro (250 mg, 30 lozenges)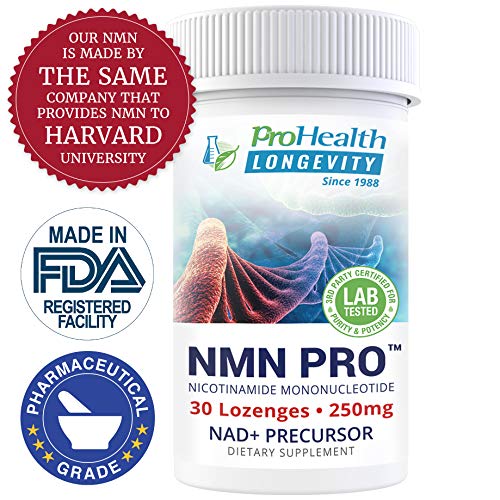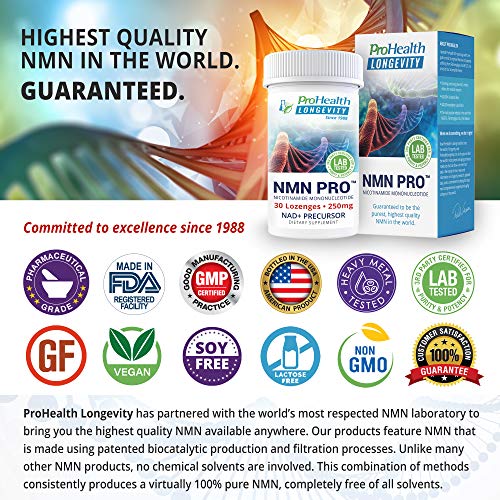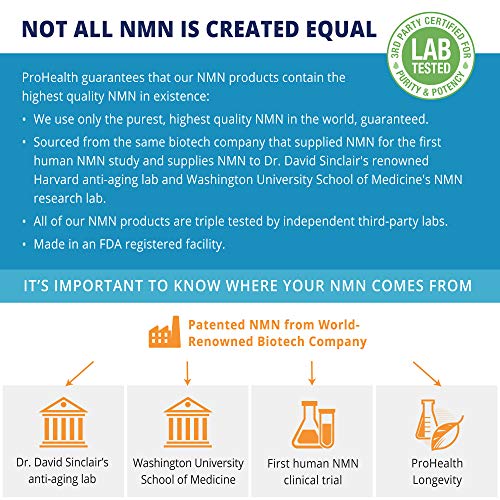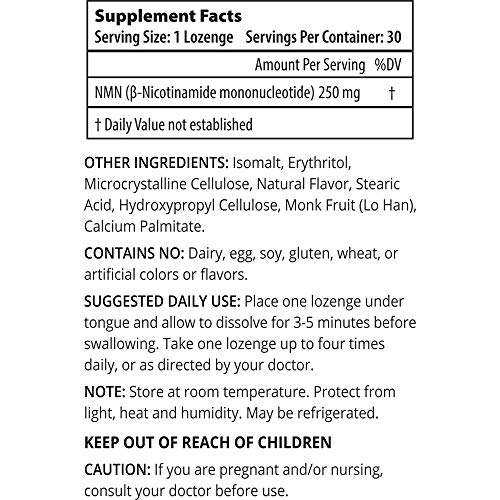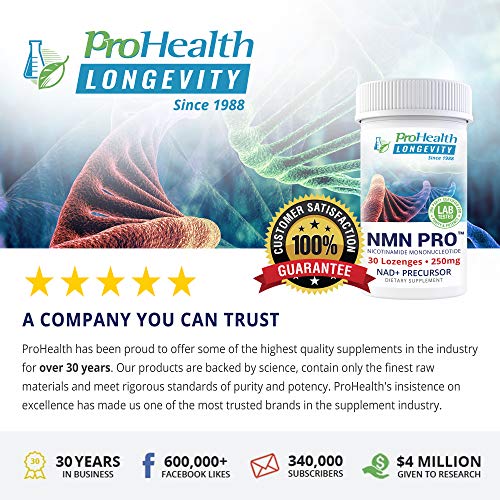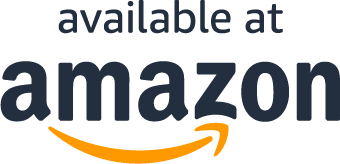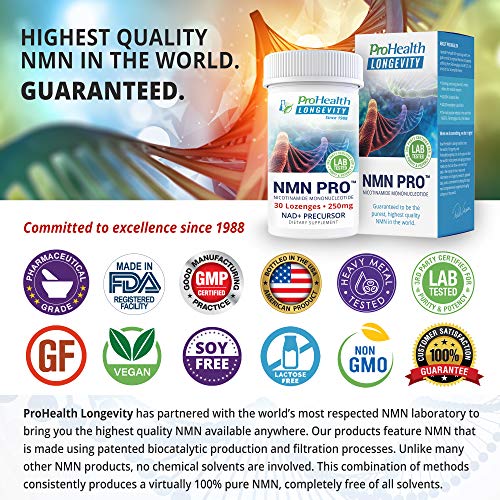 NMN Pro Lozenges

THIS IS THE HIGHEST QUALITY NMN IN THE WORLD. Sourced from the same biotech company that supplied NMN for the first human NMN trial and supplies NMN to Dr. David Sinclair's renowned Harvard anti-aging lab and Washington University School of Medicine's NMN research lab.
NOT ALL NMN IS CREATED EQUAL. Our pharmaceutical grade NMN is the only patented NMN on the market - made without any chemical solvents, unlike other NMN products - and manufactured with unparalleled purity. That's why medical researchers rely on the exact same NMN.
TRIPLE-TESTED BY THIRD-PARTY LABS for purity and potency. Our products are backed by science, contain only the finest raw materials and meet rigorous standards of purity and potency. ProHealth's insistence on excellence has made us one of the most trusted brands in the supplement industry for over 30 years. Made in an FDA registered facility and bottled in the USA. Quality you can trust.
LOZENGES = ENHANCED BIOAVAILABILITY - NMN Pro features an innovative lozenge delivery system which increases the product's bioavailability versus other delivery systems such as capsules or tablets. Lozenges allow the supplement to be absorbed into the blood vessels underneath the tongue. In this way, the NMN avoids digestion in the gastrointestinal tract and can be more rapidly delivered to the bloodstream.
NMN BUYERS BEWARE: There are fake NMN products on the market that may contain little to no NMN. Worse, some products contain high levels of lead, mercury, and arsenic. Buy with confidence from ProHealth, a nationally recognized supplement company for more than 30 years.
What Our Customers Are Saying
Best Way to Get NMN
I am very careful and inspect closely the ingredients of all my supplements. ProHealth ingredients are one of the best formulations. The NMN Pro is more bioavailable as it mostly skips the digestive tract, which usually requires all kinds of coatings of tablets and capsules to deal with. I highly recommend ProHealth NMN Pro, it has a shorter pathway to where NMN is targeted due to the sublingual application, but I have to say that you should not expect quantifiable results immediately and stop the product when you get disappointed. The benefits of NMN are without any doubt, it's a long-term regimen, and you will see big benefits with time.
Love it!! Another 5* ProHealth product!
I've been taking these lozenges for a couple of weeks now and feel great! I work long hours and have noticed a significant increase in my energy levels / focus. My mom has also been taking them for the anti-aging benefits and has noticed a considerable benefit! We'll both be restocking! We only buy ProHealth products and have complete trust in their company and their products. You won't be disappointed!
Feelin' Good
NMN Pro tastes better than most lozenges and has given some pep to my energy level. It makes me feel like my head is more in the game so I plan to continue using this product. I may be 70 but I'm behaving like a 50 year old.
I'm already feeling some energy.
I like the taste even though other reviewer say it's too sweet they don't make my stomach upset and I'm already feeling some energy. Fast delivery.
Questions?
Why are you running this promotion?
How can I use my coupon on Amazon?
Does this include free shipping?
What Are You Waiting For?