An Exclusive Offer For You
Premium Tea Tree Oil Soap - With Peppermint! 100% All Natural USA Made Bars for BJJ, Jiu Jitsu, Wrestling, and Grappling - Combats Ringworm, Jock Itch, Athlete's Foot (5-Pack of 4 Ounce Soap Bars)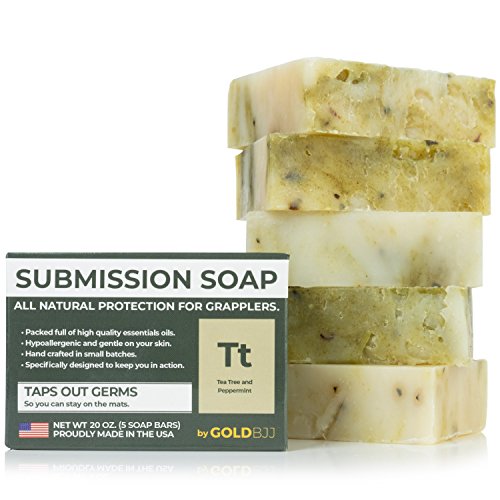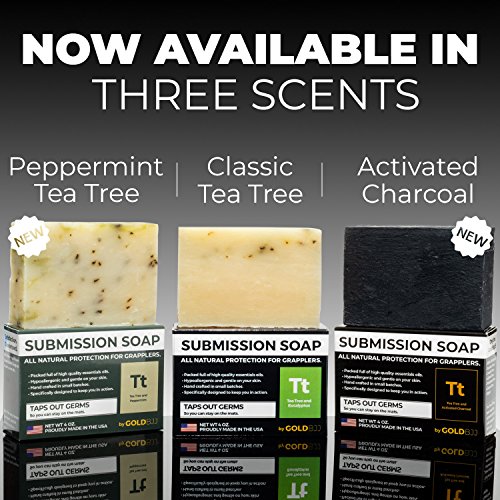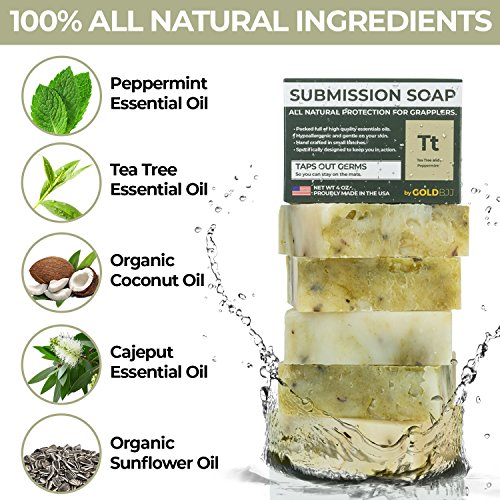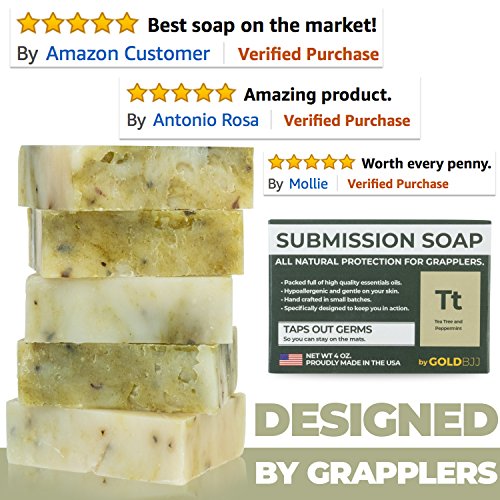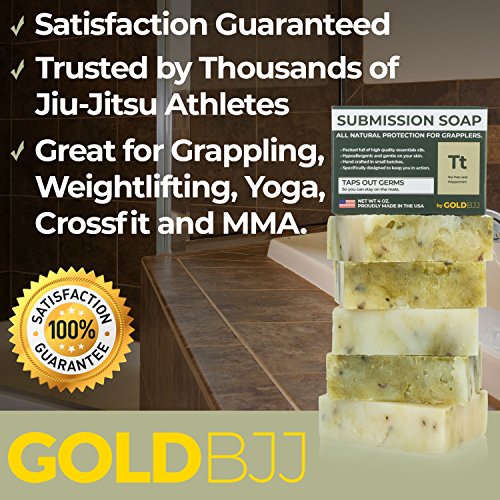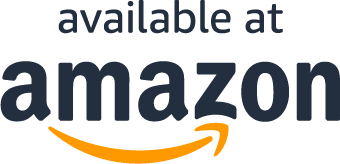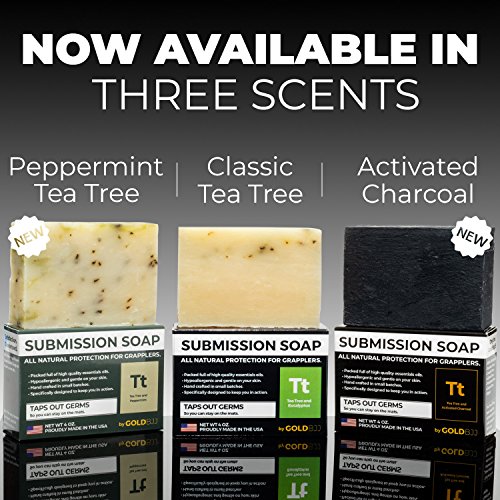 What Our Customers Are Saying
5 Stars all the way around.
Awesome soap. I battle with back acne, especially when I am training hard and frequently. I've tried MANY different soaps and creams and things but after 2 weeks of using it, this has given me the best results of anything yet. Aside from that, the soap has a nice smell that my wife likes and leaves me feeling very clean. Definitely recommend and I will be re-stocking it in my house in the near future!
Best soap on the market!
Truly excellent product! Unlike almost every other soap I've tried, this one does not dry out my skin. The scent is very natural and pleasant. Super refreshing and soothing after some time on the mats. I would strongly recommend this soap to anyone who wants to avoid getting ring worm, staph, etc. Give it a try, you'll be glad you did!
Best hand poured soap I've ever used
I just started BJJ a Month ago and bough this soap to help prevent common infections that happen in BJJ (staph, ringworm, etc). I've used other hand poured soaps before and usually can't stand them because they dry my skin out. This is the first hand poured soap I've used that actually helps hydrate my skin and doesn't dry me out. Not to mention it smells fantastic.Like all hand poured soaps, it doesn't last very long, but you have to learn to use it properly. Don't use it like standard milled soap and rub it all over your body. You need to apply it to your hands and areas of your body and then use your hands or a washcloth to spread it around and get all sudsy. That will help the longevity of the soap. I only use mine after practice (3x a week), and 1 bar lasted me 4 weeks.Highly recommended.
Acne Free
I've had acne since I was 9 and up until my late 20s, I always went to a dermatologist. Now, after a few years away from the doctor and starting up a workout routine in my mid-30s, I researched the best way to treat acne after a workout. I learned activated charcoal and tea tree oil were highly recommended. I found Submission Soap on Amazon and decided to try it. I barely have any acne since using it and this is the smoothest my skin has felt! I am beyond satisfied with this product and will continue to purchase it.
This soap is amazing! When I opened the packaging and was smacked ...
This soap is amazing! When I opened the packaging and was smacked in the face with the smell of this soap, I knew I had ordered the right soap. Along with the great smell, this soap has a refreshing feel. I'm not sure if it's due to the tea tree oil or not, but I love the way I feel after a shower with this soap compared to the soaps I was using prior.One thing I liked about this soap was the look. I know that isn't a big deal when it comes to soap, but I liked it.
Amazing product. I have been using this product on ...
Amazing product. I have been using this product on and off for a month or so now and I have to say I am extremely satisfied. I do have rather sensitive skin and almost any change in soap bothers my skin very quickly. This however did not have any adverse effects on me. If anything I would recommend this soap to anyone with sensitive skin. I have seen vast improvements in dryness and certain outbreaks that come with contact sports. I had a bit of an outbreak while training in boxing and my hands decided to get infected. This soap was very mild on the wounds and helped decrease itching and soothed some of the more intense irritation that came along with the injury.
Questions?
Why are you running this promotion?
How can I use my coupon on Amazon?
Does this include free shipping?
What Are You Waiting For?