REDUCED
PraNaturals Dead Sea Salt (1kg)

Bath Soak Rich In Natural Minerals Magnesium
All Skin Types
COSMOS Natural, Vegan and Soil Association Certified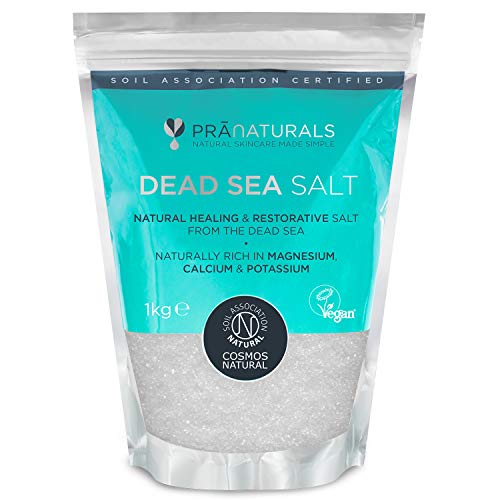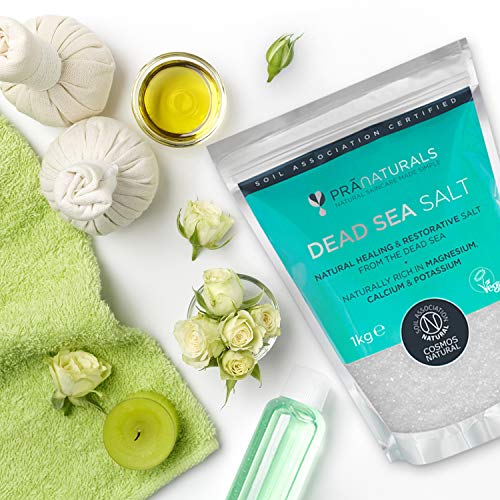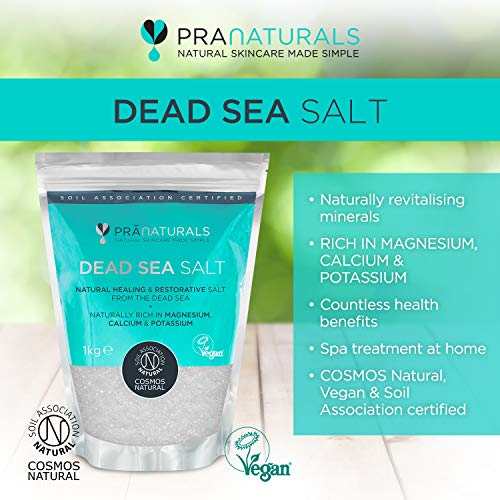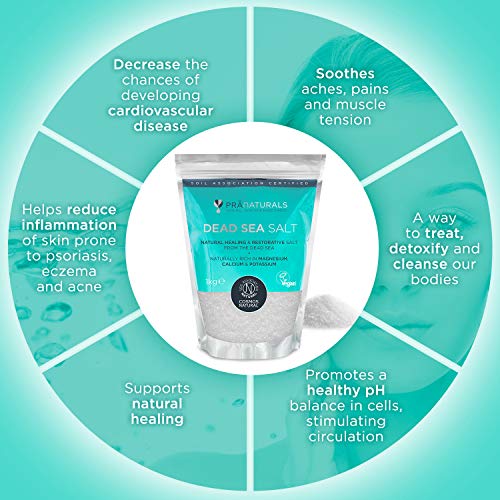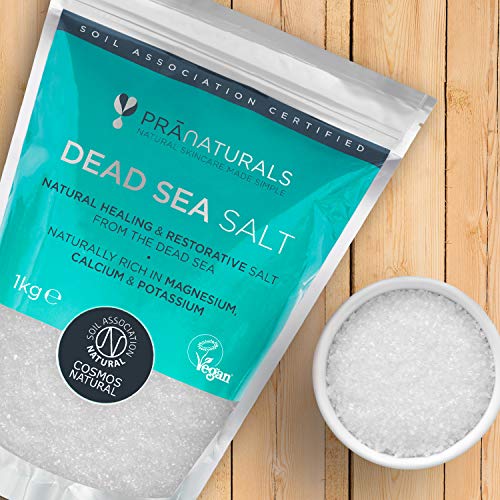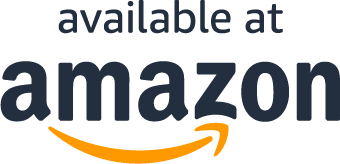 About the product
NATURALLY REVITALISING MINERALS - Softening and balancing, PraNaturals Dead Sea Salt is rich in magnesium, calcium and potassium, which are important for maintaining bone health. May help relieve anxiety and premenstrual symptoms including pain, bloating and the appearance of puffy skin.
SUITABLE FOR ALL SKIN TYPES - Especially for sensitive and dry skin. Dead Sea salt is ideal for detoxing, making sure your skin is nourished, rehydrated and cleansed. Deep-cleans, exfoliates and rejuvenates dull, tired skin, ideal for clearing blocked pores while also shrinking them.
PSORIASIS TREATMENT - PraNaturals Dead Sea Salt supports natural healing by helping to reduce inflammation of skin prone to psoriasis, and eczema. It also disinfects skin, getting rid of itch-causing microbes and soothing the pain caused by excessive scratching.
EFFECTIVE ACNE TREATMENT - Hives, itchy skin, dermatitis and other skin allergies can all be calmed and healed using Dead Sea salt. The rich magnesium and bromide content help soothe skin while keeping away allergenic elements and microbes that cause negative skin reactions.
REDUCES FINE LINES AND WRINKLES - PraNaturals Dead Sea Salt boasts anti-aging benefits. Research shows that the minerals in Dead Sea salt contribute to a 40% reduction in the depth of wrinkling of skin. Not only do they ward off pro-aging free radicals, they also help to exfoliate, hydrate, detoxify and soften skin which promotes youthfulness.
What Our Customers Are Saying
Exactly as stated
Came next day. Required it urgently due to fibro flare with intense itching. Put 2 handfuls in the bath and it has reduced the itching immediately. Grains are not to big, easily dissolved in the bath. Will use this seller again.
Its good for me .
I was told to use it for my eczema and its good.
Brilliant
I bought this as I have psoriasis on my knees and elbows and I'm very impressed, after 1 soak in the bath with 2 handfuls I f salt it's seems so much better, not as flared and so much smoother, bargain at the price!
Excellent product.
Really like this brand, dissolves well, great quality, lovely packaging, good value for money.
Great product
Used with foot spa and feet felt lovely afterwards
Questions?
Why are you running this promotion?
How can I use my coupon on Amazon?
Does this include free shipping?
What Are You Waiting For?