An Exclusive Offer For You
ProHealth NMN Pro 250 Sustained Release (250 mg nicotinamide mononucleotide, 30 Tablets) NAD+ Precursor | Supports Anti-Aging, Longevity and Energy | Non-GMO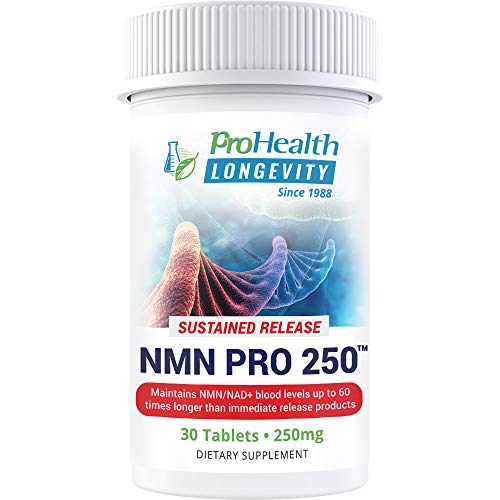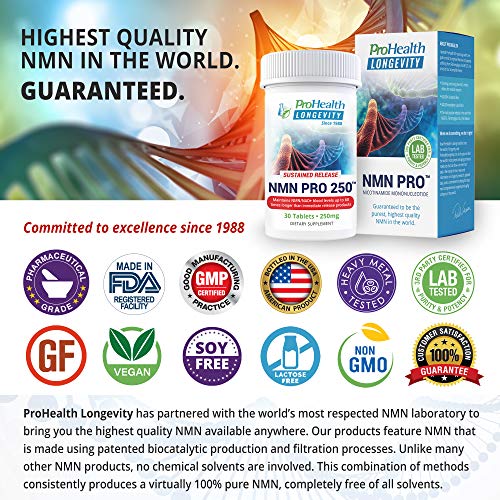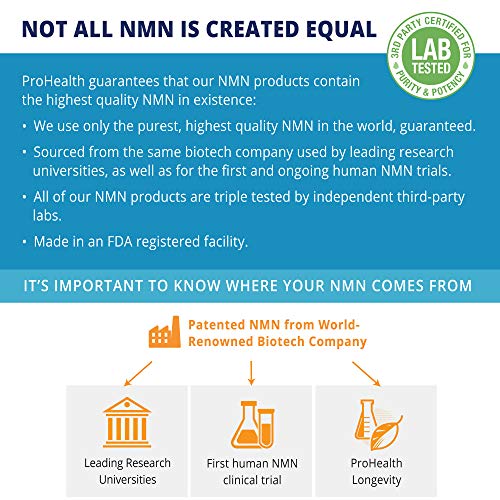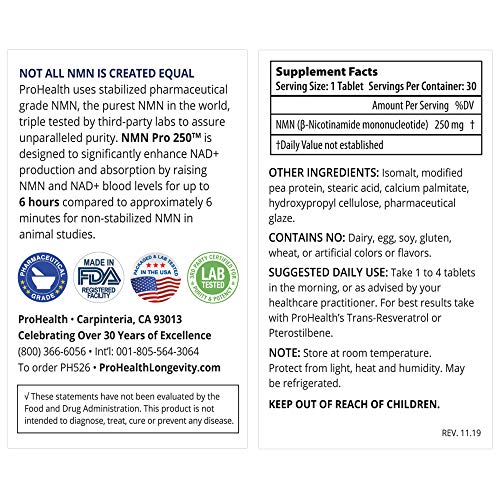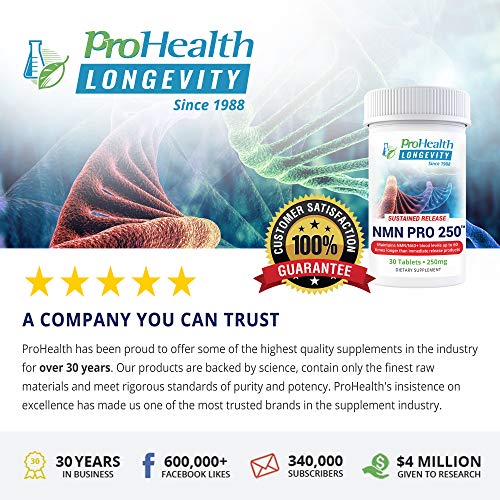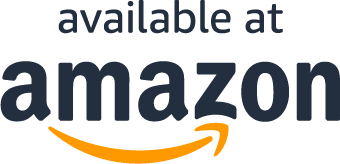 0
Coupons left
0
Coupons used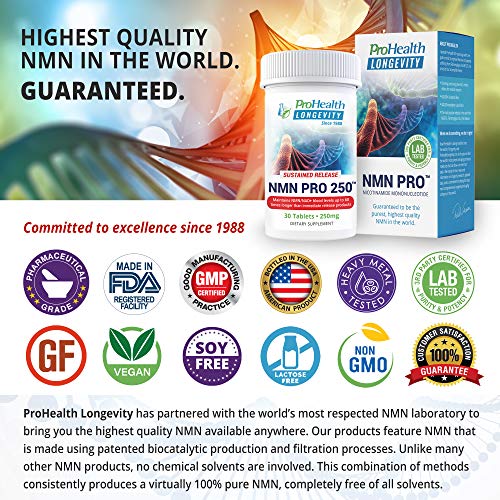 About the product
NMN PRO 250 SUSTAINED RELEASE is designed to significantly enhance NAD+ production and absorption by raising NMN and NAD+ blood levels for up to 6 hours compared to approximately 6 minutes for non-stabilized NMN dissolved in water in animal studies. This slowed, prolonged absorption enables NMN Pro 250 to be taken at higher doses less frequently.
Brought to you by PROHEALTH, CELEBRATING 32 CONSECUTIVE YEARS as a Better Business Bureau A+ rated company - longer than the majority of all NMN companies on Amazon combined. BE AWARE: Some NMN products on this platform contain little or no NMN, and many contain high levels of lead, mercury and arsenic. Buyer, please beware.
HIGHEST QUALITY NMN IN THE WORLD. Sourced from the same biotech company used by leading research universities, as well as for the first and ongoing human NMN trials.
OUR TRIPLE LAB-TESTED, PHARMACEUTICAL GRADE NMN is the only patented NMN in the world. It is made without any chemical solvents, unlike other NMN products, and is bottled in the USA in an FDA registered facility.
LAB TESTS SHOW THAT NMN PRO is stable for at least three months, then may slowly lose some of its potency without refrigeration. We manufacture small batches on a more frequent basis to ensure optimum freshness. We recommend that the product be kept in the refrigerator or freezer in an airtight bag until you are ready to use it.
What Our Customers Are Saying
All products are not the same
I recently received an email from ProHealthLongevity promoting their new Sustained Release form of NMN, 'NMN Pro 250'. My husband and I tried these in the past and loved them, but the tablets, frankly, would have been better if they were smaller and easier to swallow. Also, we had a few tablets that had broken in half. Still, no real big deal, as we were receiving plenty of energy, vitality, improved sleep, and improved cognitive horsepower from taking a super high quality NMN from ProHealthLongevity.The ProHealth letter explained that significant improvements were made in their new NMN Pro tablet's formula—in including a revolutionary natural pea protein to protect NMN from gastric acids and to provide for slow, even sustained release of NMM/NAD+ over a period of up to six hours. The tablets are much smaller, they're coated, and are much easier to swallow. No broken tablets either.I understand that NMN capsules or powder, taken on an empty stomach, will cause a big jump in NMN and NAD+ blood levels; I thinkI read that blood levels are elevated for something like only10-15 minutes. How much of that NMN will be absorbed by all tissues types in such a short period of time (brain, muscle, liver, kidney, etc)? Will the NMN/NAD+ even make it to tissues that may badly need it themselves?According to ProHealthLongvevity, NMN Pro 250 is designed to raise NMN/ NAD+ levels over a period of up six hours. That's like providing a slow, level dose of the stuff for a much longer period of time—like 2000% longer exposure to he NMN/NAD+ molecules in the blood! I can't see why that wouldn't always be the preferred delivery of NMN.My husband read that Dr. Sinclair (from Harvard) announced his upcoming human NMN in the US which will study the protective effects of NMN/NAD+ on developing cancer—a big reason why people apparently take NMN in the first place. The interesting thing is this: Apparently Dr. Sinclair and ProHealth are thinking along the same lines, because he said he will also use a sustained release NMN! To ProHealth's credit, they were the first company to sell a sustained release formula, and I wonder if this product spurred interest in the Harvard people themselves.We love NMN Pro 250, and perhaps the biggest difference that we've seen relative to all of the other ProHealth NMN Pro products we've tried is that we are sleeping very deeply… so refreshing!
Amazing product!!
I was excited to try ProHealth NMN tablets because of the positive reviews from other customers and the fact that they donate to something we believe in, Fibromyalgia Research and Chronic Fatigue Syndrome. I have been using the product for a couple weeks now and can honestly say the energy I get from the pills let's me keep up with my 5 & 7 year old! My sleep has improved, I no longer wake up 2 & 3 times a night!! I would recommend this to everyone looking for more energy and better sleep!!
Good energy boost
I have been taking this for around 4 weeks and noticed a big boost in energy. I work out everyday and noticed a kick of energy if I take this before. not sure yet if the extended release or normal capsule work best. I have lost 5 pounds since taking them but I am also intermittent fasting so could be a combination. I intend to continue taking these.
Another great ProHealth product!
Love this product! I work long hours and need that midday energy boost. Since taking this product I feel much more energized and ready to work, whatever the hour. And since none of us are getting any younger, this has some great benefits to help as I age too. 100% recommend!!
Great product.
Starting taking this not too long ago and have noticed an increase in energy. I also workout regularly and do seem to recover better from tough workouts. Definitely recommend.
I Mostly noticed Increased energy levels and mental clarity after 3 weeks of use.
I heard about NMN reversing the aging process and decided to try a couple of ProHealth's NMN products. I have been taking the 250 mg Tablet for 3 weeks now and am mainly feeling a huge increase of energy and mental clarity/concentration. I am also seeing an increase of new hair growth. I look forward to seeing other health improvements over time. I am confident in this company's quality of product especially seeing it is the same used in the Harvard study. I have increased my daily usage to 1000 mg after reading Dr. Sinclair's daily protocol.
Questions?
Why are you running this promotion?
How can I use my coupon on Amazon?
Does this include free shipping?
What Are You Waiting For?