An Exclusive Offer For You
PetSafe Smart Feed Automatic Dog and Cat Feeder, Wi-Fi Enabled Pet Feeder, Smartphone App for iPhone and Android
$119.96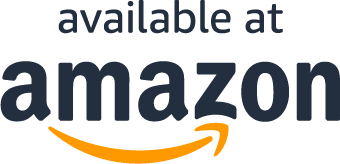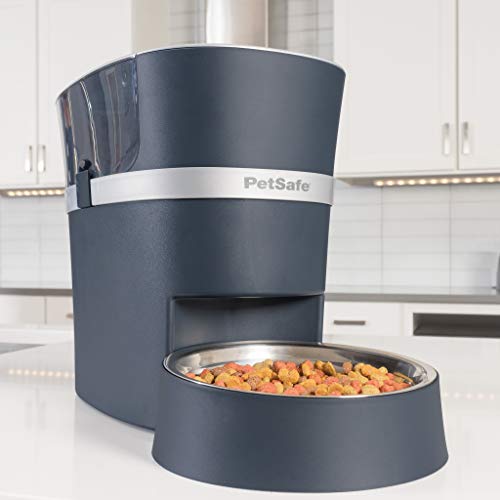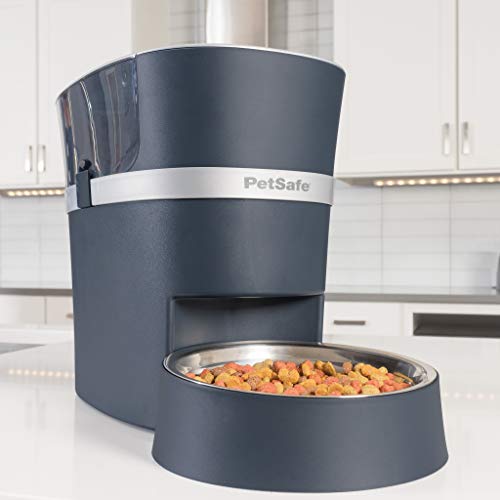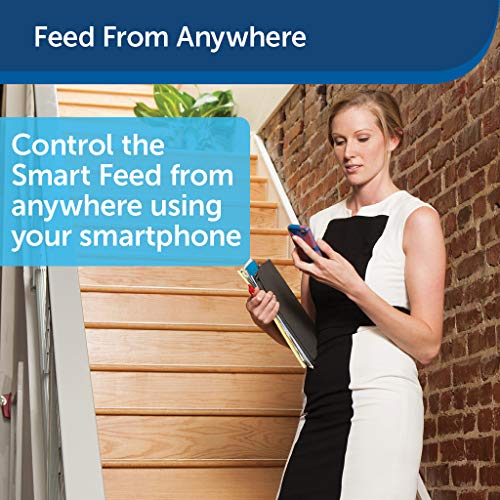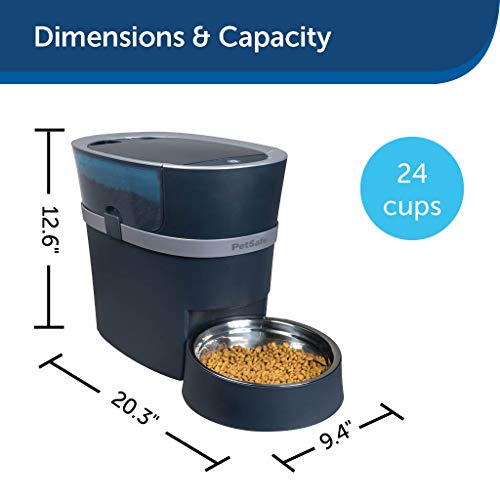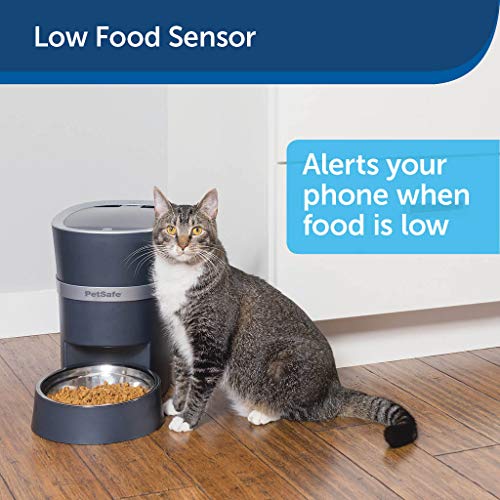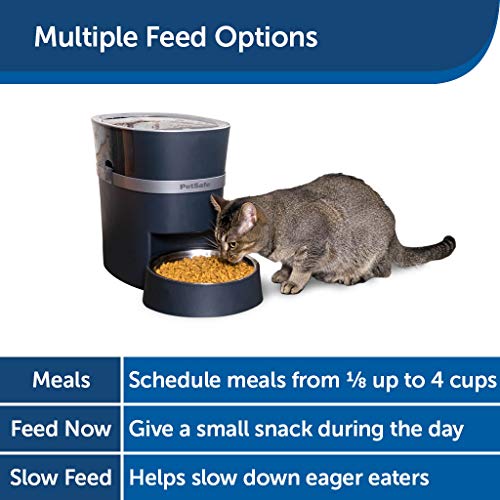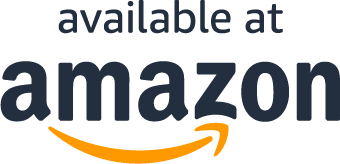 Read More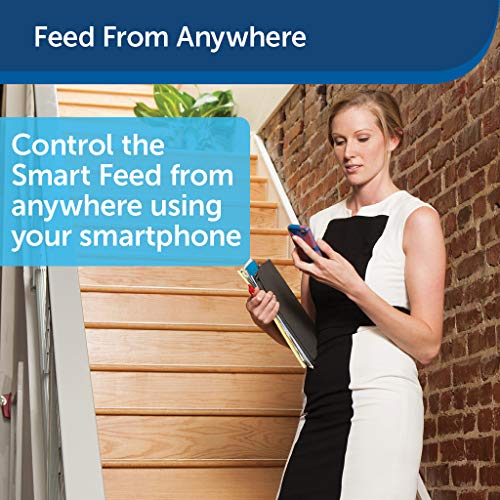 About the product
LOW FOOD SENSOR: The feeder automatically notifies you when food levels are low; you'll also receive an alert if the hopper becomes empty
AUTOMATIC REPLENISHMENT: Automatically reorder your pet's favorite food with Amazon Dash Replenishment
ALEXA ENABLED: Ask your Amazon Echo device to feed your dog or cat a snack; use the Smart Feed app to monitor your pet's feeding from anywhere for peace of mind
SMARTPHONE PROGRAMMING: Control your pet's meal time from anywhere using your smartphone; app requires an apple iPhone or iPod device iOS 9.0 or later or a compatible Android smartphone 6.0 or later
PERSONALIZED PET FEEDING: Program up to 12 meals to feed on your pet's schedule; the Feed Now option allows you to feed your cat or dog outside of normal feeding times
FLEXIBLE PORTIONS: Meals can be dispensed from 1/8 cup to 4 cups to fit your pet's unique feeding needs; slow feed option allows meals larger than 1/8 cup to dispense slowly over a 15-minute period
BATTERY BACKUP: Feeder is power adapter operated with optional battery backup (requires 4 D-cell alkaline batteries, not included); if Wi-Fi drops, your pet still receives the next scheduled feeding
EASY-TO-CLEAN: Lid, hopper, bowl and bowl holder are top-shelf dishwasher-safe for convenient cleaning; made of BPA-free plastic and stainless steel; for indoor use only
What Are You Waiting For?
What Our Customers Are Saying
Smart kitty presses the button himself.
Love this thing. Kitties love it too. Of course, Dave figured out how to feed himself within a week of its arrival. The app on my phone kept going off saying my pet had been fed?!?! (Like 10 times in 10 minutes.). Stinker. Have to admit, I was impressed. See pics for the simple fix. Not pretty, but does the trick.
A vast improvement over the original PetSafe feeder (UPDATE!)
Update 11/5/2017: When Daylight Savings Time ended, I wasn't sure what would happen with the original time and feeding times. Happily, since this syncs with your phone, the time updates on the Smart Feed itself, no need to change anything.***************I own two of the original PetSafe automatic feeders (the non-smart type) PetSafe Healthy Pet Simply Feed Automatic Dog and Cat Feeder -- had them for the past 14 months, and I was hoping all along they'd come out with a smart model. I wish they'd updated the amount the conveyor dispenses, (but as it turns out this conveyor inside the smart feeder is the same part number as the old feeder). My older cat needs meals of LESS than 1/8 cup per feeding. She has the beginnings of IBD so she's on a grain-free dry food; she needs small amounts of food every 3-4 hours or she gets acid build-up in her tummy. (See the end of my review, I did a little plastic surgery on the old conveyor for it to dispense less than 1/8 cup......however, PetSafe has told me that will void your warranty, so beware!....plus it doesn't work so well).I've used this brand of automatic feeder for 14 months, and NEVER had a jam. This smart feeder will alert you to a jam, but will NOT alert you if the food hopper is empty.When setting this up:Go to Google Play Store and download the Smart Feed app. You sign in with an email and PetSafe will send you a 6 digit code to enter. After that you connect to your wifi and the rest of the set-up is a breeze.The Play Store says this is for phones only, but I tried it on my Asus ZenPad tablet with the Android Nougat OS and it worked fine. So if you have a newer tablet, but not a newer phone, you still have the option to use this feeder.The original feeder's clock would lose a few minutes of time every 6-7 months and I had to reset it. Not so with this Smart Feeder as it syncs with your smartphone's time.I've been measuring what it dispenses and as long as the hopper doesn't get too empty, it's exactly what I have it set for (1/8 cup). Exact measurements would also depend on the size of your kibble. The kibbles I feed are roughly 1/4" in diameter.Speaking of the hopper getting empty: One of the most important things to remember with either of these feeders is to PRIME THE CONVEYOR, not only the first time you set this up but periodically when you let the hopper get too low on food. If you don't keep the hopper somewhat full, for instance when the food gets down to being what's left in the square area near the agitator, it starts putting less food into each conveyor section than what you've programmed onto the conveyor. Not the feeder's fault, it's yours.There is also a slow dispense mode on the feedings, but it can't work if you choose the smallest setting which is 1/8 cup. Once you see how the conveyor works, you'll understand why it can't work on the smallest setting.So you may be wondering about ants getting in? Occasionally small ants get in my condo, usually in early Spring, as it's built on a slab. Never have I seen ants in the non-smart Feeders, and I doubt if I'll see them in the Smart Feeder either.The bowl, bowl holder, and food hopper I've washed in the TOP RACK of my dishwasher, but the conveyor should be HAND WASHED and let it dry before reassembly. Inside the feeder base there's a red lever that unlatches the conveyor. There is also an arrow on the side of the conveyor that needs to be aligned with one of the various "lips" on the conveyor. If this isn't lined up right, you'll not get the correct amount of food dispensed.My cats were afraid of food hitting the included stainless steel bowls, so I removed the bowls and bowl holders and replaced those with large ceramic cat food bowls. So no clanging noise to frighten them.Advantages of the Smart Feed over the previous model:>>> MUCH easier to program>>> Easy to pause if you don't use the feeder daily (toggles like an alarm clock setting on your phone)>>> Latches on the lid to keep prying paws from accessing the food>>> A "child lock" under settings to keep kids or paws from pressing the feed now button (you have a feed now button on the unit itself and a feed now button on your smartphone app)I absolutely LOVE my original PetSafe feeders. I would give this Smart Feeder 10 STARS if I could!********************************************************************************************************************************Since I now have 3 feeders and only 2 cats, I plan on taking one of the old conveyors and cutting each "lip" of the conveyor off a little so it will dispense less than 1/8 cup for my older cat, who really needs only a tablespoon of kibble each feeding. A few months ago I contacted PetSafe's customer service to purchase an additional conveyor and was told they aren't available as a spare part, and that it would VOID my warranty if I trimmed the conveyor I already had. So now that my 2 non-smart feeders are out of warranty, I'll be trimming one of the conveyors down to see what happens.********************************************************************************************************************************Update: I trimmed a conveyor down (from my old PetMate feeder out of warranty). Unfortunately it didn't turn out the way I planned. It was certainly easy to do - and maybe YOU will have more luck than I did. I didn't have to remove the white conveyor belt from the black piece. On the bottom of the conveyor there's a section of black plastic that snaps off for cleaning. I removed that, marked the first "lip" I'd be trimming off so I'd know when to stop trimming. I used a regular pair of sharp scissors and cut approximately 1/4" away from each "lip". (I started out trimming 1/8" and it wasn't enough, so I trimmed another 1/8" -- I should have stuck with the original 1/8" trim. The more you trim has an opposite effect, making it one long conveyor belt with no partitions. Just to reiterate though, THIS WILL VOID YOUR WARRANTY according to PetSafe.
Fantastic for two cats (with the splitter adapter)
Works great, and I cannot recommend this enough! My cats throw up if they eat too much, so it is great being able to feed them very small amounts (1/8 cup) per feeding, up to 12 times per day. I upgraded to this WiFi model from the non-WiFi model and it is quite nice having the option to feed them with a click of a button on my phone.I also bought the splitter adapter that will make it work for two cats. This is a great and inexpensive alternative to buying a second feeder for almost $200. My cats used to fight over the one food bowl, but now that I can have two separate bowls there is no more fighting!Two-Way Splitter Adapter for PetSafe Wi-Fi Smart Feed Automatic Dog and Cat Feederhttps://www.amazon.com/Two-Way-Splitter-Adapter-PetSafe-Automatic/dp/B077VKZL78/
What Are You Waiting For?
Questions?
Why are you running this promotion?
How can I use my coupon on Amazon?
Does this include free shipping?
What Are You Waiting For?