⚡ FLASH SALE ⚡ Original $16.99 Now $2.55 Only!
PeakPlus Super Bright LED Tactical Flashlight Zoomable Adjustable Focus 5 Modes Water Resistant Torch with Rechargeable 18650 Lithium Ion Battery & Charger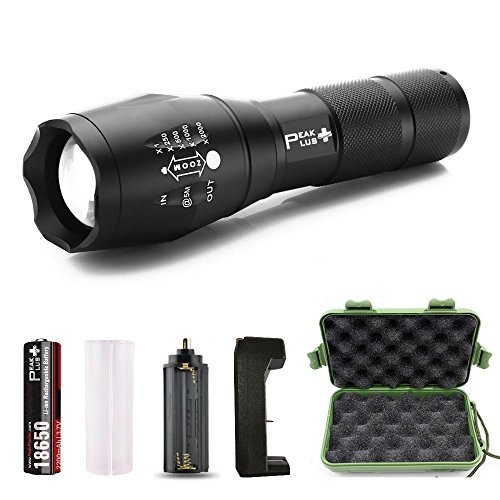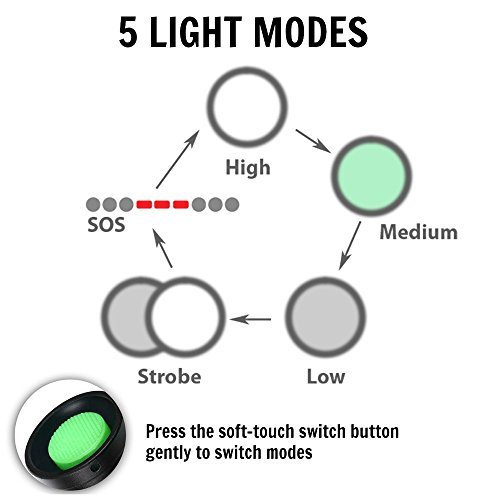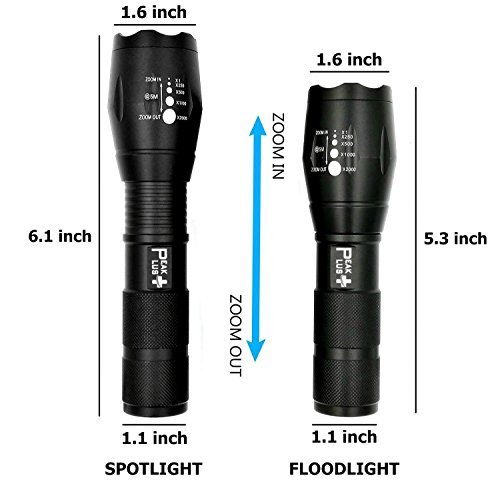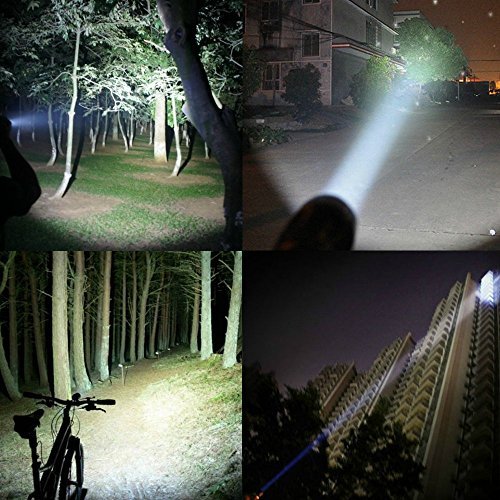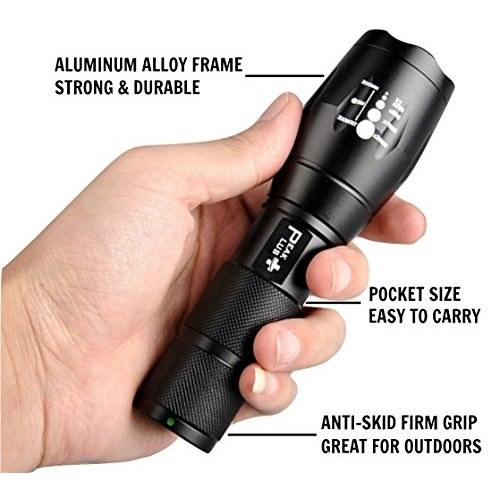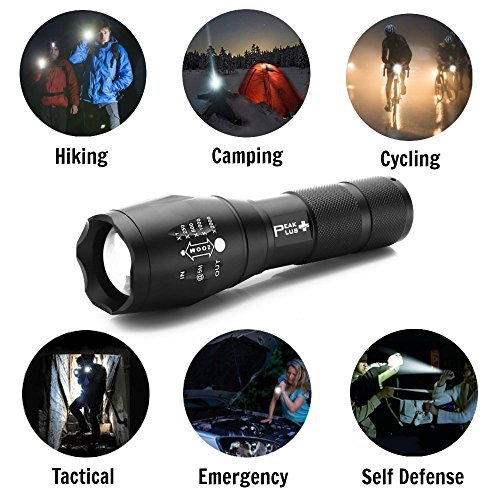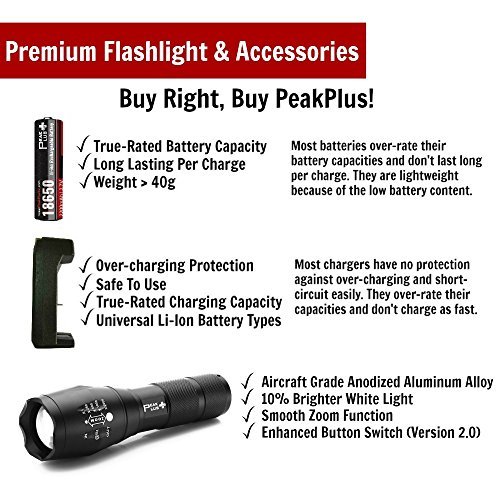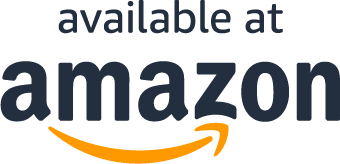 About the product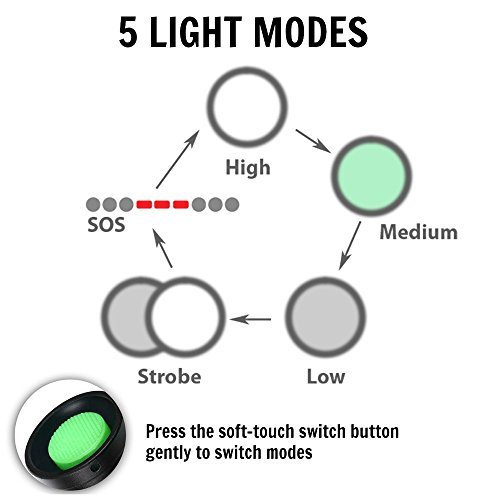 FULL FLASHLIGHT KIT: 1 Super Bright High Performance Tactical LED Flashlight, 1 18650 Rechargeable Lithium Ion Battery and Sleeve, 1 Lithium Ion Battery Charger, 1 Case, 1 AAA Battery Holder and 1 User Manual (Suitable As A Present/Gift)

HIGH POWER BRIGHTNESS: High Lumens LED makes our flashlight 10 times brighter than old incandescent flashlights. Runs on either a 18650 lithium ion battery or 3 AAA batteries.
HEAVY DUTY: Water resistant, anti-abrasive, skid proof, compact design makes it the top pocket flashlight for outdoor activities, camping, hiking, fishing, home use and as a powerful emergency light.
5 LIGHT MODES & ZOOM FUNCTION: Full Brightness, Medium Brightness, Low Brightness, Strobe Brightness, SOS. Adjustable focus for close or long range. Functions as a spotlight that throws an intense beam of light up to 600 feet ahead or compact small floodlight that brings illumination to a wide area.
100% SATISFACTION GUARANTEE: We want our clients to be happy, so just in case you feel disappointed with your choice, we guarantee to give your money back instantly, without any hassle. Providing the highest quality to all of you, is our main priority and our number one goal.
What Our Customers Are Saying
Powerful LED flashlight that works great
Almost every family has a torchlight or LED flashlight at home. My family has quite a few, my dad, my brother and even my little kid brother has one. We love it because of the brightness and durability of its chip. There are many poor quality LED flashlights in the market so beware. Buy the authentic stuff. A high quality LED flashlight can easily cost upwards of 30 bucks and that's for the flashlight alone. If you need the rechargeable Lithium Ion battery and the battery charger, you have to buy them separately. This PeakPlus flashlight original listed price is about 40 bucks, so at half the price for the whole set of flashlight, battery charger and 18650 2200mAh Lithium Ion battery, it's really a steal. I have been using it and it works great. The lumens should be quite high even though I am not sure how high it is but it's really super bright. I have been using the flashlight when I walk my dog at night. This is an item you really need to have especially if you are out at night.
Easily the best flashlight I've ever had, or used, or seen-- by far!
I needed a flashlight that would fit in my pocket, mostly for those after dark dog walking jaunts. I live in the country and I like to walk my dogs, hot or cold, rain or shine, light or dark; when it's time-- out we go. This is the flashlight I use now every time we go out in the dark. It beats my much more expensive, bulky, heavy, Mag-Lite by a country mile. I love the telescoping light pattern-- from a full width lighted room effect to a narrow long-distance beam, this thing is awesome. It comes with a battery charger which I have not yet tried. I've used the light dozens of times over the past year and still working perfectly with the battery that came included with the light. I can't think there is ever any reason I would buy any other flash light, this one is perfect.
Absolutely Amazing!!!!
Peak Plus Professional Multi-Purpose Tactical LED Flashlight This multi-purpose flashlight was a surprise in many ways. I knew it came in a hard case but was not expecting the package to be as light as it was. Another surprise was the fact it runs on either three AAA batteries, or, the rechargeable battery. The kit came with a charger for the rechargeable battery (also included). The instructions were rather easy to understand and were very explicit. Not to mention the fun I had learning the different modes within the LED flashlight. These included strobe light, flasher light, bright light, and two dimmer lights. Wow! The tests I have chosen for this flashlight involves its use during daylight hours but in a dim setting, and of course nighttime exploration. You will be amazed at the brightness of this flashlight. Here we go; the first is a test in daylight but in dim lighting. For this I have retired to the darkest room in the house. As you can see inn the photos, the clarity of the LED is outstanding. The circle of light is quite bright and cannot wait to try it this evening. The size of the circle depends on the length of the zoom function. My nighttime test involves going to my darkest room, which is in near pitch-black conditions at night. No lights were added to this photo. First of the last photos is how dark the room is, then I illuminated the corner with the light. I will add that there were witnesses to these tests to prove they were authentic. Complete satisfaction and highly recommended. Five stars for the seller and FIVE stars for this wonderful flashlight.
The Real Deal
Very bright and a great price. They sent a PDFs owners manual even before it arrived. Clicking the on/off switch changes modes but turns the flashlight off between modes, something they don't mention. Don't spend the extra money for those supposedly "military" flashlights at about four or five times the price.
Questions?
Why are you running this promotion?
How can I use my coupon on Amazon?
Does this include free shipping?
Will you send me other offers and discount codes as well?
What Are You Waiting For?