ENHANCE Headset Holder
ENHANCE Gaming Headphone Holder - Desk Headphone Hanger with 360 Rotation, Under Desk Hook Clamp, Universal Fit, Built-in Cable Clip (Black)
$14.24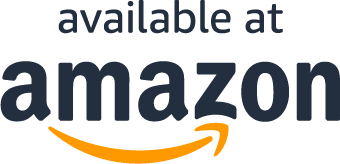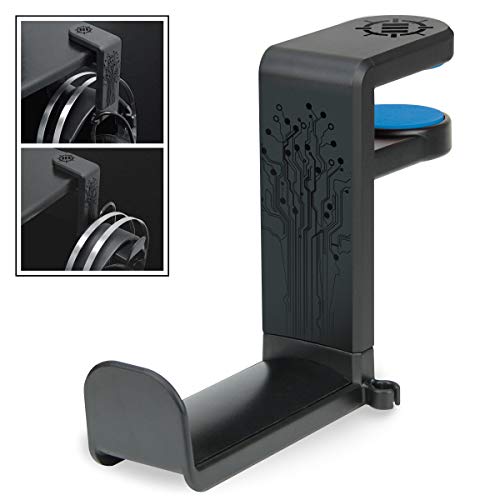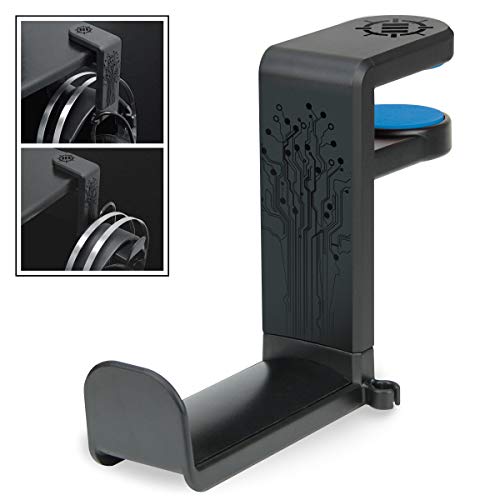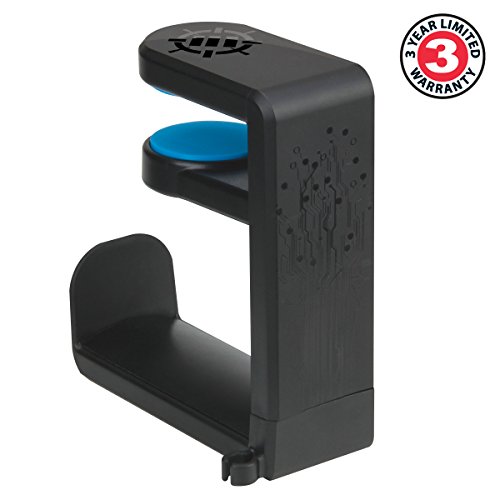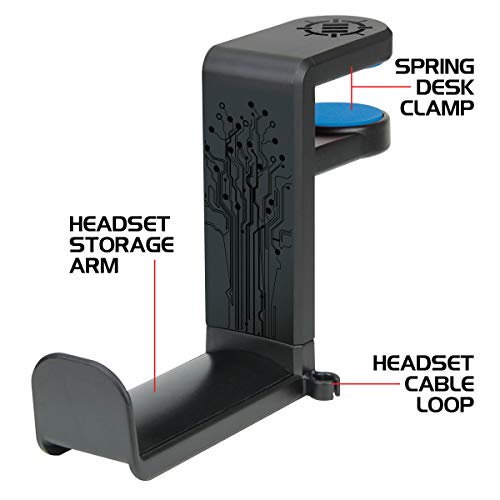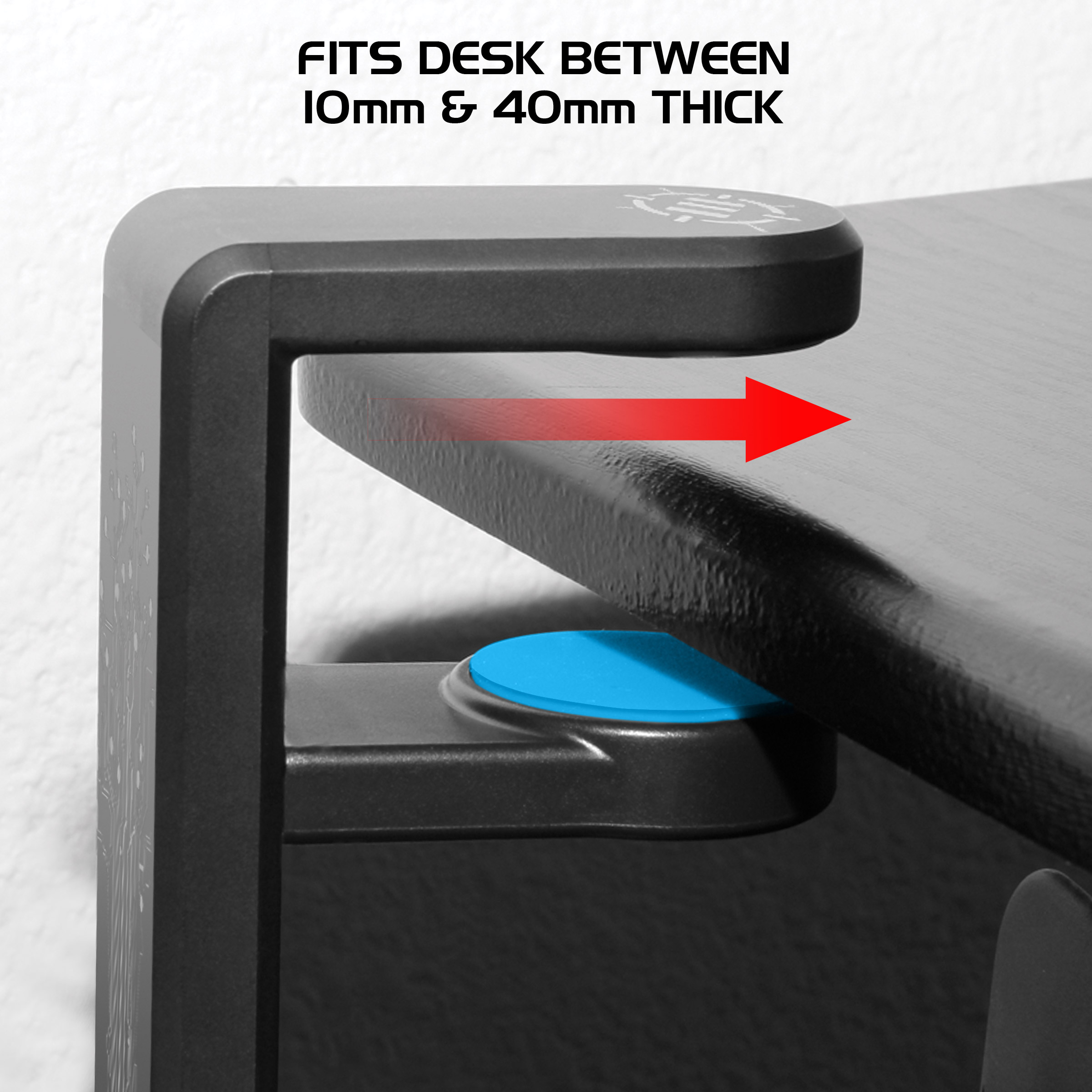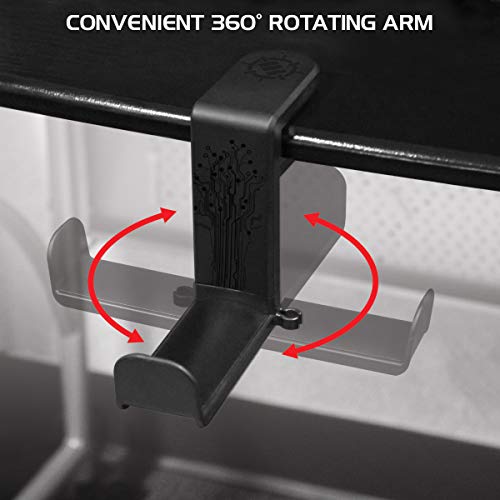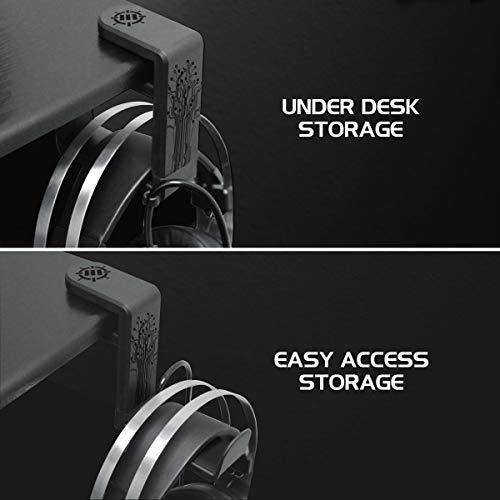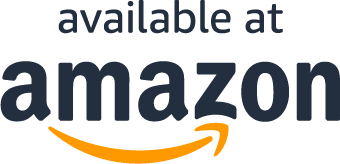 Read More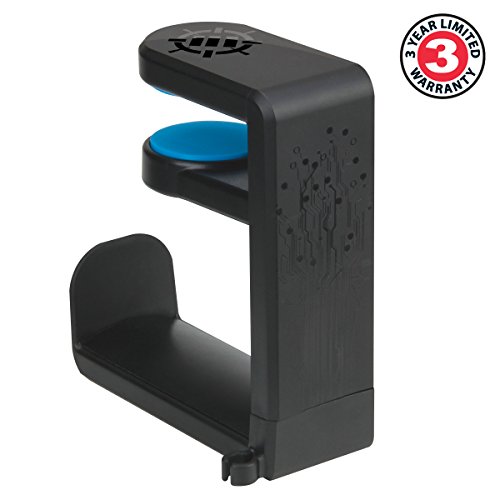 About the product
360 DEGREE ROTATING STORAGE: Swing the headphone hanger underneath your desk for convenient storage when not in use and easily swing it back around when you need that sweet sweet audio!
FITS MOST TABLES, DESKS, AND COUNTERS: Clamps securely onto desks up to 40mm thick and as narrow as 10mm for a near universal fit on most desks || the spring clamp is easy to remove and reattach!
CABLE ORGANIZATION LOOP: Keep your headphone cable off the floor and nicely organized in the built-in wire holder on the side of the headset hanger
SOFT PADS PROTECT YOUR DESK SURFACE: Located on both clamp ends protect your desk or table from damage || Protects glass, wooden & metal desks/tables from damage!
SPRING LOADED EASY TO INSTALL DESIGN: The secure clamp design is easy to move around from table to desk while remaining strong enough to firmly stay in place with any size headset
What Are You Waiting For?
What Our Customers Are Saying
Slighty overpriced but worth it!
I bought this one out of the many many other $10 options because how cool it looks in red. The black abstract design on the front stands out like anything.Pros:1) The best part about the hanger is that it rotates wherever you want it to go. That allows me to hang it anyhow, as shown in photos.2) The C holder at the side is great for keeping my charging cable in place.3) The grip is really firm and the clamp on the table does not move if pushed or shoved acidentally.Cons:1) Like headline states, $15 is a bit steep for this.2) The description photos make it look like it has a metallic finish. Beware, its matte plastic.
Very sturdy for a plastic can holder
I bought a LOT of different kinds of holder to see which would be best, and, to be honest, was a little underwhelmed when I saw this, until I attached it, and found that it is sturdy, and it swivels! Add that it comes in several colors... (I have a LOT of headphones... I don't have a problem... I just like headphones... it really isn't an issue... really... ) this is an instant winner in my book. You can either have your cans hanging out, to be seen (because they should be seen as much as listened to) or swiveled to the back, to keep them a bit protected, which they also need, as they are precious, and investments... (really, I don't have a problem... ). I recommend these for casual use, and display, and they are easily portable as well, so LAN party friendly as well.
Holds Astros Perfectly Fine
Holds Astro A40's just fine. I was skeptical about this because it uses a spring instead of a clamp but it actually holds surprisingly well and is sturdy enough to where it wont fall off by accidentally grazing it. The clamp doesn't move when you swivel the bottom either. My Astro A40s fit well on the hook with a little room to spare which was my main concern since the Astro headband is particularly thick and doesn't sag the hook at all even though it's a decently heavy headset. Overall it's been great so far.
Always wanted something like this
A roommate had purchased one of these so I thought I should get one too. It makes perfect use of an area of my desk so I can safely and conveniently hang my headphones. Rather than putting away and taking out of a drawer or hogging up desktop space, my headphones now rest on this solidly-built hanger. It has an adjustable swivel hook that allowed me to use the left side of my desk but still have the headphones hang forward and out of the way of my PC tower, so that was the cherry on top.
Works great for a great price
Works great for a great price. The swivel doesn't move unless I move it, but it's not too rigid, either. The clamp attached snugly to my desk and hasn't moved. There's not a lot to talk about, but if I needed one for work, I'd buy this again. In the photo, the cable clip on the top is another product I added and did not come with it.
Perfect product for my needs
Great device, helps keep my headset cables untangled. Installing it is literally as simple as pulling down the spring loaded vice, fitting it over your table or desk in the position you want, and letting it snap back into place. Hasn't budged since I placed it.I also really like the color and design on this model. Great purchase, great price point. I have literally no complaints.
What Are You Waiting For?
Questions?
Why are you running this promotion?
How can I use my coupon on Amazon?
Does this include free shipping?
What Are You Waiting For?