Scratch Off Map of the World! The Perfect Travel Gift.

Maps International - 50 Years of Map Making - Most Detailed Map Available Featuring Country & State Borders - 33 x 23

$22.09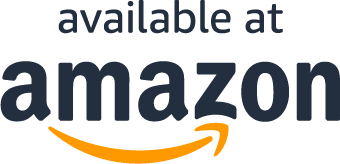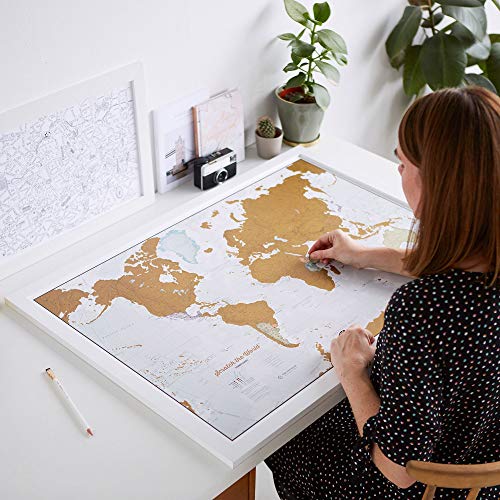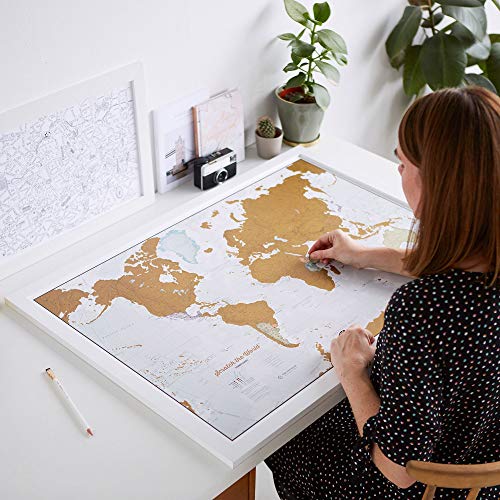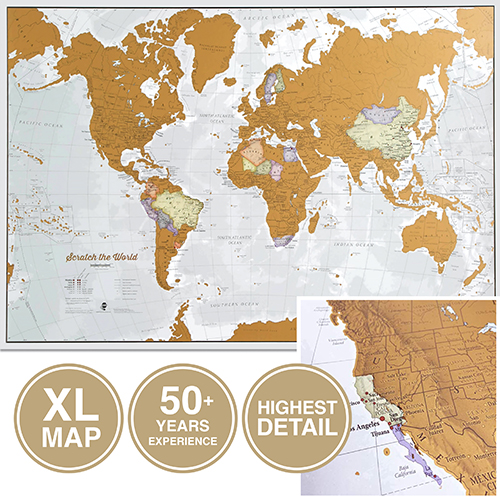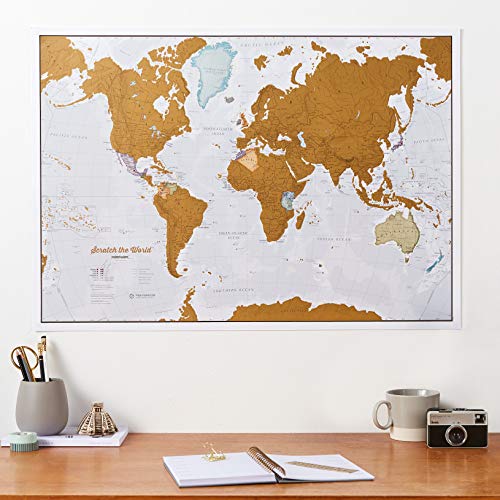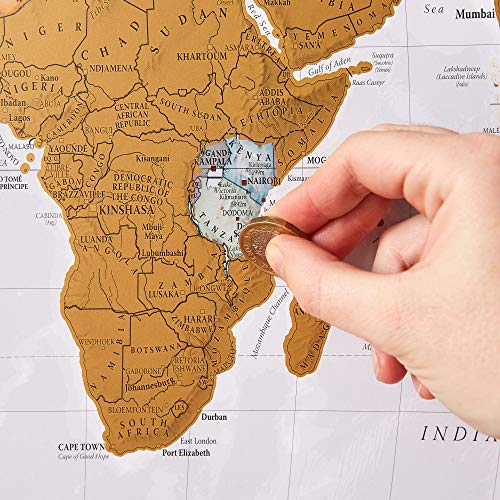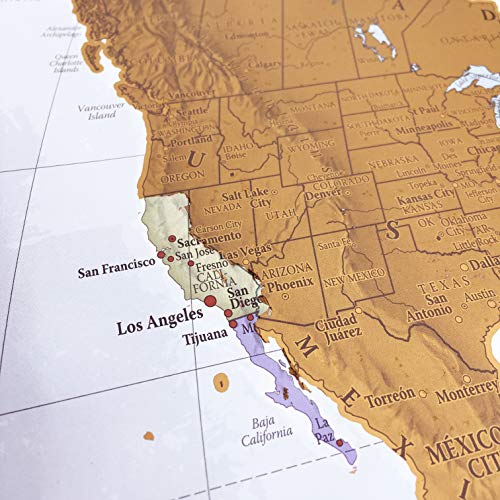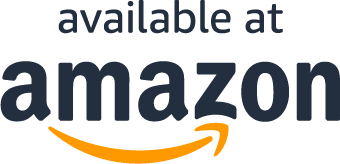 Read More
About our best selling Scratch Map
✔ CARTOGRAPHIC DETAIL WORLD MAP WITH US STATES: Our XL size allows for that extra map detail not seen on smaller maps. Scratch off travel map world destinations to reveal the colorful political map underneath. With more than 50 years experience of making maps, our team are based in Minnesota and the UK. Western view of the world and not the Chinese view like many other scratch maps.
✔ EXTRA LARGE WALL MAP: One of the largest Scratch Off Map of the World Poster's you will find, measuring 33 (w) x 23 (h) inches - the huge world map has outlines on the gold coating and details on the map underneath. Its extra-large size allows for that extra map detail not seen on smaller maps.
🎁 PERFECT TRAVELER GIFT: The most wished for wall map in the USA, this scratch off map of the world is a great gift for your favorite adventurer to plan a trip on the world map wall poster then record their journey! Also, the perfect gift to educate young explorers.

✔ CREASE-FREE DELIVERY: Your travel scratch off world map is rolled in a tube by our specialist map team in Minnesota, for delivery, so it arrives ready to display.
✔ MAPS INTERNATIONAL: Our philosophy of 'cartographic excellence' combines detail, design and high-quality finishes in a range of stunning wall maps. As an Internationally renowned cartographic company, our expert team based in Minnesota and in the UK, work with passion, on a stunning range of maps for all moods and homes.
What Are You Waiting For?
What Are You Waiting For?
What Our Customers Are Saying
Beautiful map to enjoy past travels and anticipate future trips!
I did not buy this product for itself alone but a chance for my 88 year old father to enjoy the memories of two careers (the Air Force and a small business jet manufacturer) with extensive travel. When I first gave it to him, he related how he and his fellow pilot had made 19 stops to deliver a small business jet from Wichita Kansas to a Japanese client in the 70's. We traveled those miles island by island with stories of eccentric clients, tiny airport refuelings, and numerous colorful cultural and business oddities of international travel while he and I sat at the dining room table in his home in Kansas. His truly amazing long-term memory, charisma, and story-telling skills recreate these experiences for his audience to enjoy. Dad showed me Mom's favorite island (Madeira) but found his favorite, Santorini, too small to plot. The map provided the perfect partner for these memories. It was a beautiful experience that will be repeated over and over again as we enjoy his map together in the years to come.
I was worried after reading reviews, but I think positive changes have been made!
Love this map! I ordered this in August of 2016 and I think there may have been some changes made recently based on other reviews. My map came in a large cardboard tube and was inside a clear plastic package within the tube. No issues with it being too tight or scratching the product when I unpackaged it!The states are outlined on the gold scratch-off layer of my map and on the layer beneath it so I didn't have issues there. The gold also came off quite easily with a dime/quarter, contrary to other reviewers. My only gripe with the map is that I was hoping for more vibrant colors underneath. I'd give it 4.5 stars for that if I could, but I felt the product still deserved 5 stars more than 4.I cut the map down a bit so that it would fit on a 24x36 framed cork board, and I'm using pins to mark cities I've been to with my boyfriend. The pictures attached should give an idea about the colors and marking under the scratch-off layer!
Something beautiful to showcase the places I've traveled
Really pleased with this scratch map. When shopping for this product I found many maps to choose from. I chose this one as its colors were quite different to the rest. I'm really glad I opted for this map.I was impressed with the quality of the map. The big deal for me was this is a proper world map, it's pretty well detailed and has quite a lot of information on the map compared to the others I looked at. There are a lot of cities on the map plus it shows all the US states outline on the top layer and underneath. Extra detail like hill shading makes it quite a grown up map. It is lovely to look at and a real centerpiece.I found the colors underneath the scratch material worked really well, they are fairly subtle but vibrant enough, which is a great balance. I'd done my homework before I bought this and saw some of these maps had problems when trying to scratch off places. I used a guitar pick which worked really well. When you scratch, my advice would be to start on the border lines first and work your way in. The scratch material on the top scratch's off pretty easy, so on that note take care when taking the map out of the tube. You don't want to accidentally scratch off places you haven't visited yet by being rough with it.The size of the map is impressive too, making it easy to scratch off even the smallest countries of the world. It's large compared to others out there, and easy to find a frame for a good price. I just need to get around to putting it into the frame!I've traveled across some parts of Europe and the US and this map will be a great way for me to document the places I've been. People have already started to notice the map in my hallway and it's so much fun talking about memories I've had and people I've met along the way. Now I've scratched most of the places off I've already been it's also making me think about booking trips to all the places I haven't been yet, which is still a lot by the looks of the unscratched bits!For me with these concept maps it's all about the map itself, which is beautiful. It doesn't need the other gimmicky bits like magnifying glasses and stickers. If you want something that you're proud to keep in your own home and on your wall then this is the scratch map for you.I'll probably buy this again but this time for a friend. I have buddies that travel so this would be the perfect gift for them.The price was reasonable as well and it came really quickly, so on all counts really happy with my purchase.
What Are You Waiting For?
Questions?
Why are you running this promotion?
How can I use my coupon on Amazon?
Does this include free shipping?
What Are You Waiting For?