An Exclusive Offer For You
MulWark Heavy Duty Zinc-Alloy SK4 Snap-Off Easy Loading Retractable Razor Utility Knife Multi Box Cutter for Carpet, Rope, Cardboard,Drywall-15 Sharp Rust-Proof Blades Included with Metal Safety Lock
$6.40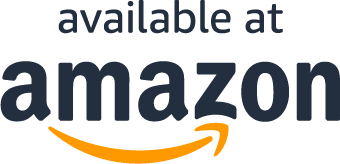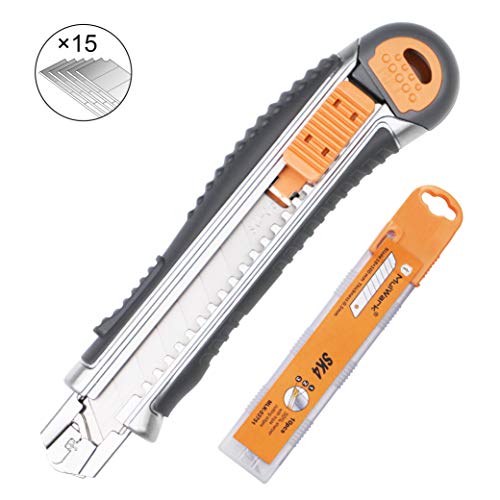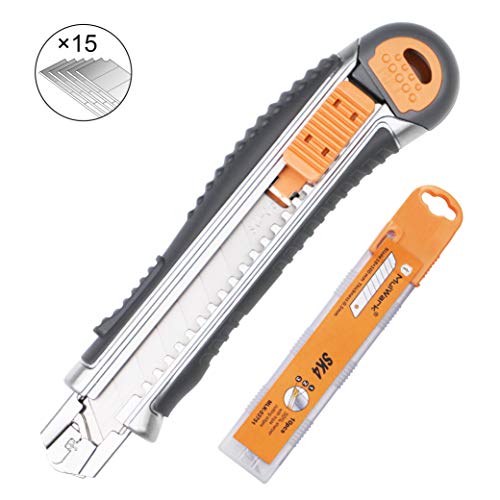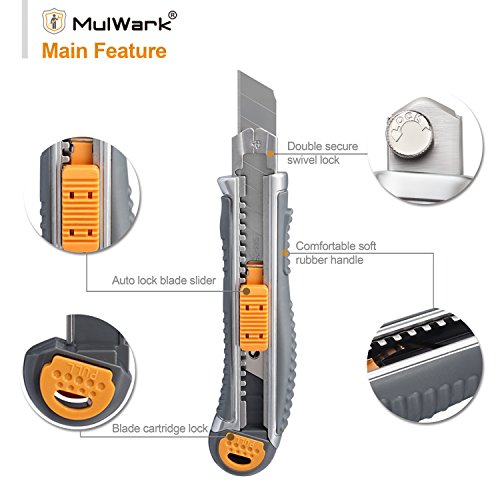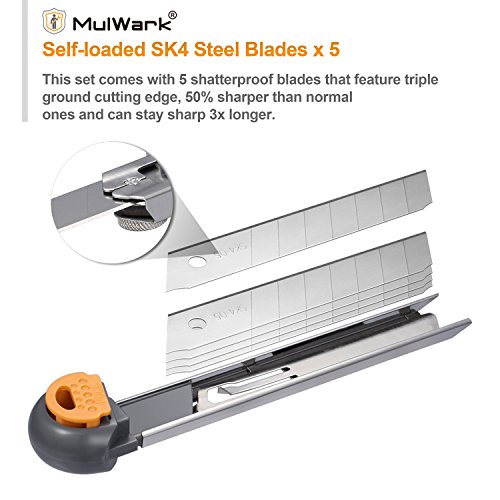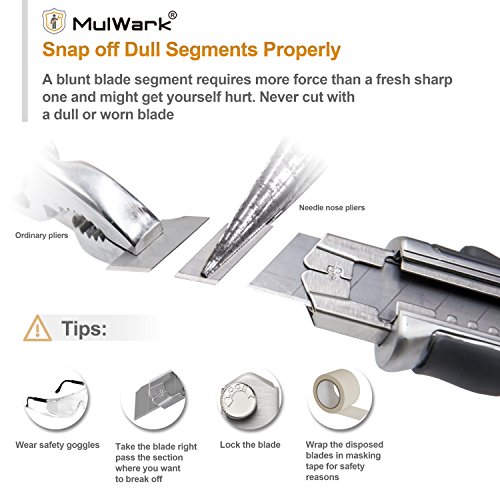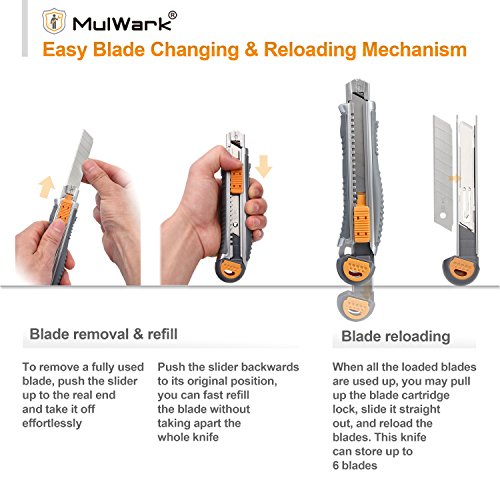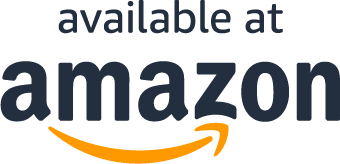 Read More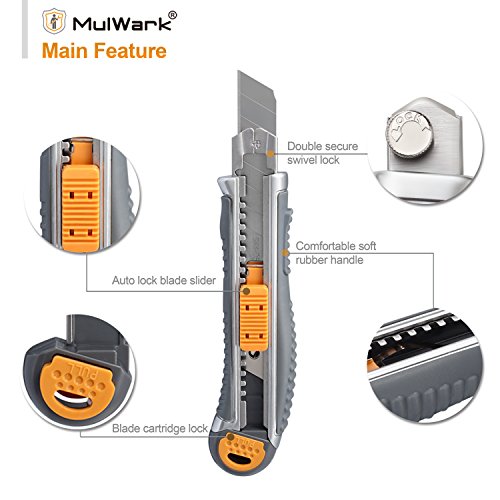 Why Choose MulWark Heavy-Duty Knife?
👍 SUPREME CUTTING PERFORMANCE The 15pcs self-loading quick-change 18mm rust-resistant retractable snap away blades are all made of SK4 steel, featuring triple ground cutting edge, sharper and can stay sharp 3 times longer than normal ones, with the headlock ensuring strong and stable cut, finding itself perfectly used on cardboard sheets, foam sheets and other thick materials; these are specially designed for construction use and other similar heavy-duty scenarios.
👍 CONVENIENT BLADE CARTRIDGE Unlike folding knives, this self loaded large snap construction knife can store up to 6pc 18mm breakaway blades in the chamber, keep you hassle-free from frequent blade replacement
👍 QUICK BLADE CHANGING Push the slider up to the end and backward to its original position, you can fast remove and refill razor blades without taking apart the whole knife, making it the best and most convenient box opener knife
👍INJURY-AVOIDING MECHANISM Compared with a snap-on pocket knife, the auto-lock slider & extra blade-secure swivel lock, and the high-quality stainless steel metal body sliding track, along with the non-slip soft TPR handle that provides a secure grip, make up the whole mechanism to protect you from cutting yourself
👍LIFETIME WARRANTY & BONUS BLADES This comes with a pack of extra 10pcs SK4 steel blades that could satisfy your use for quite a long time. Besides, all MulWark tools are warranted to be free of defects in materials and workmanship for as long as you own the product, you may return this product free of charge with the original purchase receipt or choose to get a replacement
What Are You Waiting For?
What Our Customers Are Saying
A Real Tool!
Operating the same as many cheaper, plastic box cutters, this thing is a solid, hefty tool. I have owned knives like this before, but found them to be cheap and light weight. Not this one. However, the weight is balanced, so it isn't awkward to use, even if you're used to the cheapies. As for cost, this is a great value, especially if you pair the purchase with a blade sharpener.
Never A Dull Moment!
MulWark Heavy Duty Box Cutter is the Real Deal! There are many cutters in the Market Today but few could stand-up to the MulWark stature and weight. Place it in your hands and there's nothing to stand in your way! Easy to Lock with a Turn-Screw and when the Blade Dulls simply break the Blade at the pre-cut line and your good to go.MulWark has a customer for life! Thanks so much thx00z.
Excellent Value, my new Go-To All Day Utility Knife
This is not your average box cutter. It's a hoss. It's heavy, in a good way. I did have one time when I couldn't get it to extend, was bummed until I realized that the safety screw had somehow tightened, and once released, I was back in business. I use it in my Bookbinding Studio, all day long, with no issues. I have had to break off just one blade in the time I've used it. I cut book boards, leather, paper, etc.
Good utility knife!
I was surprised at the size of these knives (I ordered two) as I thought I had ordered the smaller kind that I've used previously -- but using them, I found they work great for every purpose, including cutting foam board that I mount photographs on, cutting cardboard, cutting twine. They are easy to handle. Very happy with my purchase and if I ever lose these, I'll be ordering another pair.
Wonderful!!
I have had this for about a week or so now and it's WONDERFUL! I've only been using it to cut up carpet. I'm a women and it only takes one cut to go through. The blade is strong and doesn't waiver! So far, I am very pleased!
What Are You Waiting For?
Questions?
Why are you running this promotion?
How can I use my coupon on Amazon?
Does this include free shipping?
What Are You Waiting For?