An Exclusive Offer For You
The Ultimate Scratch Off World Map Poster Bundle with US States, Country Flags, Scratching Tool, Wiping Cloth, Pins, and Carrying Pouch included as our Gift - Mark Your Place as You Travel the Globe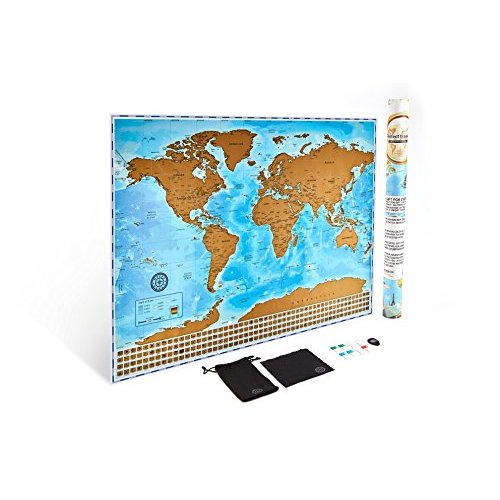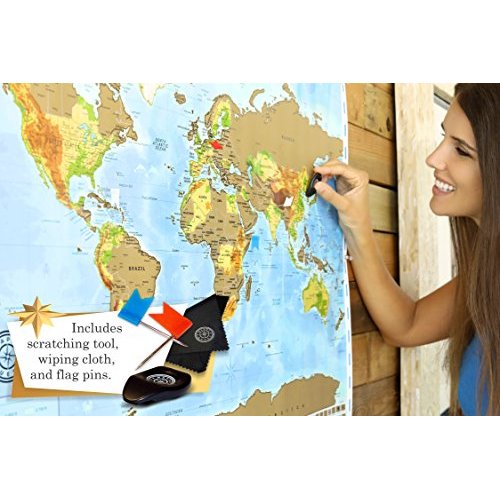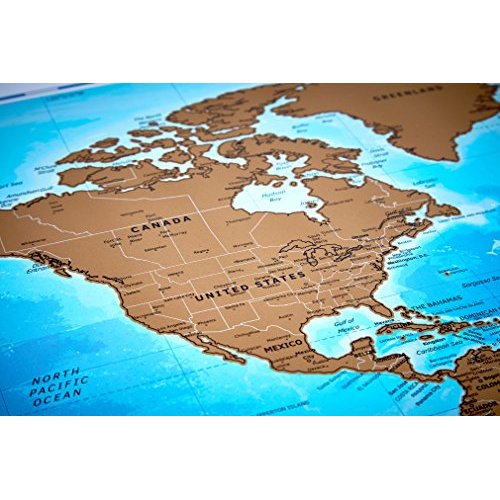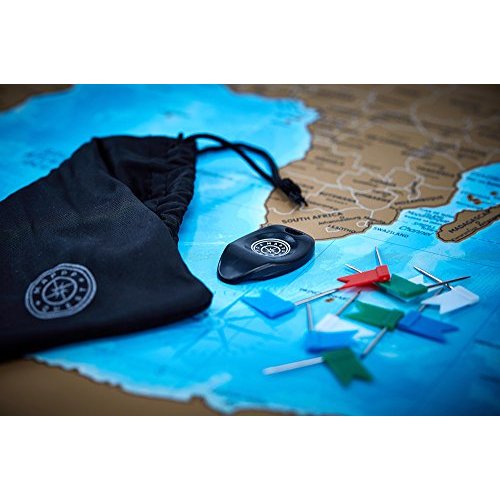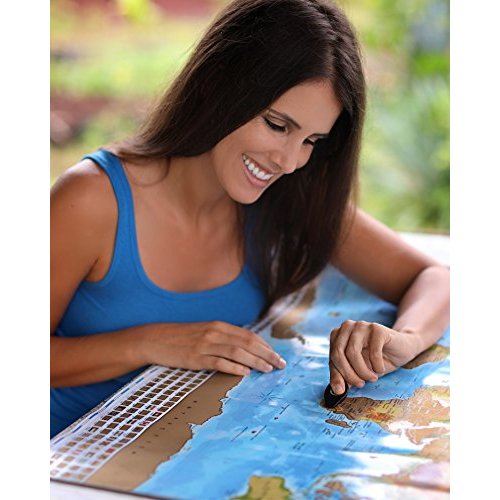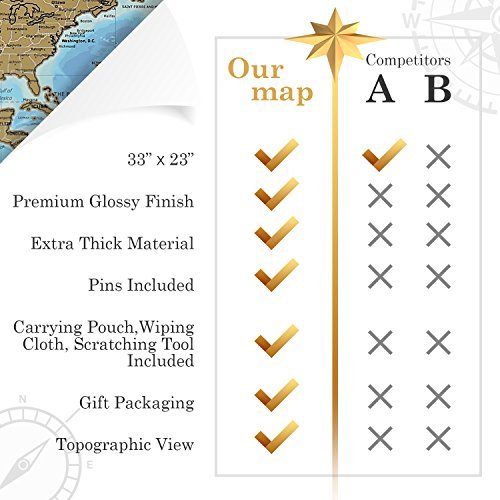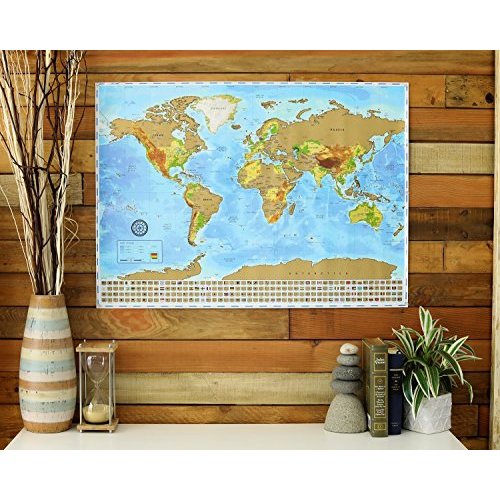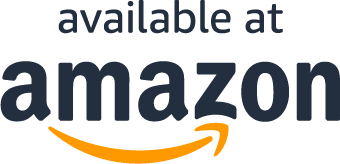 About the product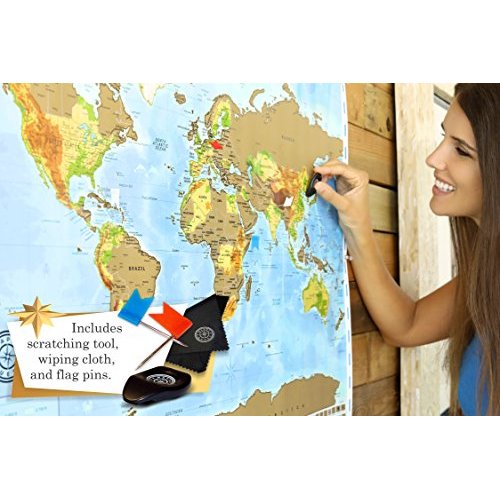 Enter your model number to make sure this fits.
✔ RELIVE YOUR TRAVEL ADVENTURES AND PLAN NEW ONES. Croissant in the bistros of Paris? Scratch it! Oktoberfest in Munich? Scratch it! Ran with the bulls in the streets of Pamplona? Scratch it! Use our unique flag pins to mark future destinations! At 33"x23" and full of vibrant color and detail, our scratch map makes a great frame to hang in the living room and share with friends!
✔ FABULOUS GIFT FOR THE AVID TRAVELER OR GEOGRAPHY LOVER. All U.S. states, Canadian provinces, and countries around the world, are clearly outlined. Scratch off each of 208 country's flags to further reveal your travels or future destinations! Major cities throughout the world, as well as all major bodies of water are clearly marked in striking detail! There's even a gift tag printed right on the packaging for your convenience!
✔ EVERYTHING YOU NEED TO SCRATCH YOUR MAP IN STYLE. The MapppQuest Scratch Map is printed on thick, glossy material with durable ink that is designed to stand the test of time! Our unique scratching tool, wiping cloth, flag pins, and carrying pouch are the perfect companion to mark your travel memories or adventures to come!
✔ INNOVATIVE EDUCATIONAL TOOL. Reward your inquisitive students in a fun and creative way!
✔ SATISFACTION GUARANTEED. Your satisfaction MATTERS to us! If you are not completely delighted with your purchase, simply return the item within 90 days for a NO QUESTIONS ASKED replacement or refund! Peace of mind purchasing!
What Our Customers Are Saying
Great Map for the Traveling Fanatic
Bought this map for my daughter who started traveling a little more this year. She mentioned to me she wanted to have a cool way to mark where she has traveled to and I stumbled upon this on Amazon. Gotta say, she's obsessed with it and I'm sure it will encourage her to travel more so she can scratch off more places on this map. Great product!
This map is awesome! I bought this as a gift for my ...
This map is awesome! I bought this as a gift for my nephew since he's into geography. Couldn't have made a better choice at this price. I especially found the idea of placing flags on the map very engaging and it's versatile enough to make it a game for my little nephew.
... little older and we got this map as a fun way to have him show the grandkids everywhere he'd ...
My Dad is getting a little older and we got this map as a fun way to have him show the grandkids everywhere he'd been and and tell a little story about it. He could talk, they could scratch off the countries and maybe we'd get to hear a story or two that us adults hadn't heard. The day exceeded anything I could have hoped for. It's a good looking map too, it's thick and very sturdy so I know it'll be around for a while. Even if you're not tracking your own travels I highly recommend using it like we did,
Super fun way to track your traveling
Great product! I love being able to track my travels both and future. This gives a nice feeling of unlocking a great achievement every time you can reveal another section of the map. I have a long ways to go before I look like a successful traveler, but I have the means now to plan and track my progress. I think Antarctica will remain forever hidden...
This is a great way to help my kids and myself to learn ...
Got this for the family. This is a great way to help my kids and myself to learn about the world in a super fun way. The packaging is great and high quality. I highly recommend this Scratch off world map if you want to learn about the world's geography or looking for fun activities with your families!
Fun gift for the traveler.
I bought 3 of these as gifts and they were a huge hit! All 3 were gifted to avid travelers who couldn't wait to get scratching off the places they've visited.
Questions?
Why are you running this promotion?
How can I use my coupon on Amazon?
Does this include free shipping?
What Are You Waiting For?