Urban Worm Bag
Urban Worm Bag Worm Composting Bin Version 2 - Discount Available Only to Urban Worm Company Readers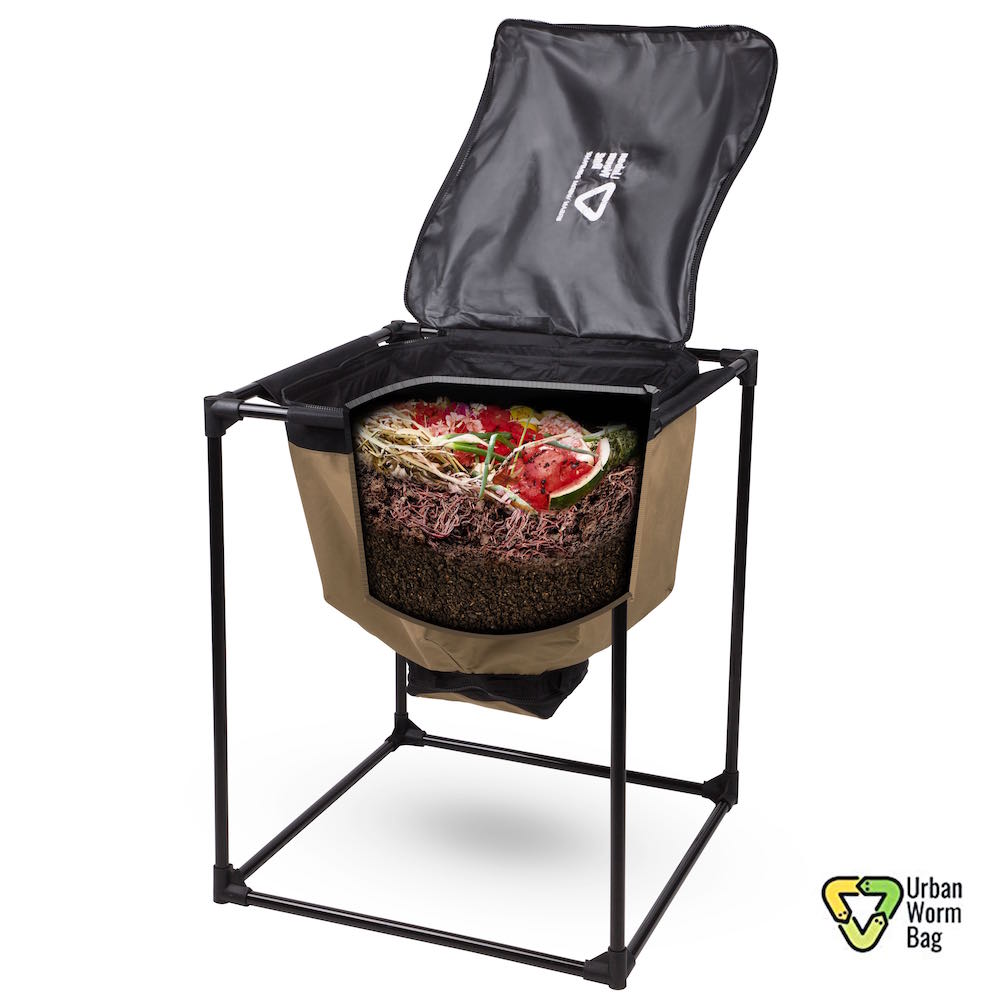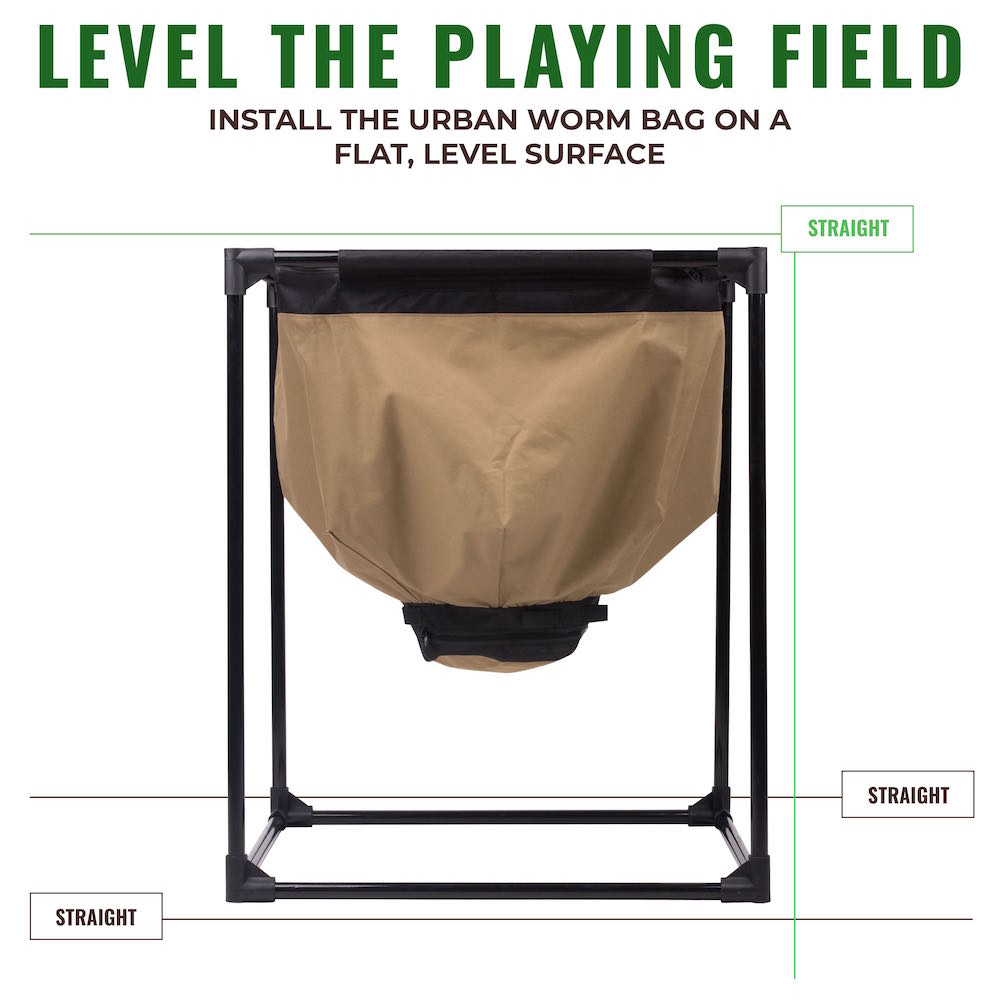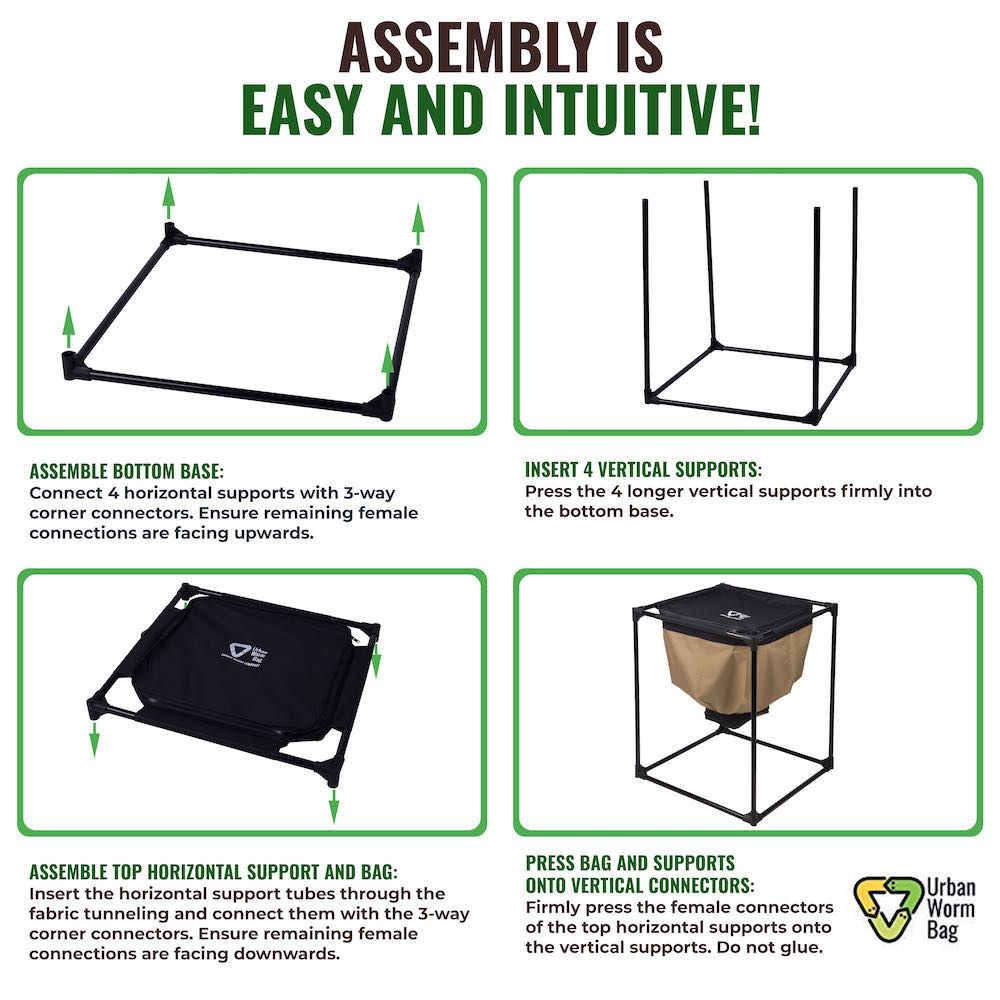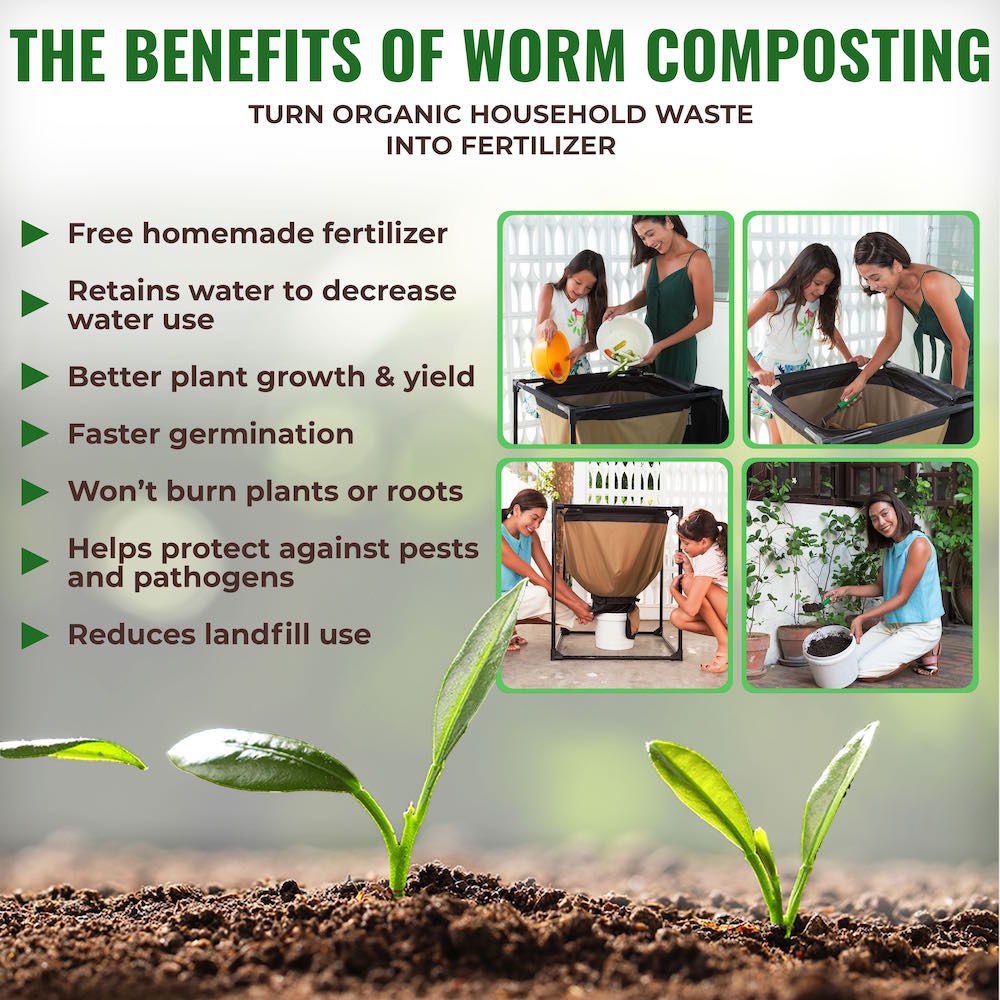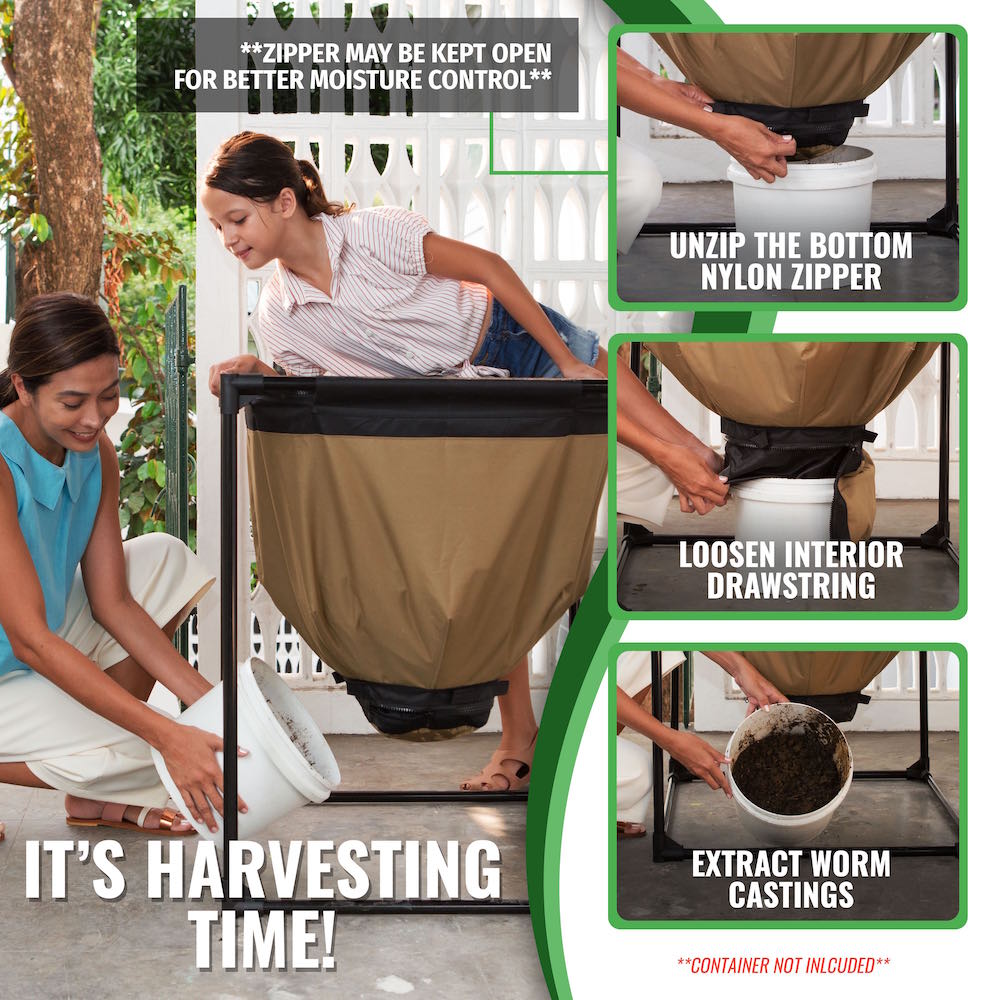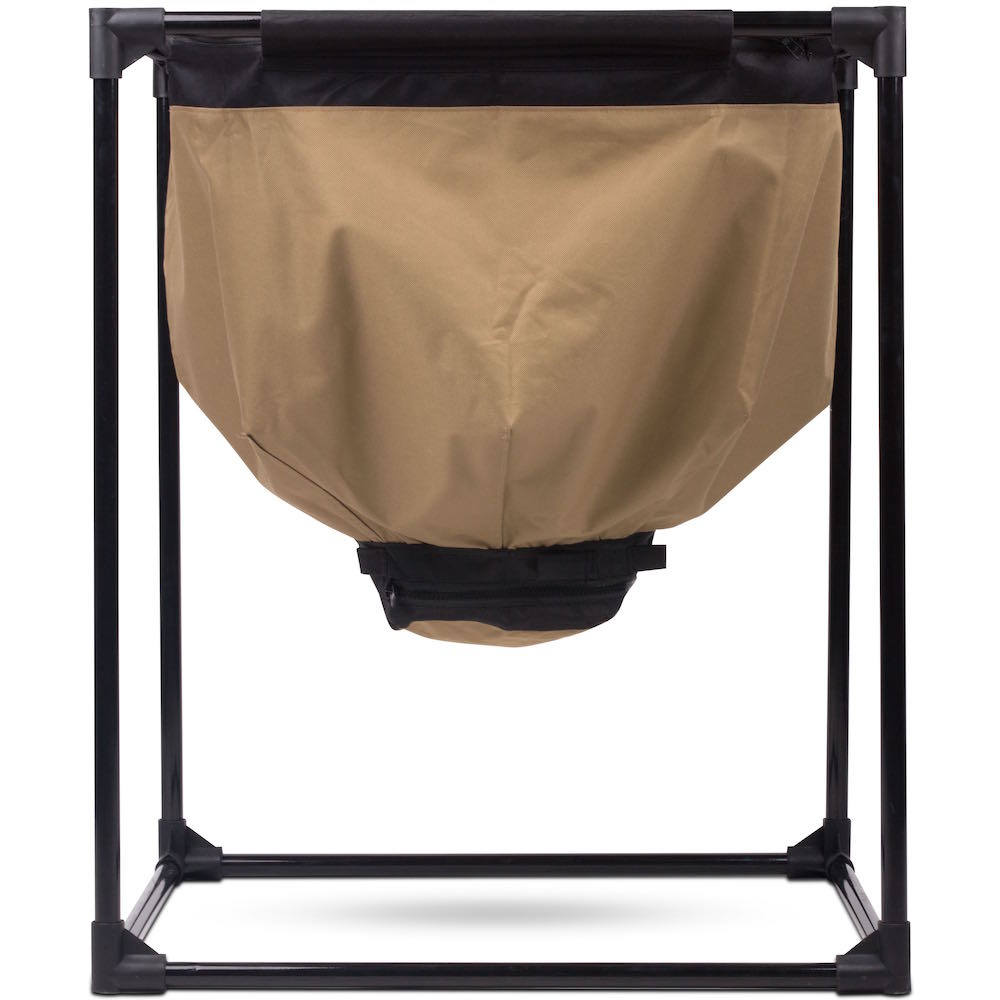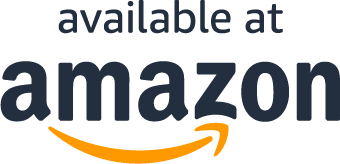 About the Urban Worm Bag
Turn your organic waste into fertile worm castings for your plants and garden with no odor.

3x the volume of stackable plastic bins at 33% the cost of expensive competitors. No separating worms from trays. It's that simple.
Breathable fabric construction. Control moisture by keeping bottom zipper open or closed.
Continuous flow rocks! Worms stay happy and reproducing on top during harvest from the bottom.
100% Lifetime warranty on material defects and workmanship guaranteed by Urban Worm Company owner.
What Our Customers Are Saying
Easiest, cleanest, and most efficient way to produce your own high quality worm castings and worm tea.
In short this is the most efficient and easy-to-manage vermicomposting bin available on Amazon. I have had two of the Worm Tower 360's and they not only lack the capacity of this but they require multiples hours a week to manage. The two major features that set this apart are ways in which you can add compostable material and the way in which you can remove worm castings; the former being better than the latter but still leaps and bounds above the competition. With this Urban Worm bag you can simply unzip the top and toss in compostable material then zip it up and you're done. With the Worm Tower you have to take each tray off one by one, add the compostable material, and then restack everything in a very specific order or you'll throw off the worms and drastically slow down your vermicomposting process. Harvesting the castings with the Urban Worm bag requires you to unzip the bottom and the castings just fall out into whatever receptable you want. Personally I have a 5 Gallon Bucket that catches the drippings and the castings when I open it. I then swith it with a new 5 gallon bucket and aerate the filled bucket to make some amazing compost tea. Compared to the Worm Tower 360 this is again such a time saver that it pays for itself in time and saved and frustration avoided. The Worm Tower requires you to unstack the tower and set the tray you want to harvest on top then shine a light on the tray overnight to try and get the remaining worms to migrate out of the tray. That never works and I was constantly losing dozens upon dozens of worms. Then the square design always has castings sticking in the corners and worms getting trapped. All of this ultimately ends up with the Worm Tower user spending hours and hours just to perform simple tasks and getting partial yields. The Urban Worm Bag takes all of a minute to interact with and it is so simple and intuitive that I am now sponsoring a neighborhood composting program and everyone from the youngest in our community to our oldest can contribute with complete confidence that they are doing things right. I can't stress enough that this is the best option for the price and will set you up for success!
So happy with this bin!
The Urban Worm Bag arrived about two weeks ago and so far I'm loving it! The box was awesome (I still can't throw it out!), and the instructions were super simple and easy to follow. It's a really attractive design and one heck of a conversation starter! As the directions suggested, I started with some existing compost rather than just tossing in some wet paper and wishing for the best. This is really important because worms don't just eat paper or food. What they really like are microbes, so starting with compost or vermicompost ensures you'll get off to a great start. The manufacturer (Urban Worm Company) has a really helpful blog for beginners and they really stress simulating this natural environment for the worms rather than just putting them in a sterile bin. A couple highlights so far..... I have a Worm Factory 360 and I was surprised to see how much larger this bin is. There's more surface area and greater capacity. I also don't have to bend over to feed the bin as the top of it is about counter level. I will have to sit down or kneel to harvest it in a few months, but I won't be doing that too nearly as much as I will be feeding it. I like that this bag breathes! I started off using Rubbermaid bins and it took me forever to learn how to get the moisture under control....and too much moisture is what makes a worm bin stink! Even though this bag closes with a zipper at the top, it sure seems like the bin is getting enough airflow to solve the moisture problems. So far so good. Everything smells great! The guy who runs the Urban Worm Company is VERY responsive and responded to my questions very quickly. So nice to have customer service like that. He also has a blog that would be really helpful to newbies. I know how tricky it can be to cultivate a good environment, and the info in the blog is very informative and practical. This was an excellent value, especially compared to the Hungry Bin! That seems like a nice system, but the $300 price tag was just too much. The Urban Worm Bag's price tag is much more manageable, especially if you're just starting out. Overall, I'm really excited about this product and think it's a great bin at a great price!
Why did I wait?????
I got my first worms two years ago. They are expensive here in Hawaii and illegal to import from out-of-state, so I got a handful from friends. I had visions of composting everything eventually, but my homemade tote was too big for the amount I had and other critters moved in. I scrapped that project and went down to a 1-gallon bucket. Easier to manage and I expanded to 3 buckets but harvesting was always a pain.I knew about CFTs and thought to make one myself. $30 for a sturdy enough garbage can, hopefully repurpose some pipes, but there's the time it takes, figuring out where to put it, when will I have time with two little kids.... Wheelie bins would have been ideal but ..... Anyway, as you can see, I've over thought the process for quite a while. And kicked myself for not jumping on the UWB2 when it was on sale for $89 on Prime day. Which is funny because there was an insane moment when I thought of getting the hungry bin two years ago. I think that's why I had it in my head to make my own. If I had known about the UWB, I would have thousands of worms already.So anyway, I ask Steve if he'll have another sale in a few weeks so I could be ready and he sent me a coupon. What a great guy. I bought it and it was so much bigger than I expected! So pleased! It was ridiculously easy to put together. In fact, turning it and pressing the joints in more over and over until they couldn't be pushed in anymore took longer than putting the pieces together. Also, I shred all the packaging to put in the worm bin, so no plastic waste.It's been going well. I live in a temperate area and I'm composting with blue worms. They're in the shade on my lanai. I followed the instructions for letting the moisture equalize for a couple of days before adding the worms, I Spritz the top every couple of days because the top bedding dries out in my location (did the same with the buckets, I don't get it since it's so humid here). I have no idea how hard or heavy it will be once there's castings to harvest, so I'll have to come back and edit once I've done that. But I'm looking forward to picking out as many worms as I do to harvest my little buckets.
Questions?
Why are you running this promotion?
How can I use my coupon on Amazon?
Does this include free shipping?
What Are You Waiting For?