🕧 Limited Time Offer-Claim Your 50% Code Before it Runs Out!!
Large 3X Magnifying Glass with 10 Ultra Bright & [Dimmable] LED Lights+ Magnetic Base to Store Magnifier at Ease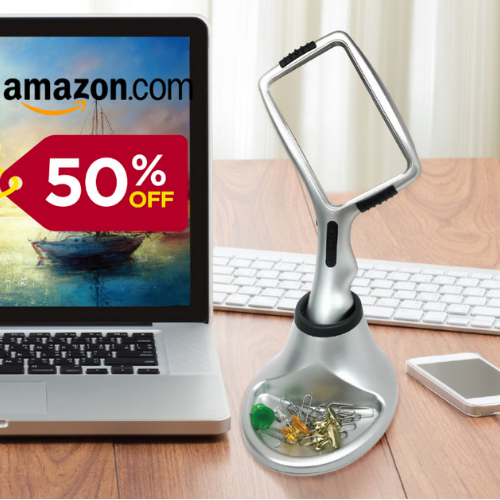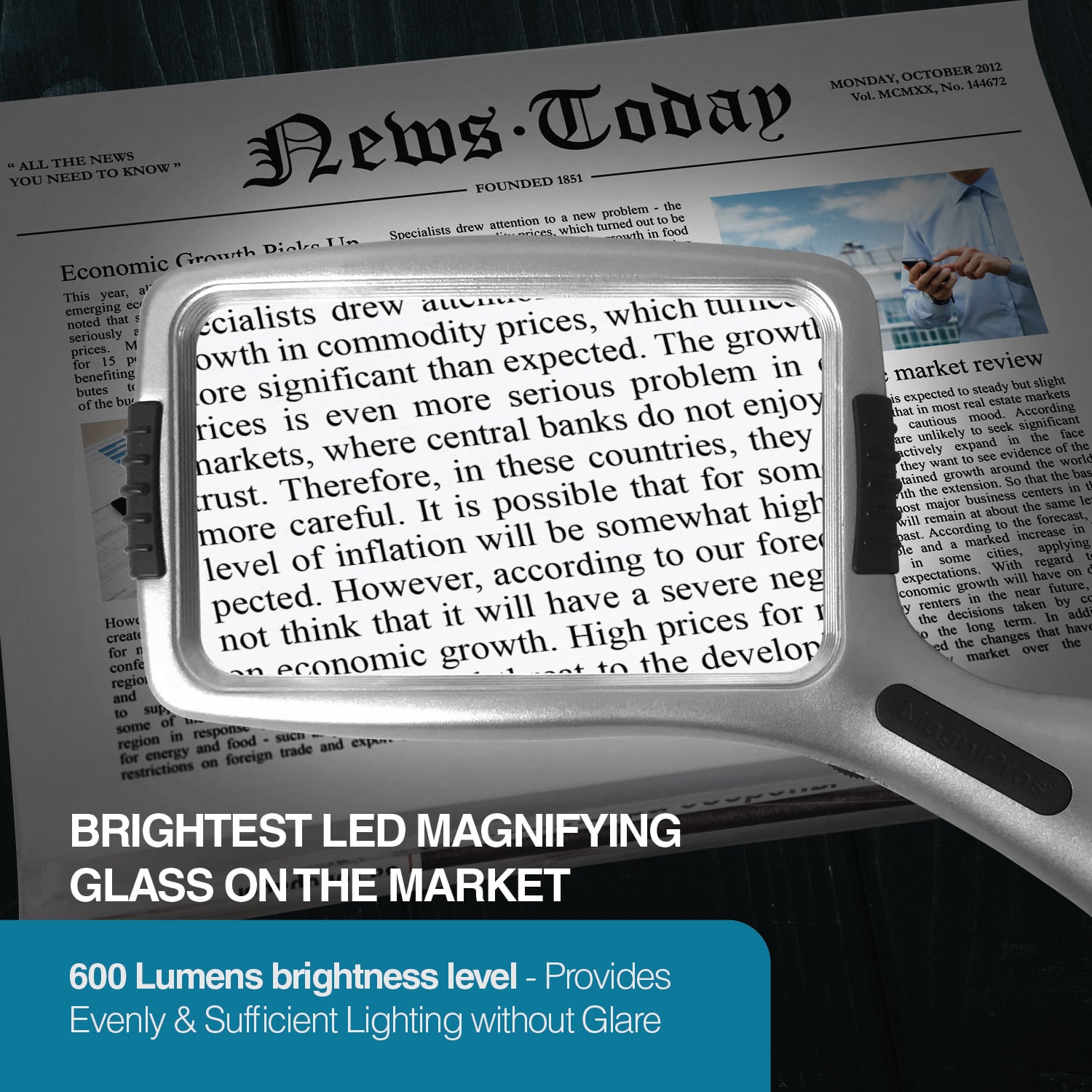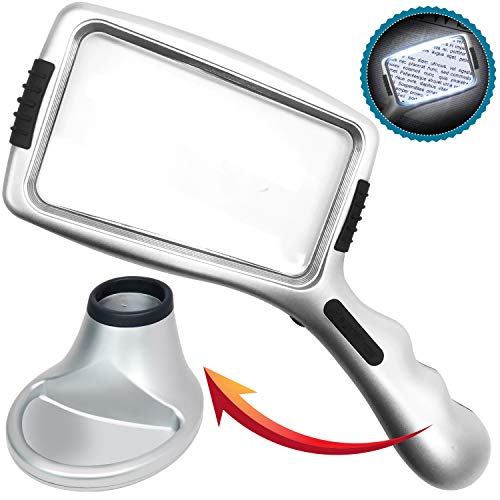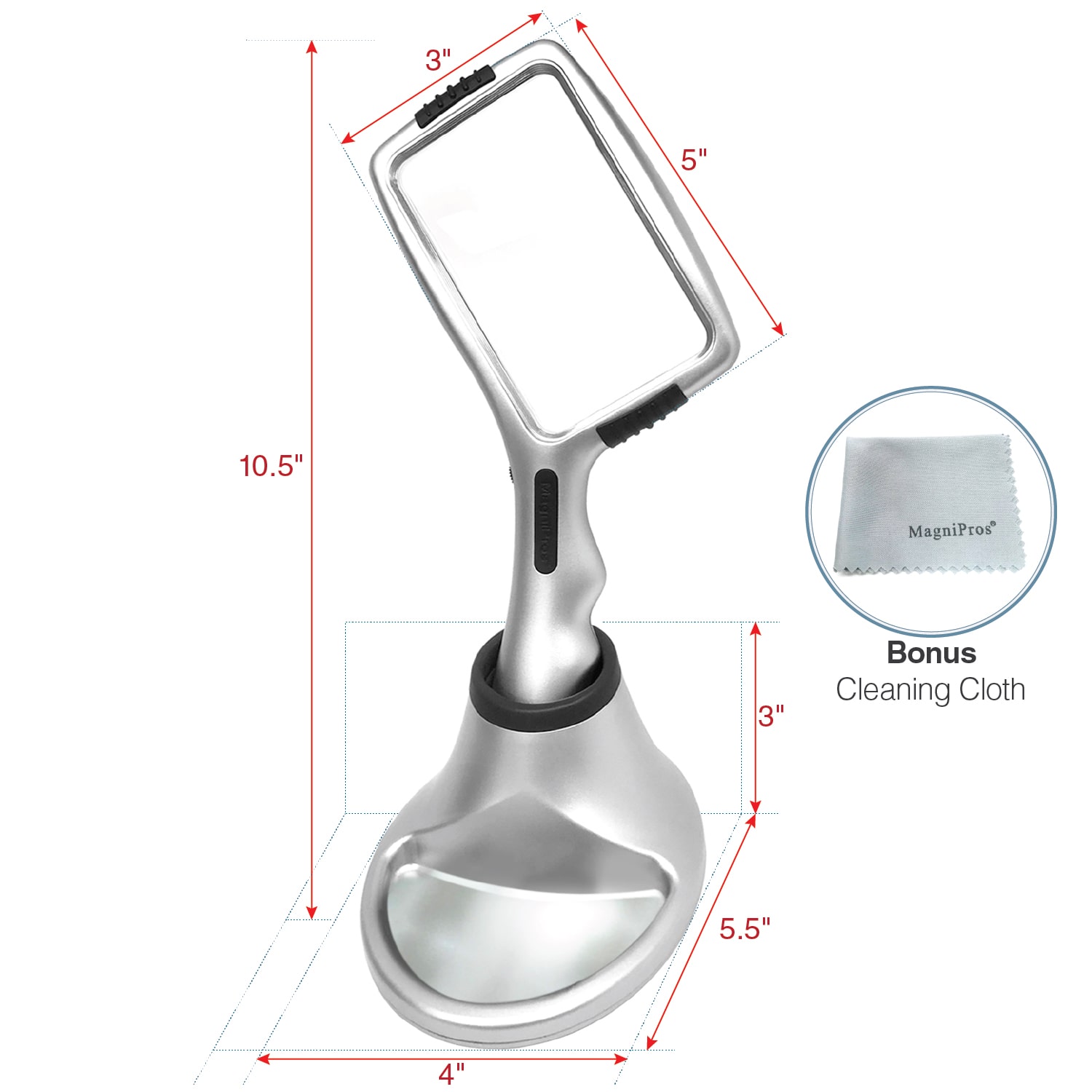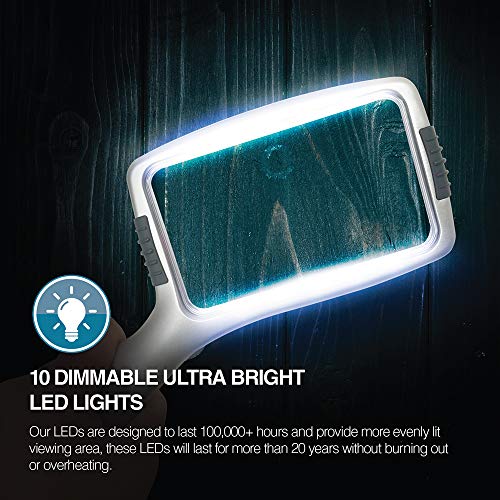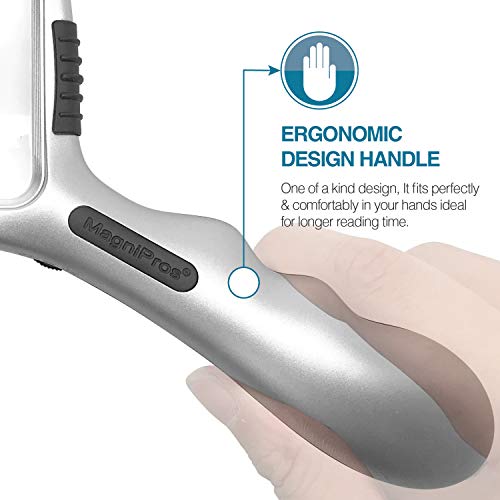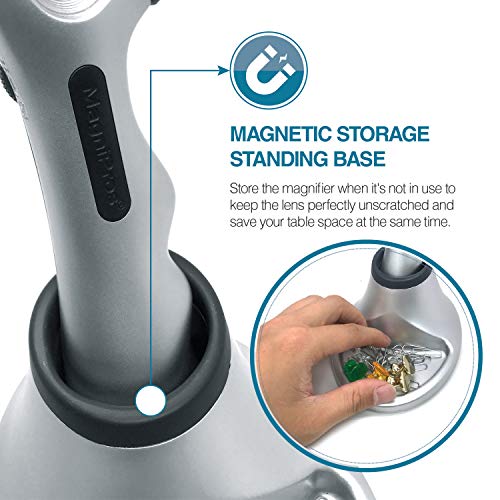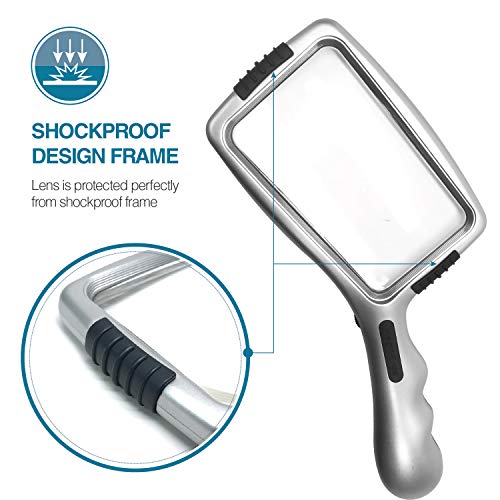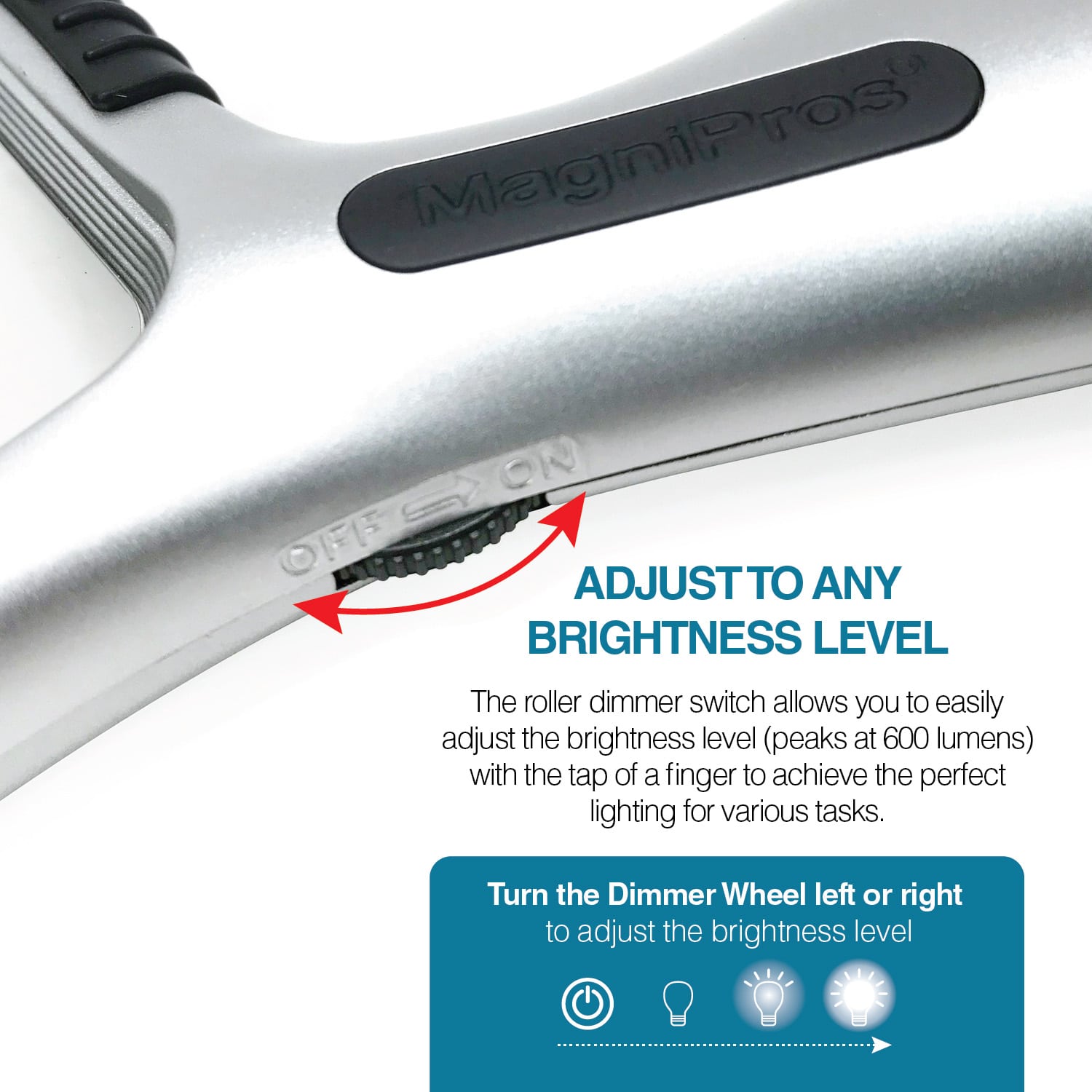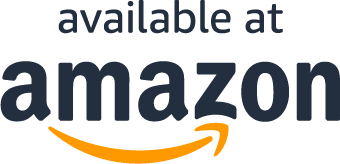 About the product- Key Features
★ LARGE RECTANGULAR LENS: The rectangular lens especially simulated the way we naturally view things, the magnifying lens covers large viewing area without repositioning your hands all the time.
★ CRYSTAL CLEAR LENS: Ideal for reading/viewing small prints Map, Newspaper, Magazine and also great for eye conditions such as aging eyes, macular degeneration.
★ SHOCKPROOF FRAME: The shockproof housing frame is specifically designed to prevent damage to the lens when accidental drop on the floor.
★ REDUCE EYE STRAIN: This led magnifier is ideal for anyone who strains their eyes to see words on a page because it magnifies and provides light without glare.
★ Dimmable LEDs: The roller dimmer allows you to easily adjust the brightness level(peaks at 600 lumens) with the tap of a finger to achieve the perfect lighting for various tasks.
★ COMFORT ERGONOMIC HANDLE & MAGNETIC STORAGE BASE: Only weights 7 ounces, and the handle of this LED magnifier is ergonomically designed to grip/hold for most hands, making it ideal for anyone who loves to read for longer period of time.
★ SAVING SPACE: The storage standing base is designed to perfectly store your magnifier at ease when not in use without taking up too much of your table space.
★ 10 ENERGY EFFICIENT & LONG LASTING SMD LEDs: Our SMD LEDs are designed to last 100,000+ hours and provide more evenly lit viewing area, our LED lighting will last for more than 20 years without burning out or overheating. Save money and energy while enjoying long lasting bright light.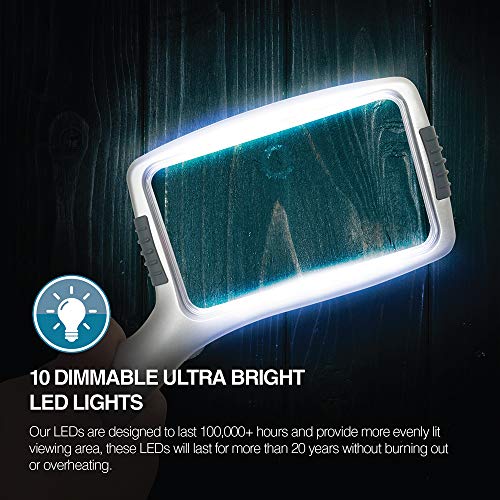 What Our Customers Are Saying
It'll help her...
My grandmother is turning 82 this year and her eyesight is getting much worse. She can't read the prints on her books anymore which breaks her heart because she's such an avid reader. I got this for her hoping it'll help her even a little bit and it did! She can read all the words on the page clearly now and she's back to her old smiling self. The light feature is especially handy because she can even use this in the evenings.
Words clearly shown
My grandfather was sad that he couldn't read books anymore because his eyesight was slowly getting worse. I got this for him and his face completely lit up when he got it. He asked me to teach him how to use it and now he uses it everyday. The light works perfectly and all the words on the page are clearly shown. 10/10 for me and my grandpa.
Love this item. Just as described. So many uses.
I really am enjoying this product. There is so many times I never even thought to use this kind of product. Now that I actually have one it makes tasks much simpler. Nicely made. Not a cheap light in weight disposable item. As described and I would most definitely recommend and buy again.
Great quality!!!
Quality product. Sometimes you just need a little more magnification that your glasses. When that happens this works perfect!! Why do some companies have such small print on products. Very nice addition to my desk.
Sturdy so far
No one in my family actually has problems with our eyesight but my 8-year-old son loves playing detective. And what's a detective without his magnifying glass? He's super in love with it and would darken up the room to use the light and then search for imaginary clues. He's rather clumsy and would sometimes drop it's been very sturdy so far so there haven't been any cracks.
For my dad...
Got this for my dad who's eyes are going bad due to his diabetes. He has a very hard time reading texts on his phone and reading from the newspaper. That's why he was very happy to receive this from me. He can now read everything perfectly thanks to the magnifier. He's also dropped it several times already because he keeps missing the table, but true to its word it didn't break at all.
What Are You Waiting For?
Questions?
Why are you running this promotion?
How can I use my coupon on Amazon?
What Are You Waiting For?