An Exclusive amazon Offer !
Magnifying Glass with [10 Anti Glare & Dimmable LED Lights]- 3X+5X Dual Power Lens-Ease Strain Eyes & Provide Evenly Lit Viewing Area for Reading, Low Vision, Seniors, Macular Degeneration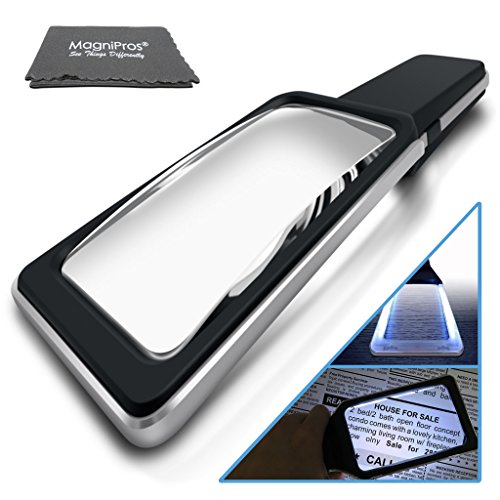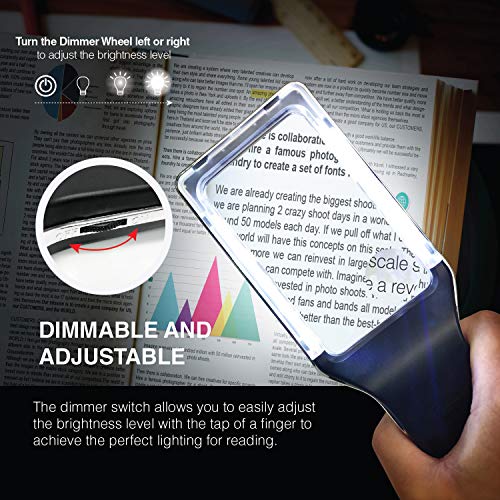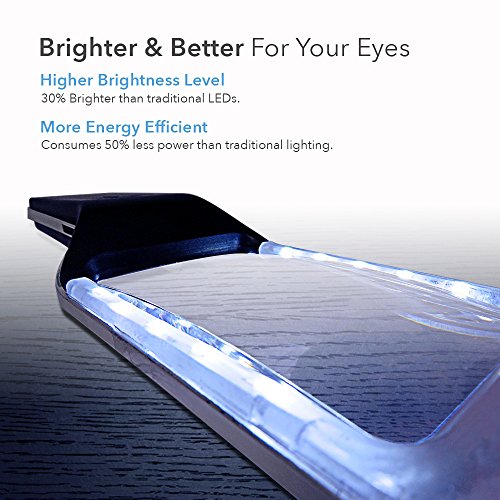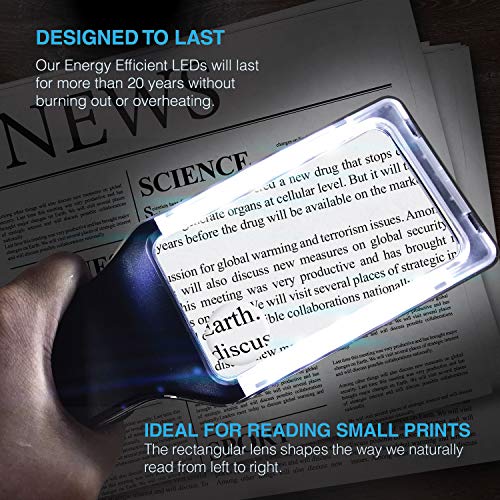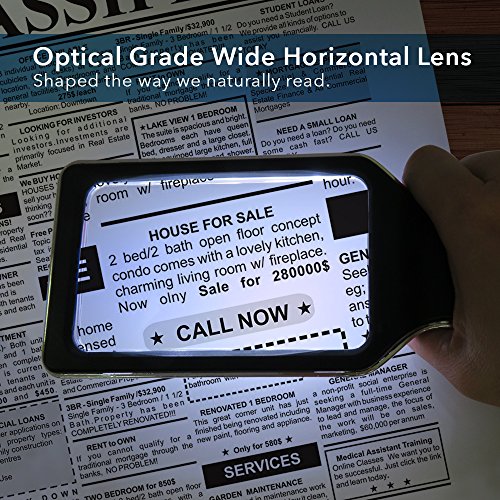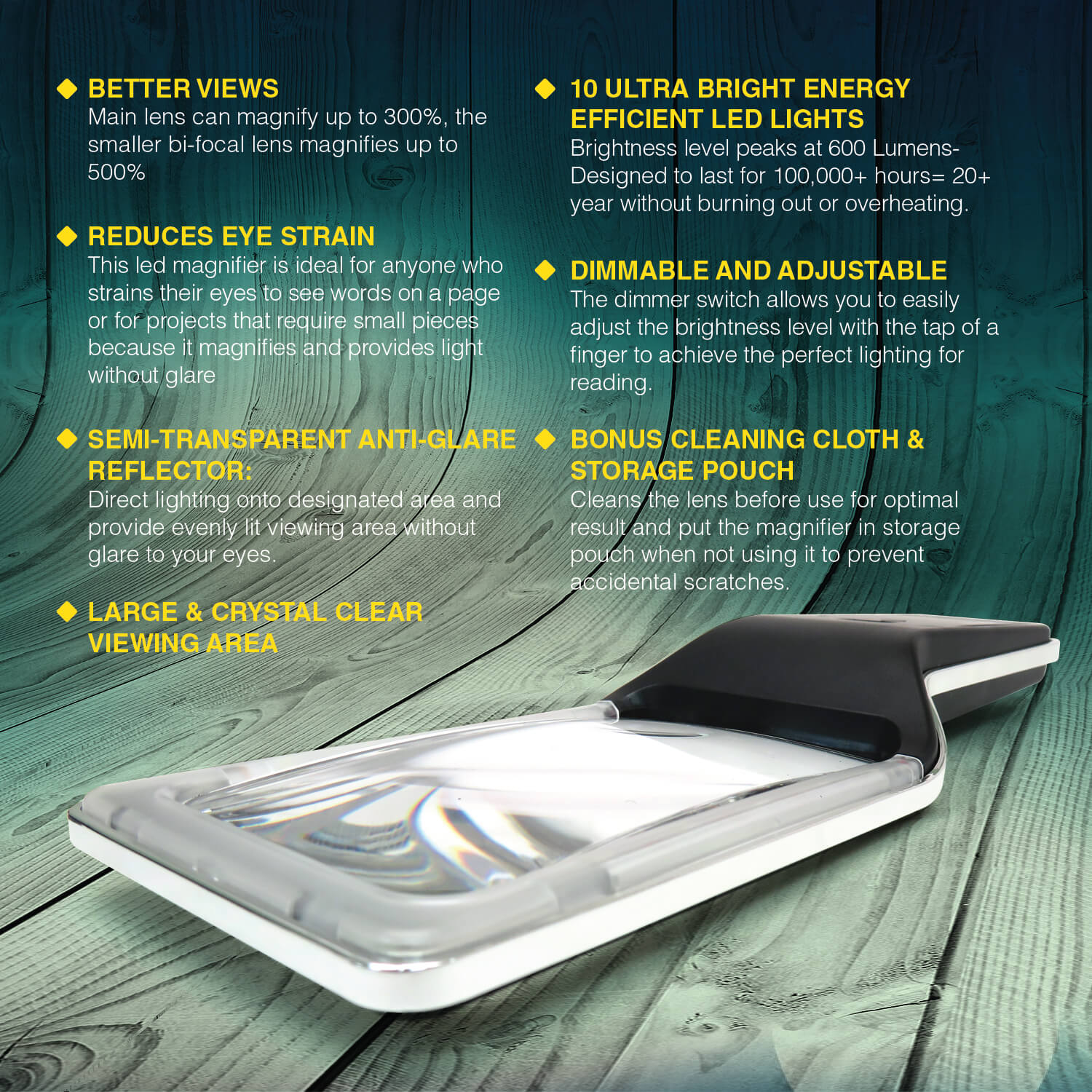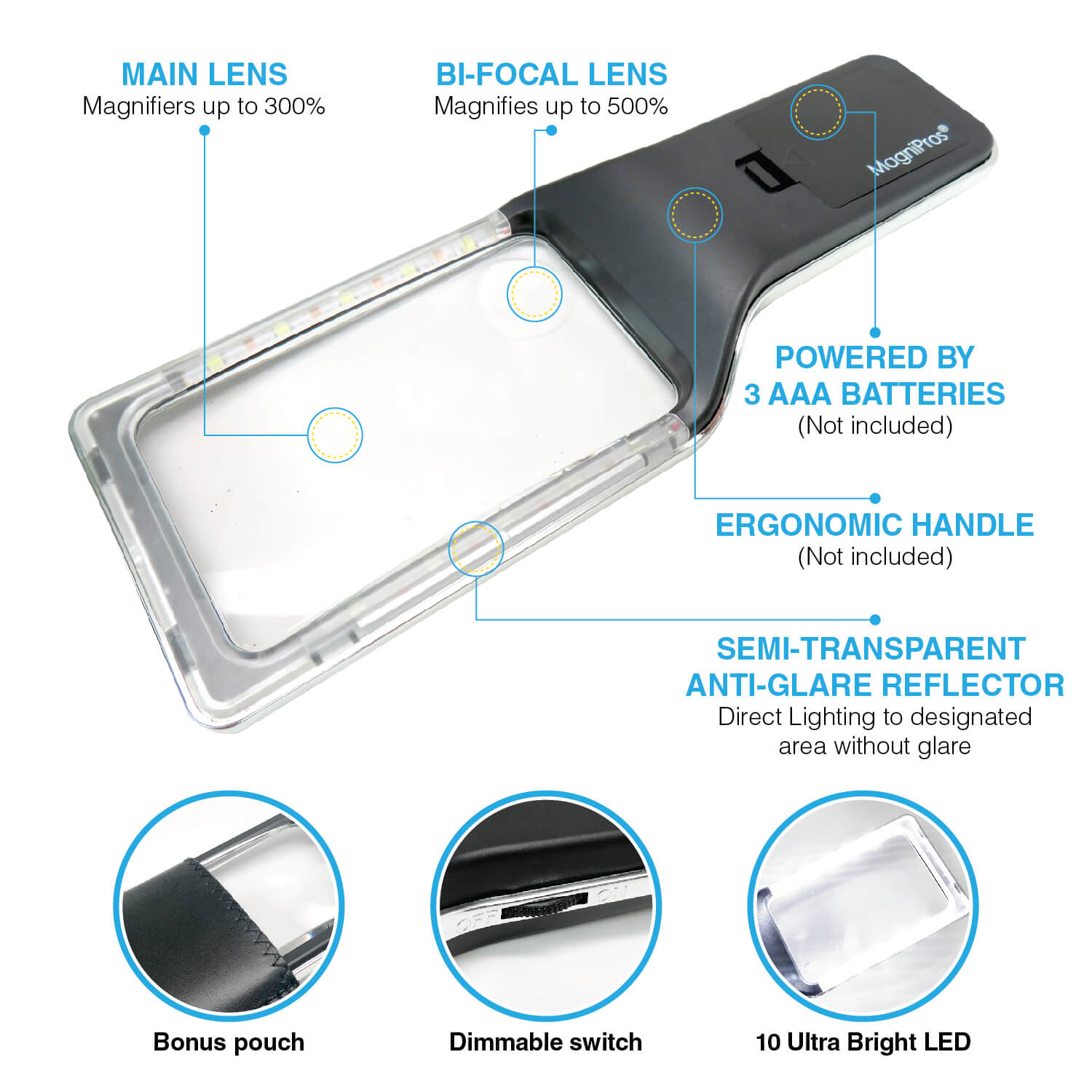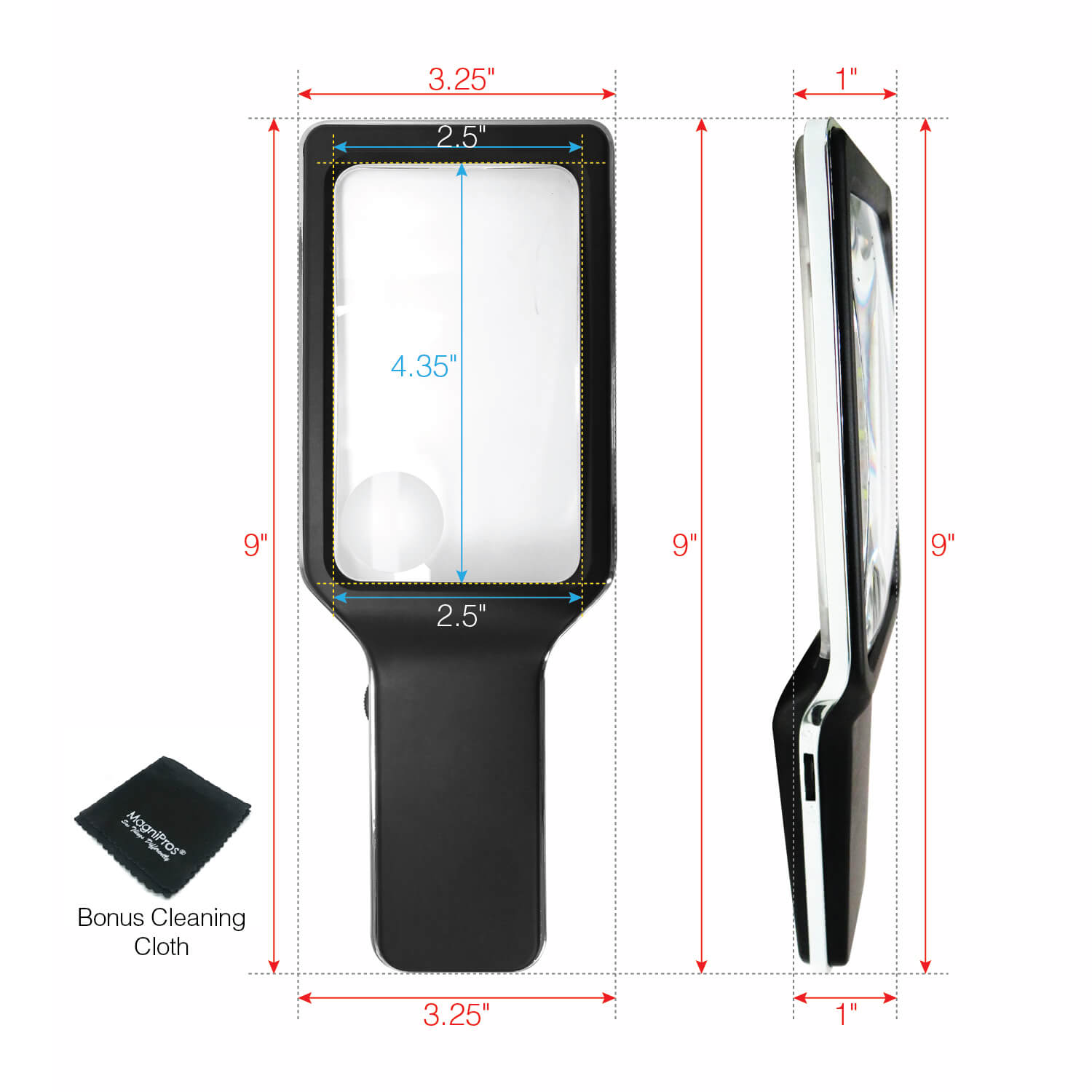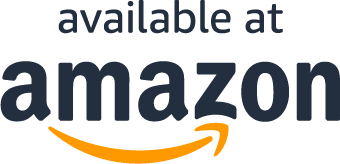 About the product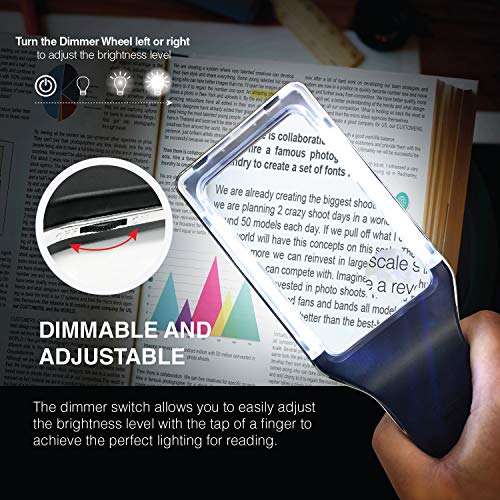 ★ RECTANGULAR SHAPES THE WAY YOU NATURALLY READ: The rectangular lens is especially design to simulate the way we naturally view things from left to right, the magnifying lens covers large viewing area without having your hands move all the time, lens is measured 4.35"x 2.7" and magnifies up to 300%.
★3X+5X DUAL MAGNIFICATION LENS: Made out of optical grade acrylic which is lighter and more scratch-resistant & shatterproof than glass while provides the same clarity level. The large rectangular main lens can magnify up to 300% while the smaller bifocal lens at the corner can magnify up to 5x(500%) for detalis- It is perfect for reading/viewing small prints Map, Newspaper, Magazine and also great for eye conditions such as aging eyes and macular degeneration.
★REDUCE EYE STRAIN & DIMMABLE LIGHTING : This led magnifier is clinically proven to be ideal for anyone who strains their eyes to see words on a page because it magnifies and provides light without glare. The roller dimmer allows you to easily adjust the brightness level(peaks at 600 lumens) with the tap of a finger to achieve the perfect lighting for various tasks.
★ LIGHTWEIGHT & ERGONOMIC HANDLE: Thanks to the special design premium lighter lens it only weighs 6.5oz, in addition, the handle of this LED magnifier is ergonomically designed to grip/hold comfortable for most hands, making it ideal for anyone who loves to read for longer period of time.
★ 10 ENERGY EFFICIENT & LONG LASTING SMD LEDs: Our SMD LEDs are powered by 3 AAA batteries(Not included) and are designed to last more than 100,000 hour. They provide more evenly lit viewing area, our LED lighting will last for more than 20 years without burning out or overheating. Save money and energy while enjoying long lasting bright light.
What Our Customers Are Saying
Large Magnifiying Glass Handheld Reading Magnifier 3X magnification with 10 dimmable LEDS
best magnifying glass handheld magnifier I've had. Everything about this item is excellent. Easy to hold, large for older people like myself to read with and especially the adjusting LED light from dim to very bright to use on small print. Lens is crystal clear as advertised and for someone my age makes it a joy to not squint to see and read with. Another great addition is the protective pouch to store when not in use to protect it from scratches or dust. All around best one I've had and love using this item. Ordered a second one so I'd have one for the computer room and one in living room for use with mail, magazines, instruction pamphlets and user manuals. Also planning on ordering more as Christmas gifts soon. Great product, thank you!
Great magnifier & Perfect Lighting to fit our needs
Magnifier I ordered this this magnifier for my spouse who has very poor sight because of wet & dry macular degeneration. Shots have stabilized the wet, but the dry and damage macular has left her with bad vision. To our surprised, this is by far the best magnifying glass with leds, my wife can read newspaper and her favorite books again, I will definitely be purchasing another one for myself because of my aging eyes.
Bright Lights, Easy Reading!
I bought one for my mother-in-law and she loves it, except for a minor problem with the battery cover. The company quickly replaced it, no problem. So, I bought one for my dad and he loves it as well. It magnifies very clearly; small print, numbers, even cell phone screens. This is the ideal magnifier because of the large rectangular shape and the bright lights when you need them.
Fabulous for reading; Love Offset Handle and Dimmable Lights
I bought both the Fancii LED 5X Magnifying Glass and the MagniPro 3X with dimmable LEDs. Although the Fancii is beautifully packaged and made, it was heavy and the round glass does not compare to the ease of using the rectangular glass in the MagniPro. The rectangular glass is just a better and more natural shape for reading. I loved the dimmable lights in the Magnipro and the way the handle was offset to the side so that it was easy to move over the newspaper and read the sports stats in those tiny print boxes. The 5X of the Fancii was really too much for me but may be useful to others. I returned the Fancii and am purchasing two additional MagniPros.
The Best!
This one is the best, and I've tried many. The variable light intensity is a big plus—it can get as bright as a flashlight. The lens is better than the other consumer grade magnifiers. I just bought a second one for my wife, who also loves it.
Magnifier with bright lights and 3X large print enhancer
This was a birthday gift to my 95 year old friend who has problems with his vision. He loves it. It has greatly improved his ability to read. He won't need to cancel his subscription to the newspaper now and his spirits have lifted a great deal.
Questions?
Why are you running this promotion?
How can I use my coupon on Amazon?
Does this include free shipping?
What Are You Waiting For?