An Exclusive Offer For You
LifeTek Windproof Travel Umbrella Compact Automatic Open Close Small Folding Teflon Repellent Canopy Umbrellas fit Golf Purse Backpack Wind Resistant for Men and Women Traveler FX1 42 inch Navy Blue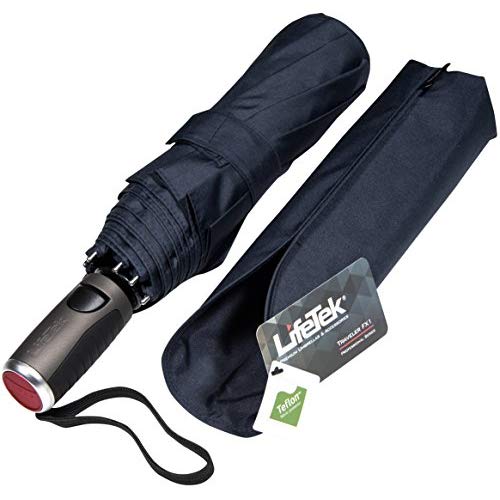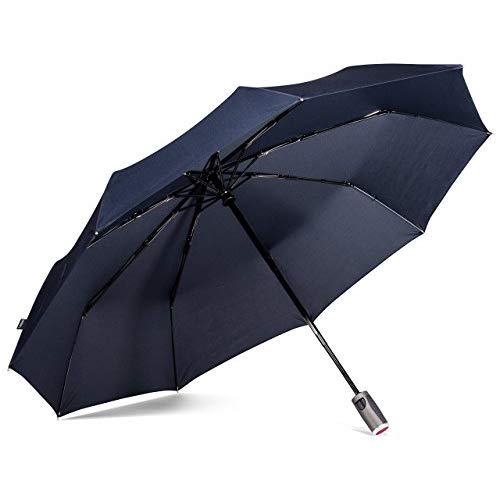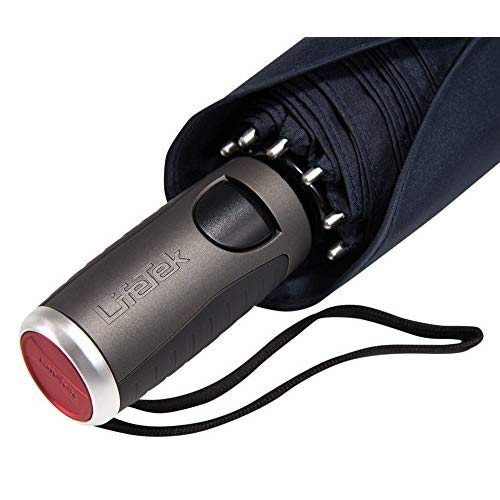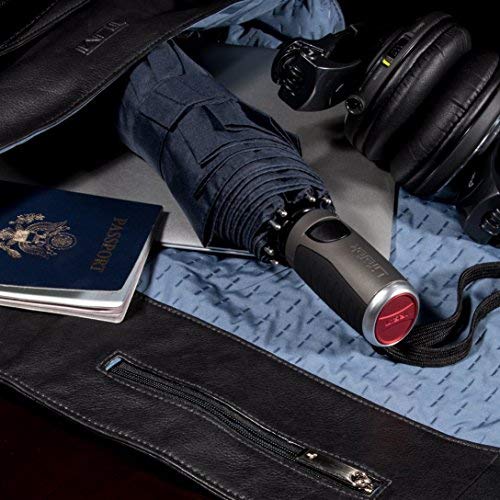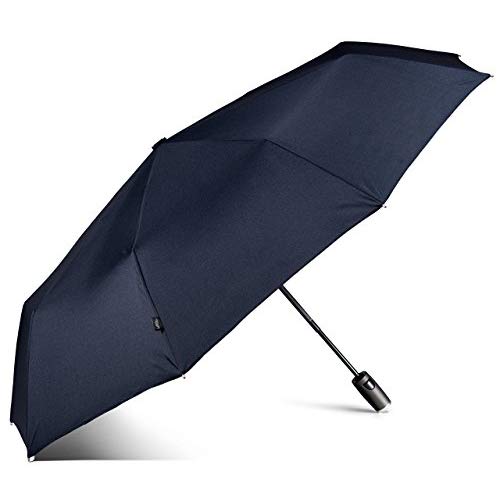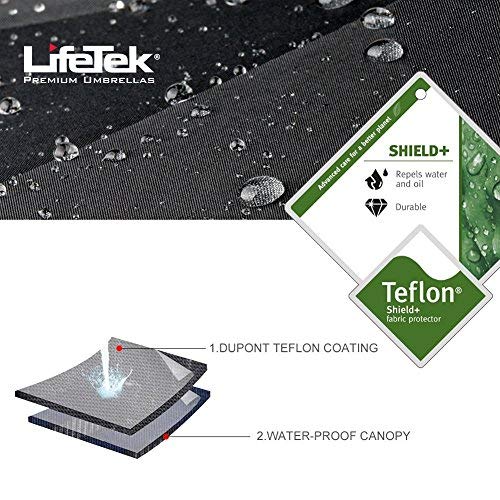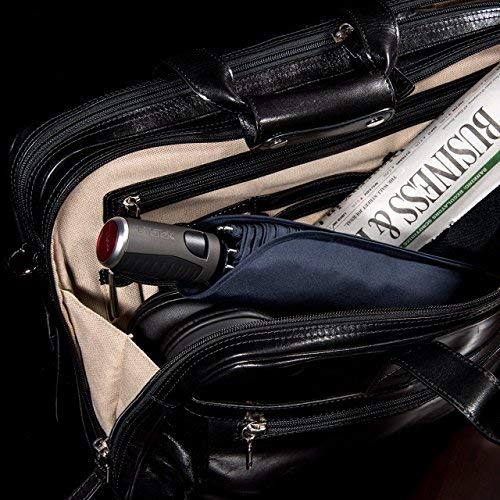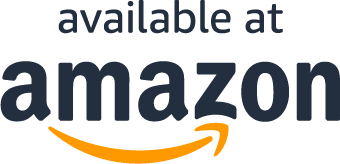 About the product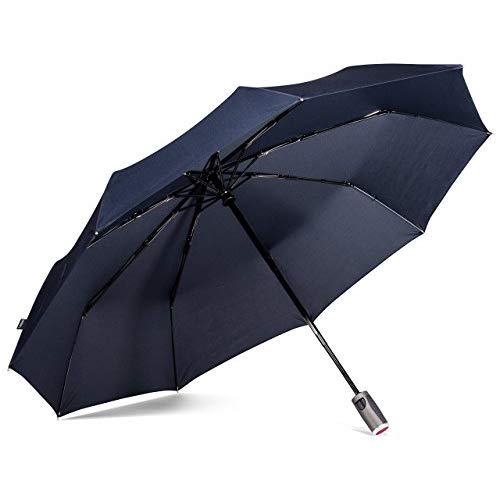 Make sure this fits by entering your model number.
COMPACT & LIGHTWEIGHT TRAVEL GIFT: – Designed with the modern-day lifestyle in mind, our travel umbrella easily fits in any backpack, briefcase, handbag, luggage or carry-on bag. So lightweight & compact, it adds very little to those precious luggage lbs - just 15 oz in weight and 11.5 inches in length, when closed.
WIND RESISTANT DESIGN – Constructed Using 9 Resin-Reinforced Fiberglass Ribs that are tri-folded to protect you even in the highest winds. This latest technological combination of steel, resin and aluminum provides the strength you need in an umbrella to feel confident, comfortable and even excited for the wind and rain.
ULTIMATE PROTECTION AGAINST THE ELEMENTS: Constructed using LifeTek's signature fabric, our umbrellas provide stronger protection against UV rays and heavy downpours better than anything else on the market. Allowing you to stay dry in even the harshest conditions.
SINGLE BUTTON PRESS – LifeTek's travel umbrella comes equipped with automatic push of a button functionality, giving you the ability to quickly & easily open and close your umbrella. So, you can be protected from the first drop of rain to the last and close your umbrella without struggle.
COMMITTED TO YOUR SATISFACTION & PEACE OF MIND – Every LifeTek umbrella comes with a "Peace of Mind" replacement guarantee against any defect of our premium materials and high quality workmanship.
What Our Customers Are Saying
Sturdy and Soft!
Got this to replace a Totes Titan umbrella I had stupidly lost somewhere. That umbrella was fine and could hold its own in the wind, but it had already managed to get a rib bent so that it had trouble closing properly. This umbrella has nowhere for that to happen in the first place. The open/close mechanism is honestly a bit more fluid than any of my previous Totes, and, I know this has nothing to do with the utility, but the fabric is downright soft! It doesn't feel like an umbrella, it feels like an upscale trench coat. It can certainly hold its own against the big dogs, the only possible downside is that a two-year warranty is rather short for an umbrella, but I usually lose them before I can use the warranty anyway. It's also noticeably heavier than a standard travel umbrella when retracted, which can be a little annoying to carry.
Great umbrella!
First thing I noticed was this umbrella has some weight to it. Not that it's heavy or anything, but you can tell its sturdy and well-made. I've used it a few times in the recent storms in California, and it's held up well. It did invert a couple of times during strong gusts of wind, but it flipped back easily and with no damage to the umbrella. I've had other push-button open/close umbrellas, but this one's push-button function is a lot smoother. I would definitely purchase this umbrella again, not only for myself but for my family and friends.
Mind blowing amazing customer service
Being wheelchair bound and living in central FL rain is going to happen and lately it has been like a monsoon. Since I am in a wheelchair I travel light but try and be prepared for what life throws at me. This umbrella was the right size to carry and with one hand operation fit the bill for my needs, opening and closing it while in the house worked perfect, but than just the other day I had to use it in a real sudden down pour situation, I press the open button and nothing, I had to push down hard on the top and bottom of umbrella to recock it like a pump shotgun and then I was able to open it. Again I made sure unit was fully closed and locked, second time caught in heavy down pour and again I got soaked because the one touch release would not engage, I had to again recock the unit to get it to open. When it is open unit works great at keeping me and my chair dry, just not reliable and consistent in one touch opening. 13SEP15 Update: The problem with the unit was addressed without being asked. The company contacted me immediately after my last post and had a replacement at my door in two days!!! The new one works without any problems, this company has earned all my future umbrella purchases, OUTSTANDING customer service!
Questions?
Why are you running this promotion?
How can I use my coupon on Amazon?
Does this include free shipping?
What Are You Waiting For?