SAVE 25% - An Exclusive Offer For You
Hemp Chewz Hip & Joint Supplement for Dogs - 100% Organic Hemp Oil Infused Dog Treats for Joint Pain Relief & Mobility Support + Glucosamine, Chondroitin, Organic Turmeric, and MSM - 120 Soft Chews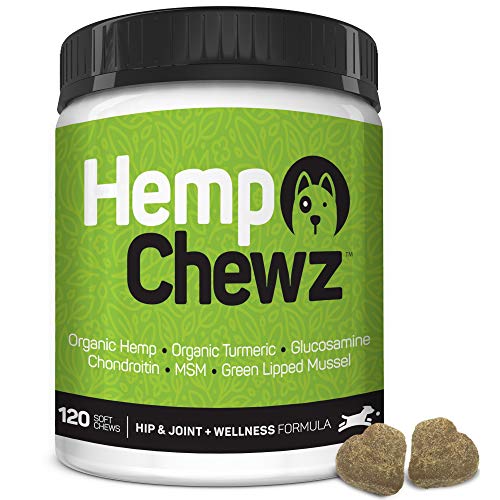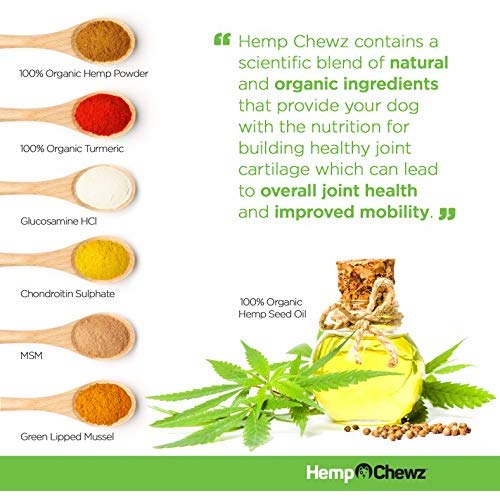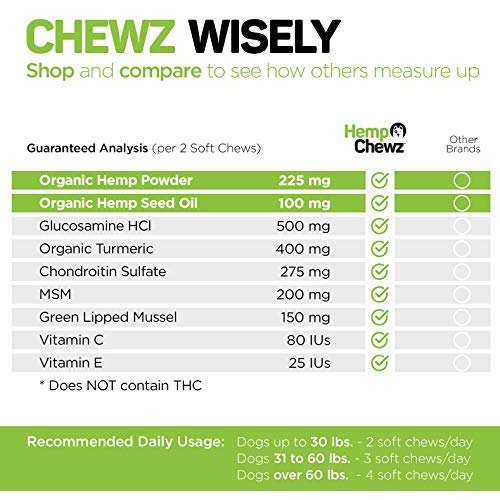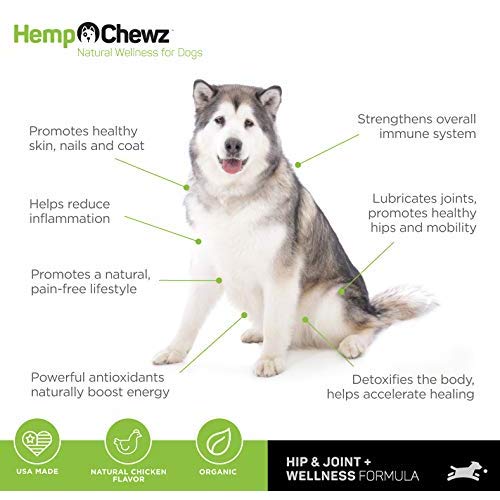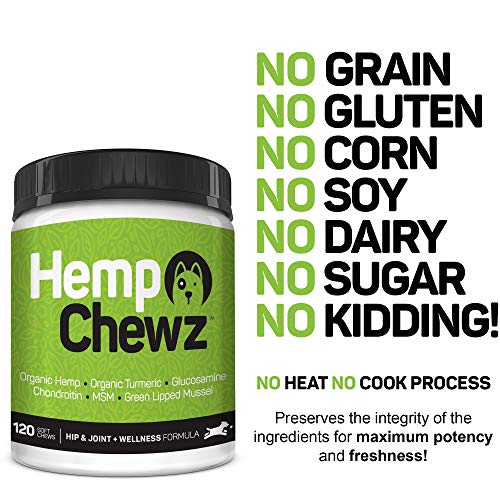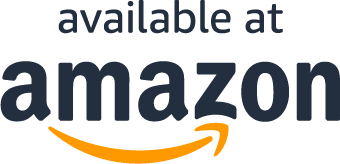 About the product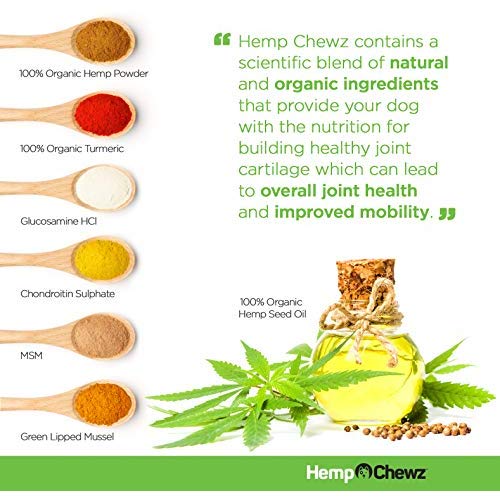 Infused with 100% organic hemp oil and an advanced formula of all natural ingredients including organic turmeric, glucosamine, msm, and green lipped mussel
Developed to specifically target hips and joints and to help ease joint discomfort and inflammation
Our no heat and no cook process preserves the integrity of the organic and natural ingredients for the maximum freshness and potency
Gluten free with no grain, no sugar, no soy, no dairy, no corn
Hemp Chewz are made in the USA using strict quality and safety standards in an FDA regulated facility and our manufacturing processes are GMP (Good Manufacturing Practices) certified.
What Our Customers Are Saying
Helps my ancient dog with pain
I have a 15 year old(!) lab/pit mix. He has arthritis and muscle loss. I was already giving him joint supplements but was looking for options for pain management. We just finished our first bottle of hemp chewz and I can see that he is moving around better, especially in the morning. I've just reordered a second bottle and will continue to use these as part of his supplement package. (It's like a doggie pharmacy up in here. :/ )The only down side? They stink.
this product does the job and is worth the dollars to see my girls comfortable and as well as possible
I have 5 dogs, total, 2 doxies, 1 poodle, 1 chiauhua, one lab mix. 3 are rescues, one of which was abused to the point of broken and mended bones. The oldest doxie is 15, the abused poodle is about 5 now, and is crippled. These two, one due to age, the other abuse, have aches and pains, likely athritis I can definitely see an improvement in their movement, actions, and behavior. They move more freely, and spritely. Truly, for us, this product does the job and is worth the dollars to see my girls comfortable and as well as possible.
Amazing Results.
I am seeing amazing results with this product. My 12 yr old Golden Retriever has moderate arthritis in his hips & was showing stiffness & obvious pain in that area. It's hard to believe but almost immediately after the first dose he is moving better, running after his ball and is feeling happier. I am very pleased with the Hemp Chewz.
Helped lab w arthritis
I have a 14 yr old lab. He weighs 100 lbs. The arthritis in his hind legs has gotten very bad & the vet prescribed a opioid for him. He did not do well on this prescription & he was going downhill fast.He is doing so much better on these Hemp Chewz. He is walking better & has an easier time getting up.
I highly recommend Hemp Chews! It gave my pup her active pain free life back!
My almost 3 year old Rottweiler/Doberman mix grew so fast she started having hip pain that caused her to limp. She began to be very sedentary and didn't want to play with our other dog. After starting her on the Hemp Chews, I've noticed a complete change in her. She's running, jumping and playing again. I've even taken her off the pain meds. I'm so thankful I found the Hemp Chews and can't say enough good things about it. I highly recommend Hemp Chews!
What an amazing product! We've been using this for our 9 ...
What an amazing product! We've been using this for our 9 year old husky, who was beginning to slow down due to joint pain. Our Shadow has been taking Hemp Chewz for two months and we can totally tell a difference in her movement and playfulness. We will definitely continue being loyal customers. Thank you Hemp Chews for giving us an amazing product that is helping our baby feel better!! 💕
Questions?
Why are you running this promotion?
How can I use my coupon on Amazon?
Does this include free shipping?
What Are You Waiting For?