An Exclusive Offer From VALI Just For You
Hair Health Growth Vitamins with Biotin & Keratin. Extra Strength Supplement for Longer Stronger Hair, Skin, & Nails. For Women & Men - For Damaged, Thinning & Hair Loss Regrowth - 60 Veggie Capsules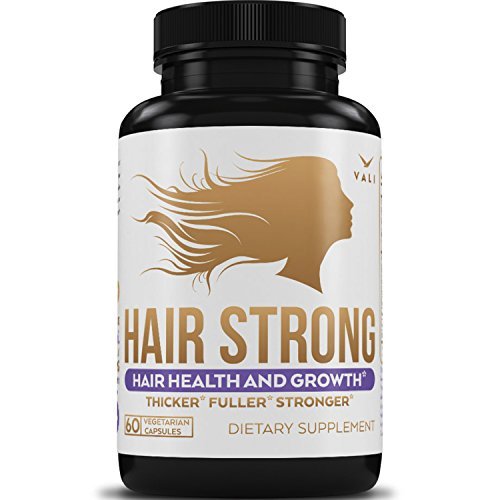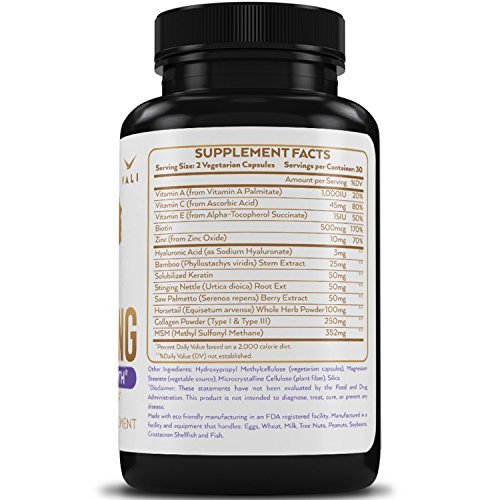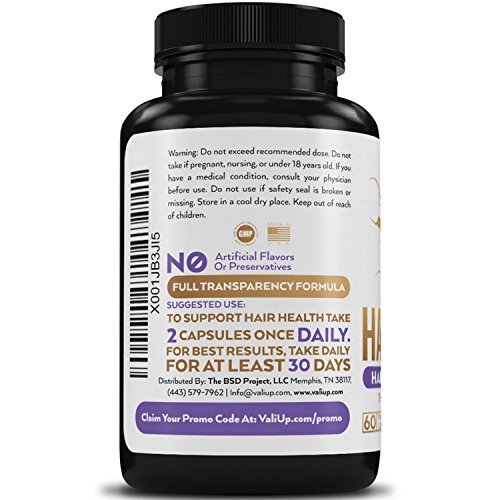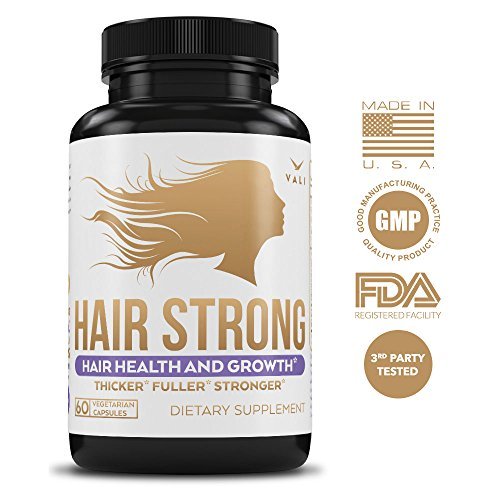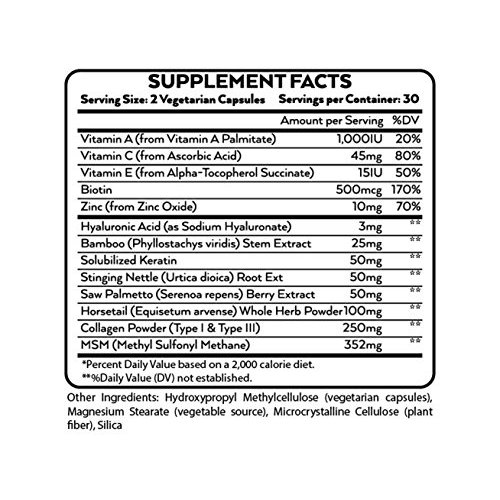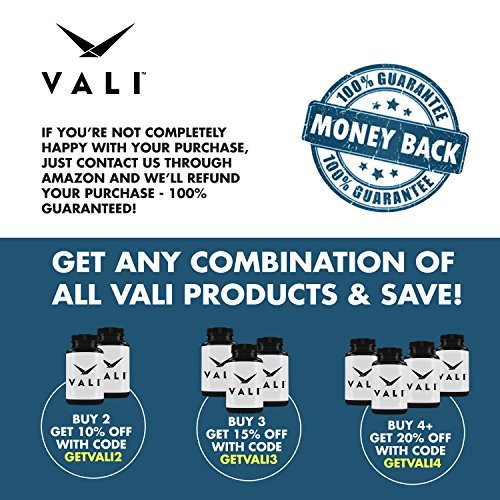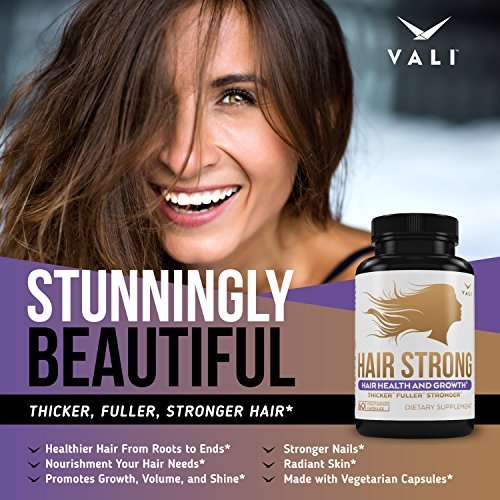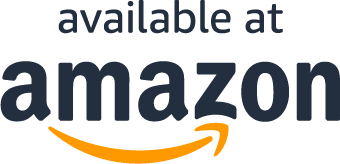 About the product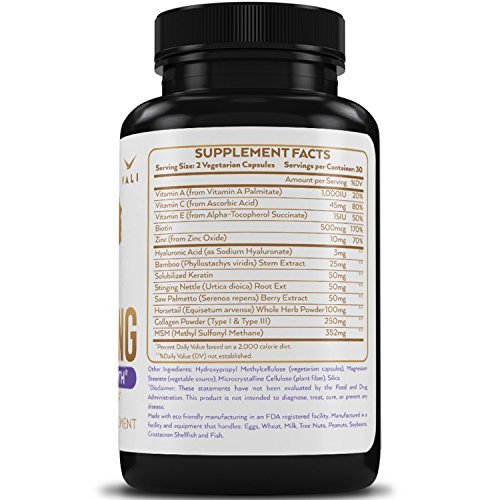 HEALTH, HAPPINESS, & PERFORMANCE - We started VALI because we want to know exactly what's inside our supplements and we want supplements that give real results without the marketing fluff other companies use to charge exorbitant prices. Nothing proprietary, clean highest quality ingredients at a great value, transparent formula, 3rd party testing for purity, and a commitment to above and beyond customer service. This is our promise to you! ALL our products come with a 100% money back guarantee.


GROW HEALTHY GREAT LOOKING HAIR - Hair Strong supplements your body with essential vitamins, minerals, proteins, herbs, nutrients, amino acid protein, and nourishment it desperately needs to grow thicker and maintain vibrant healthy hair. Our diets so often lack the critical nutrition our hair craves. With Hair Strong you'll grow long natural, fuller, healthier, great looking new stunning hair from the roots and follicle to the end growing faster than ever before!


RADIANT SKIN & STRONG NAILS TOO - The nutrients and building blocks that improve your hair also naturally do wonders for your skin and nails. As you take Hair Strong, you'll notice stronger and faster growing beautiful shiny nails less prone to breaking and cracking. You'll also notice your glowing skin complexion, elasticity, and vibrance improve, because it will be well nourished and moisturized. Friends will ask you which skin beauty products and treatments you're using!


TRANSPARENT & PROVEN FORMULA THAT WORKS - Using the highest quality ingredients to give you naturally healthy hair, great skin, and thicker nails, there's nothing proprietary or secret in the formula. Hair Strong contains Vitamins A, C, & E. Biotin, Zinc, Hyaluronic Acid, Bamboo Stem Extract Silica, Solubilized Keratin, Nettle Root, Saw Palmetto Berry, Horsetail Whole Herb, Type 1 and Type 3 Collagen, and MSM.


SCIENTIFICALLY FORMULATED FOR HAIR HEALTH - Hair Strong is a uniquely formulated synergistic blend of premium ingredients that work together to increase and promote hair growth, volume, and natural shine. Made with vegetarian capsules, gluten free ingredients, zero artificial flavors, additives, or preservatives. PROUDLY made in the USA in an eco friendly FDA registered facility under GMP guidelines.
What Our Customers Are Saying
I love my family
Everyone in my family (even the women) get little bald patches on either side of their foreheads at a certain age. I love my family, but I don't think I need to look like them. I was really unhappy when my hair started thinning all over, and especially right in front. I've always had long, thick hair...well, until this year. So I did three things. I bought a hair loss shampoo (I think it was Majestic Pure.) I started rubbing castor oil on the patches and doing hot oil treatments with coconut/castor/argan oil. And I started these vitamins. I assume it's a combination of these three things, but the patch of skin I could see on my head is completely gone, covered by a bunch of little hairs. Yesterday, my kids asked why my hair was "poofy." I think it's because the top is so much thicker than the bottom (the old hair), and the hairs growing in stand up a little in places and make it a little poofy. My hair is soft and feels healthy on top. Thank you for these vitamins. I just put in my second order.
💖 Hair Strong💖
Just purchased my 4th bottle. I'll have to say with the first two bottles I had needed a cut before taking these actually because I had spit ends so with the 3rd bottle started seeing a difference with growth and fullness. So before starting a hair vitamin get a trim in order to start seeing results. I have hypothyroidism, have tried different ones and I really like this product, too I started using good quality hair products with the vitamins and I see LOVELY results so thank you Amazon and Vali.
i cant believe it!
It hasn't even been a month and OMG I cant believe the change. My hair was visibly thin and now it feels thicker and gaps are being filled . I see all of the little baby hairs coming in, quick! I wish I took before pictures. Ill definitely be ordering another bottle before I run out to continue the regimen with no gaps!
LOVE THESE VITAMINS !
I have been taking this product for almost a month, I was asked several times to write a review, But I wanted to wait at least until I finished the bottle to give my feedback. I was diagnosed with PCOS at 15 years old and at 32 have now started to lose my hair. I came across these vitamins and thought I would give it a chance, I can honestly say that I see results. Ive noticed that not only is less hair falling out but that my hair is starting to look fuller . I will be ordering my 2nd bottle !
... of the hair vitamins (probably about 5-8 different brands like Hairfluence, ItWorks
For about a year I've been trying all of the hair vitamins (probably about 5-8 different brands like Hairfluence, ItWorks!, and the Coconut Biotin etc) and this is the only product that I noticed that within a week my nails got way stronger (I have notoriously weak and short nails), it's been too soon to see a difference in hair, but none of the other brands showed any signs whatsoever it was affecting me. So I have high hopes for this brand and will buy again!
Works
I do like this supplement, I use it along with biotin and a collagen powder
Questions?
Why are you running this promotion?
How can I use my coupon on Amazon?
Does this include free shipping?
What Are You Waiting For?