GOgroove Phono Preamp
GOgroove Mini Phono Turntable Preamp Preamplifier with 12 Volt AC Adapter, RCA Input for Vinyl Record Player
$26.59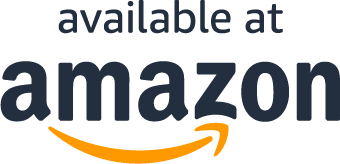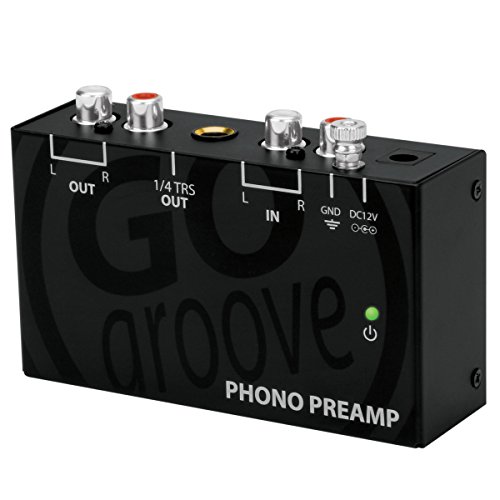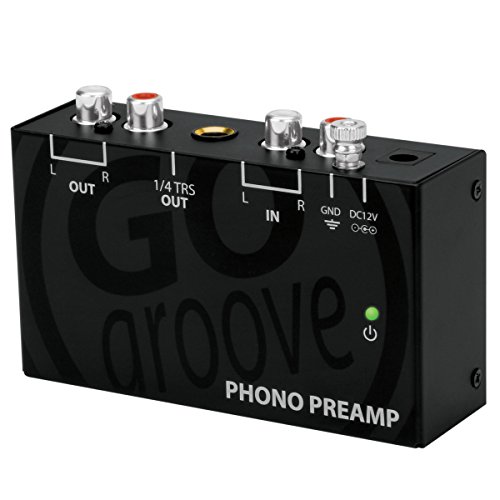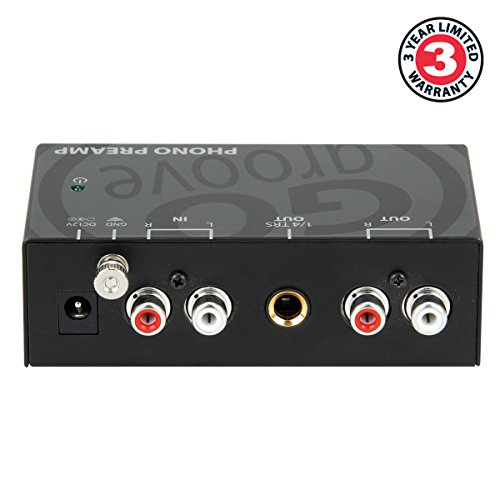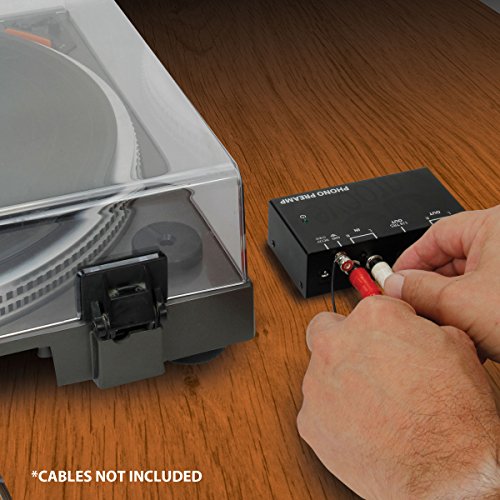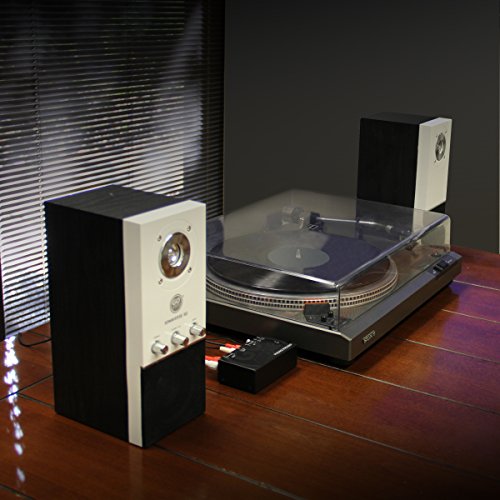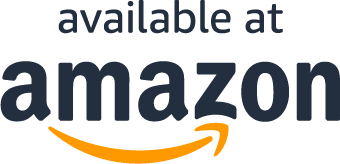 Read More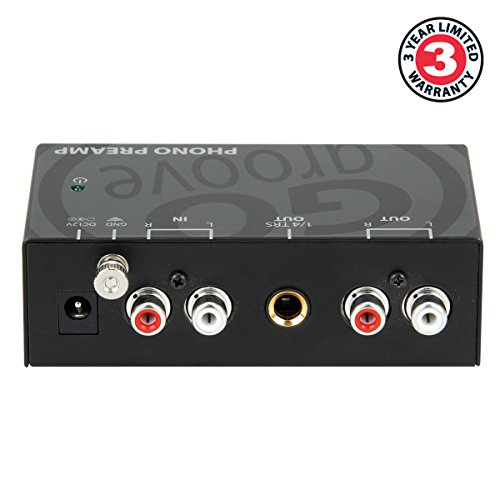 About the product
COMPATIBLE WITH: Audio Technica, Crosley, Jensen, Pioneer, 1byone, and more Turntables

COMPACT DESIGN fits on your bookshelf, desk, table so you can connect your turntable to your stereo receiver, speakers, or other audio device in any spot| Powered with 12 Volt AC Adapter (included)
CONVERTS TURNTABLES PHONO SOUND QUALITY to line level for better sounding audio and volume | 1/4 HEADPHONE PORT lets you plug in and listen directly to music (no volume control)
NECESSARY FOR CONNECTING TURNTABLE to newer speakers and receivers that do not have a phono input
EASY TO SET UP OUT OF THE BOX for a simple hook up the preamp to both turntable and audio device so you can enjoy vinyl in no time | ULTRA-LOW NOISE OPERATION for better sound and less distortion
RIAA EQUALIZATION boosts the volume signal for balanced, clear audio | BACKED BY 3 YEAR MANUFACTURER'S WARRANTY
What Are You Waiting For?
What Are You Waiting For?
What Our Customers Are Saying
Works perfectly
Ordered this little guy upon discovering that the record player I got from a buddy of mine is super quiet and after some Google-fu realized I needed a preamp. Of course, I'm not the kind of guy to buy the cheapest option on Amazon, so I bought the second cheapest.This thing is really, really tiny which is great because it doesn't take up much space on my already cluttered entertainment center.Plugged in the RCA cables, secured the ground wire under the lil screw thingy, then grabbed a RCA to aux cable and hooked into the soundbar/sub and turned it on. Worked instantly. Currently listening to Pure Heroine by Lorde because I'm a manly man and the sound is nice and warm but crisp. No fuzz or noise or extra nonsense, very clean wonderful sound. And now I can be pretentious and talk about how I only listen to my three records on vinyl because something something analog warmth something.Really though, this works literally exactly as described so I'd definitely recommend. We'll see how it holds up but for now it's facilitating jams very well. Five and a half stars.
Great price. Works perfectly replacing my older
Great price. Works perfectly replacing my older, more expensive pre-amp. I have a Philips turntable I purchased new in 1978 and it sounds and works incredibly to this day. Unfortunately, most newer digital receivers don't have a "phono" input, thus the need for a pre-amp. Just make sure you connect the turntable ground wire to the dedicated ground connector on this pre-amp (as opposed to the loose BS screw I had on my previous one). I raised the volume on my receiver to maximum (without a record playing, of course) and do not hear a bit of hum. I also like the fact that's it's 12v and not 110v. It's definitely worth the price and the shipping was fast. I highly recommend this item.
Easy Solution to Use Your Vintage Turntable!!!
I'm glad I saved my vinyl (albums)!!! I also saved a vintage 34 year old Pioneer turntable that wasn't used for about 20 years. When I connected it to my mini shelf system I could tell it was working but the volume was so low. You could hardly hear it. After some research I found out that I needed a preamp to make the sound louder. I found this preamp on Amazon. The reviews and the price was right. It was very easy to hook up and now I can hear how great these albums sound. My only gripe is I would've liked if it had an on off switch. When I'm done listening to the music I pull the plug on it because I don't know if it should be left on all the time. Otherwise I'm very pleased with it.
Allowed my Unamplified turntable to connect directly to my soundbar to listen to my LP's.
Exactly what I was looking for! Very simple to connect to my unamplified Technics Quartz SLQ2 direct drive turntable, then to my Nakamichi Soundbar using AUX port. I needed to buy a two wire to AUX cable which enabled the soundbar connection. Only thing I haven't figured out yet is why I have to turn the volume up much higher than my normal TV volume. Perhaps I have to live with that issue. Don't get me wrong, I can still turn the volume high enough to be very loud without distortion! Especially liked it's own ON/OFFbutton.UPDATE: Found the answer! The Input Gain control was at minimum. Turned it up to point the light flashed mostly Green with only occasional Red flash and volume is ideal! Highly recommend this if you are attempting similar connection.
Does what it says it will do
Does exactly what it is supposed to do - hooked it up to my turntable in 30 seconds, and everything works fine. I suppose there might be reasons to buy a more expensive preamp, but this one seems to do the job perfectly well.
What Are You Waiting For?
Questions?
Why are you running this promotion?
How can I use my coupon on Amazon?
Does this include free shipping?
What Are You Waiting For?