An Exclusive Offer For You
GOgroove Laptop Computer Speakers USB Powered with Wired AUX Cord for Laptop Desktop - SonaVERSE GS3 USB Speakers with in-Line Volume Dial, and Color Speaker Cover Options (1-Pack)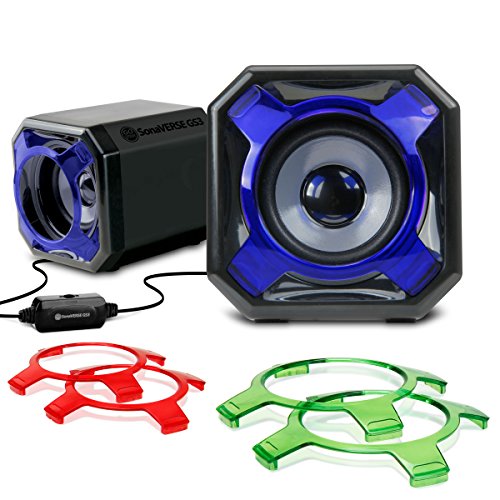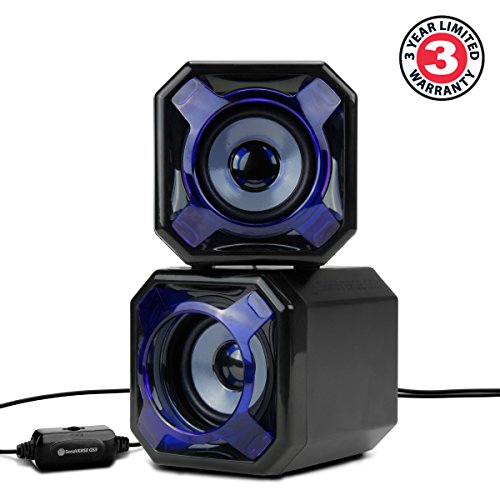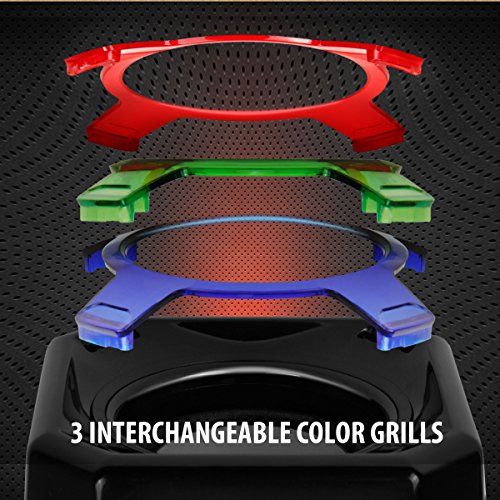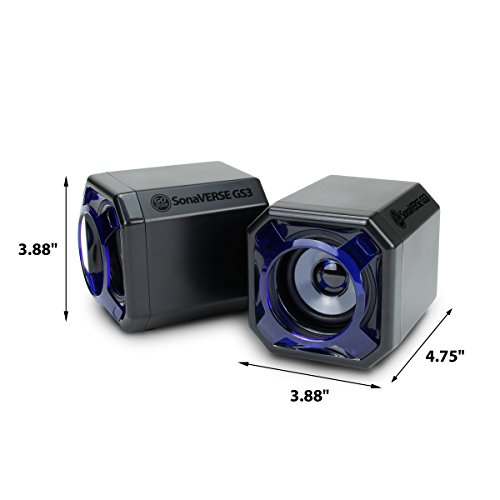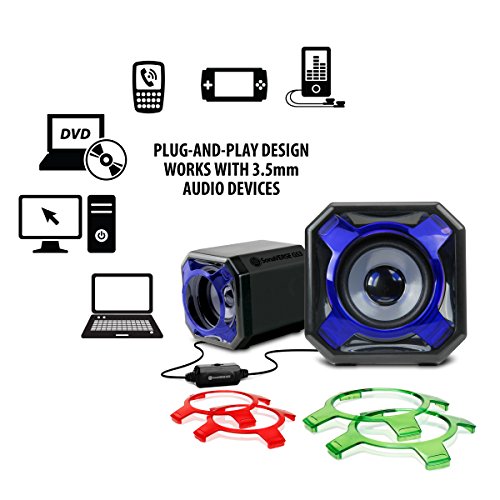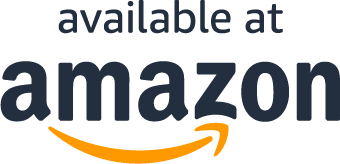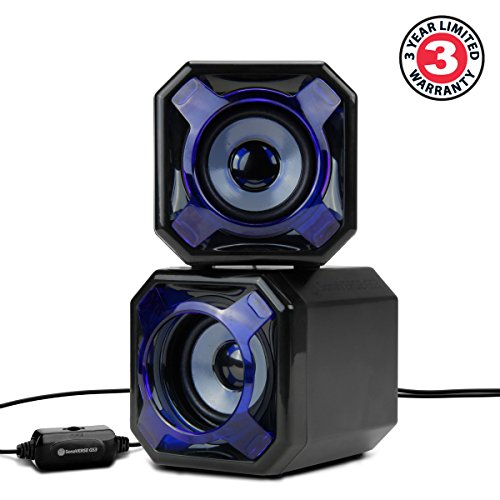 About the product
AUX CORD SPEAKERS – Simply connect the built-in 3.5mm headphone jack and USB power cable to your PC for an easy plug and play speaker setup; there's no need to look for an available AC power outlet

UPGRADE TO EXTERNAL COMPUTER SPEAKERS – 60mm bass radiators produce full-range audio with 10W RMS speaker output for an unexpected oomph and a powerful upgrade over your laptop's built-in speakers
SPEAKERS FOR LAPTOPS – Perfect for on-the-go PC gamers or laptop desks with limited work space, plus the GS3 feature a volume controller built into the cabling for easy hands-reach access
INCLUDES 3 COLOR GRILL OPTIONS – You get a pair of each blue, red, & green changeable plate options to customize the look of your speakers & match your PC rig | NOTE: These do NOT light up nor glow
TECH SPECS – 3 Year Manufacturer Warranty | Output Power: 10W RMS (5W x 2); 20W Peak | Driver: 60mm & 60mm Bass Radiator | Power: 5V USB | Audio Input: 3.5mm AUX | Dimensions: 4.75" x 3.88" x 3.88"
What Our Customers Are Saying
Wonderful speakers for the price.
I was looking for something small, with a long cord. This did the trick. They're small enough to fit in most compact spaces, but not so small that you'd feel like they'd easily break or get lost. The cord is long, reaches to my computer just fine.The sound is surprisingly great, and I really wasn't expecting anything outstanding.I only have two problems with these speakers. For one, if you turn them up over a certain volume, there is a slight static in the sound? Buzzing. It's to be expected, I guess, but it can be a bit annoying if you're looking for a song or something to watch. The other thing is that I really wish the volume adjuster wasn't on the cord, but on one of the speakers themselves. It is a bit lame to have to reach behind the monitor or keyboard or in my case, the computer just to have to feel around for the adjuster and change the volume.These problems are very insignificant though when compared to the great sound these things have. I highly recommend them to anyone.
Great Little Speakers for the Price!
Wasn't expecting much from USB speakers at this price but I was pleasantly surprised. The about tripled the volume of my Toshiba laptop. One tip though, when I had them plugged (the USB power) directly to the computer they were about 30% weaker and less clarity of sound. I happened to plug them into an AC wall outlet double USB charger and WOW, they got louder and better sounding. I guess all of my other USB peripherals were taking too much power from the laptop. If you are not satisfied with either volume or clarity try plugging them into a USB wall charger.
best low-cost speakers
nice! I needed some portable USB powered speakers to take to school to show my friends my mixes with something a little better sounding than the crappy builtin laptop speakers in my HP pro-book650 personal computer. These allowed me to share my music in the classroom with my audio buddies. Thanks a lot!The bass is there definitely and is a perfect tool for these kind of demonstrations and the speakers even have a bass resonator on the back, obviously not intended as audiophile speakers but I have a setup at home for that. and these offer everything I needed at a cheap price convenience, usb powered. bass and better freq responce than laptop speaker.Dont require wall plugin to work.No bateries required!Just plug them into your computer's free USB socket and the headphone jack and viola!The grills are pretty dope as well.I like the black and the red ones my favorite.Im so happy with this productIt was worth for what it is, every penny! Honestly I wasn't expecting much for $17 but it turned out to be perfect! Soooo better than listening to crappy laptop speakers Buy this if you need something with more oomph than wimply little computer speakers or the phone builtin speakers and you won't be disapointed The speakers I see could probably be modded for those in the modding comunity might be able to hack these like they did with the monoprice headphones Thanks GO groove! These speakers are amazing
0 PC SPEAKERS THAT PLUG RIGHT INTO MY PC WAS A EXCELLENT PICK THANKS TO OTHER AMAZON CUSTOMERS WHO BROUGHT IT
GOGROOVE USB 2.0 PC SPEAKERS THAT PLUG RIGHT INTO MY PC WAS A EXCELLENT PICK THANKS TO OTHER AMAZON CUSTOMERS WHO BROUGHT IT. I SAW THE 5 STAR RATING AND MADE MY PICK. AWESOME SOUND WITH SUBWOOFERS. IM VERY HAPPY WITH THE SPEAKERS. 5 STAR RATING FOR THIS SELLER. THANK YOU!!!! PRIME MEMBER
Questions?
Why are you running this promotion?
How can I use my coupon on Amazon?
Does this include free shipping?
What Are You Waiting For?