An Exclusive Offer For You
GOgroove Full-Size DSLR Photography Backpack Case (Tropical) for Camera and Laptop with 15.6 inch Laptop Space, Accessory Storage, Tripod Holder, Long-Lasting Durability and Weatherproof Rain Cover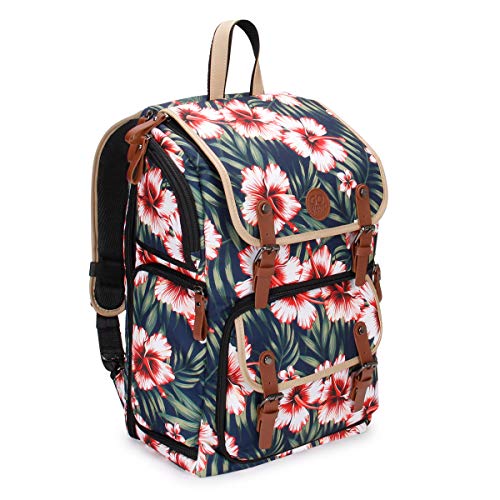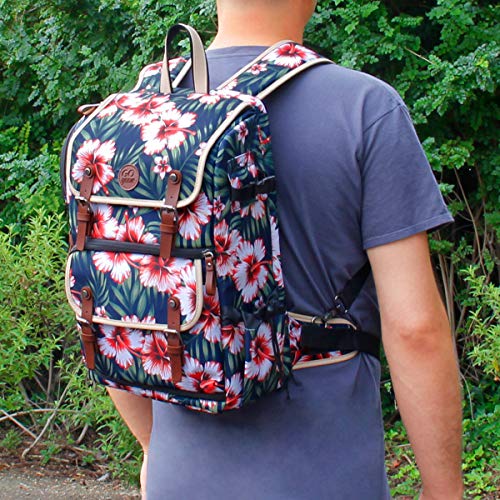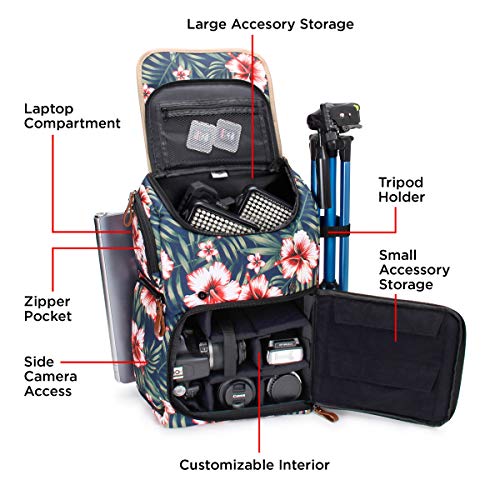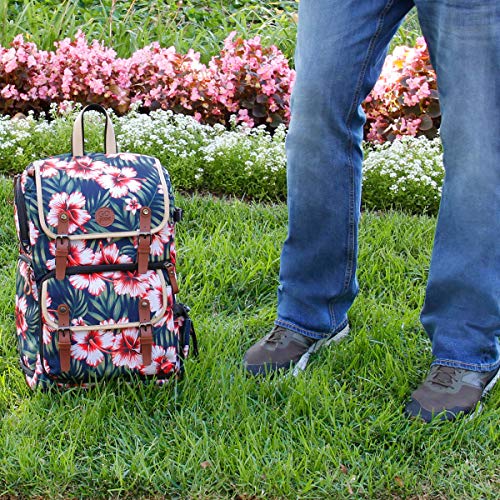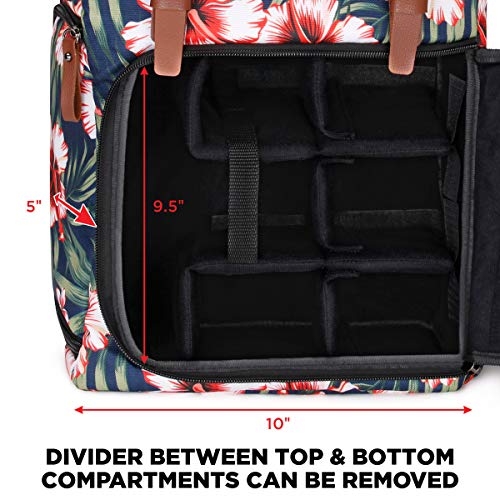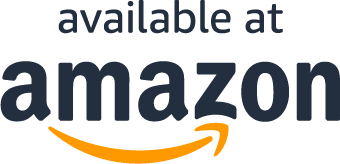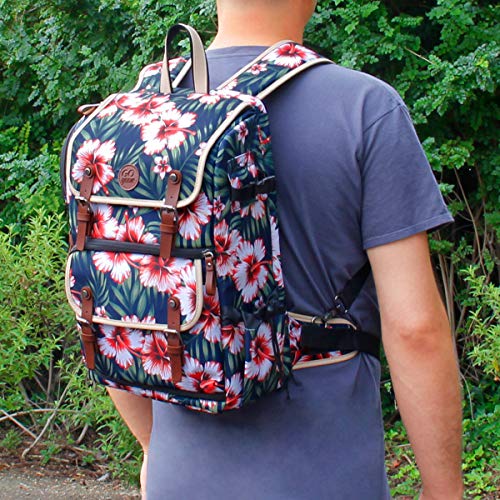 About the product
PORTABLE AND STYLISH BACKPACK with side access opening , rain cover , luggage handle slot plus room for all your photography accessories

HIGH-QUALITY DESIGN Includes a padded compartment (16.5"L x 10.5"W) for laptops/notebooks (can fit up to 15.6"), tablets, books and more. Top compartment holds phone, charger & many other accessories
CUSTOMIZABLE DESIGN Loaded with many user friendly features including accessory pockets , rain cover , tripod foot holder , luggage handle slot and more
VERY COMFORTABLE PACK with padded adjustable straps and back. Wear as a backpack with two straps or tuck one strap away and wear as a sling; utilize the waist strap for added weight management
BUY WITH CONFIDENCE Covered by 3 year manufacturer's warranty ; External Dimensions - 17" x 12" x 7" / Waist straps adjust up to 14 inches ; Shoulder straps adjust up to 45 inches
What Our Customers Are Saying
Looks,Feels,works amazing !!!!!!
I am in shock right now. This is exactly what I was looking for. You won't get anything better better for the price. I got the Grey and the color is exactly as pictured. I would describe it as "slate" and I love it. It feels so good on. I have a 70-200 that fits in the top compartment. Mark IV, canon 35, Sigma 35,Sigma 85 and MarkIII. Room for a laptop too and paperwork. It's light weight and I can attach a a tripod in the side. I posted a picture with it on and I'm 5'11.
Quality & so much more.
This backpack is great - I've used it at weddings, whilst hiking, camping and traveling and I could not be happier with this purchase. And for the price... SO WORTH IT! I was hesitant about backpacks for camera equipment. Mainly because of how paranoid I am about someone stealing my gear without me noticing in crowded places or while I'm traveling in new cities. But since this backpack has elongated zippers, and on the front, zippers that are accompanied by leather + magnetic clasps... It would be difficult for a thief to pull a fast one on me. Or I could just put the water proof case on for extra discretion.Weddings: I'm a wedding photographer, so this backpack needed to be so many things in one. It needed to be durable, professional looking, have tons of compartments for maximum organization, and comfortable. And it is all those things. Without the backpack being too heavy or overcrowded, I can fit my DSLR Canon 5DMiii, my telephoto lens ON the camera, a 50mm lens, a 24-105mm lens and a 85mm lens. I also have my flash in the outer compartment/pocket of that section. I can fit my travel-sized tripod comfortable in the side pocket like the description shows. In pockets all over the backpack: my wallet, filters, extra batteries, battery charger, too many memory cards, external hard-drive case, shutter remotes, intervalometer remotes, my business cards and my GoPro plus it's accessories.Hiking/Camping: I can't stress the comfort of this backpack. Granted, comfort is different for everyone, but the back side of this bag is padded wonderfully so when I bend over or crouch down, I don't feel gear stabbing me (even if my laptop isn't present). The straps themselves are padded too which takes a load off (no pun intended) of my shoulders after a long adventure. Having the water resistant cover helps a lot too, not only with rain, but if I need to set my backpack down in the dirt or mud and don't want it to get dirty, that shell acts as a case.Traveling: The many compartments of this backpack allows me to be so organized when traveling, it makes life so much easier. I can't tell you how nice it is to just grab my laptop from the back compartment and put it in its own bin at airports without moving all my other gear around. Or one time, I had T.S.A. ask to remove my camera individually. So without having to open the front flap and show everyone that I had thousands of dollars worth of equipment there to steal, I just opened the side flap and pulled the camera out discretely.Last thing, I've had a person come up behind me in another country, stab the bottom of my backpack with a knife (cutting it open from end to end) THEN have their other hand ready to catch everything that fell out of it. After getting pissed, I was honestly impressed at how fast that process happened. I couldn't help but realize that they targeted me because my backpack didn't look well built. If that same thing happened to me again with this backpack, it would definitely be harder for gear to fall out because there are thick padding & layers to this bag. So, that was a big deal breaker for me & this bag (which is why I'm excited to keep it and carry on).Through all of this, it has held up quite well. Nothing is falling apart!Buy it!
Love it! Great for city exploring, hiking, and everyday use!
I purchased this backpack to pack my Canon DSLR instead of carrying it in the bag it originally came with. I used this backpack as my personal item for the plane ride to New England three weeks ago. It's amazing! I was able to pack my Canon DSLR with a prime lens, plus two zoom lenses, my external flash, battery charger and extra battery, and a small point and shoot, all in the camera compartment! I was also able to fit a couple of filters and extra memory cards in the velcro pockets on the inside of the camera compartment zipper. I love how it can open on the side and in the front. It comes with a rain protector, and I was able to use it on my vacation because of a storm. Pro: It's thin and packs nicely in the pocket it comes in. Con: It's a little too thin to do much good in a storm since my bag got wet anyway (the contents did not), but it would be fine in a light rain. I have a Camelback backpack rain cover, which works much better. The top compartment was really handy for my wallet, plane tickets, cell phone, reusable coffee cup, and 1 quart sized bag of liquids to go through TSA. But wait there's more! In the back, I was able to fit my 12 inch iPad pro in the back zippered compartment, and I also squeezed in a large planner in the back where it's velcroed.I used it a LOT during the actual vacation. The straps really helped support my back during long walks in Boston and the hours we spent at the New England Aquarium and Museum of Science. In Vermont, I took the backpack with me hiking through the fall foliage. For all of the walking, I attached my water bottle in the section for a tripod, since my tripod is too big and too heavy for the backpack (I knew that before purchasing). The "cupholder"-like pocket where I'd stick my water bottle isn't the best support for the bottle alone. How I got around that was using a water bottle that had a carabiner, that way I could use the buckle to secure it in case it fell out. That pocket can fit a tall/skinny 24 oz Contigo water bottle as well as a wider 32 oz/ 1000 mL Nalgene bottle.The color is great! I'm a blue/teal kind of girl, so I was hesitant about the "green" just in case it came out too green, but it actually is more bluish-green, and I love it!Overall, 5 stars (even with the water bottle hack and the not-so-waterproof raincover because I can fix those issues myself)! I currently switched from my giant Vera Bradley work bag to bringing this backpack to the office instead since it suits me much better. I will definitely use it for wedding shoots!
Questions?
Why are you running this promotion?
How can I use my coupon on Amazon?
Does this include free shipping?
What Are You Waiting For?