An Exclusive Offer For You
Oprah Suggested Her Favorite Things - Fleischer & Wolf Seville Series Cookware Set (10-Piece) - Tri-ply Hammered Stainless Steel Copper-Oven and Grill safe Kitchen Pots and Pans Set
$359.99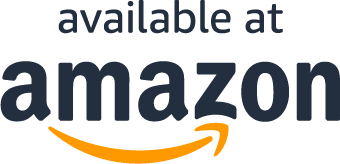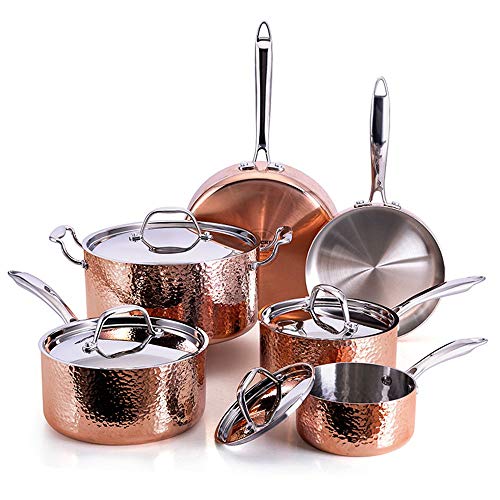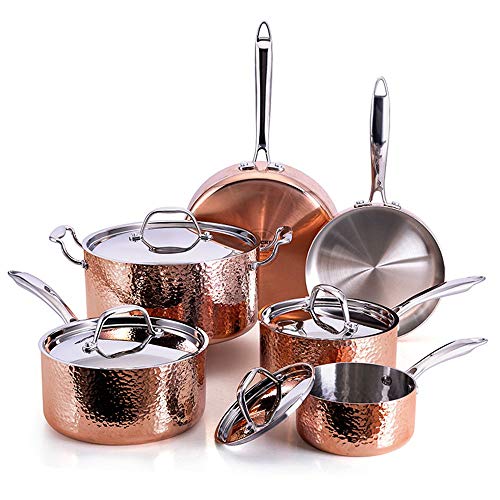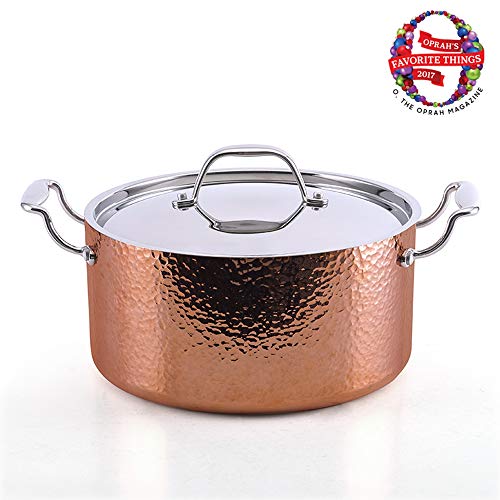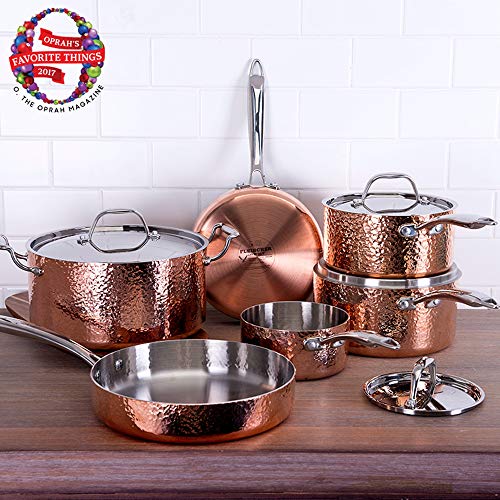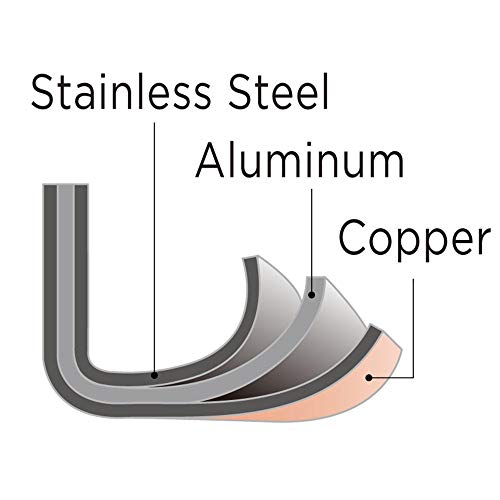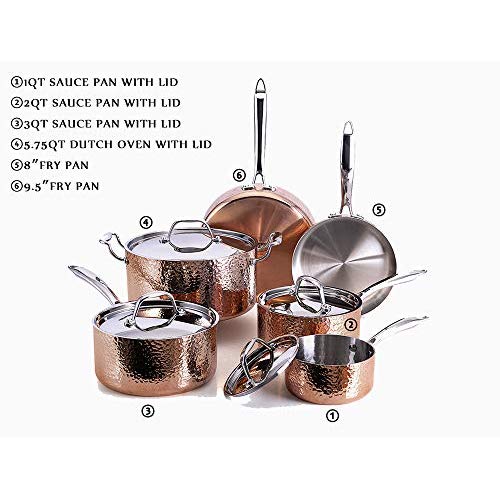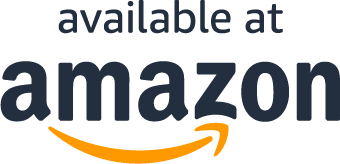 Read More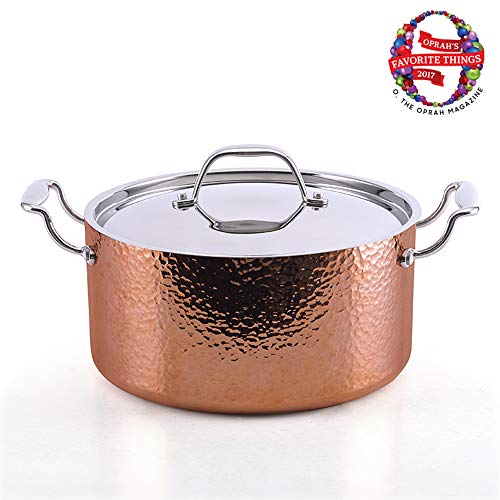 About the product
Make sure this fits by entering your model number.
Material Thickness: 2.3mm (Exterior copper 0.5mm, Core Aluminum 1.3mm, Interior Stainless Steel 0.5mm) [NOTES]:Copper, being the most sensitive and exacting material used for cooking will discolor naturally from heat, water and air exposure. And too high heating will also cause discoloring.The good news is that it is easily restored by using one of many copper cleaners available on the market.Be careful "NO Dishwasher"
Cooking Essentials:Premium Stainless Steel interior with a thick heat-radiating aluminum core for efficient heat distribution,shiny hammered effect copper exterior for better heat control and heat retention.
Handle: Stainless steel handles are built for strength and stability over a lifetime of use
Included: 8″ /9.5″ fry pan, 1QT/2QT/3QT sauce pan with cover, 5.75QT dutch oven with cover
Packing: 10pcs as a set/Color Box, 1 set/carton
What Are You Waiting For?
What Our Customers Are Saying
Hands down BEST Pots and Pans
Boy, do I have a story for you!! My husband bought these pans for me for Christmas a few months ago and I never knew how much I loved them until this past week. I already liked them because they do not contain the cancerous nonstick coating, but I really fell in love with them this past Thursday.My husband was out of town, so I had all of the duties to myself with juggling kids to school, packing lunches, making breakfast and prepping my car for the school field trip. My kids helped me, but I was still in a hurry since there was lots to do! Somehow, I managed to get out the door and into the car leaving for the day~ not to return until almost 5pm. When I got home, I noticed that my stove top was hot!! I looked and saw that I left the simmer on the entire day with the pan on it. The pan (larger skillet) was absolutely torched. I contemplated just tossing it in the trash. However, I didn't want to be wasteful. So I pulled out my Bartenders Keeper magic cleaner and caked it on for a couple days. I truly wish I had a before picture. It looks like a brand new pan. Seriously, no other pan would have done this. Yes, I am grateful that our home didn't burn down, but I am also in complete shock with the sustainability of this product! Five Stars for sure and I wish I could do multiple plus signs next to it as well!! Well done to the manufacturer!PS~ I grew up using copper pots and pans. Please make sure that you have the appropriate cleaner to hand wash them. I love two products called Bartenders Keeper for inside of the pan/pot and Twinkle Brass & Copper Cleaning kit~ for the copper side. Bartenders Keeper can be bought at Bed, Bath and Beyond, Smart & Final, Target, Amazon or Dollar Store. Twinkle I buy on Amazon. These two products will make your pans look new and will cause you less work and time.
Know about copper and normal chemical reactions. You cook differently with these vs nonstick.
These pots and pans are beautiful and holds the heat. Food always has the potential to stick and burn but oil and deglazing is helpfuI along with adjusting heat throughout cooking. I was scared to buy after some reviews but I'm glad I did. I did notice some discoloration and silver showing like some of the pictures in the reviews. However, the copper cleaner that was included took care of that and turned it back to its original state. The bottoms discolored somewhat but thats normal with copper and again the copper cleaner fixed that. Cleanup was a breeze with mild soap and water. I use very little oil in cooking and deglaze with water often throughout cooking. I like that I use less heat in comparison to my vintage stainless steel set. I found cooking on medium low to medium was more than sufficient. If you don't like washing by hand and polishing your cookware this may not be the set for you but I think the quality and beauty is worth it. Just do your research on copper and how to utilize it to its fullest potential.I wanted to add an update. The copper did react when heated. I used it 3 times before I decided to use the copper cleaner. Not bad and I don't mind the few water marks. I'm lazy that way. I had to use the copper cleaner 3 times remove every single mark but the silver went away with the first polish. I guess it depends how picky you are with pots and pans looking brand new and perfect 24/7. Also I have been cooking on medium high with no issue.
I love — LOVE — these pots
I love these pots. I realize that I said that not once, but twice in my headline, but it bears mentioning again. First off, they cook beautifully. They definitely get hotter, faster than stainless or other types of pans, but that just means you need to start with a lower flame than you might otherwise. For me, clean up for these is a breeze. To those that complain about how the copper gleam goes away and moan about how hard they are to clean, I'd suggest reading the instructions. The sets comes with a jar of copper cream that you just wipe onto the outsides of the pans and VOILÁ! Shiny, like they were just taken out of the box. The copper cream is an extra step, yes, but watching what it can do and how it restores the shine is pretty nifty. Finally, these are a great value; most copper cookware is insanely expensive. In short, I love them.
What Are You Waiting For?
Questions?
Why are you running this promotion?
How can I use my coupon on Amazon?
Does this include free shipping?
What Are You Waiting For?