"These insoles have helped my very painful plantar fasciitis" - Richard (Fitbury Customer)

Get Your Unique Code Now by clicking on "Claim Coupon"
Fitbury [2 Pairs] Plantar Fasciitis Insoles Full Length With Arch Supports & FREE eBook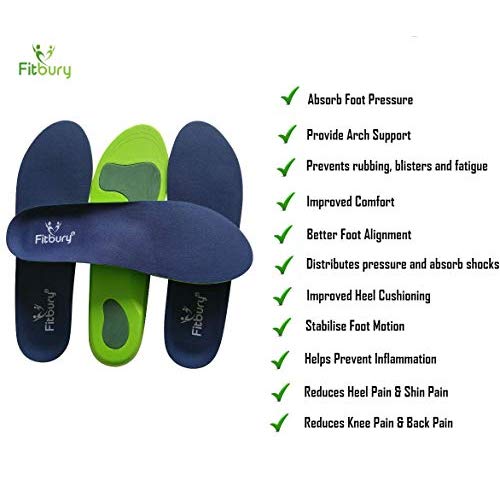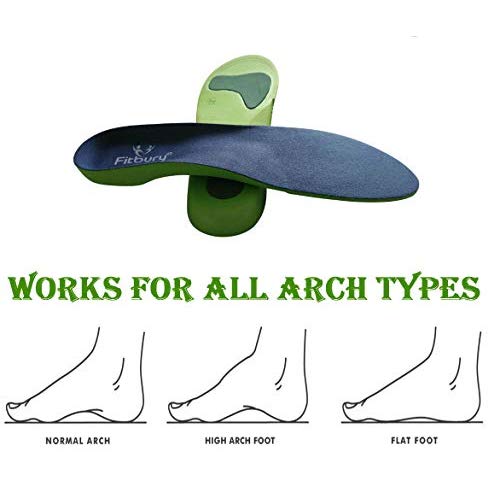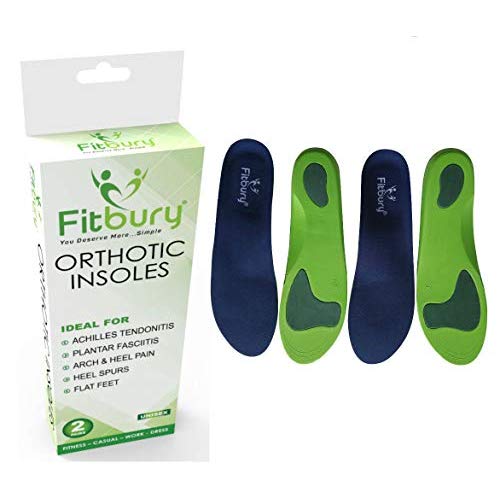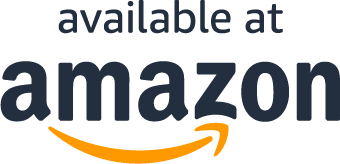 About the product
Full length orthotic insoles in 2 pairs (4 in Pack). Easy to trim with scissors to exactly fit your shoe size. These orthotic insoles full length with arch supports are lightweight, smooth, solid and fit easily into shoes once trimmed to fit. Full instructions on how to use the cushioned insoles are on the product packaging.
FREE Heel Pain Relief eBook: Your eBook will be automatically sent to your email, ready to download & read once your order is confirmed on Amazon. This detailed heel pain relief eBook will show you step by step how to treat your pain for good. Using this eBook alongside these foot supports for fallen arches should greatly relieve your heel pain.
These orthotic insoles arch support & arched insoles for flat feet will provide additional support at the heel to help relief pain caused by an over pronating foot, overpronation, pronation, flat feet, shin splints, fallen arches, plantar fasciitis, achilles tendonitis, metatarsalgia (ball of foot pain), heel spurs, morton's neuroma.
The Fitbury orthotic insoles for plantar fasciitis with dropped arch support are designed for maximum performance and are great plantar-fasciitis insoles for women & men. Proven to effectively absorb micro shocks, reduce excessive pressure of walking, daily activities and sporting activities with these running arch support insoles.
If you are looking for a cushion orthotics insole arch support that will provide long-lasting comfort and targeted cushioning with a soft, supportive feel to the heel and better than plantar fasciitis night splints, then the Fitbury shoe insoles with supportive foot arch support are the number one choice.
What Our Customers Are Saying
These insoles have helped my pf.
These are the only insoles that have helped with my very painful plantar fasciitis. I bought several different pairs in an effort to do something about the pain that was severely affecting my wellbeing. My podiatrist confirmed that these would be the most helpful for me; however, don't run away with the idea that they will solve the problem completely: in the last two months I have thrown hundreds of pounds at this issue. The insoles have been only a component of this approach, but after two months there is considerable improvement. The other parts of the strategy have been extra cushions, expensive cushioned trainers, walking assessment, podiatry, physiotherapy, a consultant, ultrasound and laser therapy. And you have to DO the exercises!Having said all of this, adding taping to my foot and using these insoles in my new trainers gave me my first pain-free walk, and so I do recommend this product, which is good value for money.
NOT a miracle cure.....
My job requires me to walk around 18 thousand steps a day so I constantly suffer with Plantar fasciitis and various other achy foot complaints. These insoles did not cure my foot and heel pain but they did relieve it slightly. They take a day or so to get used to as you can feel a lump under the arch of your foot but you soon get used to it. So, they sort of help but dont expect a miracle cure. The best way to treat these sort of foot problems is to see a professional and do the stretching exercises without fail every day like they tell you.
good product
They were bought for my wife, as she has to wear safety boots at work. Her own thoughts are they have made a huge difference. so I definitely give them five stars , happy wife , happy me
Brilliant insoles!
I am so pleased I purchased these insoles (which for two pairs were very reasonably priced). They arrived swiftly and I am pleased to say they are now in my shoes and slippers all day/evening. I was due to have a steriod injection into my ankle but having realised my feet had fallen arches (flat feet) I ordered the insoles to hopefully correct this. At my appointment regarding the injection the Clinician suggested I trial the insoles for a month/or two and if I was still experiencing pain in my ankle then to contact them to arrange an appointment for injection. Just over a week down the line I am finding the insoles (plus a good pair of trainers) are relieving me of my ankle pain nicely. I did as instructed on the packaging (wear for 2 hours first day, gradually increase to full-time). They felt a little strange at first but now I am wearing them all day/evening and I can only say that for me they are very comfortable and I am so relieved my ankle is pain free (the only time it is painful is on rising from bed of a morning but that wears off on using my insoles). I can highly recommend these insoles (however, on the understanding that not everyone will have the same satisfaction guaranteed on wearing them). I am a very happy person, walking pain free again. Thank you Fitbury. PS: The free e-book was very useful and a nice addition to the provision of the insoles.
Using these made it so I could survive a two week walking holiday
I have flat arches and was about to go on a two week walking holiday around Prague and Amsterdam, the insoles of my shoes were wearing thin and I knew that if I tried walking this holiday in them I would end up with my feet bleeding.The shoes were still in good condition so instead of buying new shoes I decided to get these instead and they were amazing.It felt a little funny, at first, feeling the the arch in the middle of my foot but I quickly got used to it and it provided me a lot of support, plus it made sure my feet were in a correct position when walking around.The padding helped take the impact while walking 7 hours a day.At the end of the holiday I only had two small blisters and the insoles were still, mostly, intact.For the price this is a great purchase.
Immediate relief felt in my back
As soon as I used the Insoles, I noticed the difference straight away. Provides excellent support to the feet, back and heel. I also found the 'how to use' guide at the back of packaging helpful too. Will definitely recommend!
Questions?
Why are you running this promotion?
How can I use my coupon on Amazon?
Does this include free shipping?
What Are You Waiting For?