An Exclusive Offer For You
ENHANCE Universal Console Laptop Gaming Backpack for Xbox One, PS4 Pro & VR Sytems - Gear Arsenal Storage for Controllers, Headsets, Games, Mice, Keyboards & Accessories - Green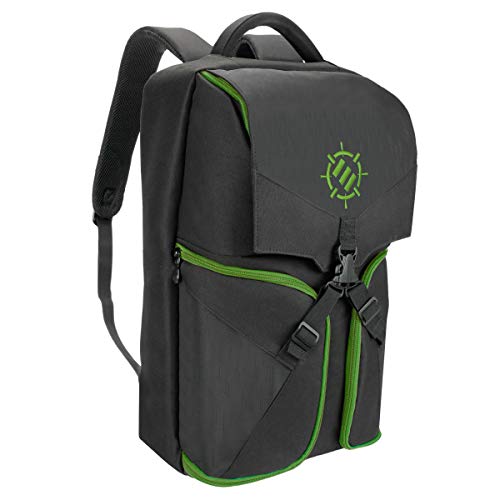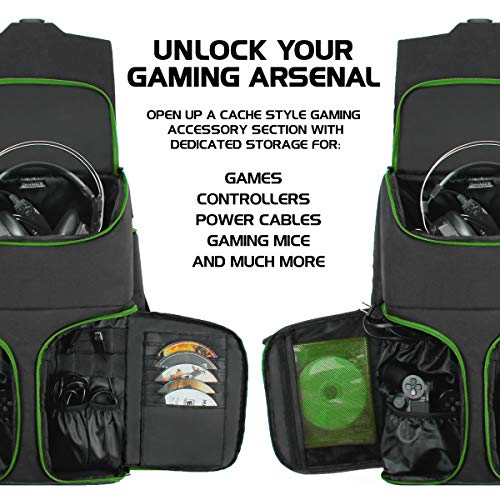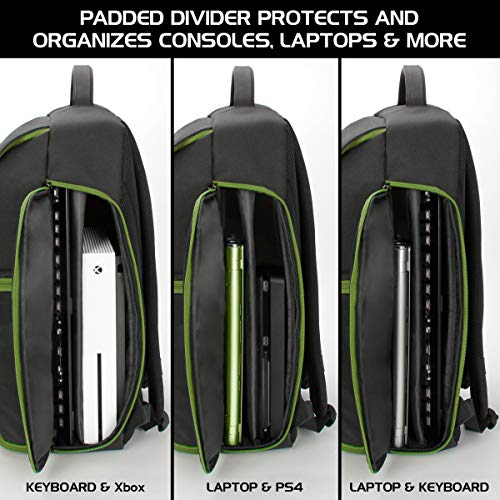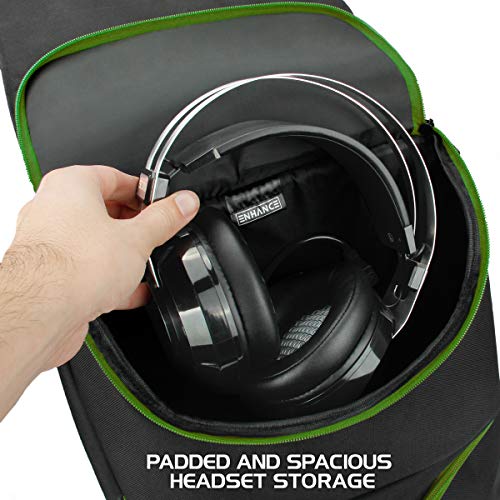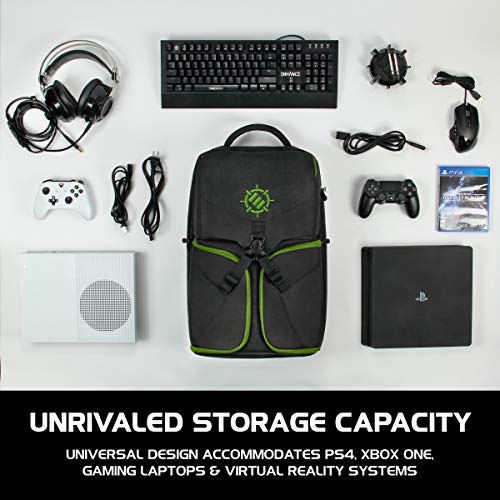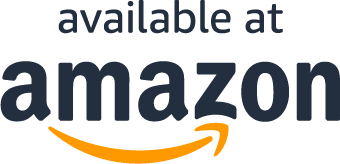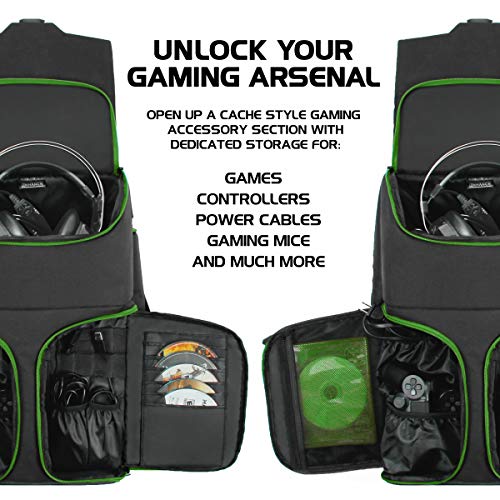 About the product
GAMING BACKPACK FOR CONSOLES & LAPTOPS: Features a dedicated storage compartment for consoles, laptops, keyboards, and virtual reality systems of all sizes with a padded divider for organization

ARSENAL STYLE ACCESSORY CACHE: Front opening storage with compartments of various sizes and styles to store controllers, cables & adapters, gaming mice, game discs, chargers, and more
PADDED ARMOR PROTECTIVE DESIGN: The entire bag is outfitted with padded liners that offer resistance from impacts, bumps, scratches and crushing damage
MOISTURE WICKING & WEATHER RESISTANT: Keep your cool with the tessellated moisture resistant fabric on the backside of the backpack and a weather resistant base liner to protect from moisture
3 YEAR WARRANTY: All ENHANCE Gaming products are backed by a 3 Year Manufacturer Warranty
What Our Customers Are Saying
Perfect for travelling with all your tech.
I usually don't write reviews but after travelling with this bag I could not believe everything that fit in here and how easy it was to take everything out. In the back pocket I put a PS4 pro and a 15.6" gaming laptop. In the top pocket I was able to fit a G633 gaming headset with a nintendo switch in a travel bag. In the bottom left pocket i was able to fit all the cables for the three consoles and a Samsung S2 Tablet. with a gaming mouse and an external battery for charging my phone. On the right side pocket i was able to fit 3 ps4 controllers and a Switch pro controller plus 4 discs. I was able to get everything out at the TSA checkpoint in less than 1 minute and was able to put it all back in the same amount of time. The bag was heavy due to all that I was carrying but other than that I cant say one bad thing. Honestly love the bagSo in total this bag was able to hold1 Gaming laptop 15.6"1 PS4 PRO1 Logitech G6331 Nintendo Switch1 Battery Backup1 Samsung Tablet3 PS4 Controllers1 Pro Controller for the switchall the cables for every consoleand 4 discs.
Great backpack for laptops & VR headsets!
I bought this hoping it would be a good fit for my gaming 16" gaming laptop and a WMR headset with controllers. Turns out, it is perfect! The controllers each fit into the same side pocket, with the other pocket being utilized for the power brick, mouse, and a couple other extra cables. The main compartment is honestly big enough to hold a couple 18" laptops, provided they aren't more than 1" thick. I can also easily fit in a controller or two into the pocket that has the laptop's power brick.If you're looking for a bag that can easily transport your VR gear, this is it. So much so, that they really need to change the header & description to point it out.
It does fit 2 consoles
I get that the seller says you can't fit 2 consoles but I did the unspeakable and fit 2...count it...2 consoles. So I wanted something to carry my PS4 Pro and Xbox 1 safely without mixing stuff up or separating wires, consoles and controllers. I usually just wrap them in like blankets when I move places. Anyways I scoured the web and came across this. Not a fan of the colors or the shape but I didn't buy it to actually wear it around places, it's just for storage purposes. And man does it do that job well. I fit the PS4 Pro and the Xbox 1 (snuggly), 2 xbox controllers, 1 PS4 controller, 1 charging dock, all the wires for both systems (in separate pouches), and like 5 games (including the boxes... not just the CD's. So if that gives you a picture of what you're working with here then pull the trigger and get this.
Great Gaming Backpack
I really like this backpack. I had a GAEMS Sentinel, which was very nice, but I needed to carry everything together for travelling and this pack fits nicely in the overhead.My pack carries: 1 - PS4 Pro 2 - 17" G-Story monitor 3 - 2 controllers 4 - Remote 5 - Power cables, HDMI, charging cable 6 - 5 game discs 7 - Headphones 8 - Misc. items; toothbrush, toothpaste, protein bars, pen, notepad, etc.Very happy with the build quality, padding, etc.
Great for flying with game system and laptop!!!!
If you're looking for an easy way to get through security while flying with your game system and/or laptop this backpack is the one for you! The ability to easily slide your items out of the side compartment makes going through security checks or customs a breeze when flying. Fits perfectly in overhead storage on planes and is very comfortable to carry on your back. The clips on the back give you a secure feeling when carrying valuables like passports or wallets. Great Product!
Excellent backpack for gaming equipment.
Everything about this pack is awesome. Good padding, well thought out compartments & pockets, zippers work smooth and its comfortable to wear. The color and design is sleek looking. Can't beat the price for a pack with high quality! 5 Stars! I DON'T GIVE 5 STARS OFTEN.
Questions?
Why are you running this promotion?
How can I use my coupon on Amazon?
Does this include free shipping?
What Are You Waiting For?