An Exclusive Offer For You
ENHANCE SB2 Computer Speakers with Blue LED Lighting and 2.0 USB Powered - Stereo Sound with 3.5mm Wired Plug Connection and in Line Volume Control - Compatible with Gaming Desktop, PC, Laptop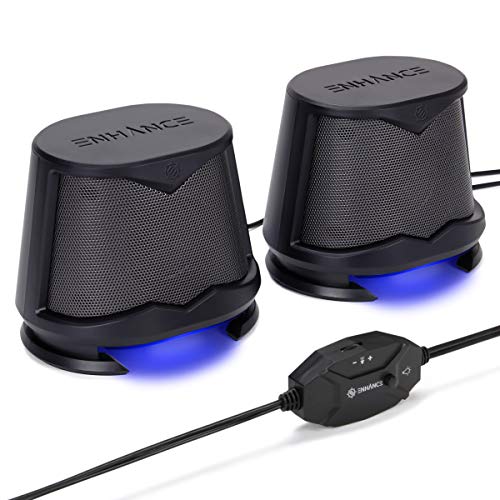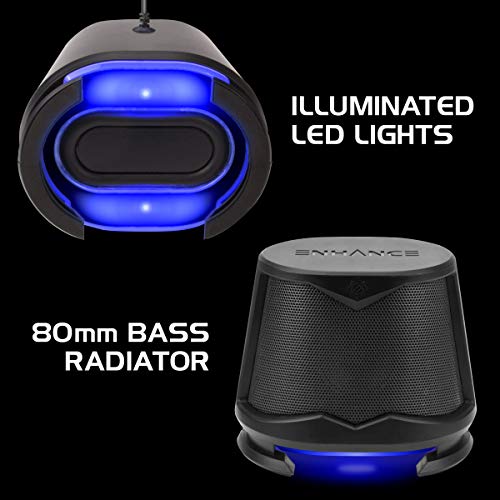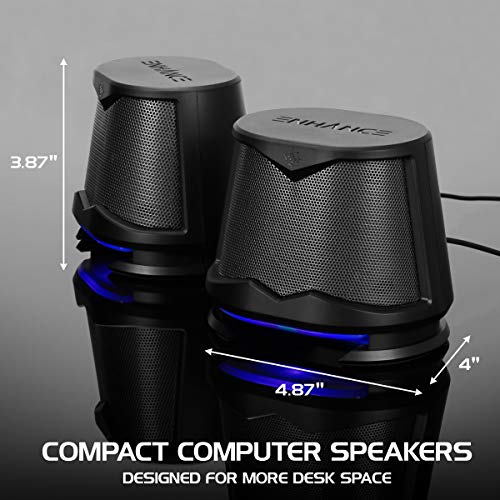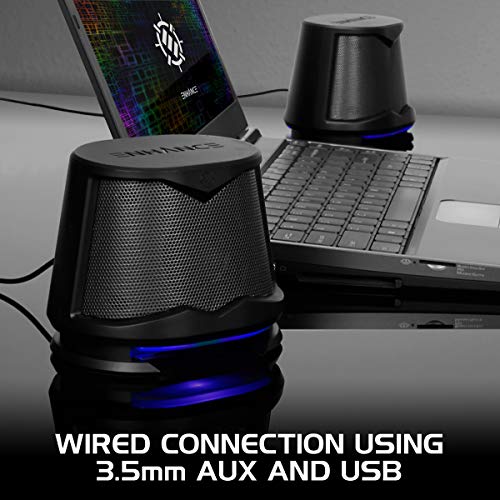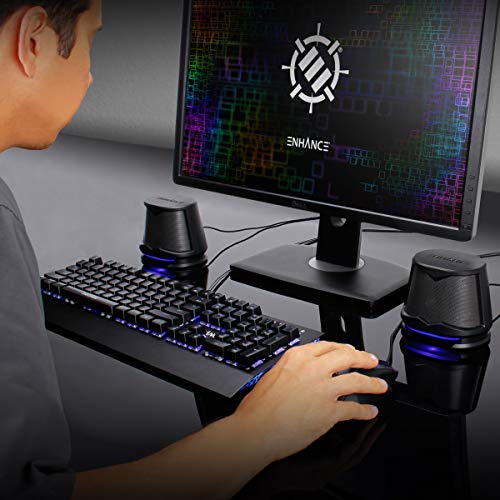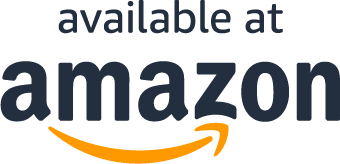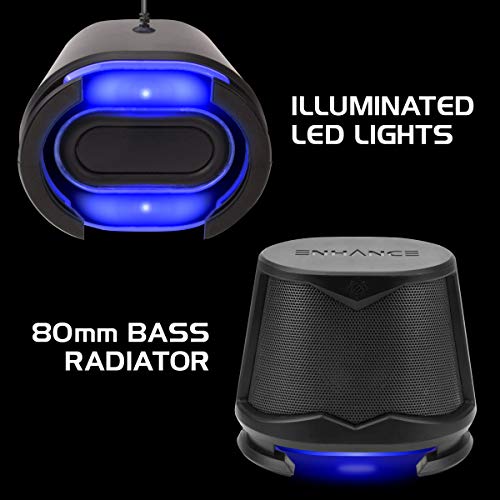 About the product
EASY TO HOOK UP USB connection and 3.5 mm AUX input to your computers for quick plug and play setup | CONNECTS TO ANY MULTIMEDIA DEVICE with a standard headphone jack and helps limit sound distortion

ILLUMINATED BLUE LED LIGHT provides soft glowing accents that match your computer gaming setup for a sleek and futuristic design | BUILT IN LIGHT SWITCH lets you turn the LED's On/Off
COMPACT DESIGN & GREAT SOUNDING AUDIO produces immersive, rich sound and greater bass for easy listening | EASY VOLUME CONTROL comes with a scroll wheel for instant loud or soft levels of adjustment
MODERN , SMOOTH BUILD compliments your computer monitor & keyboard for a space saving design | MORE ROOM to organize desks , perfect computer accessories for work , professionals and gamers
TECH SPECS: 3-Year Manufacturer Warranty | Output Power: 5W RMS (2.5W x 2); 10W Peak | Driver: 80mm Bass Radiator | Audio Input: 3.5mm AUX | Dimensions: 4.75" x 4" x 3.87" | Cable Length: 60 Inches
What Our Customers Are Saying
Honestly caught me off guard with how good these are.
These are surprisingly good, especially at their price point. They're compact, loud and have just enough boom in their base to not make an irritating tinny treble sound, yet not so much base that any required treble is drowned out. These are very well balanced. Also, don't let the wattage fool you, these can get VERY loud. If you want to blast music and enjoy yourself, you'll be able to do it on these. I often find myself listening on mid level, as full blast can be a bit much, especially if you're sitting right at your desk.As far as the look goes, I got mine in red and it's very accurate to the red you see in the pictures. It really helps my setup pop without looking unsophisticated. I can't speak for the other colors, but if you're worried about the aesthetic quality of these, they do look accurate to what you'll get in the pictures, at least in red.Usually when I shop around for things, I avoid no name brands, as they are typically unreliable in some way or another. Being that I just got these, if anything starts to malfunction, I will for sure update this review, but as things are now, these are honestly some of the best desktop speakers I've ever had, especially at this price pint. I returned a set of Razor Nommos to get these and I have absolutely ZERO regrets. I found that these desktop speakers actually pick up on smaller nuances embedded in music that my Nommos weren't picking up on, and for that alone I love these. Don't get me wrong, the nommos did sound great, but not so much better that it justified its 100-150 dollar price. Not even close. These on the other hand highly justify their value to price ratio, offering excellent sound with a punch while saving you space. 5 stars.
Not bad for the price point
So far they sound just like the Z200s they replaced in order to go with the theme of my workstation better. Everything works as expected and had no issues with the lighting. However, I did get a low hum from them at first but that was quickly remedied by plugging the power USB into a further port from the speakers plug so would seem having the speakers to close to a USB providing power can cause some interference. Otherwise not bad
Great LED Speakers
These speakers have a nice compact size with amazing sound and bass. Cool looking red lights on the bottom match my gaming set up perfectly. It also comes with a really easy to use volume and led control switch.
Works for me
I read the reviews before buying. They made me hesitant in buying the speakers. But I am glad I did purchase them for my desk top computer. The sound is great, no extra noise heard. For the price and what I am using it for, I am pleased with the sound and look of the speakers.
Questions?
Why are you running this promotion?
How can I use my coupon on Amazon?
Does this include free shipping?
What Are You Waiting For?